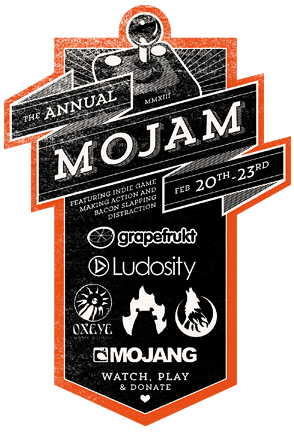 Mojam is happening even as we speak! Mojang will be split into teams, and each of those teams will create a game inspired by you. They have until midnight, Saturday the 23rd to complete their creations. What does the community get? They get to play the (wonderful) things they come up with!

Five other developers join Mojang on their project;

Grapefrukt
Ludosity
Oxeye Game Studio
Vlambeer
Wolfire Games
Mojam is an annual drive by Mojang, where participating developers must create a game in a very limited window of time, and you can see the entire process in real-time! Additionally, viewers are encouraged to make donations during the livestream event; donations will go towards two charities close to Mojang's heart: Block by Block and the EFF.

Everyone who donates will get to play the final games they create, along with any builds which are released during the 'Jam.

Donate above the average contribution and you can get entry into exclusive raffles!
You get to decide the themes that will help inspire Mojang's games. To do that, just pick your two favorite ideas from the following list. Tomorrow (Thursday), they will randomly pick two of the ideas for each game, and use them as inspiration. Neat!

Want to watch these hard-hitting developers make some games right in front of your eyes?