Paper Minecraft models have been something of a hot topic recently, and this interesting form of real-life Minecrafting is only growing in popularity. With that in mind, I went looking around for more awesome paper crafty goodness, and it just so happens that our friends over at 57Digital have the perfect app for this, called Minecraft Paper Studio!

Minecraft Paper Studio lets you print out and create Minecraft skins using their custom app for iOS:



Quick, easy, and awesome.


This is pretty awesome! So, how does a player wanting to make their own Minecraft paper models get them? Quite a number of ways, as it turns out:

Import a Minecraft.net skin by entering a username
Browse our collection of over 300,000+ community submitted skins
Design your own 3D model using the Skin Studio app (sold separately)

Optionally select a cape and a stand for your model


Once you have your skin, just print it out, put it together, and you're ready to go! Minecraft Paper Studios is only USD $2.99 (GBP £1.99; EUR 2,69 €) right now, and can be grabbed in the app store right now!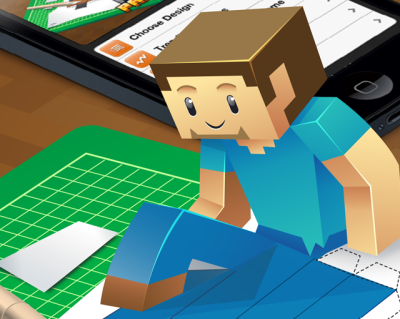 Click the image above to visit the Minecraft Paper Studio app page!