This year at Minecon 2012, we held the annual Diamond Deposit Scavenger Hunt, and it was a lot of fun! Participants had a chance to win all sorts of awesome prizes this year, so lets take a look at the winners!


Curse (prize provided by Alienware) - Alienware M14x
Samuel Hutchinson


Xbox - Xbox 360 signed by the entire Mojang Team
Christian Bedfsson


Intel - Intel Solid-State Drives x4
Ryan Melcher
William Monprode
Jorgen Weterings
Quinty Dyk


J!NX - 100 Euro J!NX Gift Certificates x5
Dylan Torralbas
Michael Heath
Liam Salzman
Michael Findlay
Pam Hale


Shapeways - 300 Shapeways Gift Certificate
Ma Wanfei


57Digital - iPad Mini
Alan Broadhead


CraftStudio - Xbox Kinect Bundle + 4 Premium CraftStudio Accounts
Sander Peters

________________________________

Diamond Deposit Scavenger Hunt Drawing! Click the image to see the whole gallery!




________________________________


It was really awesome to see so many great people at the convention this year, and we were very excited to give out some truly awesome gear to the winners! We hope everyone had a great time at Minecon this year, and with the Scavenger Hunt as well. Winners who weren't present to receive their prizes are being contacted, and sent their winnings. We would like to thank our incredibly generous sponsors, as well as everyone who participated in this year's Diamond Deposit Scavenger Hunt! See you at next year's Minecon!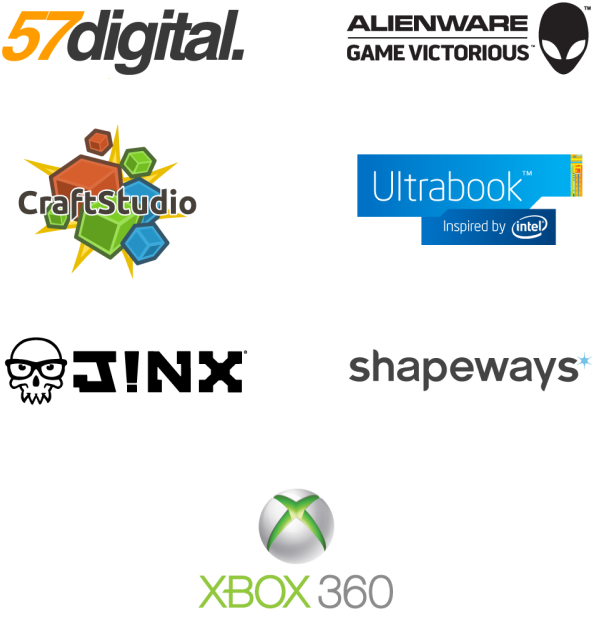 Alienware: http://www.alienware.com
Shapeways: http://www.shapeways.com/
J!NX: http://www.jinx.com/
Intel: http://www.intel.com/content/www/us/en/solid-state-drives/solid-state-drives-ssd.html
57Digital: http://www.57digital.co.uk/
Xbox: http://www.xbox.com/en-US/
CraftStudio: http://craftstud.io/
Curse: http://www.curse.com/
Disclaimer : *Other names and brands may be claimed as the property of others. Copyright © 2012, Intel Corporation. All rights reserved. Intel Inside, Intel Core, Ultrabook, Intel, Intel SSD , and the Intel logo are trademarks of Intel Corporation in the U.S. and other countries. For more information and details, visit http://www.intel.com/ultrabook
________________________________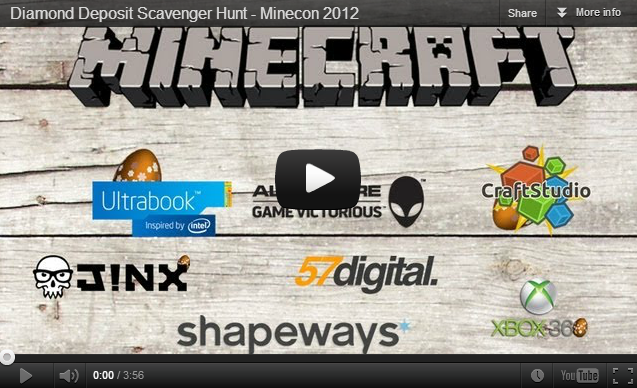 Lindsay gives us a tour of the Diamond Deposit Scavenger Hunt!