World of Warcraft launched the "Mists of Pandaria" expansion today - of course, many of us here will still be playing Minecraft! Still, what if we could combine the two somehow? Maybe have some Pandaria in our Minecraft game?

We're not talking a mod - we're talking a build contest! A build contest with a free XBOX 360 on the line, plus some really sweet 3D printouts, courtesy of Shapeways! Want to know more? Want to get your hands on a free gaming console? Maybe some other sweet prizes to go with it? Let's talk contests!

The Contest will run from September 25th - Midnight PST, October 25th and is open to everyone (details below).

How To Enter: Create a structure in Minecraft related to 'Mists of Pandaria', export the model with 3D build exporting tool "MineWays", and upload to Shapeways, with the tag "Curse-Contest_MoP"; this way, everyone will be able to see your awesome design, and the Shapeways guys will be able to judge your entry effectively!

Be sure to include the tag, it is very important!

Prizes: Grand Prize winner will receive a $300 Shapeways gift certificate, and an XBOX 360. The grand prize winner will be picked by none other than the silver voicemin of the Minecraft Forum himself, lead editor Sacheverell!

3 runners up will be selected by Shapeways; models or builds with the most 'favorites' on Shapeways with the tag "Curse-Contest_MoP". Each runner up will receive a $100 Shapeways gift certificate, so they can 3D Print their Minecraft creations!

Get the full list of contest details by clicking here, including eligibility, entry requirements, and other details

So, to break that down:

Make an awesome 'Mists of Pandaria' build in Minecraft
Use the Mineways extraction tool to export the build from in-game
Upload it to Shapeways with the tag "Curse-Contest_MoP"
Get ready to win some sweet stuff!

This contest is running from today (September 25th, 2012) through October 25th, ending exactly at midnight, PST (GMT -8)! That's a whole month to get your build on, and win some sweet loot. We look forward to seeing your awesome entries!

Did I mention that there's a FREE XBOX 360 as a prize?!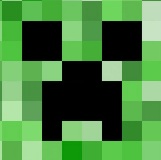 Even Creeper seems surprised! Click on his face for details!