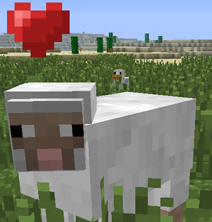 1.3.2 Update Later This Week - Preview it Now

Later this week, on Thursday, August 16th, the 1.3.2 update will be going live! It mainly contains bugfixes (fixed the falling-out-of-Nether bug, fixed the random-suffocation-damage bug, various uncommon crash bugs). However, if you would like to get the pre-release to update your server, mod or even just to get an early look at it, the download links are below. This is the same version that will be released on Thursday via the normal Minecraft launcher!

Client: Download

Server: Download



________________



MineTV Episode 3, now with 100% More Pahimar

We've been hard at work getting the MineTV set ready for 1.3 - this week's guest is "Equivalent Exchange" mod maintainer (and EE3 author) Pahimar! We are making some changes with how the show runs, including a longer running time (so our guest isn't so rushed), more live events, audience-interactive games, and more!

TO BE A PART OF THE STUDIO AUDIENCE

There are some special requirements you must meet this week:

Minecraft Client 1.2.5 (You can use MCNostalgia to go back to patch 1.2.5)
Equivalent Exchange 1.4.6.5 (Click here to go to the thread - Remember, it's build 1.4.6.5)
Apply for the whitelist by clicking here


You are welcome to come test your client at "killion.evolutiongaming.org:1337", to make sure your mod is working properly.



________________



MCX360, Pocket Edition Continue to Set Records

MCX360 is insanely popular, that much people know by now. It continues to hold a dominant position on the charts for Live Arcade, and the number of XBLA Minecrafters grows by the day. Have you ever wondered how much they are growing? The number is staggering - MCX360 sells, on average, 17,000 copies a day! That's right, nearly seventeen thousand new Minecrafters come to Live Arcade, every single day.

If that wasn't enough, Pocket Edition has maintained a rather impressive lead of its own, as the #1 top selling app, according to Google Play. All said, Minecraft has - between the PC, console and handheld markets - sold well over 12 million copies, and continues to grow daily! With the recent release of 1.3.1 (and the future release of 1.4), the PC-based Minecraft playerbase is set to grow ever-larger, with tons of customization options, mods that are easier to make and maintain, adventure map-specific features, and so much more.

A question that seems to come up often is, "where can Minecraft really go from here?" Well, every single update, we see it go in new, exciting directions. Keep an eye out - you never know where Minecraft will go next!