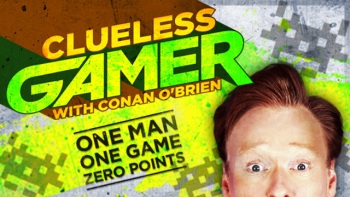 Are you a Conan O'Brien fan? Do you wish he would play more Minecraft? Now is your chance to see him do it - Conan is hosting a new segment, called "Clueless Gamer", where he will attempt to play a video game chosen by the fans, alongside Aaron Bleyaert. Interestingly enough, Minecraft is on that list of games to vote on, and that's where you come in.

If you want to see Conan O'Brien play Minecraft on TV, click on this link (or the image above), vote "Minecraft" in the poll provided, and prepare to see the indie sandbox sensation make it on national television!



________________


A few weeks ago, we started up a community banner contest. Yesterday was the last day to submit your banner for consideration, and submissions are now closed! The banners will be reviewed, and the ten best banners will be posted this week for you to vote on! Keep an eye out, because your votes will decide who gets to have their banner in every single segment of Community Creations - good luck!