Are you a spleef player? Maybe a hardcore spleef player?

Would you even go so far as to say "I'm the BEST spleef player"?

Time to put down the flowery words and pick up your shovel - it's time for the Spleef World Cup 2012! Can you compete against the world's best spleef players? Think you've got what it takes to be crowned champion of the oldest, most honored game in Minecraft? Click the banner above for sign-up details! Anyone can join, so sign up today!

Want to just hop on and look around before committing to the tournament? Check out the tournament server - join on the server address "spleefleague.com" (or "spleefleague.com:25567", if the first one is filled up), meet other competitors, chat with the tournament organizers, and maybe even see a few well-known personalities! Who knows, you might even get to play against them directly - check it out!

________________

Texture Pack Client Update!

Curse is excited to announce the release of the lastest version of our Client, v5! This release not only overhauls the UI, but also adds in some great new features!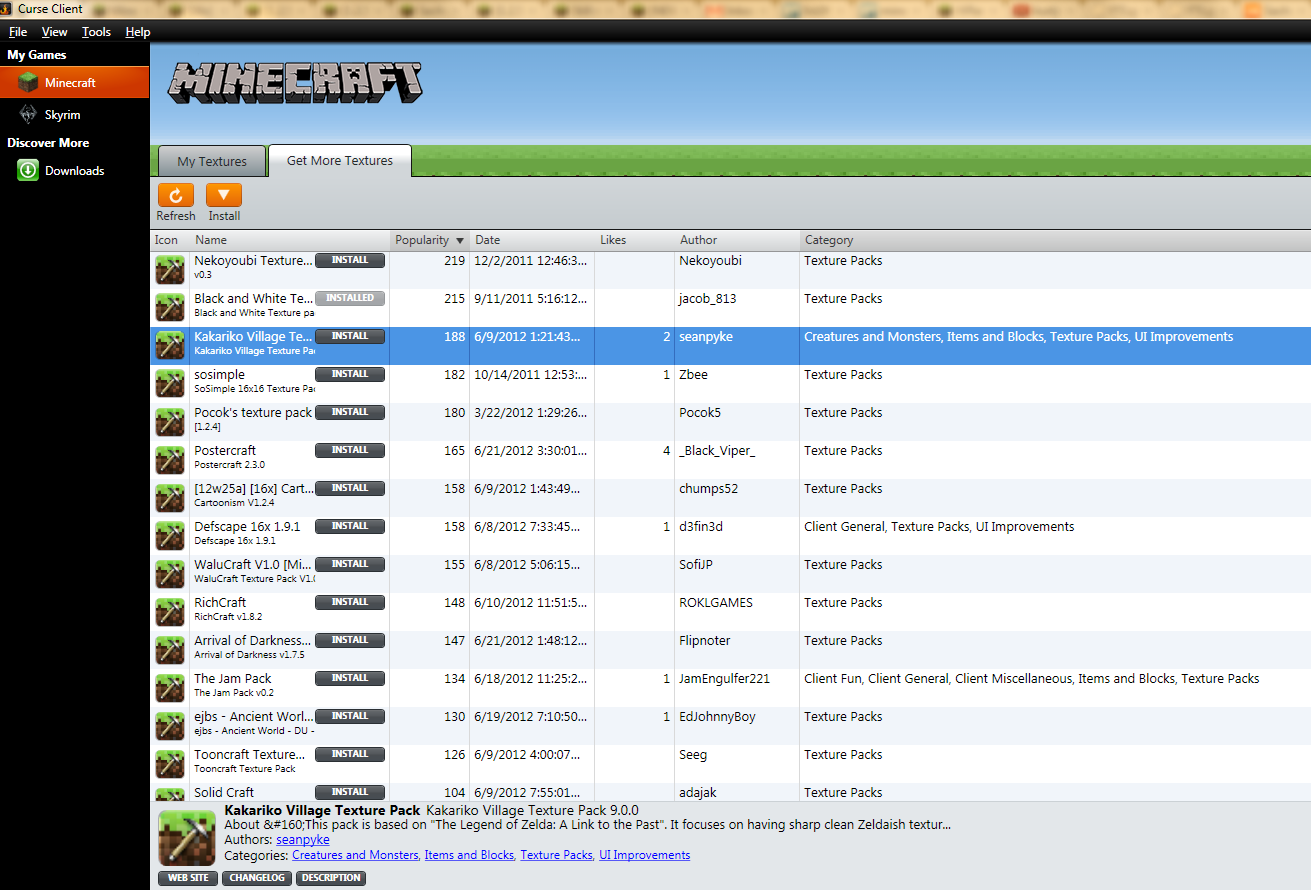 New features in version 5 include:
Minecraft texture pack support

Minecraft not showing up in your games list? If you have it installed, just go to Tools -> Scan for all installed games. Your Minecraft install should then be automatically located!

For more information on Minecraft texture packs, see

the Minecraft wiki article

.

Completely brand new, overhauled UI

Each game has it's own section for downloads and currently-installed content. Simply click the tabs to switch between what is currently installed, and what is available for download.

All downloads for any game will show up in the Downloads section on the left panel.

Ability to reorder games via drag and drop
Curse resource links available on each game's tab
New "play" button -- launching games now even more hassle-free

To check out all this brand new Client experience has to offer with v5, simply download the new Client here. You'll be updated to the latest version, and ready to go! Keep in mind, high-res texture packs may be supported in the very near future - keep an eye out!

Note: these changes only affect the PC client. For updates on the Mac Client, go to our dedicated Mac Client CurseForge page.