Everyone here loves Minecraft. It's almost silly to say aloud; Minecraft is one of the most awesome sandbox games to grace the gaming world. Many people express their love of the game in different ways, and Community Content will take a look at some of the ways people express their appreciation of Minecraft. Today, we look at two awesome community creations:

Oasis of the Seas - Ocean Liner of Awesome


At first glance, what appears to simply be an "outer shell" model of an ocean liner quickly reveals itself to be much, much more. This is a full-scale replica of an ocean liner, with a completely detailed interior, designed by littlesteelo! Cabins, lounges, the bridge - more than a mere model, this massive vessel could host an entire server's worth of people, and then some. Want to see more? Click the image to check out the full gallery, including screenshots of the interior!

Looking at it is great and all, but what about those who want to walk around inside of it, and see for themselves this magnificent vessel? You're in luck - the author has generously provided a download link to the model. Check it out!

Download here


__________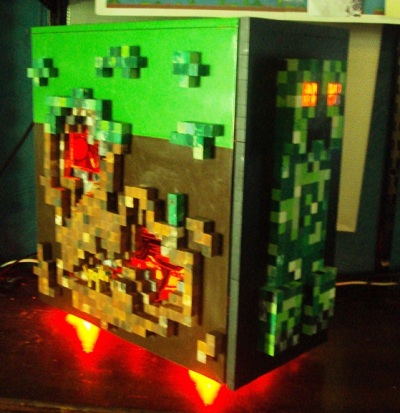 Minecraft Computer Tower

Custom gaming hardware is almost as old as gaming hardware itself. From Xbox controllers to computer equipment, gamers and manufacturers alike have been modifying hardware to show the world what games we love most. Here, we see an intrepid Minecrafter who has taken this idea to heart, with their own custom Minecraft computer chassis! Giving Minecraft that extra hint of verisimilitude, this chassis is decked with various blocks, a front-mounted creeper with LED-backed eyes, and LED-backed transparent panels on the side (where lava would be normally). What true Minecrafter wouldn't be proud to own this particular gem? Click the image to see the full gallery!

Community Creations Needs Your Help

Community Creations seeks to expand on the idea of Digital Diamonds and Helpful Hints, by including more than just user-made videos. The community makes tons of great stuff every day, from maps to mods, texture packs to builds, real-world and game-world alike. Our thinking is, "why show just videos? Why not show ALL the cool stuff there is?" To that end, Community Creations was born.

Want to help, but don't have a neat submission? If you're a graphics artist, this might be up your alley; Community Creations needs a graphic banner for news posts! While we could make one, it feels more right somehow for the banner to be made by the community, for the community - what better way to start off the series than with 100% player-made goodies? So, how can you help? How can you make a banner that will stand the test of time? With a banner contest, that's how! Here's the details:


Design a banner, with the dimensions of 500x100 px, or 1000x200 px
Send your banner via email to [email protected]
Be sure to include your forum name, as well as any details you would like to mention
That's it, you're done!


Ten finalists will be picked from the submissions provided - however, we will not be selecting the winners. In the spirit of the series, it seems fitting that the community should pick which banner best represents it, and so the ten finalists will be voted on by you!

Entrants have between now and Wednesday, June 27th 2012 to submit their entry to the email provided. Once all submissions have been received and processed, the finalists will be displayed in a separate thread, with a poll to vote on the winners. This poll will run for exactly one week from the time of posting, and whoever has the highest votes will be the victor! The winning entry will, from that point forward, be the official Community Creations banner, to be used in all front-page CC posts!

Think you have what it takes to make a killer banner, worthy of the entire Minecraft community? Let's see what you can do!