Split-Screen Refunds


Not long ago, Microsoft was slammed with complaints about the split-screen functionality of MCX360 - it was only available to players with an HD TV and a proper HDMI connection to the console - and in recent days, they have addressed those complaints. Microsoft has revised its listing for the game, and has been offering a refund to customers who paid for a game that didn't work as advertised (or not advertised, as the case is here).

The split-screen feature of the game was a huge draw to newcomers, especially those that believed they could just have a few friends over for a romp through the sandbox world. The initially ambiguous wording of guest passes and complete lack of forewarning regarding split-screen requirements made many buyers upset that they had been misled. The HD requirement wasn't listed in on the game's Xbox marketplace page, although this has been rectified in recent days to avoid confusion.

The guest passes, while initially confusing, have not changed meaningfully since launch, and continue to work as intended.



MCX360 1.7.3? Soon!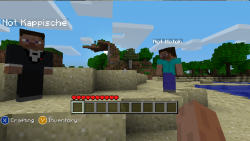 In more positive news, MCX360 will soon be seeing its first major update, to what most PC players knew as Beta 1.7.3! Even better, Microsoft's Roger Carpenter says he will likely discuss the update in his Thursday Minecraft Stream! You can see the stream's channel by clicking - be sure to check in tomorrow for all the details!

I will reveal at least one tidbit - pistons are included.