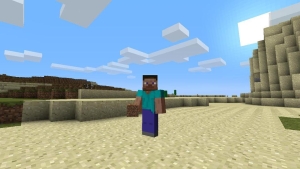 Minecraft has hit 25 million registered users! As the game grows, so does the player-base; it wasn't even a month ago that Minecraft saw 20 million registered users - 5 million newcomers in a month is no small feat.

Earlier this month, we saw the wildly popular Minecraft: Pocket Edition clear 1 million sales as well; it quickly became the Android Market's most worldwide-downloaded app. The Survival Mode update to the game makes Pocket Edition more of an action-oriented experience, with health bars, weapons and animals included, as well as the addition of more blocks from the PC version of the game. Creative mode continues to see improvements as well.

It's almost impossible to really grasp the totality of how far Minecraft has come, and how much Mojang has grown. What will the next major landmark be for the smash-hit sandbox game, and the blockbusting team behind it?



________


Don't forget, we will soon begin our drawing for 100 Minecraft gift codes, given away for free! Want to get in on the drawing? Here's how:



Head over to our Facebook page
Give the Minecraft Forum group a "Like", and post your Minecraft Forum name right here
Sit back and wait


Keep an eye out this week as we reveal the lucky winners - you could be one of them!