Pocket Edition Updated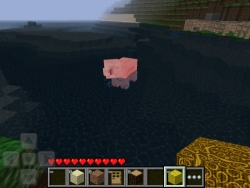 An update for Minecraft Pocket Edition is now out! The list of updates includes the following:
New controller option – Split Touch Controls. This is option may be more suitable for those with bigger screens (hello tablets!). You got a cross hair and the right half of the screen lets you rotate the camera. Touch to place block, hold down to remove blocks. Just like you did before
Flying is changed; ascend/descend by sliding from the center button to the up/down button
Pigs are added to Survival Mode
Bug fixes
You can update your game at Google Play (Android) or the App Store (iOS).


XBLA Minecraft Goodies Now Available




Ever wanted to have a pet pig on XBOX? What about a pet creeper? How about a diamond sword and Notch hat? All these goodies and more are now available for your avatar! The selection is quite diverse, comprised of equippable and wearable items, pets and more. What better way to get ready for the upcoming console release of Minecraft than to deck out your avatar? Check it out - click the banner above!