No More Lawsuit - Scrolls is Scrolls

Long ago - before the dawn of history - we saw the beginnings of a lawsuit from Bethesda Softworks/Zenimax over the rights to use the word "scrolls" as a title for a new game Mojang was developing. Time went on, and it eventually ended up in court, with indie underdog Mojang refusing to relinquish their use of the new title. Now, it seems that the lawsuit has come to a close, with Mojang the victor. The final verdict? As told by Mojang CEO Carl Manneh, they will be allowed to use the name "Scrolls" for their new game title, but will not maintain control over the trademark of said word. This marks the end of a long road between the software publishing giant and indie game studio, and all things considered, there was minimal conflict. Carl added, "it was never about the trademark, but being able to use 'Scrolls' as the name of our game, which we can".

One could say that the lawsuit took an arrow to the knee.

Bethesda Softworks/Zenimax originally wanted Mojang to stop using the word "scrolls" for their new game for fear of confusing it with their "Elder Scrolls" franchise. Scrolls is a CCG-like game which "offers a new and unique game play where you fight to outmaneuver your opponent on the battlefield using the destructive powers in your collection of magical scrolls". You can sign up for the Scrolls Alpha by going here and providing your email.



________




Community Spotlight - Savage Realms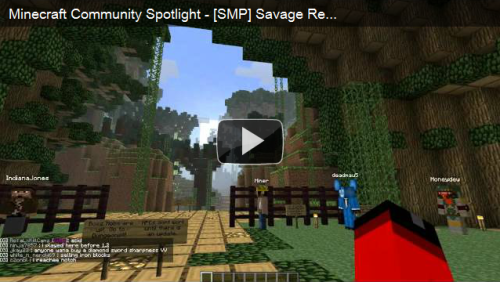 This week, we take a look at the incredibly diverse SMP server "Savage Realms" - definitely a server worth visiting if you want an endless bounty of activities combined with a solid, tightly-knit community. Check it out! Special thanks to cr0ssVtW, acidsinn, hungoverfurball and Mayhem for giving me the grand tour! My only regret was that there was so very much to see, it was a constant battle to figure out what would make it into the video. If you head over to their server, be sure to check out their "Underworld" region - it really is something else!
________
XBLA Minecraft Sneak Peek - Split-Screen!
During the recent Game Developer's Conference, we had a chance to check out the upcoming XBLA Minecraft, now with split-screen action. Take a look!