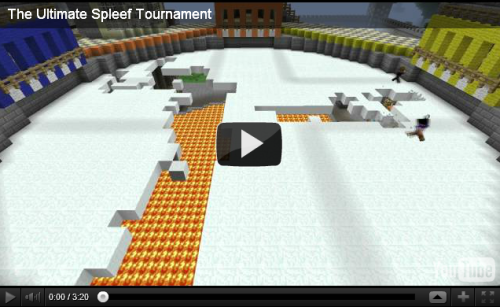 The game of Spleef has a long and telling history, reaching the height of popularity in Minecraft Classic. Even today, nearly every large server you visit has a Spleef arena somewhere, with regularly scheduled tournaments, special-occasion events and more. The game is simple enough - knock out blocks from underneath your opponent while they try to do the same to you. Whoever falls first, loses. Rules and specifics beyond that tend to vary from server to server, but the core of the game tends to form the foundation regardless of house rules.

This video shows off a Spleef tournament, with one slight variation - it comes with its own sports announcer and overlays! Done in the stylings of a major sporting event, this vid sensationalizes Spleef in a way that's sure to entertain, take a look!


---


A Survey for Minecraft Gamers

We take your feedback seriously. Yes, it's true! As a part of our ongoing process to make things here on the forums better for everyone, we have a quick survey which asks about some of your preferences. If you'd like to help us make your experience better, please head over here and fill it out!