Minecraft Forum Community Spotlight

For a long time, we would put up people's creations here on the front page. As I sought ways to provide players with access to amazing creations by their fellow gamers, a thought occurred to me - Why not make a video series that focuses entirely on the community?" So, it is with no further delay that I am proud to present the Minecraft Forum Community Spotlight series! What is it, you ask? It is nothing less than a show built around player-created mods, texture packs and other amazing creations, to bring you incredible community-generated stuff for your game - even from authors you may not have heard of before!

Our Mission; What This Can Do For You

It is my hope to give mod authors, artists, map-makers and other innovators from the community the chance to shine right here on the front page, to help them get the most out of their hard work. How can you get your (or your favorite) work spotlighted here? It's easy!


Create something awesome
Send an email to this address, specifying what your creation is, and/or including a link to your thread
Our content team reviews your work, and if it's amazing enough to be highlighted, we'll contact you about it - if you get a confirmation email, you're headed to the Community Spotlight!

That's all there is to it! Now, without further delay, some information about today's spotlighted mod: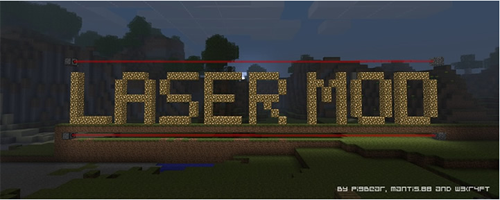 Author: w3(r4ft
Thread (includes download links, building information & more): Click here!
Notes: This mod adds lasers, sensors, refractors and more to your game. What can it do? More than can be easily described here - check out the video and the creator's thread, above!

This mod requires other mods to function - ModLoader, ModLoaderMP and Forge. Be sure to read the installation instructions carefully! Don't forget - if you like w3(r4ft's mod, show him some love by dropping a post in his thread telling him!


---
The Minecraft Forum Community Spotlight series is on-going, so there is no final deadline to submit your creations for review. If you think your work (or another mod/map/texture pack you like), is good enough, send it to us - you could be next on the front page! To see the first episode, just click the banner above, and check out the Laser Mod!