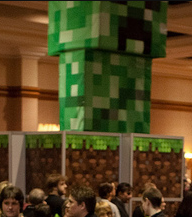 Minecraft Land Generation, Revisited

Are you a fan of how terrain used to be generated, with massive mountain ranges, hills and more height variety? Jeb is hard at work on land generation, with the intent of having land generation be more varied in a future release. Not as much a fan of massive, hilly landscapes - or would you at least like an option for flat plains, for easier building? Not to worry, he is working on adding that as an option as well, which you can use at will. Whether you're a fan of rolling mountains or rolling plains, the power to exercise some control over land generation is not far off.




Minecon, from Mojang's Perspective

We attended Minecon alongside thousands of players and their families, and it was certainly an event to remember. We had a chance to show you the convention from our perspective, and now Mojang would like to show you theirs - with their own photo album! They took pics of everything from the setting up of the con, numerous shots of attendees who met with them, booths they went by, and so much more. It's a fascinating look into the convention from the hosters' perspective, and one not to be missed.

If you look really hard, you can even see your favorite content writer.

Additionally, Mojang is looking for your feedback on Minecon! What did you think of the convention? Where would you like to see the next Minecon hosted? You can let them know right here!


---
Curse is Hiring!
is looking to add more members to our awesome team! We're growing quickly and actively hiring for our Engineering, Sales, Content, IT and Marketing teams!
At Curse, you will have the opportunity to work with a young, growing team of passionate and talented individuals making a living doing what they love.

.NET Team Manager
Are you interested in leading the development team behind some of the most popular .NET-based sites in the world? We're looking for a skilled technical manager to help organize and inspire our Live team.
More Info | Apply Now

Senior System Administrator
Do you have experience with large-scale server clusters, virtualization and disaster recovery? We're expanding our quickly growing IT group, and we're looking for an experienced sys admin to help implement our infrastructure improvement plans in 2012.
More Info | Apply Now

PHP Web Developer
Are you an IPB or MediaWiki pro? At Curse, we operate the largest IPB-based site in the world, and some of the largest MediaWiki sites. Join us and help continue to build the largest online game communities in the world.
More Info | Apply Now

.NET Web Developer
Do you write Linq expressions and threadsafe singleton classes in your sleep? We need your help creating awesome new web properties at Curse. We have big plans for 2012, and we're looking for rockstar developers to join our growing team.
More Info | Apply Now

Video Content Editor
Like creating and editing exciting videos? Join a rapidly growing team of content creating professionals as we use our industry and content connections in 2012 to create amazing content to grow our YouTube channel!
Apply Now