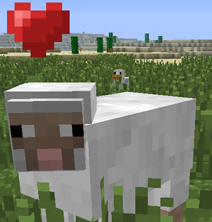 Week 49 Snapshot Now Live

The Week 49 Snapshot was recently released for testing! As with prior weekly "snapshots", this must be installed over an existing minecraft.jar file in order to be tested out. What's new in this test version?


Sheep eat grass and regain their wool
Farmland is no longer destroyed by items and particles
Added multiple languages
Corrected a setTileEntity multiplayer bug
Corrected a powered rail bug
Corrected a redstone update bug


Eager to test out these new features? You can grab the snapshot client right here; SMP server hosts can test these out in multiplayer as well; get the server jar right here! To use these, you need to replace the jar file in the application folder and then start the game normally. Find a bug? Report them here!

Pertaining to language support, Jeb had the following to add:

Quote from

I would like to give a huge THANKS to all of you who helped out translating the game, and to the Minecraft Coder Pack team for helping out with the administration of the language files. Also a big thanks to Ryan 'Scaevolus' Hitchman for help with the Unicode rendering.

The language files are still work in progress, so translation errors and mistakes may still exist. As stated earlier, the snapshots are in development versions of the game.



________

Download this week's "snapshot" files below: