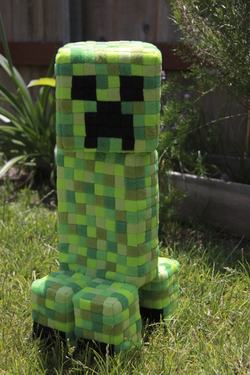 Creeper Plushy Created by Alix B.

Today we are going to be doing the first of a new series called MineCRAFTS. This series will detail real life crafts and creations based upon Minecraft! With Minecraft's break-away success, there have been literally thousands of awesome creations that the community has made, and we're going to start showcasing them.

The first ever MineCRAFT comes to us from Alix in California. Alix (Arixystix on the forums) makes crafts for a living, and after spending some time getting to know Minecraft, she decided to set out and create her first Minecraft plushy, the creeper!

This creeper is impressive in size, and the attention to detail is painfully obvious. In an interview with Minecraft Forums, Alix stated that the plush took her just over 3 weeks to complete, and was originally a gift for a friend.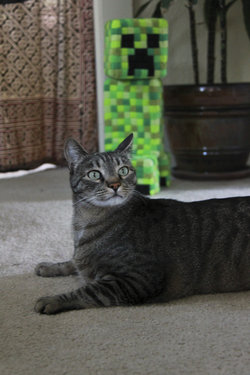 Zero the cat is about to get a surprise.


Alix has given us a special code for Minecraft Forums members to use that will give you 15% off the sewing pattern if you'd like to create one for yourself! Just use the coupon code "MCFCREEPER2011" at her store. Hurry though, the code is only valid between June 6th and June 10th.


MineCRAFTS is a showcase of real life crafts and creations designed by Minecrafters just like you. If you have a craft or creation that you'd like showcased please send a PM to WedTM.