Microsoft plan to introduce the Minecraft Marketplace which will allow third party developers to distribute their custom Minecraft content, including worlds, texture packs and in-game activities. Here's what we know so far:
The Minecraft Marketplace and Minecraft Coins are expected to launch in beta in mid-April.
The initial beta will not contain community content, that is coming later.
Available initially will be feature packs for Minecraft -- such as new storylines, in-game activities or landscapes to explore.
Available for Pocket Edition and Windows 10 Edition, not available on consoles or PC Minecraft.
Purchases will be made using Minecraft Coins, initial content will cost between $1 and $10.
The Minecraft Marketplace will allow content creators to make a living from Minecraft.
All content is reviewed beforehand to protect players.
But there are greater treasures still - made by the amazing Minecraft community and made easily available to you through the all new Marketplace. For the first time, Pocket and Windows 10 players can browse, download and play cool community creations from within the game itself.

We've partnered with heroic 'crafters well-known to the community to build up a launch catalogue of amazing adventure maps, texture packs, minigames and more. Noxcrew, BlockWorks, Qwertyuiop The Pie, Blockception, Sphax, Eneija Silverleaf, Imagiverse, Polymaps and Razzleberry Fox are the folk on board at launch, but we're opening up submissions to anyone with a registered business. For more info on how to apply, go here!
You can read the full article on Minecraft.net.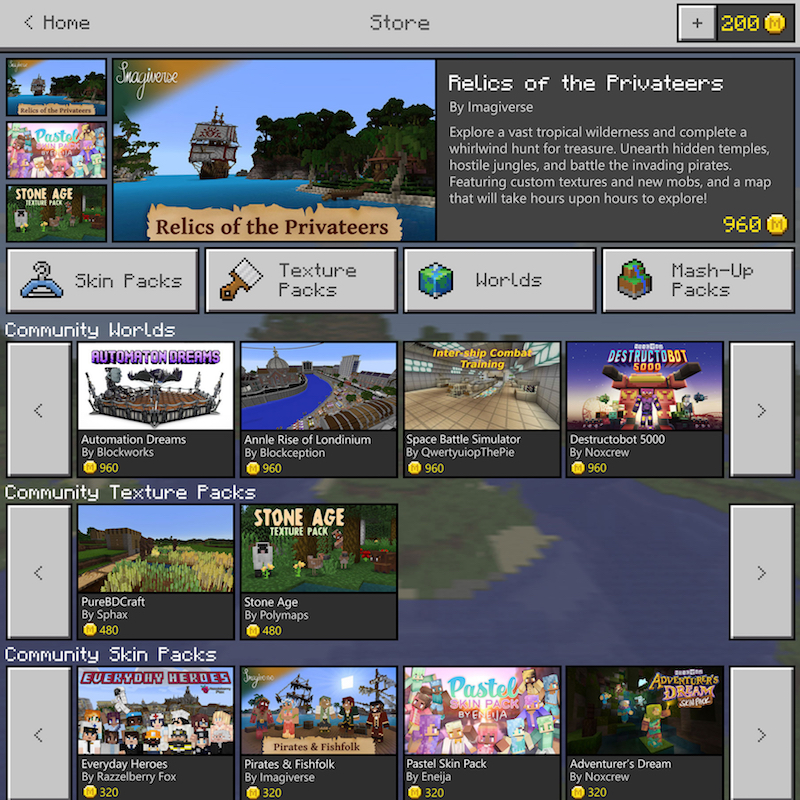 Let us know your thoughts in the comments below!