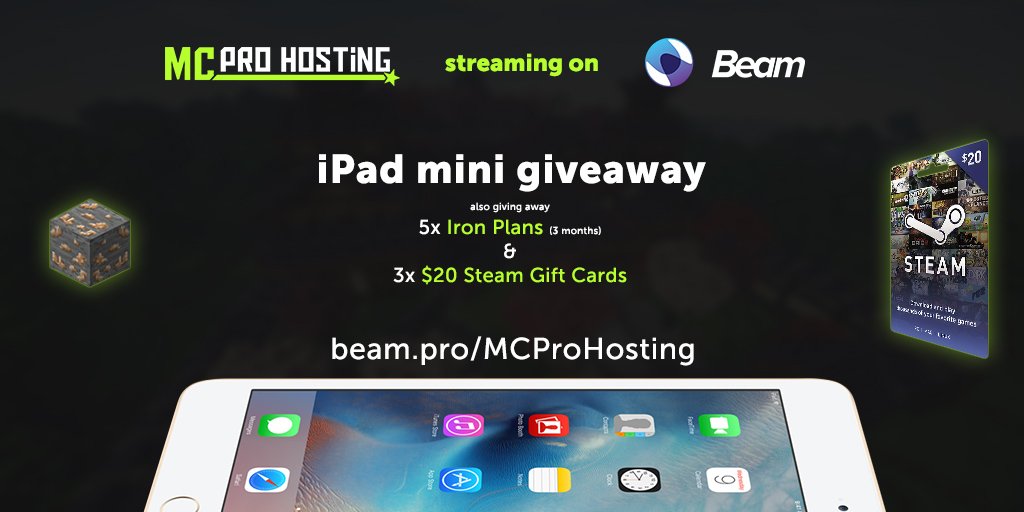 Are you a great builder? Do your creations inspire awe and envy on all who lay eyes upon them? You might be able to win prizes with your creation!
MCProHosting is currently doing a build contest, and everyone is invited! Players get their own protected plots, and have until 7:00pm (EST) on Saturday the 9th to finish! Nearly any build goes, with the usual obvious exceptions (nothing pornographic/obscene, nothing illegal, etc). Players are allowed to team if they are so inclined, though that may introduce complications for prizes, should that team win. Just something to consider!
Prizes include the following:
An iPad mini
5x "Iron Plan" servers (3-month duration. Plan includes 40-player capacity, 2048MB)
3x $20 Steam gift cards
While the contest itself ends Saturday evening, the server will remain up for some time. Even if you have no particular itch to join the contest, players can still claim a plot and build to their heart's content! Popular Creative servers are a fairly rare breed these days, but the MCPH Creative server already has a large number of solid builds, and the players are friendly. There is no whitelist, so you can just drop by to check out builds up close as well! I've been doing some flying around myself, and there are some pretty innovative projects going on. Consider giving it a look!
The server address is: buildwithbeam.mcph.co
Not up to getting involved with a huge build contest? Just want to build things without all the pressure of competing? We've got a huge list of Creative servers right here, with the Minecraft Forum Server List! Any Creative server you can imagine is right at your fingertips, so dive right in!