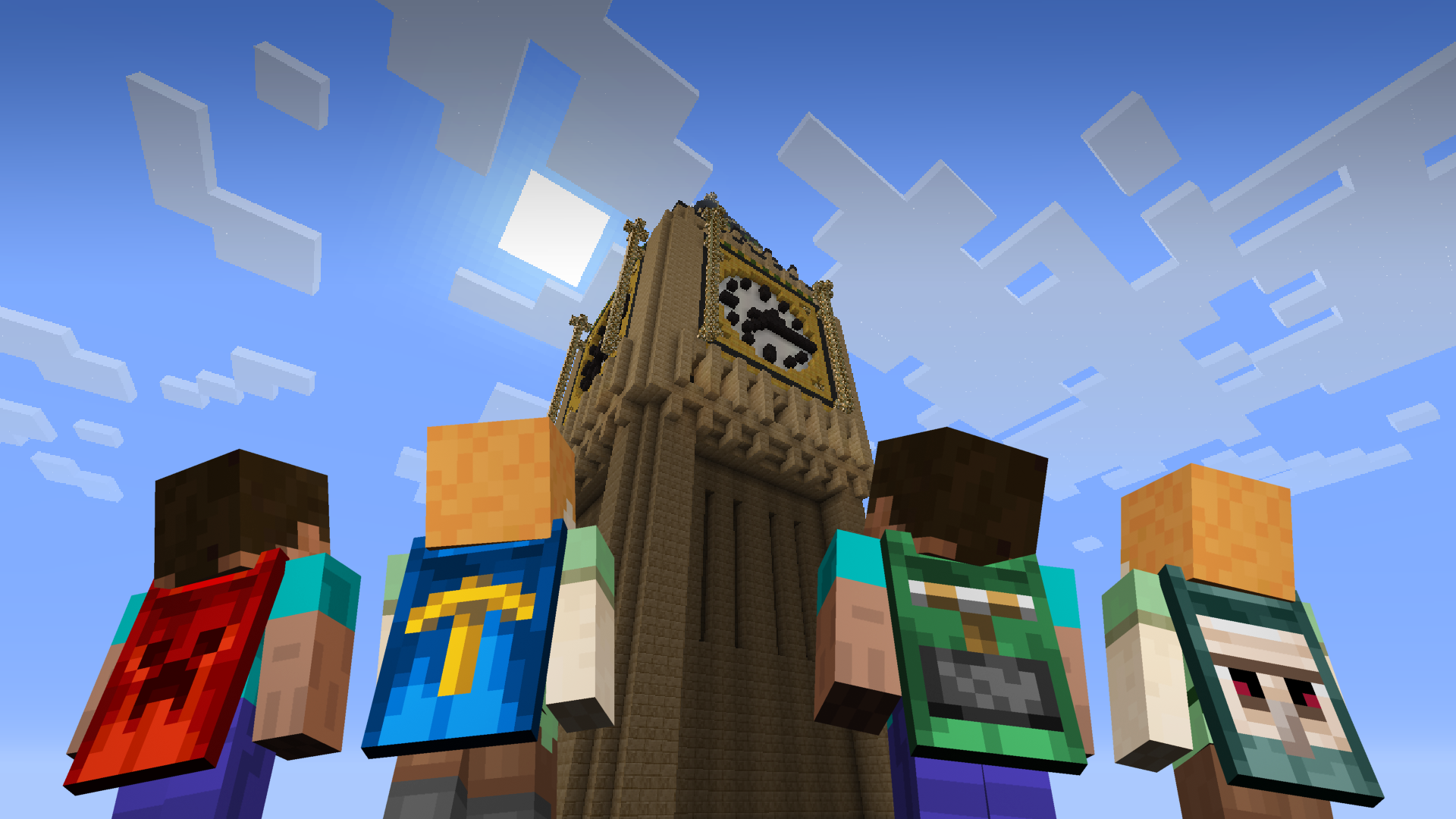 Every Minecon, a new cape is given to attendees. The image above shows them chronologically: 2011 Vegas, 2012 Paris, 2013 Orlando, and now, 2015 London! The new cape has a darker greenish-blue hue than the 2013 cape, and sports the iron golem's ever-watchful gaze. Expect to see these capes around very soon!
As if that wasn't enough, Mojang is releasing a free bundle of skins for both Sony and Microsoft consoles. This pack is extra-special because it features Alex and Steve wearing a selection of smart capes.
The Minecon 2015 Skin Pack will be available for just 15 days from the 1st of July onward. You can get it from Xbox Live Marketplace/PSN, be sure to grab it before it disappears! IT IS A LIMITED TIME PACK!
1.9: Still a Lot To Do
Even now, 1.9 is seeing changes in development. As one example: quivers were planned to be added in the new update, but were recently pulled.
The amount of arrows held would not change - still a stack, as it has always been - though the bow would prioritize firing arrows in the off-hand before ones stored in the inventory. Having a quiver serve this function was deemed more complicated than necessary, as holding the arrows would take less time than constantly re-arranging them into a quiver, and would provide something of a visual cue on what arrows the player was about to fire, among other things. Will the quiver see a return? Time will tell, even if it technically never saw the light of day.
On the other hand, OSX users have reason to rejoice: Johan Bernhardsson - formerly working on Pocket Edition - is now fully devoted to producing the OSX launcher for Minecraft! Expect more news on this soon!
Incidentally, PC Minecraft passed 20 million sales recently! That's just on PC, not even counting consoles and hand-helds.
LittleBigPlanet Meets PS Minecraft
A brand-new mash-up pack featuring Sackboy, Sackgirl OddSock, Toggle, Swoop and many more, is on its way to Minecraft on PlayStation. Mash-up packs are essentially the PlayStation version of a resource pack, letting you change up how the game looks with new skins, textures, music, and more. This one lets you LittleBigPlanet-ify your Minecraft world with resources from Media Molecule's popular game. It even comes with a pre-built landscape and some catchy tunes taken straight from the game. What more could a Little Big Minecrafter possibly want?
Expect the LBP pack to become available July 1st, for £3.29/€3.99!
Free Updates For All (Consoles)!
Free updates? FREE?! Yes - free updates! On July 1st, all console versions of Minecraft will be updated to version 1.17/TU25/CU14 , bringing a heap of exciting tweaks and additions. Here are a few highlights:
Offended by mountains and caverns? Worry not, strange crafter, because now you have the option to customise your super flat worlds so they're only as vertical as you desire.
New blocks! Oak, Spruce, Birch, and Jungle wood types. Fences, Gates, and Doors! Create the log cabin of your dreams with 1.17/TU25/CU14 .
A heap of new game options! Change the game mode, difficulty, time, player spawn position, ambient cave sounds, and weather without leaving your game session. Very handy.
Classic crafting! Now console players get to craft items just like their PC buddies on Java Minecraft. Some players find this style of creation more satisfying. Check it out.
New stuff! Iron Trapdoors, Inverted Daylight Sensors, Book & Quills, and Stained Glass have arrived. Use them wisely, and for good, please.