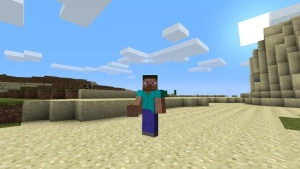 With 1.8 out for awhile, Mojang has been focusing mainly on bugfixes. Thanks to you guys, a lot of them have been found, reported, and are being fixed, even as we speak! Many are wondering what (if any) features are coming with the next pre-release, and while not all details are known, at least one thing has been revealed: portal exit/entry orientation! Basically, which way you are facing when you go into a portal will have an effect on your facing when you come out the other side. Sweet!
In recent months, snapshots and pre-releases traditionally came out on a Wednesday. However, this week, we can expect the pre-release to come out tomorrow (October 21st)! It's like an early birthday present!
Everyone likes presents, and it just happens that I have some Minecraft Realms codes to give away, courtesy of Marc Watson, and the whole Minecraft Realms team!
OKAY, WHAT KIND OF CODES ARE WE TALKING ABOUT HERE?
We have 10 codes for 30 days of free Minecraft Realms playtime, and one code for 180 days of free Minecraft Realms playtime! As with any Realms server, winners who start up their server will be able to invite friends, family, or anyone else to play with them. Additionally, they will have a selection of maps, mini-games, and more to add to their server at the click of a button!
JUST TELL ME HOW TO WIN A REALMS CODE!
Here is how the code giveaway works:
Take a screenshot of you and one or more friends in Minecraft, doing something you enjoy
Post that screenshot in this thread
Wait and see if you win on Friday
That's it, super easy to enter! Anyone can enter, but only one entry per person, please!
We will collect entries between now and midnight (GMT -6), Thursday (Oct. 23rd). On Friday (Oct. 24th), we will randomly select 10 winners from the entrants, to win a 30-day code. The 180-day code winner will be hand-picked from the most interesting, clever, or creative entry, as decided by staff pick.
Ready to win a code? Get your entry in before midnight (GMT -6) on Thursday, October 23rd!