So I decided that I wanted to build a boat on my server. My town is sort of a midevil port town so I thought a boat would be great. I am basing it off a boat in another game I play. Now I am really no boat expert, but in the game this boat is called a "War Brig" however "war" just refers to the most powerful tier of boats in the game so I guess the type of boat would just be Brig. Im not really sure what a brig is supposed to be like, but my ship is a warship. One thing I really wanted were working tnt canon broadsides. I really love tnt canons so putting them to good use would be awesome. I wasn't sure how it would turn out when I started but it has been coming along really really great. Anyway enjoy the pics!
The first step was to get the general shape of the deck. I did a lot of comparing to the other games version to get it to look right. As you can see the boat is not in the water yet. I realized it would be a lot easier starting it on land and to just mcedit it into the water once the hull was done.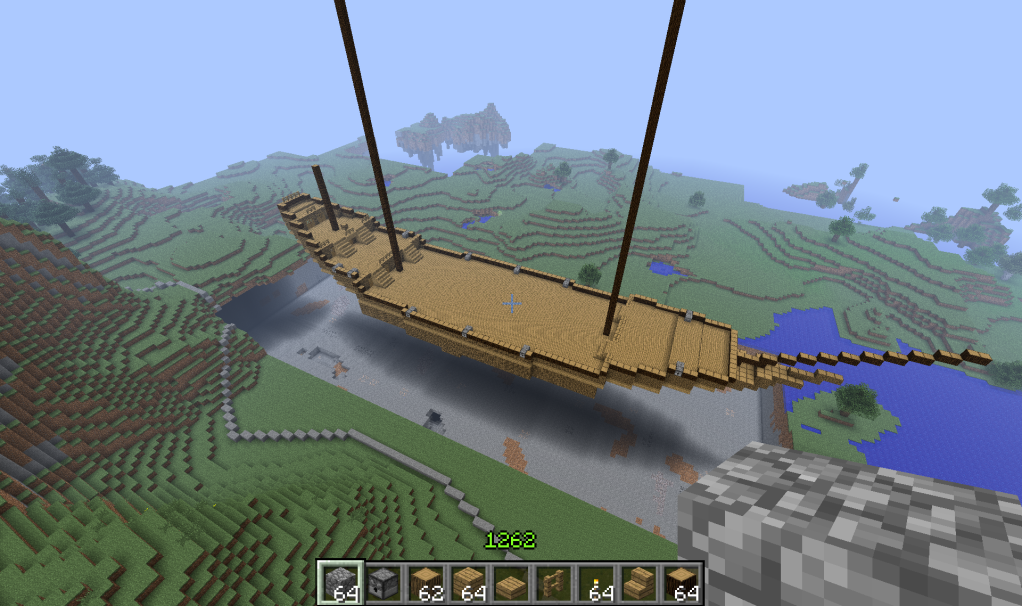 Then I made the hull. This was surprisingly difficult. It took a lot of work to get it to look good. But I like the way it turned out. I am not sure if I want to add more design to the sides as the hull right now looks fairly boring as just planks. A few stripes of a different color might look nice. I also got a new texture pack. It is one a friend of mine made that I like.
Once the hull was finished I did some interior and the canons!! There are a total of 24 canons, 12 on each side. They are two blocks apart in a line down the hull. Each one consists of 8 pieces of tnt, 7 pieces launching 1. Each side can be fired separately from a button next to the wheel. They work perfectly, however they need to be reloaded manually each time. I am using a explosion repair plugin (creeperheal) however it is not able to regenerate the tnt properly. It gets all confused as the tnt gets pushed around when fired. Is there any plugin that would be able to regenerate the tnt? Anyway here is a pic of all the wiring for all 24 canons.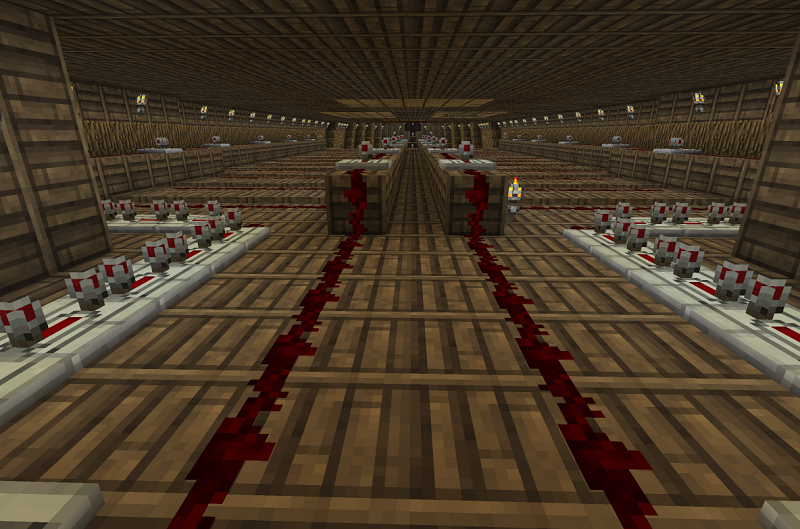 In addition to the canons I have started laying out the captains cabin and the below deck area. The captains cabin can be entered through two doors on the upper deck behind the wheel. It has a nice view out the rear of the ship and a small balcony. I am not finished with is yet, it still needs to be furnished.
The below deck area is going to be the cargo hold and crews quarters. there is not much to see right now. It is simply the area below the tnt canons.
And finally the real money shot. With the hull and everything finished it was time to set sail on her maiden voyage!! Of course there are not sails yet. Those are the next step. They are going to hit the sky limit (main mast hits it) so I wanted to put it in the water first to I know exactly how much space I have to work with. But even without sails I think she still looks amazing. Especially with the water shader mod! :biggrin.gif: