Bio
---
About Me
I am Skeleton Steve. I've been all over the Minecraft world of Diamodia (and others). As an adventurer and a writer at heart, I always chronicle my journeys, and I ask all of the friends I meet along the way to do the same.
Make sure to keep up with my books whenever I publish something new! If you want to know when new books come out, sign up for my mailing list and the Skeleton Steve Club:
Here's my website: www.SkeletonSteve.com
You can also 'like' me on Facebook: Facebook.com/SkeletonSteveMinecraft
And 'follow' me on Twitter: Twitter.com/SkeletonSteveCo
And subscribe to me on Youtube: (Click here)
"Subscribe" to my Mailing List and Get Free Updates!
I love bringing my Minecraft stories to readers like you, and I hope to one day put out over 100 stories! If you have a cool idea for a Minecraft story, please send me an email from the website, and I might make your idea into a real book. I promise I'll write back.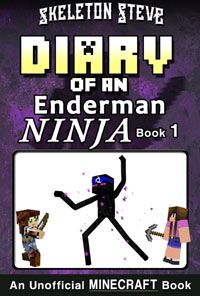 (On Amazon Here)
Interests
Location
Diamodia
Contact Methods
---
Website URL
http://SkeletonSteve.com