Out of Character Information
IGN: Socfuz
Real-Life Age: 15
Do you have a Skype? If so, what is your Skype Name? (This is by no means required and holds no weight on your acceptance. We just use Skype a lot): Socfuz
Have you read all of the rules, agree to abide by them, and by the decisions of our staff?: Hell, yeah! (Seriously who would say no?
What is the definition of "Powergaming"?: RP'ing something happened without leading up to it with other RP messages so the other person can't respond to it. Example: I punched Zymph in the stomach. The other player must be allowed to react. Correct example: I swing my fist towards Zymph's stomach
What is the definition of "Metagaming"?: Using OOC knowledge in character, like crafting recipes.
What is the definition of "Roleplay"?: Pretending to be a character and acting out your character's moves, thoughts, and actions.
Who can use flymod, X-ray and other such clientsided mods?: No one! That would be cheating!
When are you allowed to cause the death of another character?: When the other player accepts it, and takes it like a man!
When are you allowed to speak out of character?: If you seriously need to ask a question out of game, like: Wait my stuff didn't respawn with me, why? or state something (like incorrect grammar) that won't hinder the RP.
Have you read the primary server lore of our server and agree to roleplay in accordance with it?: Most of it. I'm gonna continue reading all the smaller things later.
Who is allowed to use magic?: Only those who have learned magic or "The Art" at the Academy.
Who are the Fallen?: The Fallen were seperated from the rest of the humans in the beginning time. They are a somewhat peaceful and superstitious people.
When and how did our current government come to be?: In 169 A.R. by the Chancellor who formed three advisory positions under him. The three positions are: Master of Blades, Master of Words, Master of Coins. Which I'm guessing means thes are the leaders of specific branches like Defence, Schooling/Learning, and Economy
Who are the Order of Aradin?: A group of people who patrol the skies, in blimps and hot air ballons, to protect the villagers from aerial assaults.
What previous roleplay experience have you had, if any?: Not much (Does World of Warcraft really count?), but I do have a great imagination.
If you have played on other RP servers, please say which and why you left: None.
Character Information
Name: Shawn Hallert
Age: 17
Class: Ranger
Physical description: 5' 11" (5 Foot 11 Inches) 165 Pounds Somewhat muscular arms and legs. Black hair and black eyes. Light tan skin, one large scar on his stomach from a hot air ballon crash. He tried to pilot it at 13. (There's a reason for the goggles, keep reading.)
Screen capture of your skin: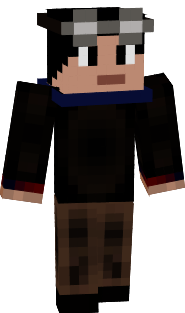 Biography (Minimum 400 words. Cannot include loved ones being killed, kidnapped, tortured, or the like, unless you can do it in a non-cliche manner.):
Childhood:
Shawn was born in a small village as the son of Robert Hallert, a Ranger for the Order of Aradin, and Esther Hallert, a Bar Maid. Shawn was taught everyhing (his father knew) by his father. Shawn learned how to fire a bow and swing a sword correctly by the age of 8. By the age of 10, due to his father and his friendly nature, Shawn had lot's of friends including a blonde girl with jade green eyes, by the name of Guisella Vanfal, who he secretly loved. Most of his friends went to the Academy, while he stayed home and learned from his father. (His father always hated the Academy.)
The Falling from Grace:
Shawn had everything! A loving mother and father, friends, a good knowledge of the world, and a great attitude towards life. But that was all about to change. His father was sent to help escort a royal from another land one day. His father wouldn't be back for three weeks and told Shawn to: "Stay strong and be brave for me." With those final words his dad placed his piloting goggles on Shawn's head and kissed him goodbye. Two weeks later his father was accused of murdering the royal he was escorting. The truth was in a letter he had sent to Shawn. It read:
Dear Shawn,
I believe some of the crew are making bad deals with this "royal". I hear things and when I walk by them they watch me and wait till' I'm gone to start talking again. I heard one say: "And what of us when you take over? I want money and a high position beside you or I don't help." I also heard them speaking about the monster's on Bloodstone and how to use them to their advantage. I think their planning on using the monster's to overthrow the Chancellor and take power of the islands! I may be wrong, but just in case I had to write this down and tell you.
I love you, son!
Sincerely, Robert Hallert of the 15th Legion of the Order of Aradin
Soon after his father was sentenced to "life in prison" Shawn's mother became very sad. Most of Shawn's old friends hated him now, they called him the son of a murderer, except for Guisella and the local farmers son, who felt sorry for him. Shawn grew cold and became very distant from his mother and remaining friends. He acted out and did rash things like trying to pilot a hot air ballon at 13 which he crashed giving him a large scar from a splintered piece of wood that nearly killed him. One day his mother so distraught and drunk took all her husband's letter's he had sent when on missions and burned them. Including the one that could have set his name free, the last letter he'd sent to Shawn. When Shawn came home from his job, now being 16 and legally able to work, and found out what had happened he became angry and decided to run away. With the vision of his father and the thought of setting his name free by saving the islands, he ran away to a small island where he planned what to do next. His plan: Win!
What is your character's main goal? (Motivation): To free his father's name and to gain the love of Guisella Vanfal.
Strengths (Both physical and personality): He has a strong sword swinging arm. He is a moderately fast runner. He also has a very strategic and intelligent mind which helps in battle.
Weaknesses (Both physical and personality): His left arm is weak (so when aiming a bow he's not very good), due to the hot air ballon accident and has a slight limp. His anger can get the better of him, causing him to get into bad situations. Sometimes he think's he's stronger than he is.
Does your character have any connections to currently-existing characters or characters yet to be accepted? If so, which? (See "Character Linking Aid". Please post a link to the topic.): No only the ones I made up for his story. Maybe someone for Gisella though she probably wouldn't take part in much, so it may not be worth it.
In-Character-Responses (ICRs. For each sc
enario, write at least a paragraph describing entirely in-character how your character would respond to the situation.Your ICRs will be used to see how well you can RP. Please post them as if in IC chat. An example can be found after this form.)
Walking down the streets of the Capitol, you encounter a pair of heavily armed and armoured men harassing a young girl. The girl reminds me of Guisella so I run towards the men. " Hey! Leave her alone!" *Pulls out sword* The one man laughs and swiftly kicks my legs out from under me. The sword fly's off into an alley. Oh yeah? says the bigger man. I flip myself back up and say "It's okay. I don't need it. *Waves hand at them as if to say "bring it"* The one man lunges forward. I swiftly move to the side and trip the man. The man falls and hit's his head on a stone block and is knocked unconscious. I grab his sword and block the second mans stab. He lunges again. I block, but he punches me square in the face. I stumble back, seeing stars. I hardly get my vision back before the second fist comes. I wake up bleeding from my nose and the girl cleaning a cut on my forehead. That was brave of you to help me. the girl says. "Yeah, brave that's what they call that."
A man approaches you with a proposition - Go to Bloodstone and retrieve something for him, and you will be well rewarded. "No way. You seem fit do it yourself!"
You pass an old man lying on the side of the street, begging for food. I toss him a silver coin and give him my ham sandwich. Thank you, young man. he says. I smile and walk on. Suddenly I think to myself he looked familiar, somewhat like my dad. I turn around to say something, but he's gone.
In a tavern, a slightly inebriated fellow insults your mother. "Oh, really?" The fellow get's a little to close to my face. Yes really. he says with rancid breath. I knock him to the ground by hitting him in the head with my mug and leave. I hear the man scrambling to stand up and the bartender laugh as I close the door.
You take a liking to a beautiful necklace a passing woman wears. The jade green emeralds remind me of Gusella's eyes, perhaps I should get something for her? "Good day, my lady. Say where did you get that necklace?" Oh, my boyfriend got this for me from the jeweler down the street. she answers. I go to the jewelery store and see a similar one to the necklace the lady was wearing which is very expensive. I decide to buy a cheaper one for Guisella.
Do you have any questions about the server or our lore?
Other notes: I don't have full Minecraft yet,
but I will soon!