Minecraft: Procedural Survival +
Development Blog: Currently in Pre-Production
Table of Contents
What is "Minecraft: Procedural Survival +"?
Background: Who am I?
The Project: Planned features.
The Team. See: Help wanted!
TLDR: I'm making a map! It'll be complicated! This is a development blog. If you don't like reading about these kinds of things and just want a short and sweet "This map is cool, you should download it," wait until it's done being developed.
If you want to help work on this project, I expect you're the kind of person that does like to read about these things. Enjoy!
1. What is "Minecraft: Procedural Survival +"?
Minecraft: Procedural Survival + (or MPS+ for short) is a project to build upon and enhance the vanilla Minecraft survival experience, to create something significantly more exciting, diverse, unique and objective-driven than simply hopping into a new seed and trying to make it to the Ender Dragon. Using hand-crafted map modules and a sophisticated, roguelike-esque procedural map building algorithm, MPS+ aims to offer a more condensed, more diverse and more challenging survival experience that feels more compelling to play over, and over, and over. Importantly, MPS+ is - at least for the most part - not an adventure map; the game is played in survival mode, players can break and place blocks, and generally use their full arsenal of Minecraft survival techniques.
How's it work?
First, MPS+ generates you a map. It's a smaller map, consisting of just 100 chunks: a 160x160 block area in width. But unlike the classic Minecraft overworld, with its large expanses of more or less useless and unchallenging terrain, MPS+ crams an extensive amount of content and variety into this small space. The map is generated in layers: an overworld layer, an ore layer, and a dungeon layer. The player or players spawn in the overworld layer, where they'll have free reign to run around exploring the terrain, gathering resources, setting up a base and saving up to progress to the more challenging dungeon layer. (The ore layer is just an extension of the overworld layer; it dictates, as you might imagine, what ores you can find just beneath the surface!)

The dungeon layer is where things get interesting. Each map has a large, sprawling dungeon beneath the overworld layer, which will prove to be a much larger challenge. Somewhere in the dungeon is the map's exit or objective room. Once you locate the exit, you'll be prompted to go retrieve some items; these objective items could be found at the end of challenging puzzles, held by dangerous bosses, or may simply be obtained by gathering and processing. It all depends on what the map generates! Once you complete the objective, the exit is unlocked and you can leave your world behind... for a new, more challenging one! New overworld tiles, new dungeons, and a higher difficulty level. Are you up for the challenge? How far can you get? Each map you progress through provides an interesting objective to work towards, and a unique scenario in which to work towards it. Is your overworld barren of resources? Or teeming with monsters? Perhaps it's perpetual night? Or... at the bottom of an ocean!
2. Background: Who am I?
I'm a guy with a serious passion for games and game development. I graduated university mid-2016 from a game design and computer science program, and my experience with game design stretches back eight years. Regarding Minecraft specifically, some folks may recognize me as one of the old mappers for the Overcast Network; I designed and collaborated on about a dozen multiplayer objective maps - things like Team Deathmatch and Capture the Flag, amongst others - before leaving to focus on the remainder of my university studies in 2014. Since then, I've admittedly grown a bit rusty with Minecraft. Command blocks, for example, were only just becoming really powerful when I stopped playing, and before then, I'd been relying mostly on a third-party server plugin for most of my mapping functionality. But now that I'm back into working on projects, seeing how far Minecraft has come, and how many new options are available for mappers, has inspired me to get back into it.
Minecraft is a super-diverse, super-flexible game and people have done a ton of really amazing, creative things with it. But at its heart, it is - or at least, was - a survival game. A game about gathering and processing resources, making bases, progressing to stronger and stronger equipment, and then taking on tough challenges. But every game gets a little stale after a while - I know that vanilla survival has become a little lackluster for me, personally. There are some interesting survival-plus challenges that have popped up over the years to breathe new life into the survival genre: the old 404 challenge, and of course, skyblock-and-associates. This is what I'm trying to emulate: a map that is still, at heart, the vanilla Minecraft survival game... but much, much more. Something more interesting to play - something interesting enough to keep playing - something that offers new, unique challenges around every corner, and new situations to work through.
3. The Project: Planned Features
MPS+ is currently in Pre-Production. That is to say, it's in the planning and prototyping stages. Nothing is set in stone, and I still need to do a lot of research to figure out what precisely is possible with Minecraft nowadays. But at a general level, here's what the vision for MPS+ is:
The Map Generation Process
MPS+ generates a map out of hand-crafted map tile modules, not unlike how roguelike dungeon-crawlers do. The overworld is made from a 5x5 grid of 32x32x32 modules; the ore layer, just beneath that, is another 5x5 grid of 32x(10?)x32 modules; the dungeon layer is more complex, a 9x9 grid of 16x(20?)x16 rooms. There should only be one or two entrances from the overworld or ore layers, down into the dungeon, and somewhere in the dungeon there needs to be an exit room. The exit room will contain instructions for the players regarding how to obtain the necessary victory items. For example, if it requires a key held by a boss monster, the exit room will say this.
A fourth layer is reserved for special rooms, like a boss lair or a puzzle challenge.
To power this map generation process, a lot of map tile modules will have to be made. In all likelihood, most modules - or at least, the ones with exceptionally interesting landmarks to interact with - will require several variations to keep players on their toes. The map generator will need to be smart enough not to excessively reuse tiles, possibly with some kind of memory system to keep track of how many times a tile has been used; it will need to be able to tell how "difficult" a given tile is, and weigh in more difficult tiles the more times the map is cleared; it will also need to be able to tell what tiles offer what possible resources, for the purpose of generating an objective for the exit room.
The Gameplay Loop
As already mentioned, the gameplay loop - the things that the player or players do - is very much like vanilla survival. They'll spawn into the map with no or limited equipment; they'll explore the map and collect resources in order to survive; as they progress and obtain more powerful equipment, they'll locate and enter the dungeon; upon finding the exit room, they'll receive their objective for the map; finally, they'll work towards completing the objective, either by hunting down a puzzle room or a boss room, or by processing the objective items themselves. All the while, they'll have to contend with every challenge a vanilla survival player does: hunger, monsters, and a treacherous environment.
When the players complete the objective, they'll be stripped of their items - there may be a bonus option for high-performing teams to either bring a small number of things with them, or cash in their progress to receive extra loot on the next wave - and then a new map will be generated, with a new collection of interesting tiles, a new dungeon, and a new objective to find and complete. The meta-objective is, of course, to complete as many maps as possible.
Much like SkyBlock and associated challenges, it may be possible to fail a map! If players are not careful enough with their resources and lose vital items due to death or recklessness (eating melon, anyone?), it may be unfeasible - if you lost all your armor and expended the map's iron - or impossible - if you exhausted a resource needed for the objective - to complete a level. That may spell game-over! Though you can always try again from level 1; there'll be a new challenge waiting each time.
Actually Cool Maps
Procedural generation is a super-cool thing but it gets seriously overhyped. Minecraft - totally vanilla Minecraft - boasts a procedurally generated map. But the more organic and complex procedural world generation gets, the less interesting its diverse results become. Anyone that's played a few too many games of survival can tell you that, at the end of the day, a hundred billion varieties of hills and valleys means little when one of these hundred-billion hills offers no serious gameplay variation compared to any of the others.
MPS+ intentionally diverges from the super-complex, super-organic procedural map generation algorithm, emulating roguelike dungeon-crawlers where maps are generated by putting a bunch of hand-designed tiles next to one another. In this way, the map developers can assure that interesting challenges await in each part of the map... even if the map looks a little - or a lot - less natural and organic, from tile to tile.
MPS+ aims to offer lots of really cool environments, challenges and landmarks to be found with each of its map tile modules. Towers and dungeons and villages to be explored, treacherous landscapes with curious quirks that have to be overcome, more deliberately placed resources and loot to make players think about conserving their equipment and farming for surpluses... doing away with meaningless stretches of hills and deserts that offer no significant gameplay variety.
A Whole Lot of Dungeoneering
Depending on how many maps you complete, you may find more interesting - and more challenging - dungeons and dungeon themes. Vanilla cobblestone dungeons, mineshaft dungeons, stronghold dungeons... jungle-temple inspired dungeons, witch-infested lairs and libraries, nether and end themed dungeons... and even, potentially, the terror that is the underwater temple!
It may be that some dungeons are protected by a mysterious force, and that you'll be forced into adventure mode when you first enter! You'll have to navigate the dungeon using only the power of your own two hands... well, and whatever gear you've brought along. But no block breaking, until you find the dungeon's core and disable it! Then you can have at the dungeon's resources, plugging up dangerous falls and looting sealed chests for goodies.
Wireframe:
A reference illustrating the map grid, and the sizes of the layers. The green layer is the overworld, the brown layer is the ore layer. Below that is the dungeon in orange, and finally, an example of a challenge room in red. While the overworld will always be generated with the full 5x5 grid of map tiles, the dungeon will rarely utilize the whole 9x9 space, and may twist and turn... like you'd expect a real dungeon to!
Scale Reference:
For a general idea of how large these spaces are... have a modest house with a few villagers!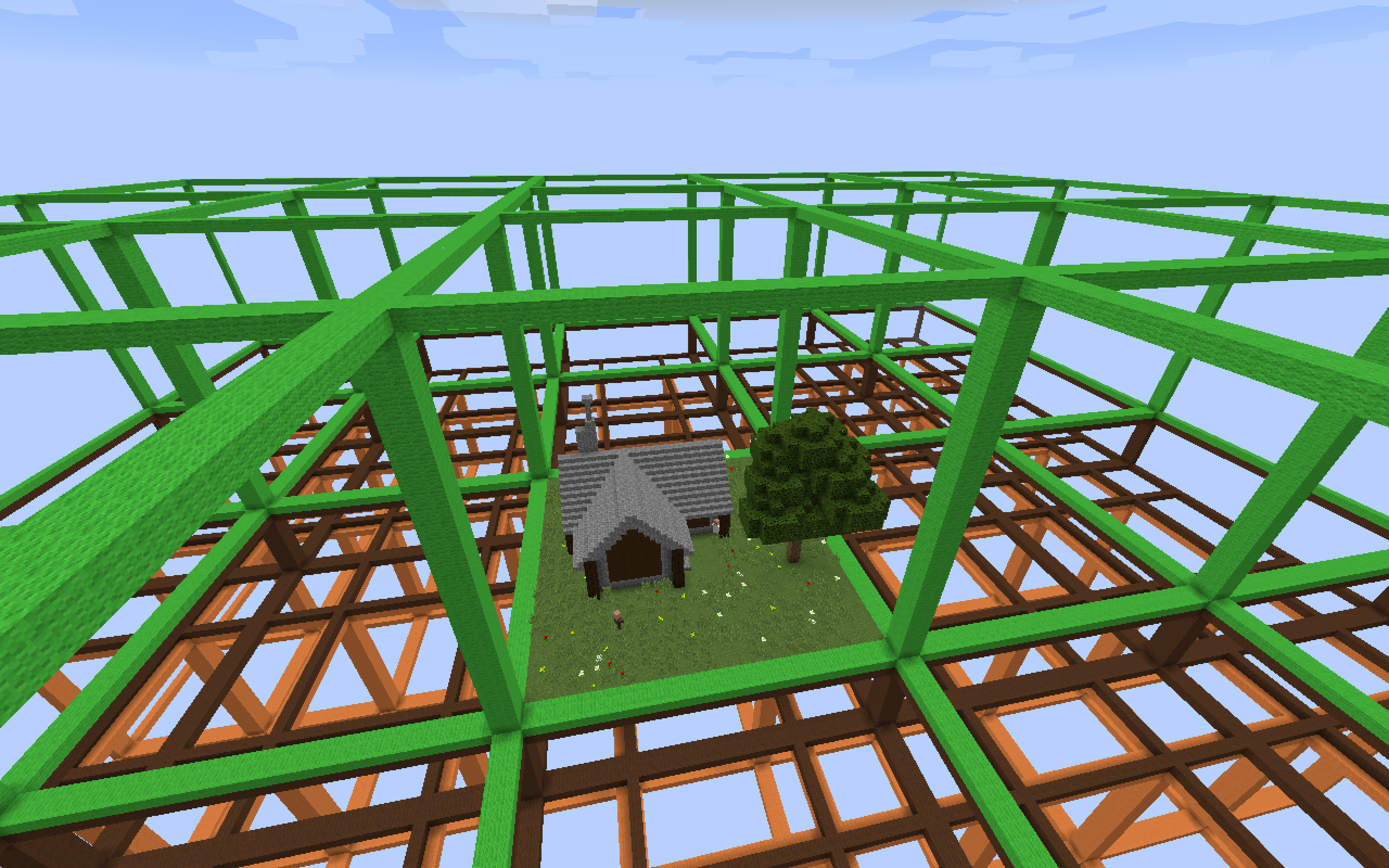 4. The Team. See: Help Wanted!
Lyzák, creative director, mapper
???
Right now, I'm the only person on the team! A project this big is a frightening proposition for a one-man army, especially considering that I never got to work with command blocks - something a project of this scale will need excessively.
If this kind of project is of interest to you, consider dropping me a private message - please do not post in this thread asking to be a part of the team; this thread is for generating conversation about the features and development of this map, and posting updates about its progress.
The kinds of teammates I'm looking for:
Mature, eloquent, and a team player: I'm not putting an age requirement up front because I know that there are some exceptionally talented Minecrafters in the community and age is not the whole story. However, you do need to be mature, understand what it means to work in a team, understand commitment and professionalism, and be able to communicate - especially communicating your ideas - intelligently. Imagine you're applying for a job: is your application riddled with spelling and grammatical errors? Are you using chat-speak?
In addition, you should be able to stay in touch. That likely means Skype. But we'll talk about that.
Experienced Minecrafter: This should go without saying, but here it is. You should know the game inside and out. Do you need to know every facet of Minecraft? Everything that can be done with any block? No, of course not. I, personally, am a little behind the times myself and am still getting caught up, and I have no experience with command blocks. But you should know the Minecraft survival game from beginning to end, understand how the game progresses and the implications individual resources have on a player's ability to play the game.
Exceptionally creative or technically experienced: You need to offer the team one of two things. Either you are an exceptionally creative mind that can come up with unique ideas and bring them to fruition by prototyping them and building them - basically, someone to assist in building the game's map tiles - OR you are an incredibly technically experienced mind that understands the underlying game logic behind Minecraft, and especially, has extensive experience with complex redstone and command block mechanisms. To reiterate, I need: 1) Creative map-tile builders with excellent building chops, and 2) Map-logic builders with excellent redstone and command-block chops.
I'm not providing an application form. I need intelligent, seriously driven players for this project: if you fit that bill, I'm more than confident you can send me a private message that explains how you want to help, and why you're a good candidate for the team.