Hello to all the iOS Crafters!
Here's a Tutorial on how to install Texture packs on MCPE on iOS 8
As we all know , apple changed the application file system drastically in iOS 8 , so I'm here to guide you and help you install your Favorite TPs from around the web!!
First off-
YOU NEED A Jailbroken iDevice for this.
Unless you have an apple developer account then you can edit the ipa by replacing the files and then resign them , then install! .
For others Follow this -
Currently all User versions of ios are jailbreakable , so
If you are on Windows watch the tutorial from here.
If you are on mac then use the one here.
If you are on iOS 8.3/8.4 , you would need the "House Arrest Fix" from Cydia , Just search it there.
Let's start !!
I'll be using iMazing for this Tutorial , but you can use any other file manager.
You need to first download the Texture Pack and put it in a folder that you prefer, I'll be using OpenGl 2.0 shaders by wackyhut.
Open your manager up and go to a Filesystem Browser-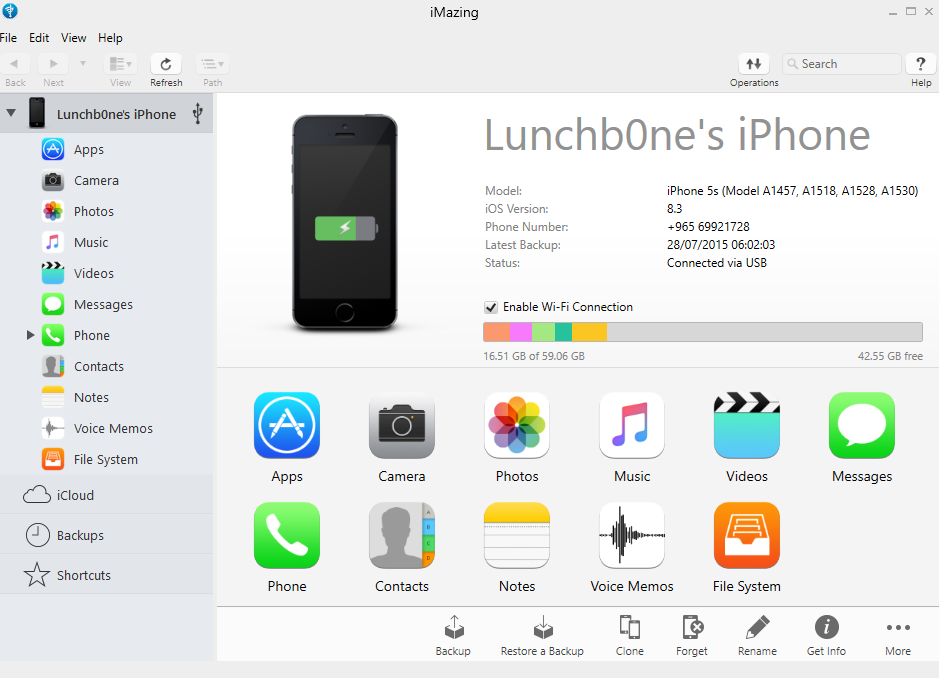 Now go to the FileSystem Browser Function in your File Manager and Navigate to /var/mobile/containers/bundle/application/ -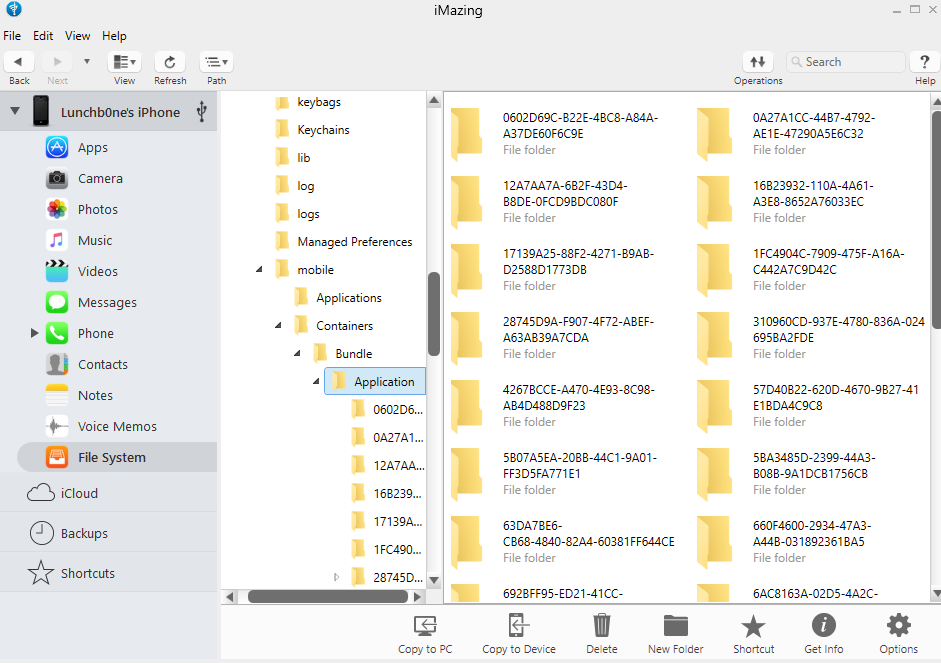 Don't panic , you'll see a bunch of directories with random names , time for good old Trial and Error , open up each folder one by one (Not the sub Folders) until you see one with a folder called minecraft.app -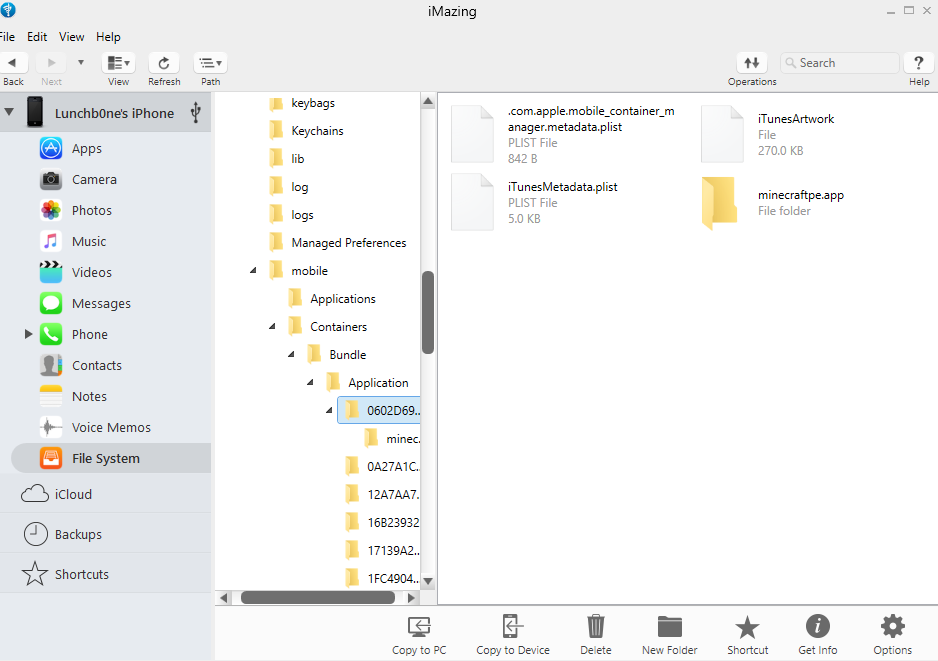 Now open up the minecraft.app folder, wait for it to load.
Remember the texture pack you downloaded?
Now's a Nice time to open the .zip up
Folders and their contents will vary , I'm using a shaderpack , so It mostly contains shaders.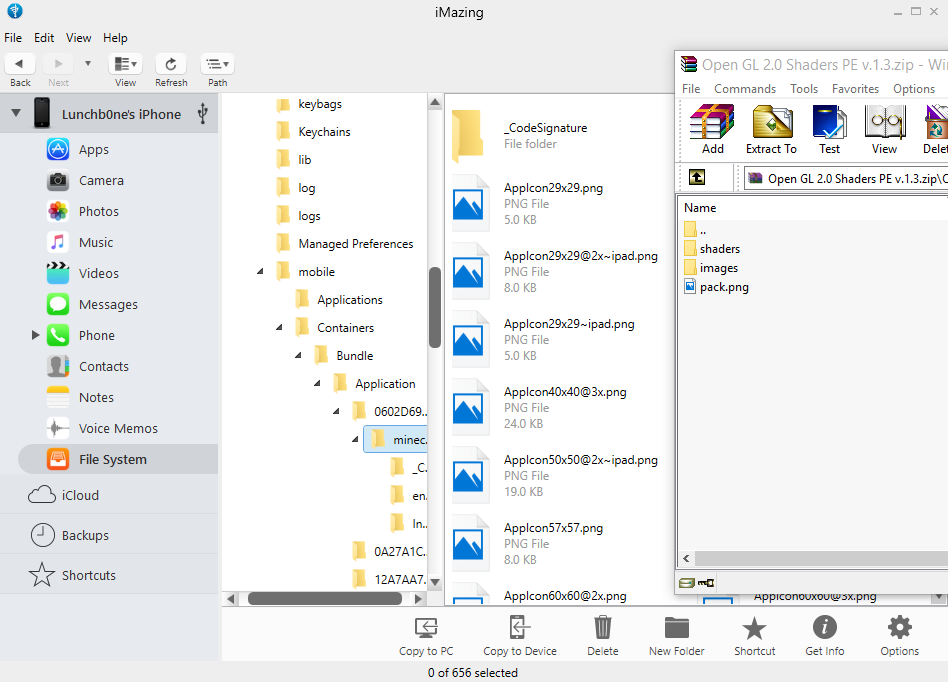 Now ,one by one , open the folders and the sub-folders in the zip until you find some files and stuffs , if you have a iOS specific TP then you can skip this part , as you *Might* already have the files in the main directory of the zip.
To the other people , you will need to manually drag and drop the files into a separate folder "xxxxx" on your computer , but as most of the file-Managers have Drag and drop functions now , I can just drag and drop the files , Directly form the .zip -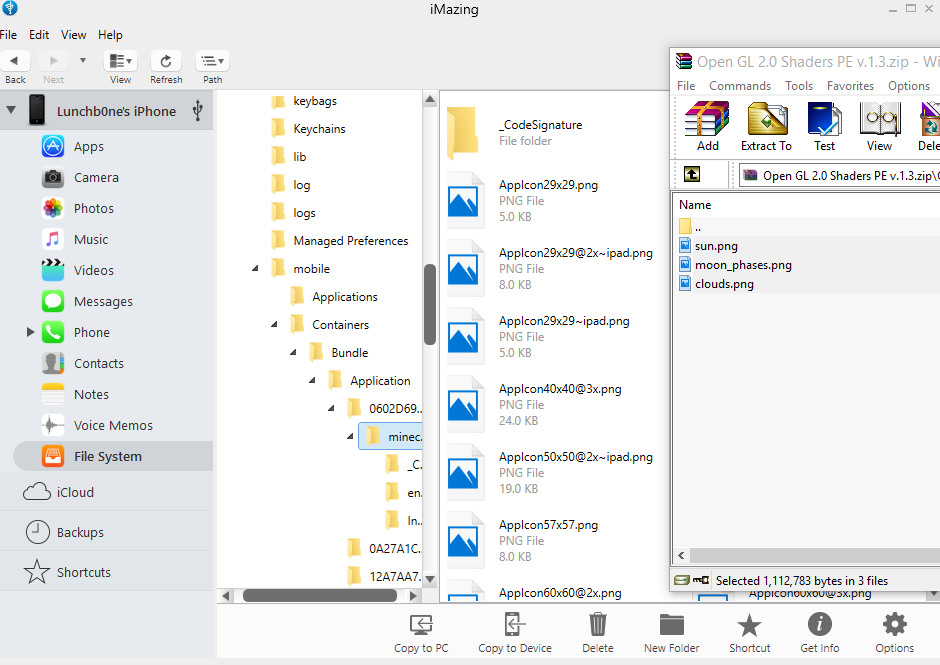 So immediately , you'll get a message saying that there are some items named the same already in the folder , select Replace all and close the File Manager.
Go to your iDevice and make sure that minecraft PE is closed from the app Switcher.
Time to Cross your fingers !
If you did everything correctly , You'll notice some changes , Drastic changes (I'm using a shaderpack so not much changes for me except the lighting
)
ORIGINAL-
AFTER-
If you want to install another texture pack or simply uninstall the current one, then backup your worlds and uninstall and reinstall the app and then restore your worlds.
Hopefully this worked for you.
If you have any Questions ask me in the Comments.
Don't Forget to press the "Green up thingy Button!!"
Enjoy the new texture pack!!
It would be appreciated if a Mod could Pin this for other fellow iOS users!