Sounds good. I've wanted something like this for a while. Or

iron sticks

also.

Also, did you know you can heat a furnace with a blaze rod?
Thought of this a while ago (iron rods, not sticks)
herp, pics added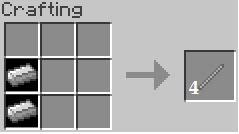 - they are crafted just like sticks, but with iron ingots of course
- crafting iron-bars makes more sense, while technically getting the same amount of bars per ingot
- could be used for other things
should I make a thread for this?