Intro
This is my first mod. It adds 8 new armor and toolsets: The purified forms of natural minerals plus arcane ingots and pure arcane orbs. Requires
ModLoader
and
MC Forge
.
Content
To start off you need to mine some arcane ore. You can find it anywhere underground although it is more common below level 16. It gives off light.
EDIT: Rarer since 2.0
After that smelt it into arcane ingots in a furnace. Then craft a purifier like this: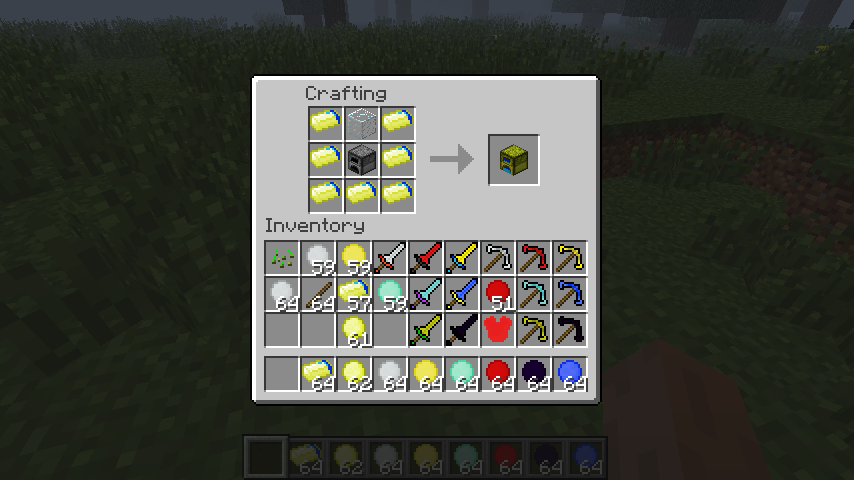 Place a purifier and then put an iron ingot, redstone dust, gold ingot, diamond, coal, arcane ingot or lapis lazuli shard in the top slot and one of those items in the bottom as fuel. Lapis lazuli shards are crafted by placing four lapis lazuli in a 2x2 square.
Fuel Rates

Coal = 4 uses
Iron Ingot = 8 uses
Gold Ingot = 12 uses
Diamond = 128 uses
Redstone = 8 uses
Lapis Lazuli Shard = 64
Arcane Ingot = 8

Purifier Recipes: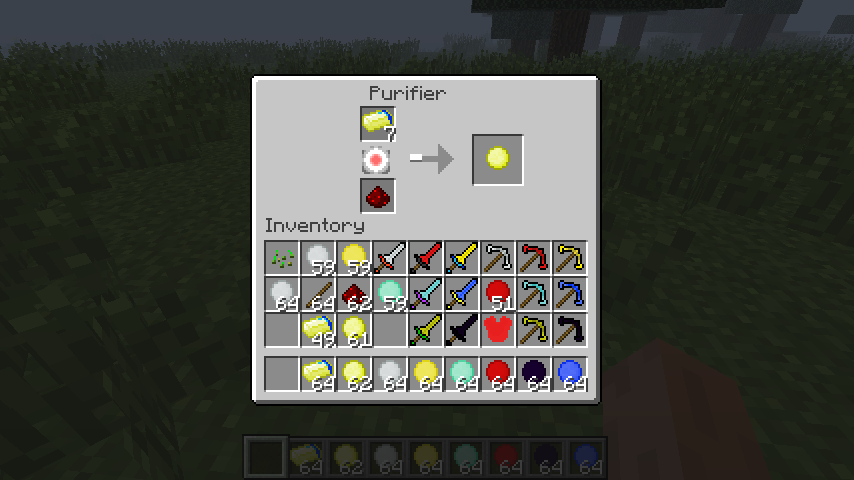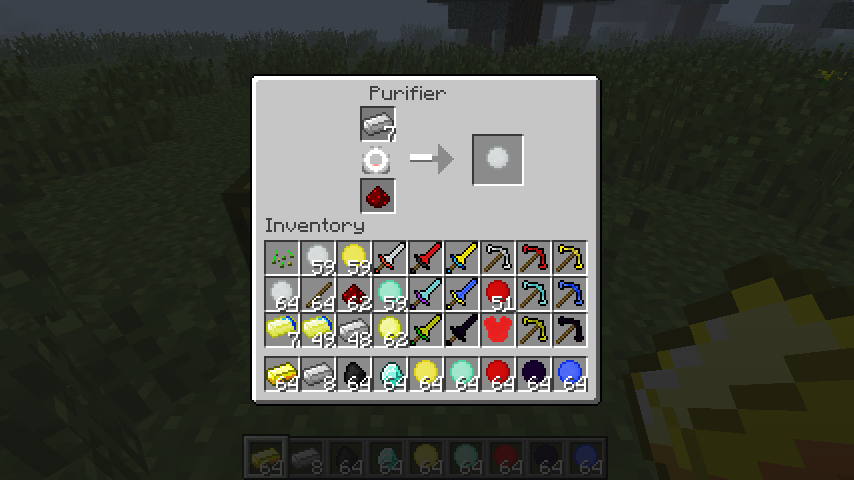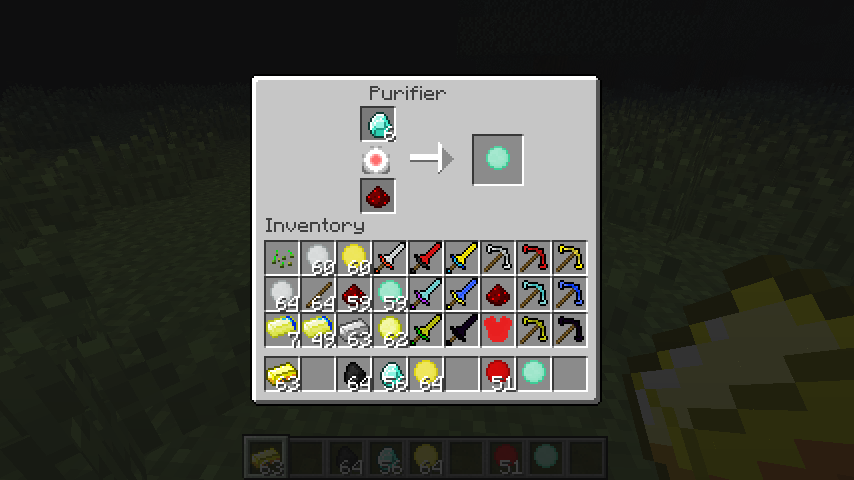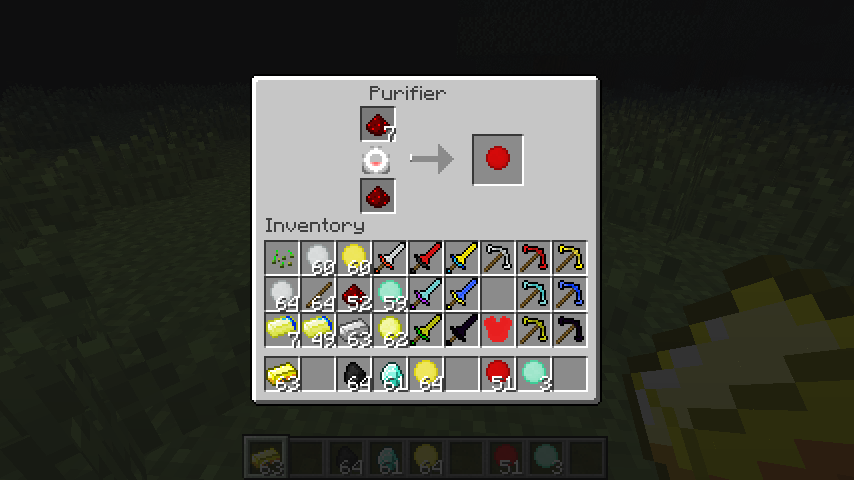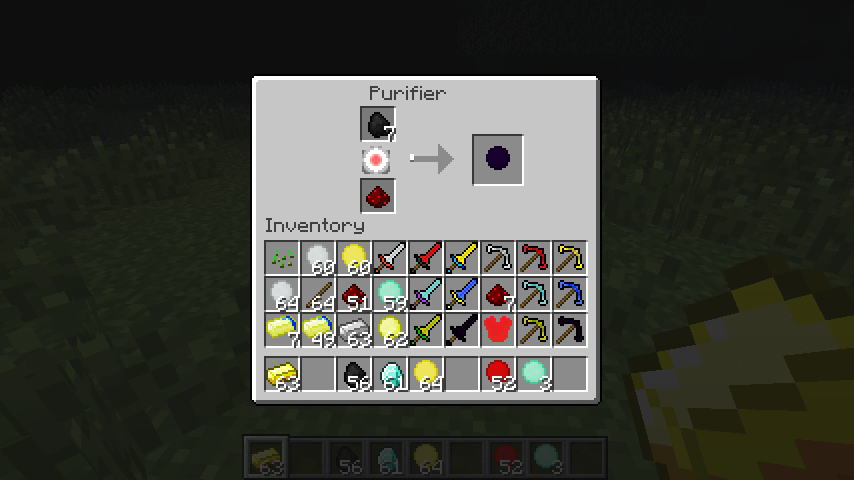 These pure orbs can be used to make new tools and armor! Just follow the normal recipes. Place these orbs in a 2x2 square to make reinforced orbs which are much more effective. Now revertible to 4 orbs again.
Stats:

Tools(durabilty, speed):
Arcane Ingot = 200, slightly more than iron
Arcane Orb = 250, normal diamond speed
Iron Orb = 300, same as Arcane Ingot
Gold Orb = 28, godspeed
Diamond Orb = 1600, slightly faster than normal diamond
Redstone Orb = 60, a fair bit faster than normal gold
Coal Orb = 131, slightly faster than cobblestone
Lapis Lazuli Orb = 250, slightly faster than iron
Reinforced Arcane Orb = 1000, faster than diamond
Reinforced Iron Orb = 1250, same as above
Reinforced Gold Orb = 200, GODSPEED X 42
Reinforced Diamond Orb = 6000, about as fast as Gold Orb
Reinforced Redstone Orb = 800, same as Reinforced Diamond Orb
Reinforced Coal Orb = 525, same as normal iron
Reinforced Lapis Lazuli Orb = 2000, about normal gold.
Armor has similar stats. Wil add later :tongue.gif:

Version 1.1 adds a new block, the Contaminator, to revert your purified orbs back to their original states. Crafted the same way as Purifier but with dirt instead of Arcane Ingots.
Uses dirt, stone and cobblestone as fuel.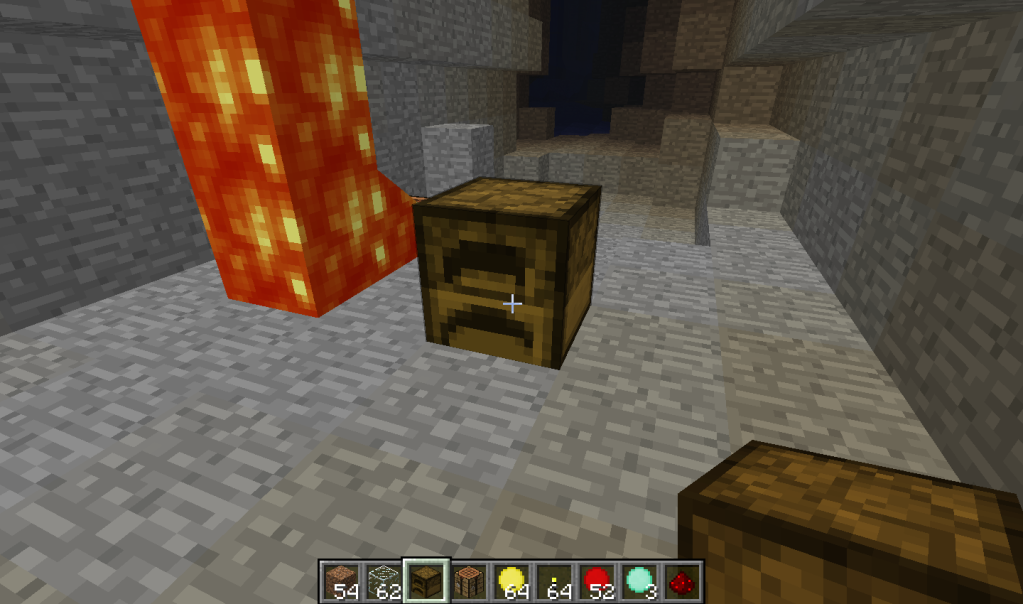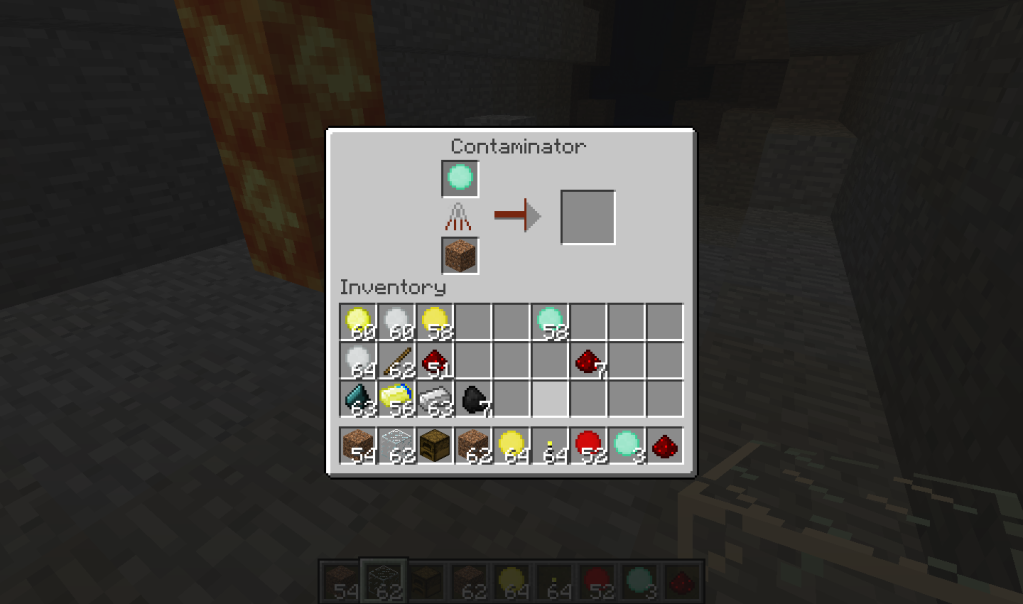 Also a new torch. Crafted like normal but with an Arcane Orb instead of coal. Produces 32. Also has sexy particle effects :biggrin.gif:.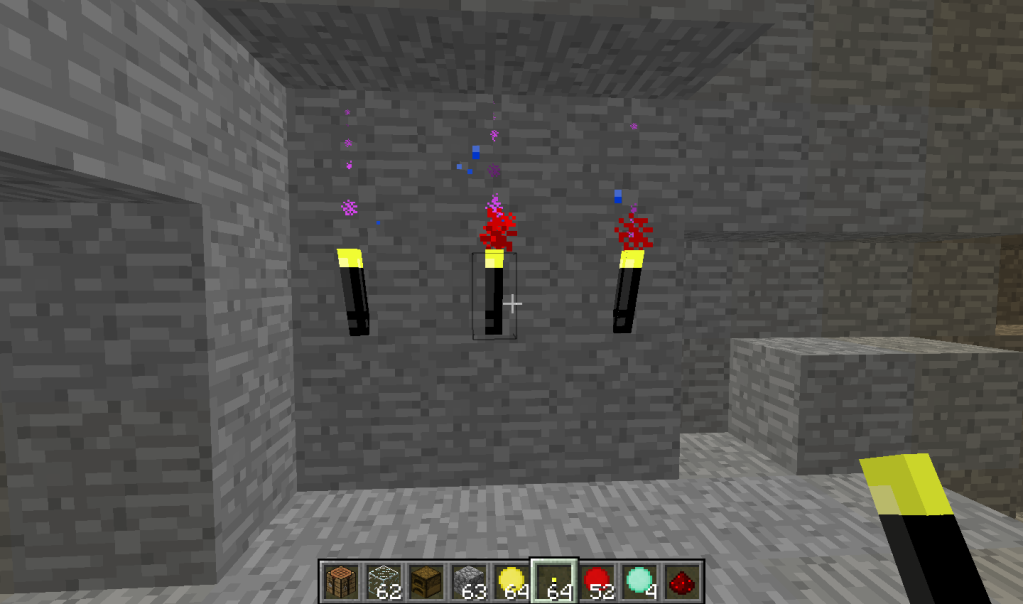 Version 2.0:
Adds reinforced tools. Place 4 orbs in a 2x2 square to make a reinforced version of that orb. Use these to make very powerful tools and armor. No pics just yet.
Downloads
Pure Minerals Mod v2.2 for Minecraft 1.1
Pure Minerals v2.1 for Minecraft 1.1
Pure Minerals v2.0 for Minecraft 1.0
Pure Minerals v1.1 for Minecraft 1.0
Alternate Textures
Pure Minerals v1.0 for Minecraft 1.0
Note:Purifiers and contaminators smelting is messed up. It has something to do with Modloader or Forge. Patch
here.
Not mine.
Installing
1.Download Pure Minerals, Modloader and Forge
2.Start a preferably clean minecraft jar
3.Open up you minecraft .jar with winrar or 7zip
4.Add all the files form modloader
5.Add forge
6.Add Pure Minerals files
7.Enjoy
Mod Spotlight
Copyright
This document is Copyright ?(2012) and is the intellectual
property of the author. Only Minecraftforum.net is able to host any of my material without my(Izago's) consent. It may not be placed on any web site or otherwise distributed
publicly without advance written permission. If you mirror this mod page or anything I've(Izago) made on any other site, I(Izago) may express my angst at you in the form of a lawsuit.
Credits:
Jwrac for alternate textures.
To use the textures drag the items.png you downloaded into the PureMinerals folder in minecraft.jar.
LegitSkills for textures in 2.1 and tool/armor stats discipline. XD
Casberg31 for this epic signature:
To show your support just put this in you signature:
[goto='http://www.minecraftforum.net/topic/890753-100-pure-minerals-mod-v11/'][img]http://i.imgur.com/gc8fF.jpg[/img][/goto]
Volfgang57 for support and his mod spotlight.
Download Count:
600!!!