Quote from

[] []

[] []

[] []

Problem?

EDIT: BAH! The guy above me did the same damn thing.
By adding glass, you can see through from one row to another. I adjusted the hue/tint of full-grown wheat so it was easy to see what is ready to harvest:
Each block of water will supply all dirt within a 9x9x2 block. So you don't really need as much water as I used. Somebody named Hans Lemurson made a good post with a number of designs that make use of that:
viewtopic.php?f=35&t=80443#p1268010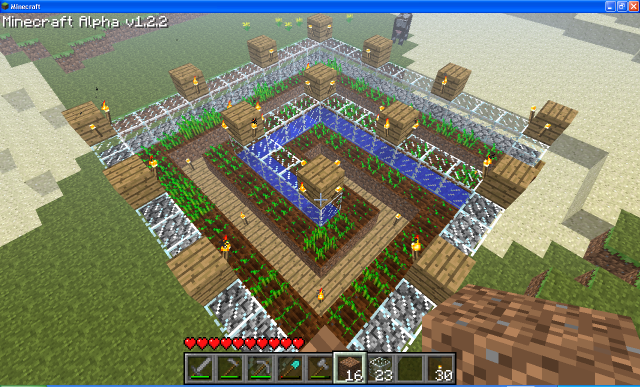 Rows still seem easier to work, though. If you make a lot of rows, you really only need to put water in every other row.
For trees, there are a lot of other considerations. Some people want tall trees with branches, because there is more wood to harvest, others want to be able to reach all wood from the ground. There's some decent data about methods here:
http://www.minecraftwiki.net/wiki/Tree_farming