Bio
---
About Me
Stalking is illegal and you know that. You know who you are.
The minister for education could never dance.
If you can't see the pictures, Blame Muny.
========
Good hello to you,
Welcome to my page which is surprisingly about me.
========
I'm Budgeh, I live in Brisbane, Australia. I like long walks on the beach.
I'm interested in computers and gaming like many of you here, I would like to work in the IT industry, anywhere's good.
=========
As you know, I am a gamer. I like to play strategy, MMORPG, Free-Roam and Sandbox. I have been interested in computers for years now. I even still remember playing on dial-up internet thinking that was fast. That was when I was like 4. Oh how I don't miss those days.
==========
I am a video editor and record for fun. If you want me, add me on skype or pm me.
========
I am a moderator on picBox, if you haven't already noticed, it's a image hosting site ran by my good sexy friend, Muny. Even though been a moderator at the moment gives me no extra privileges yet except for blue colour but what ever.I recommend using picBox as a much better alternative to other crap image hosting sites. It's free!
I also have the privilege to be recognized by Muny himself for my advertising in my signature.
Kevin Smith: Joshy
Kevin Smith:
https://www.projectw...id=66935&type=1
Kevin Smith: Every week, the minecraft forum is on the top referrers list
Kevin Smith: and it's mostly because of your signature
Kevin Smith: danke
I should get some reward or something!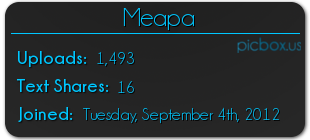 I've being on picBox for over a year!
=======
=======
Contact Info:
Forums: Budgeh Twitter: @Budgeh Steam: Meapa

Origin: Meapa
=====