I propose adding the never implemented block into the game, but with a unique functionality: making your compass point towards it. Why, you might ask? Simply to breathe some more life into compasses, making them worth using.
To build the obelisk, you'll need 15 crying obsidian and 5 gold blocks. Build a 3x3 4 block high cross with the gold blocks on top. To bind the compass and obelisk, right click it while holding the compass and they'll bind together via a shared ID or whatever. (NBT tag I think?)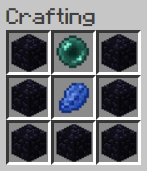 This recipe will give you 5 blocks of the stuff.
Compasses will still point to world spawn by default, but in the nether/end they'll finally have functionality- as long as you build one there, otherwise it'll do the same thing it usually does.