LemonOnHD
Stone Miner
Join Date:

7/7/2015

Posts:

75

Member Details
As the title says, my Forge Server shows up as vanilla. I don't have a clue what's causing it. Here is a screenshot of my folder of the server: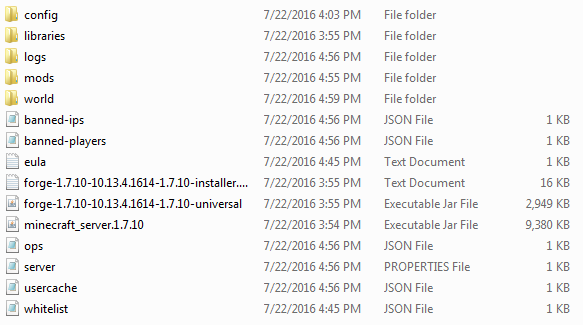 To clear some things up:
My mods are on both folders, "mods" on this one up here and on my client.
I DO have a forge client installed.
The server can run smoothly and perfectly well, it's just that mods do NOT work, for a reason.
I can see the modded blocks/items/everything in my inventory. In the world, they do not work. And the world itself has no modded stuff in it, like custom trees from Natura.
If anyone can help, I'd be really thankful. I'm really confused because I followed so many tutorials and none of them worked. The server is still vanilla.

<<--Screenshot of what appears