Gnampf
Zombie Killer
Join Date:

3/23/2012

Posts:

151

Member Details
How to allocate more memory for Minecraft:
Because many people ask this question here's a little tutorial how to give Minecraft more RAM memory to work.

Normaly Minecraft works fine with his 1GB RAM. But if you allocatte more memory, you can better some situations:
More RAM for texture pack buffering (128x ++)
More RAM for singleplayer and multiplayer maps buffering (less reloading)
Better working with RAM intensive mods
Faster map rebuild
What do I have to do?
Minecraft Launcher:
Since Minecraft version 1.6.X you can use the new launcher. With this, it is possible to integrate Java commands directly into the game. Here is what you have to do:
Download and execute the new launcher
In the section "Launch options" select your profile (you may have to activate "advanced settings" to continue)
activate "JVM Arguments" and add into the text area this argument (see picture, red marking) :

-Xmx2048M -Xms2048M






Save this profile and execute Minecraft. You will always start with 2GB of RAM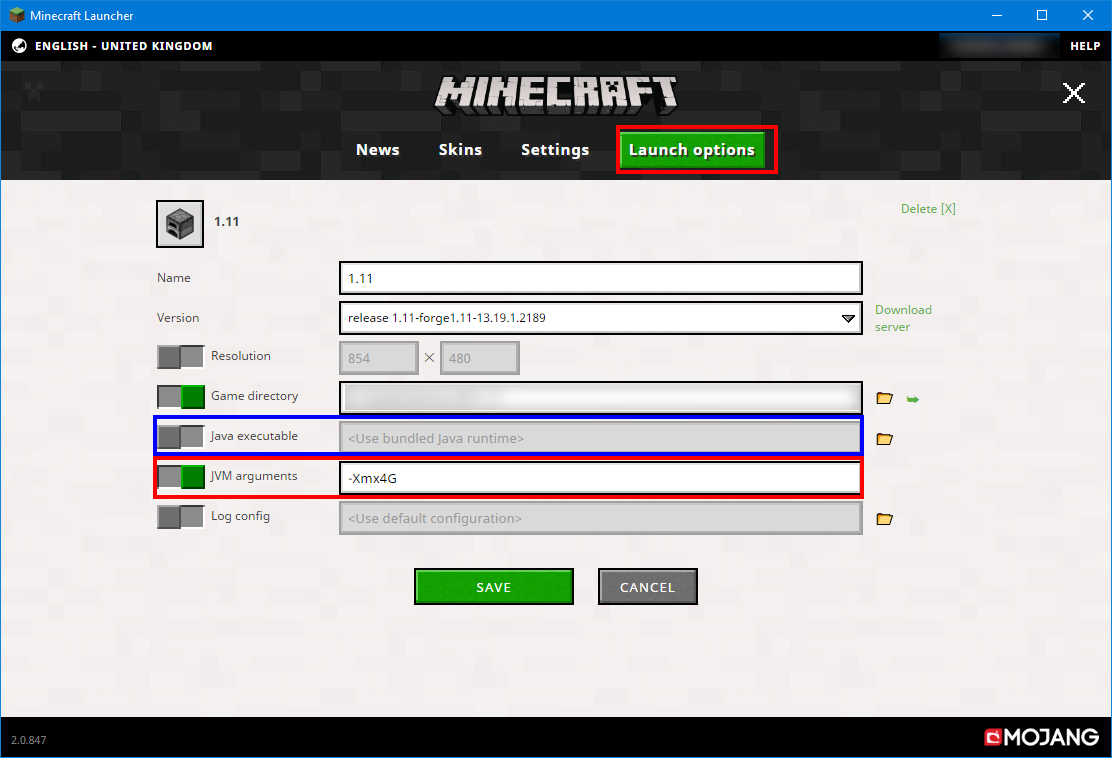 Picture depending on the launcher version. It may look little different with a newer launcher


Notice:
With the new launcher, Minecraft also provides a Java runtime environment. If problems occur during the execution of this guide, it may be helpful to install and use the official version of Java. Be sure to install the correct version (32/64 bit).
If you don't have installed Java, get it here!
You may have to activate "Java executable" in the Settings and select your javaw location (see picture, blue marking).
I want more RAM, not only 2GB!
You can adapt the numbers to your needings:
-Xmx is the maximum of RAM wich Minecraft can allocate.
-Xms is the allocated RAM at the beginning.
-Xms can also be omitted. As result Minecraft will not allocate all Ram at once, but as much as needet.
-Xms must not be greater than -Xmx!
-Xmx2048M -Xms2048M
-Xmx3072M -Xms3072M
-Xmx4096M -Xms4096M
-Xmx6144M -Xms6144M
...
and so on ... (but who realy needs more

). You can also shorten the values to Xmx4G and so on.
Notice: You can't give Minecraft more Ram than you have! Else you will recieve an Error!
Attention:
32bit only supports up to 4GB system memory. Therefore most 32-bit based systems only support around 2GB for your games. The limit depends on the system, if you got an error, try less allocation.
Be sure to use the right and newest Java version (64bit on 64bit-OS-Systems is recommended).


How much RAM do I have?
Easiest way to see how much RAM is free, open the Task Manager and change to the Performance Tab. Look how much Physical Memory is available / free.

Note that other programs and your system also need RAM to work. For example if you run TeamSpeak or Firefox in background, you should leafe enough memory for this software to run.
Some numbers for example:
Windows 7: 1 GB RAM (32-Bit) or 2 GB RAM (64-Bit)
Windows 8 / 8.1: 1 GB RAM (32-Bit) or 2 GB RAM (64-Bit)
Windows 10: 2 GB RAM
Linux: 1-2 GB
Skype: 256 MB
Teamspeak: 64 MB
Something doesn't work? You got an error?
First of all check on spelling mistakes. Also important: upper and lower case.
Try installing a official Java version and activate it in the settings
Remove -Xms[RAM] and try again
Adjust the numbers, try both at the same level
Check if you've enough free RAM. Do you use 64bit (when greater than 4GB)?
You found a fault in the post? Something is missing? Tell it to me!
Please post questions and suggestions in this topic and not via PM!

P.S. Thank you for the positive reputations.
Last edited by
Gnampf
: May 11, 2017