voordal
Creeper Destroyer
Join Date:

2/9/2011

Posts:

5,654

Member Details
WORLD RECOVERY WEBSITE! GO HERE!
--->>> MCSaver.net <<<---
DO NOT POST YOUR REQUEST ON THIS THREAD! I PROBABLY WONT SEE IT!
Faster, better, more efficient service and communication. use the MCSaver.net website. I dont check this forum often. If you post it here, expect a week+ fix time!
Over 2500 fixed so far!
Moving on!
As wonderful as Minecraft is, sometimes crap happens and you end up losing all your precious work. Sometimes someone just built something cool, or have spent months and months building their world. It's not just time spent, but it's art. If something gets lost, rebuilding it never quite seems the same.
I provide map support for ALL map versions:
Retail 1.2 - 1.4 maps (Anvil)
Retail 1.0-1.1 maps (MCRegion)
Beta 1.9 Pre / RC2 maps
Beta 1.8 maps
Beta 1.3-1.7 maps
Beta 1.2 and earlier (prior to MCRegion)
Things I can LIKELY fix:
- World save disappeared from minecraft, but the save file still exists in your computer
- World immediately goes to "Saving Chunks" when you load it, or does that when you walk near a particular area
- World loads normally, but you cant move, and mobs cant either, but you can still interact with your inventory and the environment you can reach
- Giant bedrock deep holes in your world
- Lag issues in SSP, or slow loading worlds
- Items in inventory or in chests from old mods causing the game to crash
- Massive (hundreds) of mob or animal spawns
- Often can fix 'null pointer' errors from SMP
What I CANT fix:
- Launcher, Java, Video Driver, OpenGL errors, or Minecraft crashing due to mods, or issues with internet or server latency issues.
- Account or Website problems
What I NEED:
DO NOT POST ON THIS THREAD. USE THE WEBSITE MCSAVER.NET
If you for some reason absolutely can't use mcsaver.net, then provide the following here:
-A small description of your problem, eg "My world disappeared" or "I cant move" or "My game crashed and I cant play now"
- What version your world is, Retail 1.1, 1.2+, Beta 1.7, 1.8, or 1.9
- World Type (Survival or Creative)
-A zip file of your save. (
How do I do this?
)
What to EXPECT during/post fix
- Worlds that disappear
will lose their seed
. There is no way to avoid this as far as I'm aware. A new one will be given, however it will cause strange terrain generation and change in biomes. If you have the seed, or know the seed name the world was generated with, or have an old backup, please provide it.
- Worlds that disappear
will also lose their personal inventory
(Not stuff in chests). If you had anything important, please provide that info. I will provide a complimentary 'care pack' on all corrupted worlds.
- Fix time varies depending on how busy I am. Sometimes I can get them back within the hour. Sometimes it may take up to a day or two. If for some reason it is more than 2 days, and I haven't given a reason why, ask or resubmit. Sometimes things get lost in the mix.
PLEASE USE MCSAVER.NET FOR FASTER SERVICE. I DO NOT CHECK THE FORUMS OFTEN.
KEEP IN MIND
- While I may be able to fix these issues, I have no idea how to prevent them. My best recommendation is to BACK UP YOUR SAVE. Once a week is fine. More if you like. If your world goes corrupt again, either just post again or use the fixed version I provided.
- I don't and can't gaurantee anything. Sometimes acts of the digital gods are beyond our power to alter.
- I do not work for, or communicate with Mojang. I'm simply providing a service
- This is all stuff people can, in theory, fix on their own. I enjoy doing this even if it seems like it keeps me busy. If you want to know what I do, feel free to ask.
- If the above 'can and cants' dont fit your problem criteria, feel free to ask. I have ten years of professional computer tech background. The worst that can happen is being told "I'm not sure how to fix that, try going here or there"
Please please please
do not post a comment to my profile to contact me
, as I likely won't see it. Either post in the thread, or even better,
use my website so I will be notified immediately.
Also! Donations! Do you like my work? Did I save you months of building? Do you want to make me happy AND do a good service? I accept paypal donations of any type. Every month, half of all donations will be given to
Child's Play Charity
, a charity that helps get toys, games, and cool stuff to children's hospitals.
Chart Fun!
I recently did an audit of the majority of the worlds I've fixed, and came up with these numbers. Out of ~1350 worlds, the breakdown looks like this: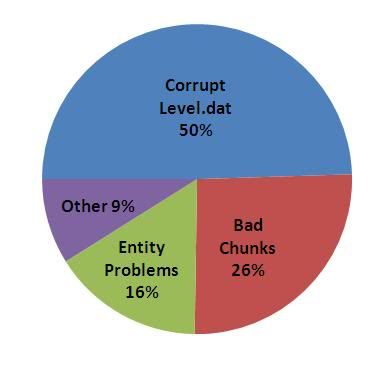 "Other" includes changing seeds, upgrading, mod problems, deleting old mod items, void issues, getting lost and moving characters, and other odds and ends that are few and far between.
Last edited by
voordal
: Oct 28, 2012
Did your world disappear from minecraft? Is it corrupt? Lags? Can't move? "Saving Chunks" Crash? Crashes when you open chests? It can be saved!
Minecraft Saver World Recovery Website: http://mcsaver.net. Recover and save your precious worlds! Over 1500 saved!