Quxudia
Gold Miner
Join Date:

1/17/2011

Posts:

379

Member Details
Club Creeper 2.0, my second vid on the finished version of it. I took down the previous video due to it sucking as a result of being my first ever video. I would of narrated part of this, but my headset has decided it no longer likes my computer. x.x
This design was built into my main single player worlds underground city, however if enough people are interested in it I'll carve out a schematic for download.
Anywho, I recently came across the designs for a noteblock beatbox and decided it would be perfect to build a club around. the beat machine is a very neat piece of redstone work that is capable of far more beats then I showed in the video, my club really needs a proper DJ.
I'm not a fan of the fancy editing that many MC club videos use to make it look like buttons work. I really wanted to make as much of the clubs effects (whats a night club with out pyrotechnics and strobe lights after all?) practical as possible. The end result is what you see above, tunnels and access pathways snake along the entire clubs walls floor and roof hiding the circuits that operate the strobe lights on the walls, the floors and everything else. Now all I need is someone to release a fog machine mod.
The most recent addition were the two Creeper mosh pits on the left and right wall. It uses the controller block mod and four creeper mob spawners so that you can drop as many creepers into the rooms as you want. They are completely harmless behind the glass, water was only added to the floor in an effort to make them "dance"(read: jump). It is a party after all =D
I have a vague idea to add a similar design to the clubs roof, so that on activation it will rain creepers down onto the dance floor. Let me know what you think of the idea, or any other ideas you have to add to the club. I'm always looking for new things to build.
*Edit*
I have released a MCedit schematic file for ano above ground version of this club here:
http://www.planetminecraft.com/project/minecraft-creeper-nightclub/
Screenshots of the new exterior and entrance: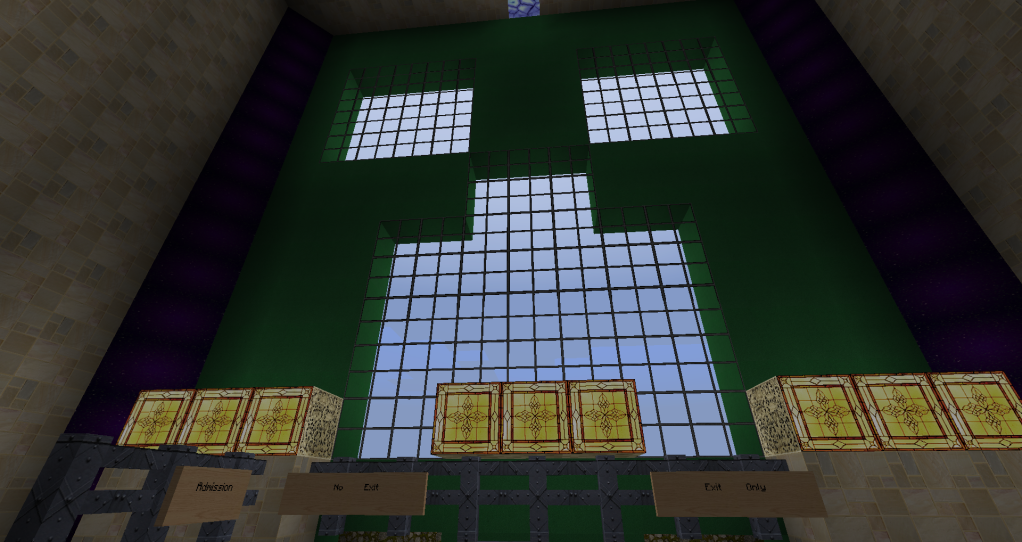 Last edited by
Quxudia
: Jun 18, 2011