MineBot
Iron Miner
Location:

Dubai

Join Date:

8/14/2011

Posts:

273

Member Details
Hi there Artists of the Minecraftiverse!
How are you today? Good? Good!
Anyway, if you've read the title of this post, you've probably guessed that I want someone the draw my skin in a style simmilar of that to the new Direwolf20 logo. Or just kind of humanize the blocky robot that is my skin. Here is my skin from the different sides.
Front
Back
Side

Bottom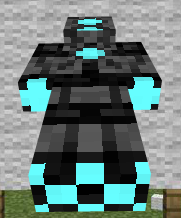 Top
If you want some more pictures, or the skin.png to work with, please PM me.
Now that you have seen what the skin is like, here are my criteria:
1- I'd like him to be flying, possibly fire from his feet
2- If you could draw him with a single colour background (preferably transparent, so I can add my own backgrounds) then that would be perfect
3- Have him hold whatever you'd want, preferably mod/restone related.
Have fun guys!
PM me if you are interested, and if you have drawn him or not.