Princess_Garnet

Newly Spawned
Join Date:

8/3/2012

Posts:

818

Minecraft:

Princess_Garnet

Member Details
Hi,

I am going to use this thread as a home for showing my primary, and really the only lasting, survival world. If anyone is interested, the seed is -7056296271114287814 from version 1.2.5 (it will be just slightly different if generated with versions a little more recent than that, such as 1.6.4, and completely different if generated in 1.7 or later releases). It has been running for approximately four and a half years now.

It was originally called Craftworld (I literally put no thought into it whatsoever, haha), and later got renamed to something only slightly better, Crafterra. It's probably not all that original so sorry to anyone else with the same world name!

Most of the civilized part of the world is within a defined country called Zi, although there is still much of note beyond it too. The country is divided into five regions, those being Western Zi, Central Zi, Southern Zi, Northern Zi, and Eastern Zi (the latter of which houses the capital).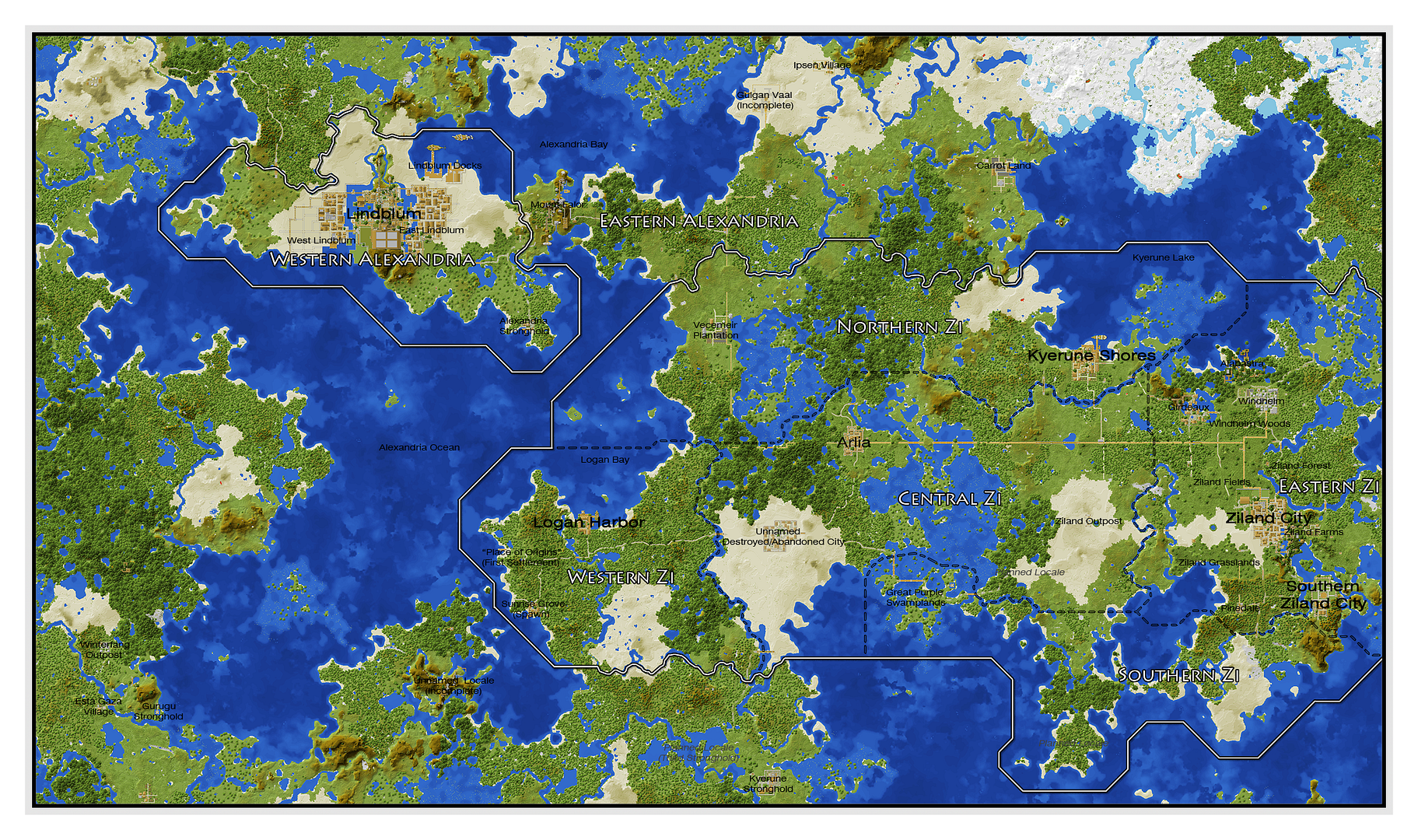 Anyway... here's Crafterra!


WESTERN ZI

PLACE OF ORIGINS

This was my initial settlement, my place of origins (x=210 and z=95), not far at all from the spawn point. I found a large hole with caves running off it, and dug into one side and made a small water barrier with a bridge over it. I remained here until I had a small room with a few chests accumulated of stuff.

My effort to find a more preferable locale, eventually led me to Ziland. It all started here though. My first diamond was found here, and my first nether portal was made here (since deactivated). I later went back and made it look abandoned and destroyed. The torches are temporary to ensure enough light for the pictures.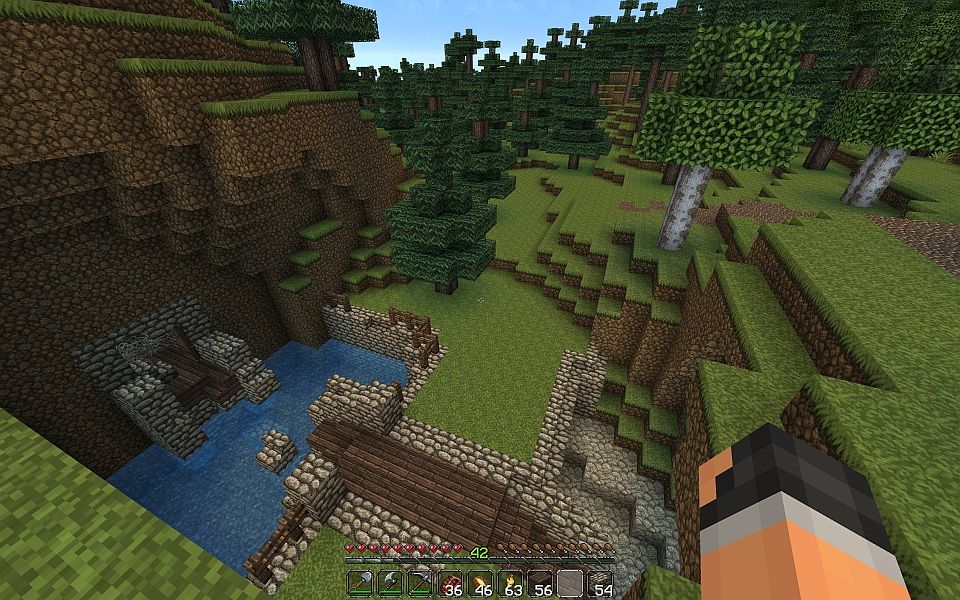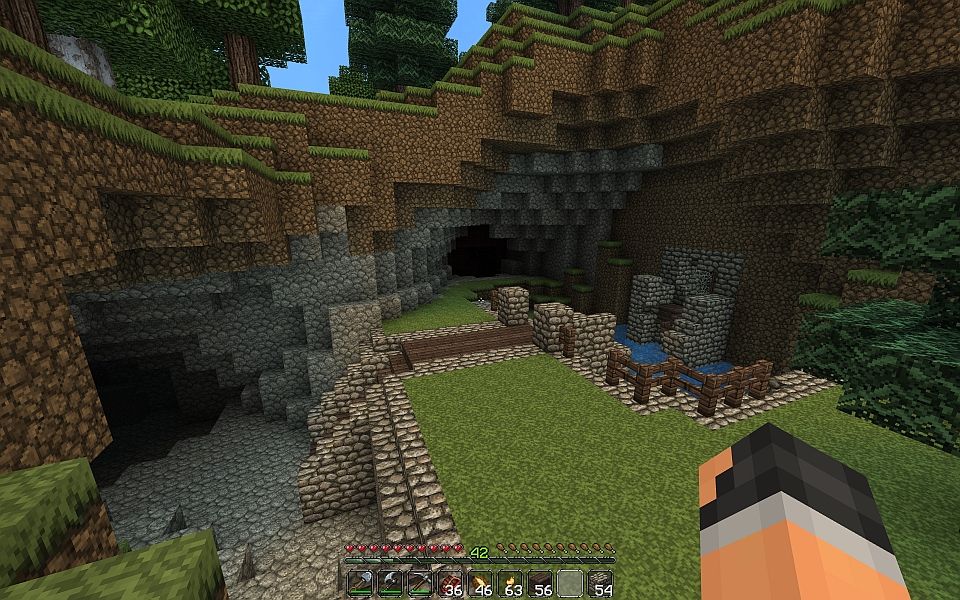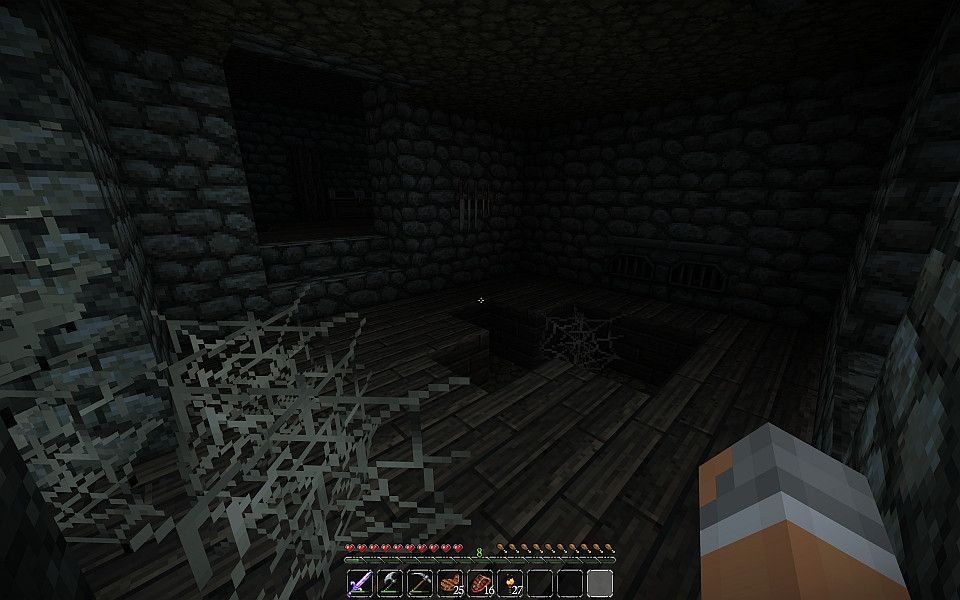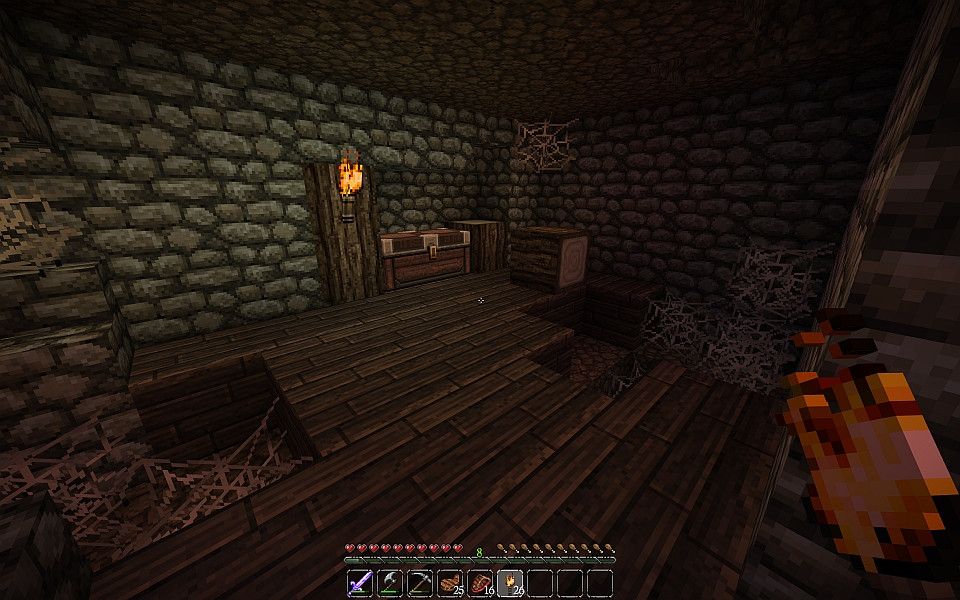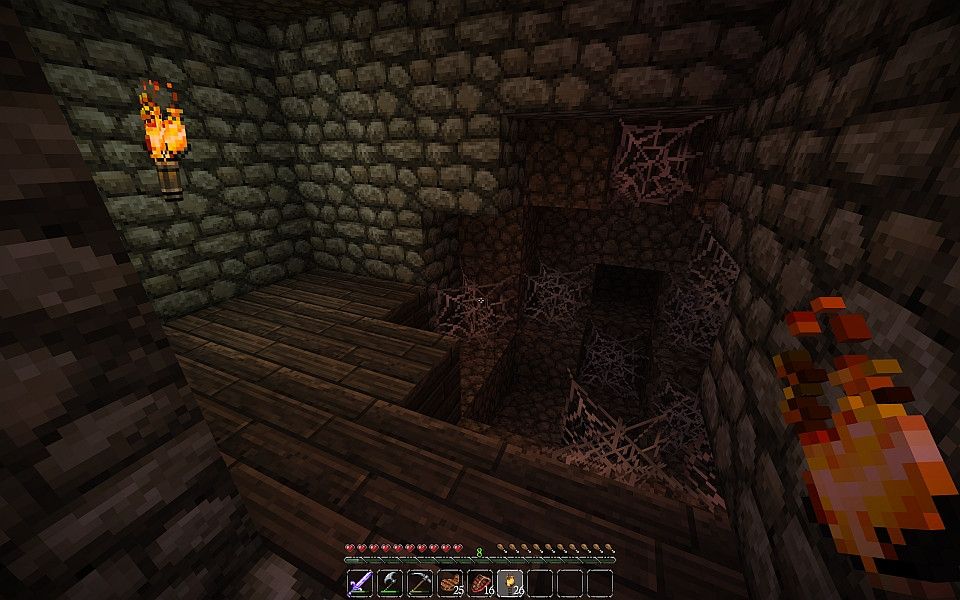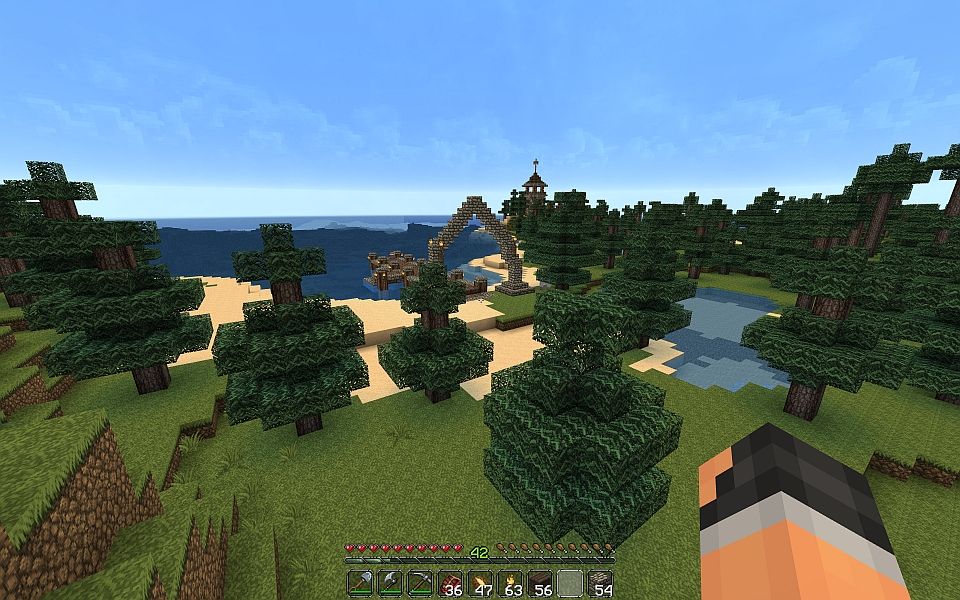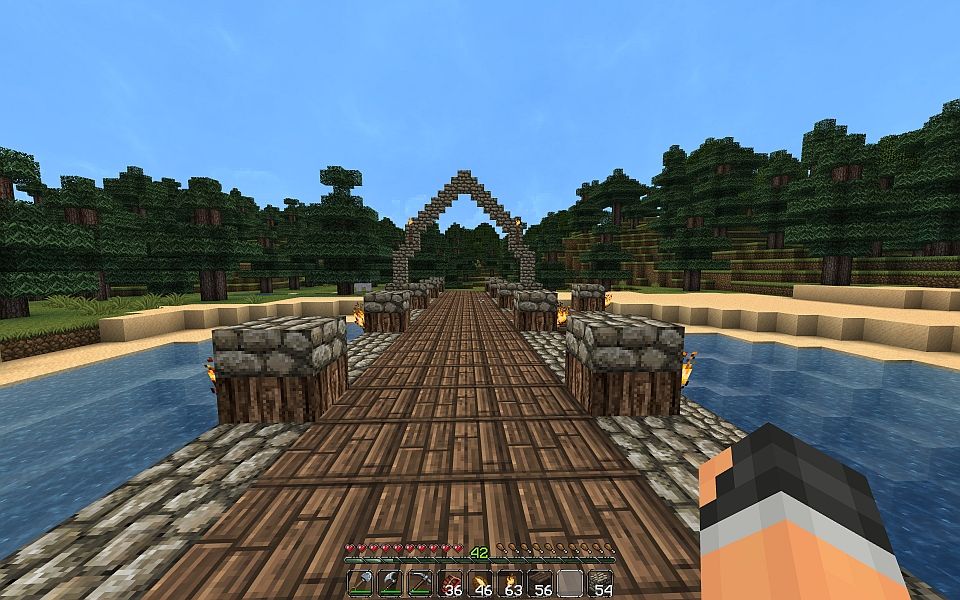 SUNRISE GROVE

Sunrise Grove (x=250 and z=250) is the settlement at the spawn point. Presently, it's more a collection of shops, an inn, and a tower overlooking the sea, but I plan to add a small number of houses eventually at a lower level overlooking the sea.

It's worth noting that there's actually not a spectacular sunrise view here. I'm likely going to change the name. Initially, the name was chosen on the theme of spawning and the sunrise signifying a beginning.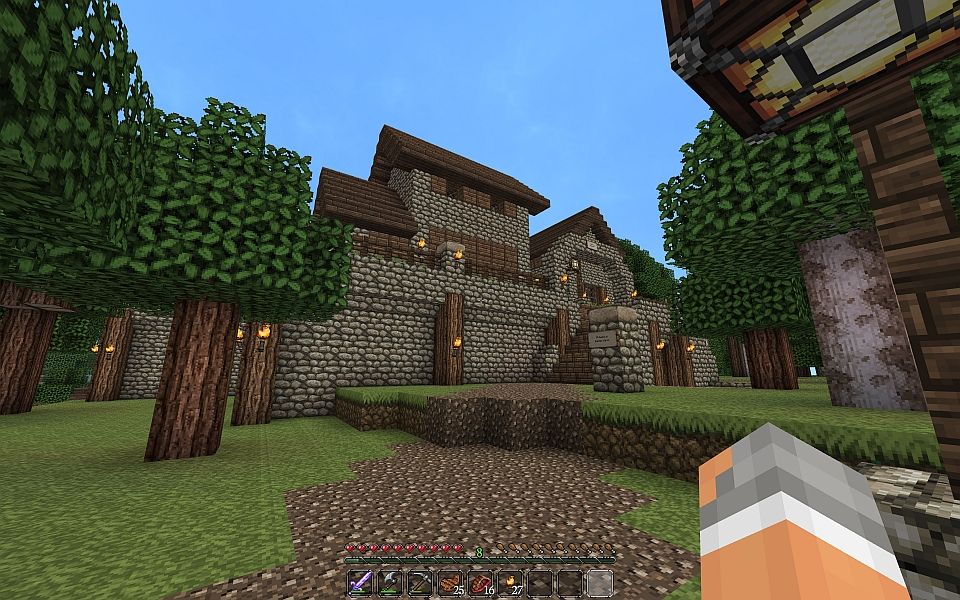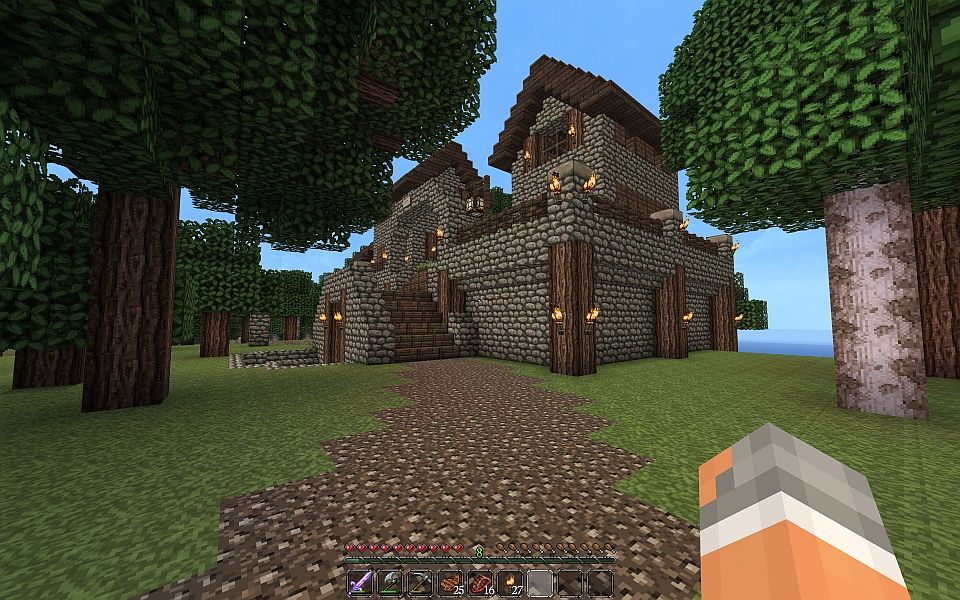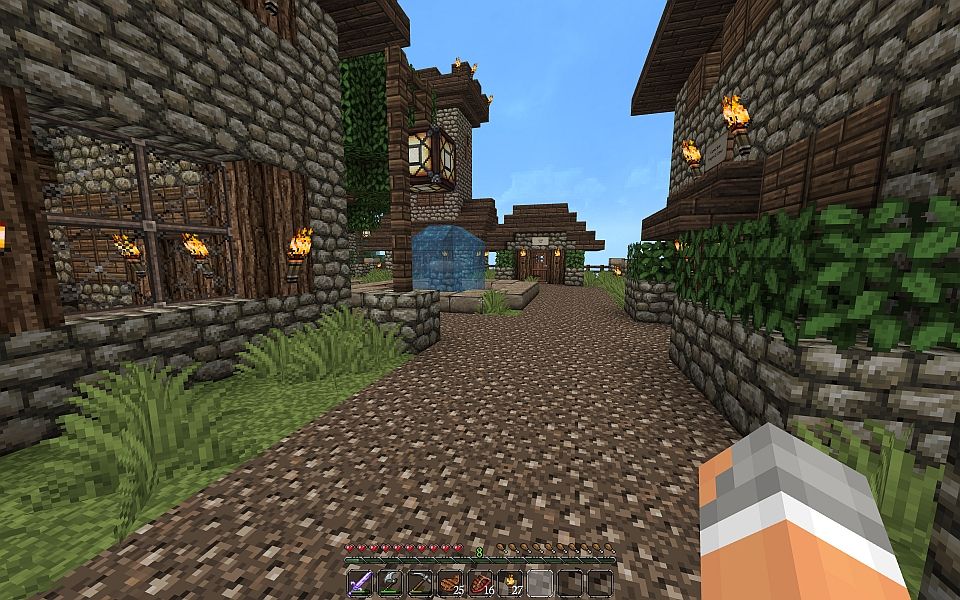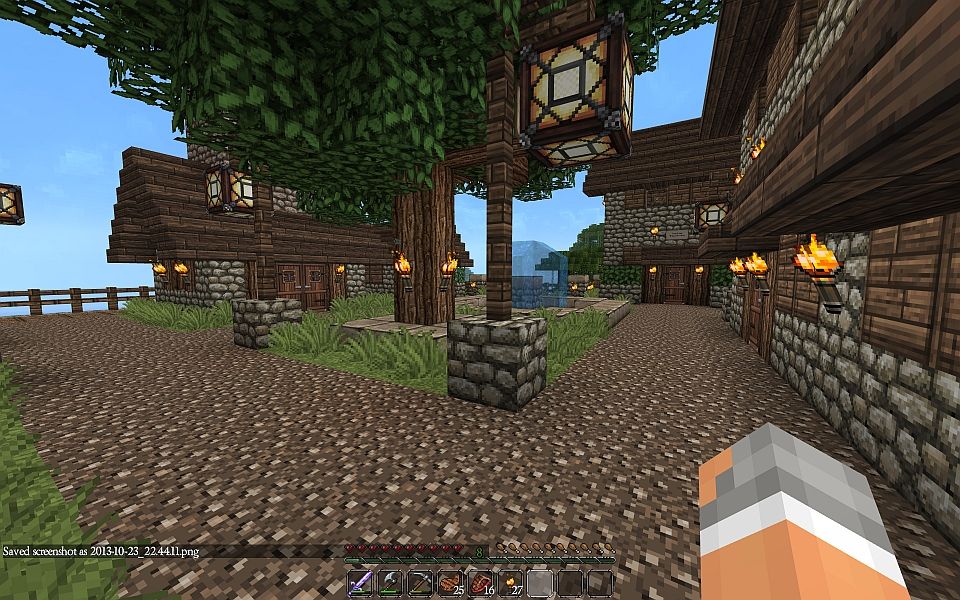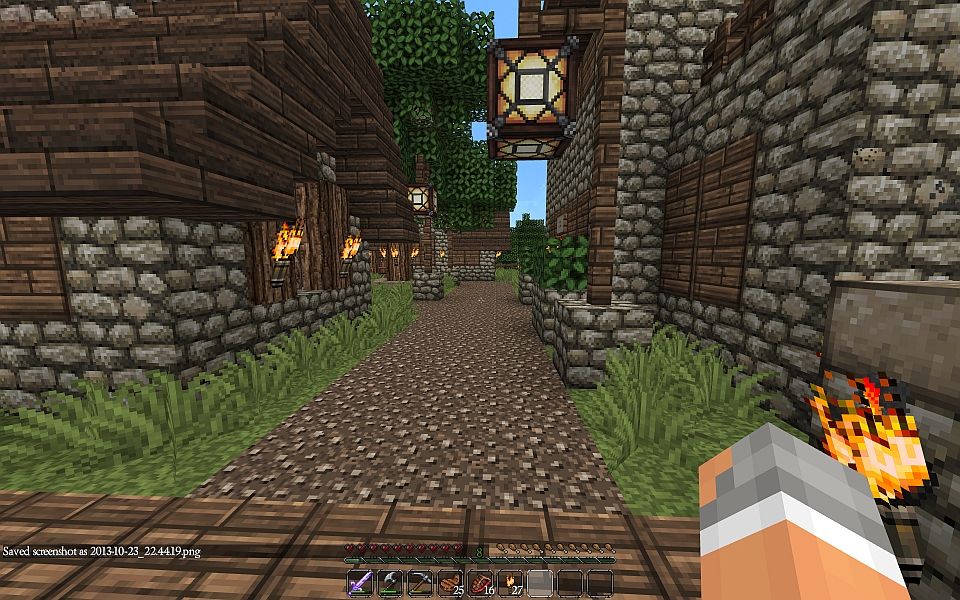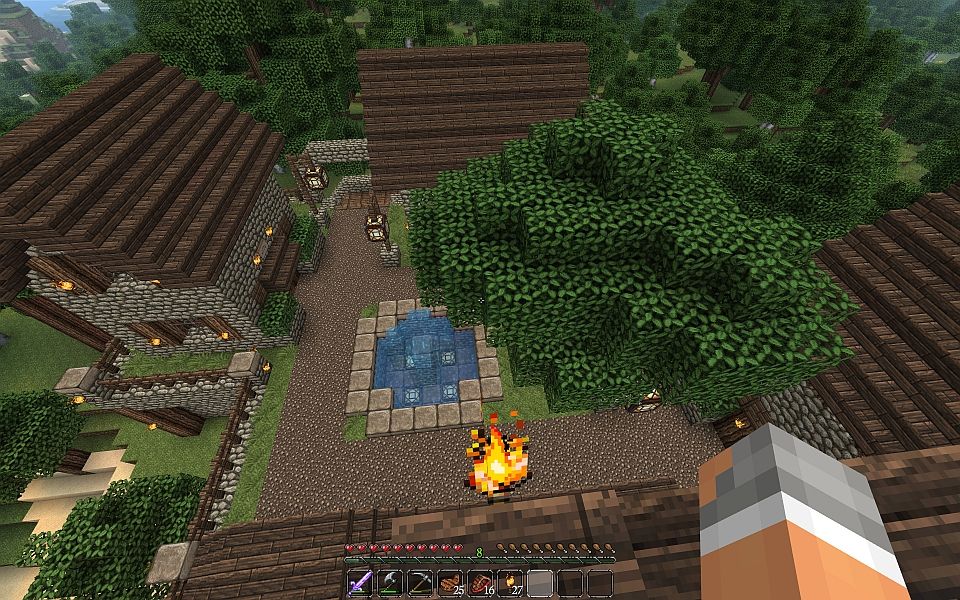 LOGAN HARBOR

If you follow the path through the woods, not far away is the town of Logan Harbor (x=410 and z=-20). It is sort of a sister town to Sunrise Grove. It has houses at the base level, most of them overlooking a small central park of sorts, and a boardwalk running alongside two of it's sides with merchant shops and two boating houses.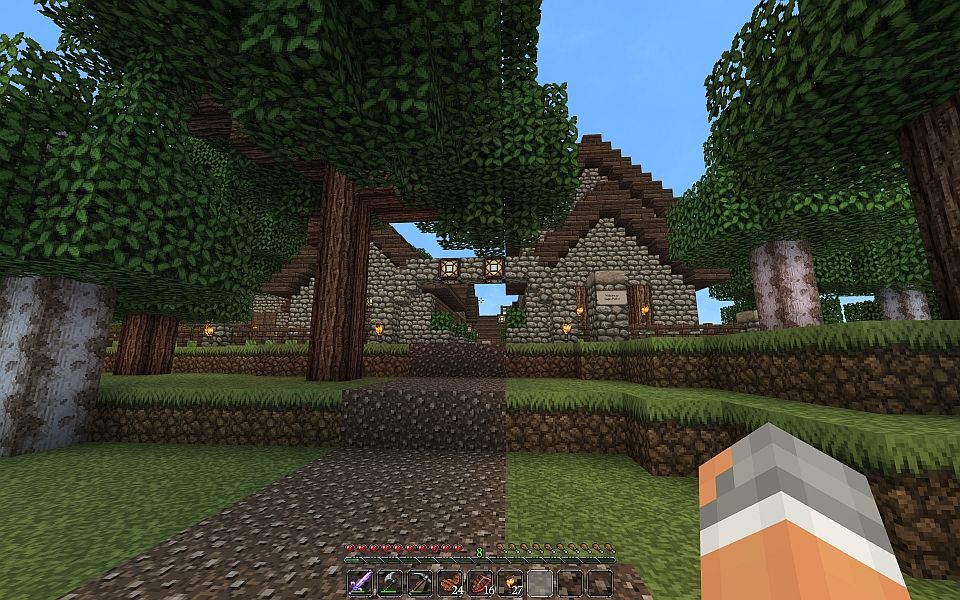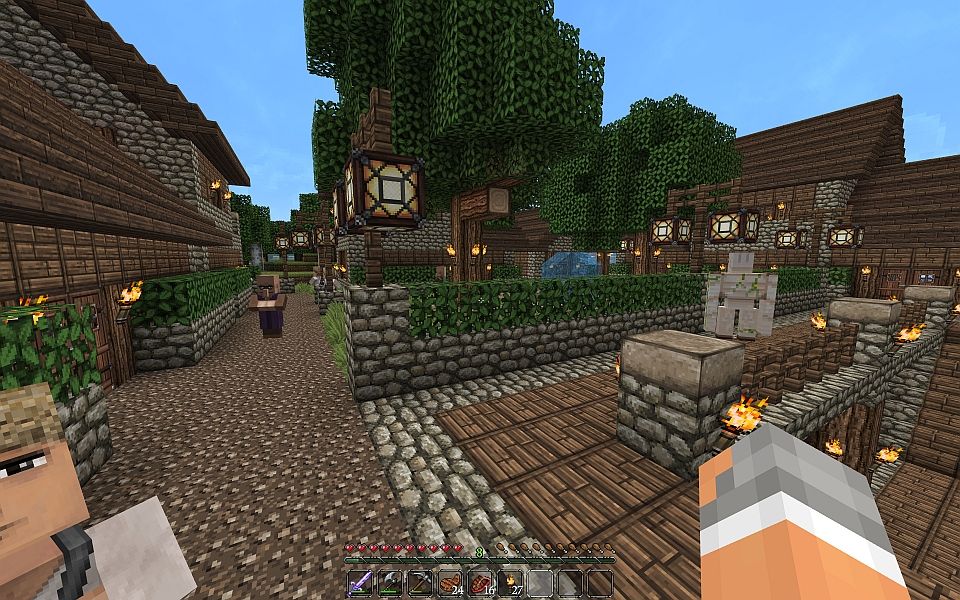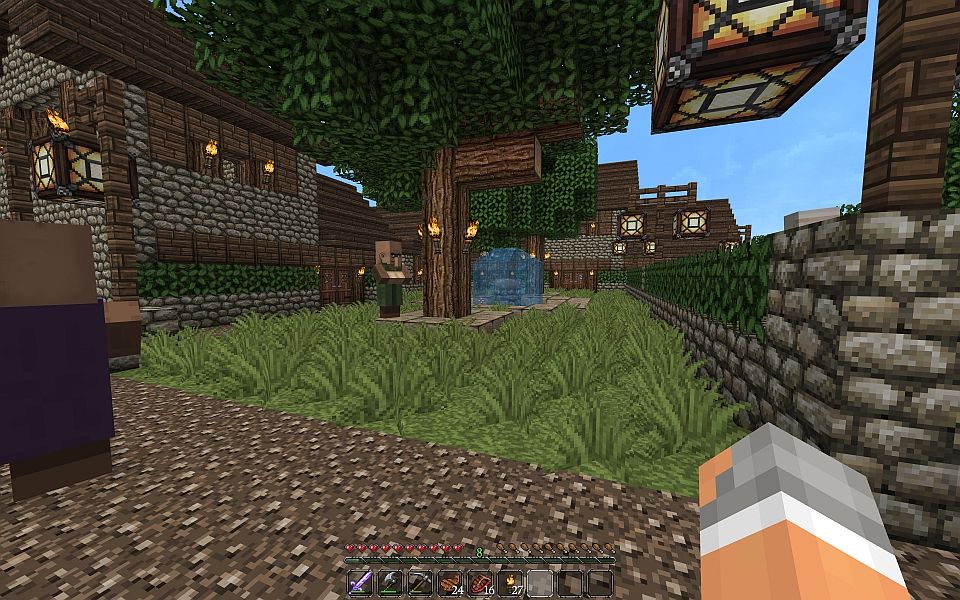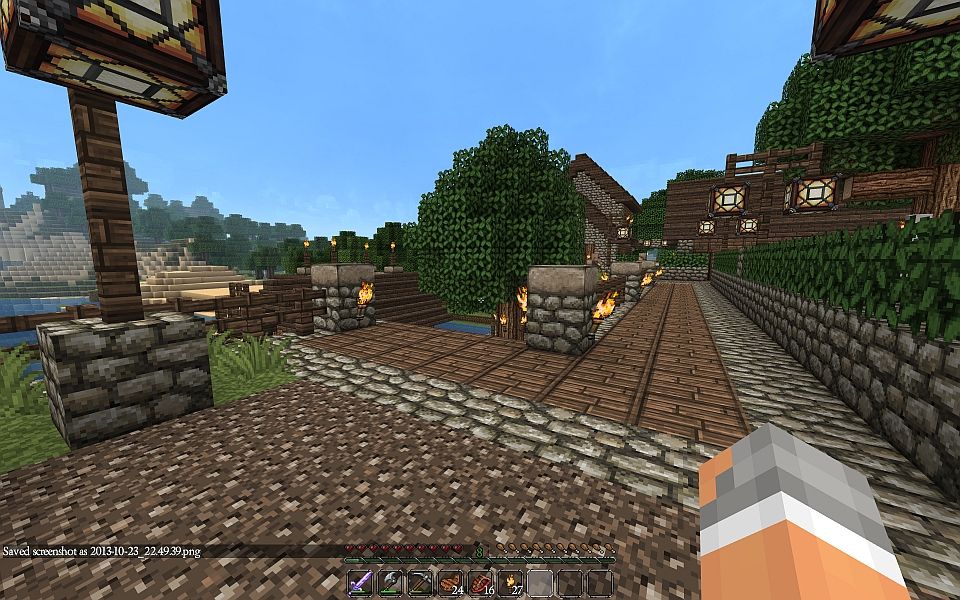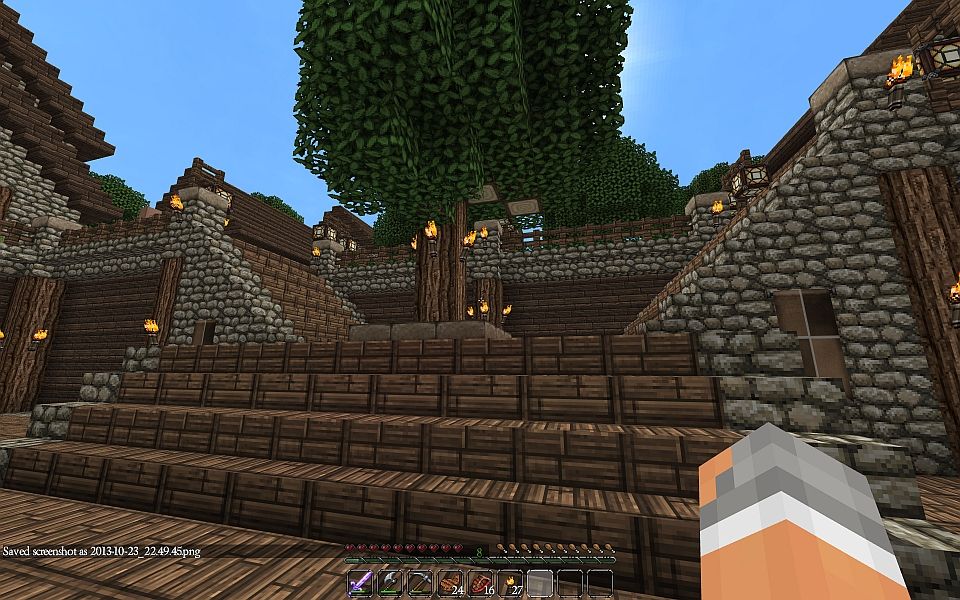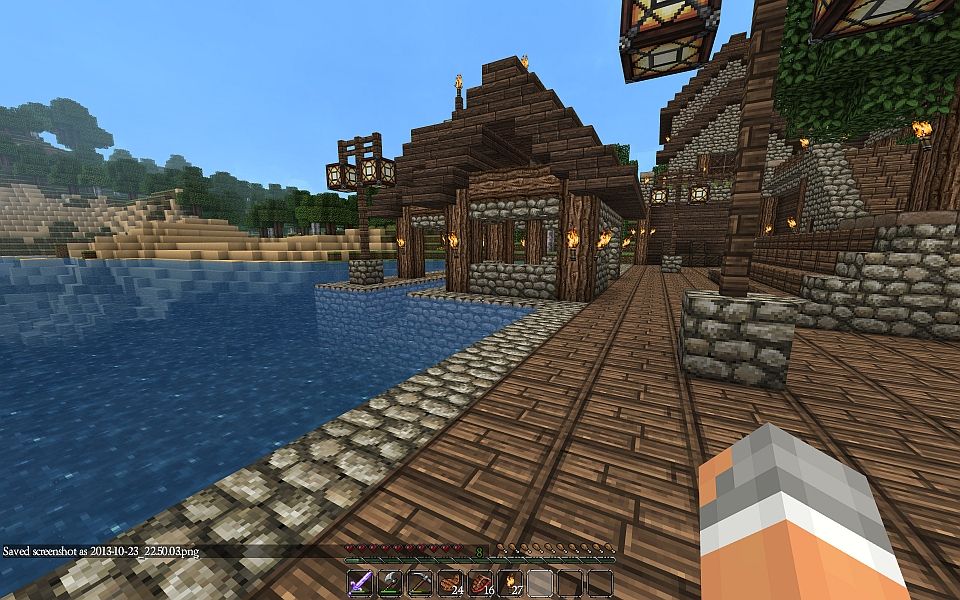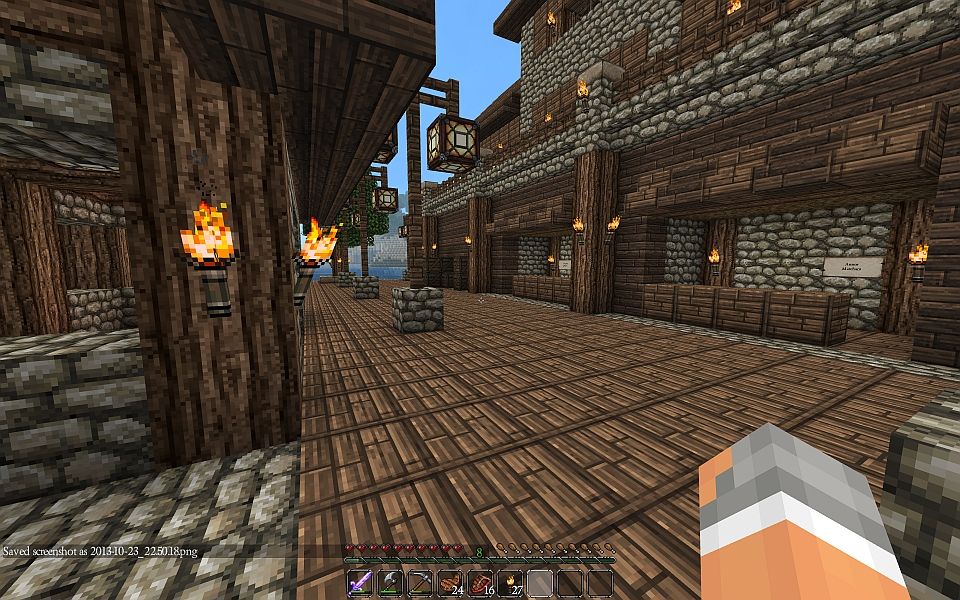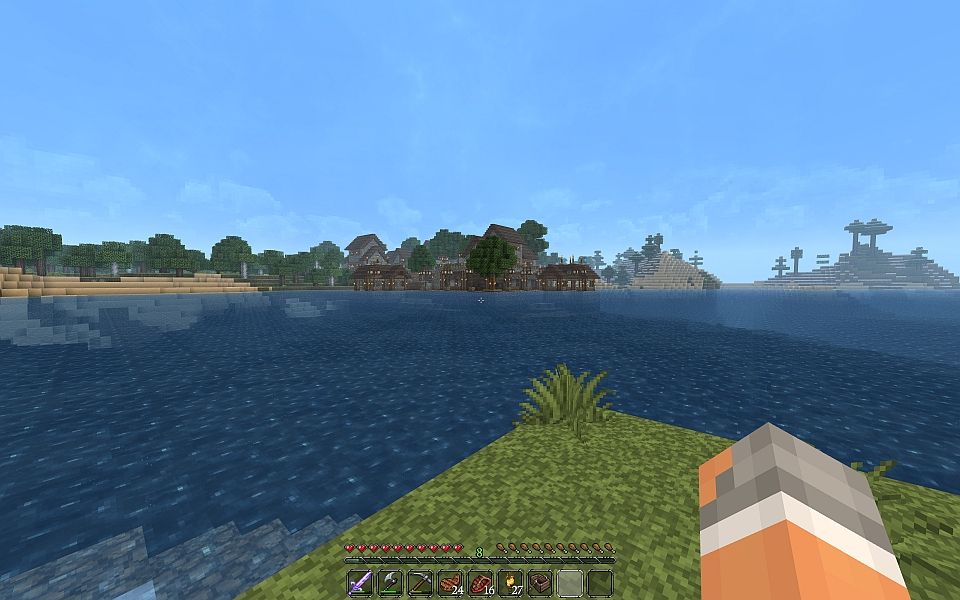 NORTHERN ZI

KYERUNE SHORES

Kyerune Shores (x=2,070 and z=-575) is a coastal town along the Northern coast of Zi. It features an iconic lighthouse and one of the earliest boardwalks with shops and docks, something Logan Harbor later borrowed, and the first ship (which isn't that great).

It is the capital of Northern Zi (also currently being the only establishment in the region).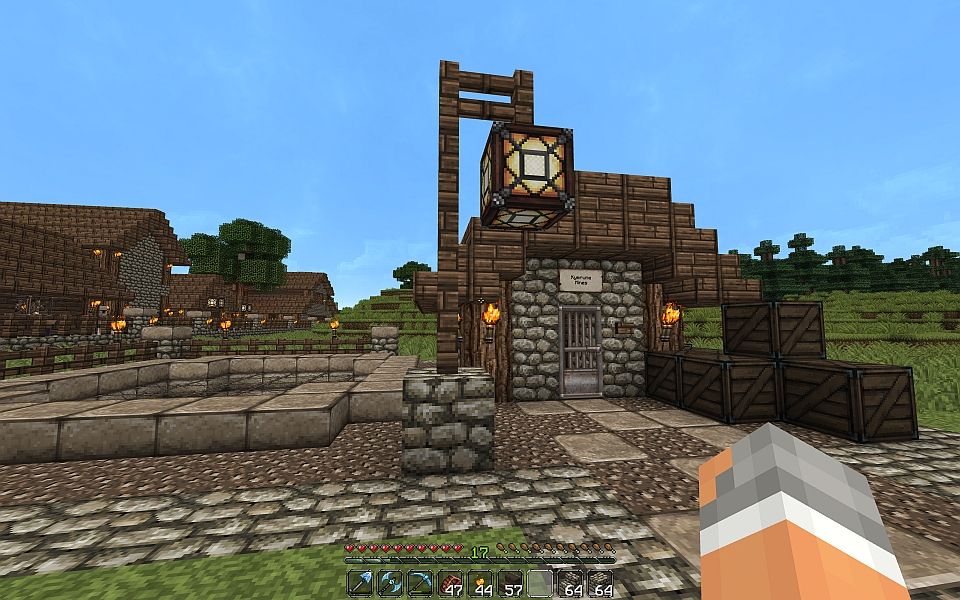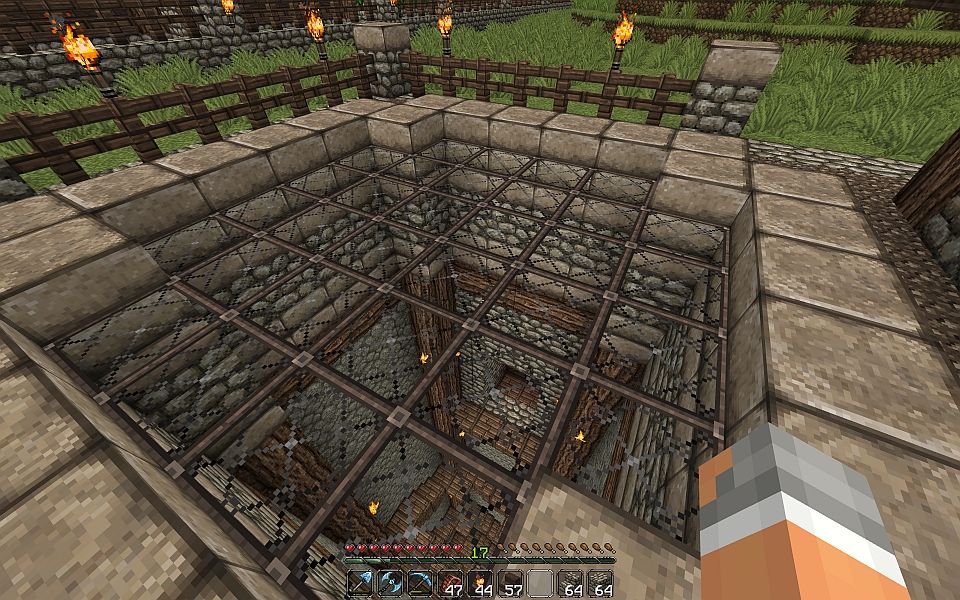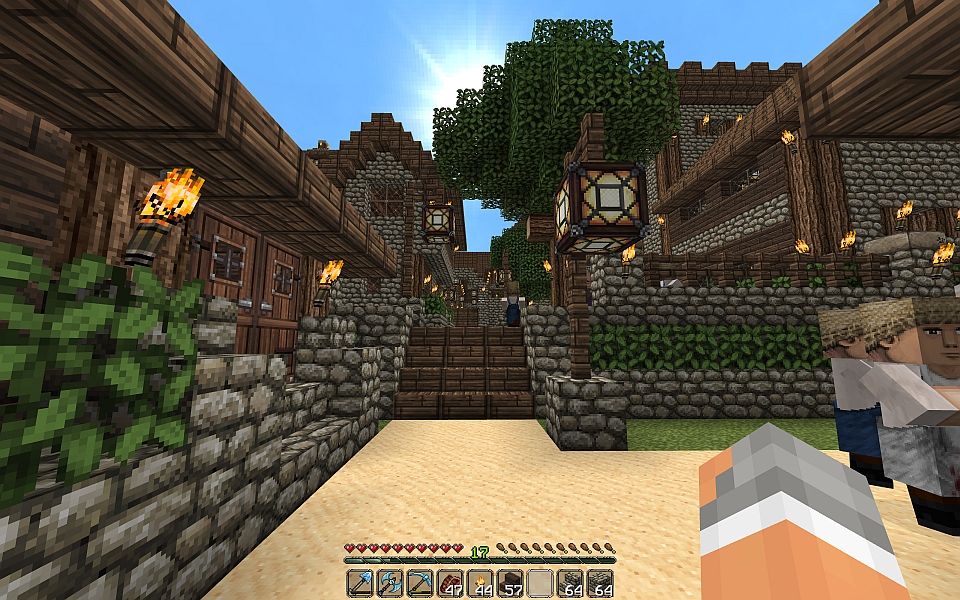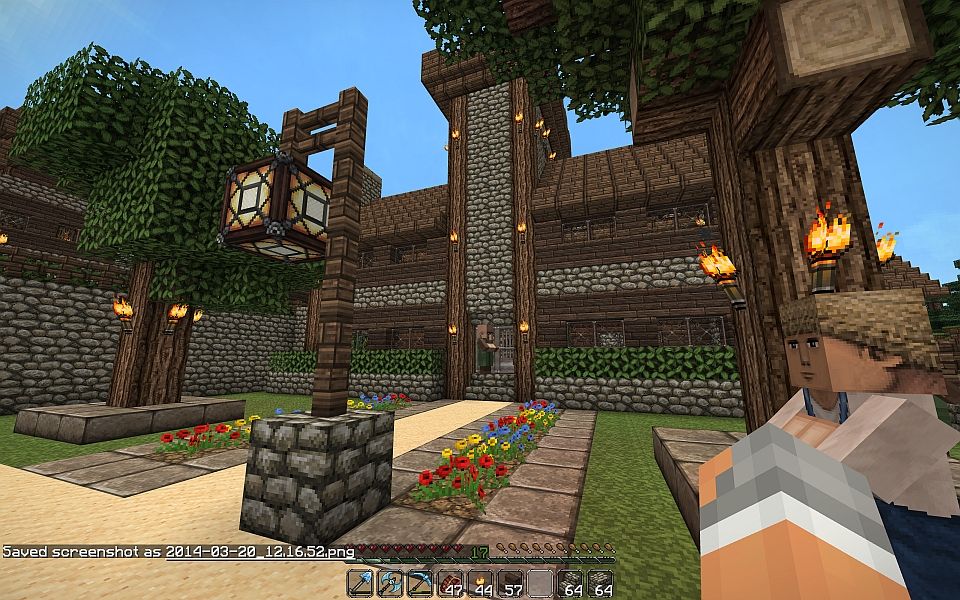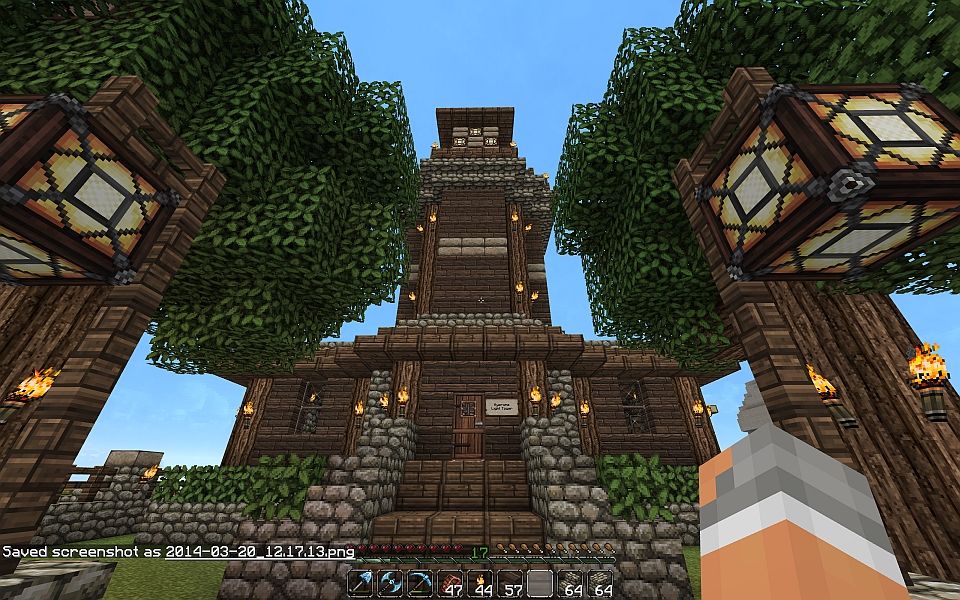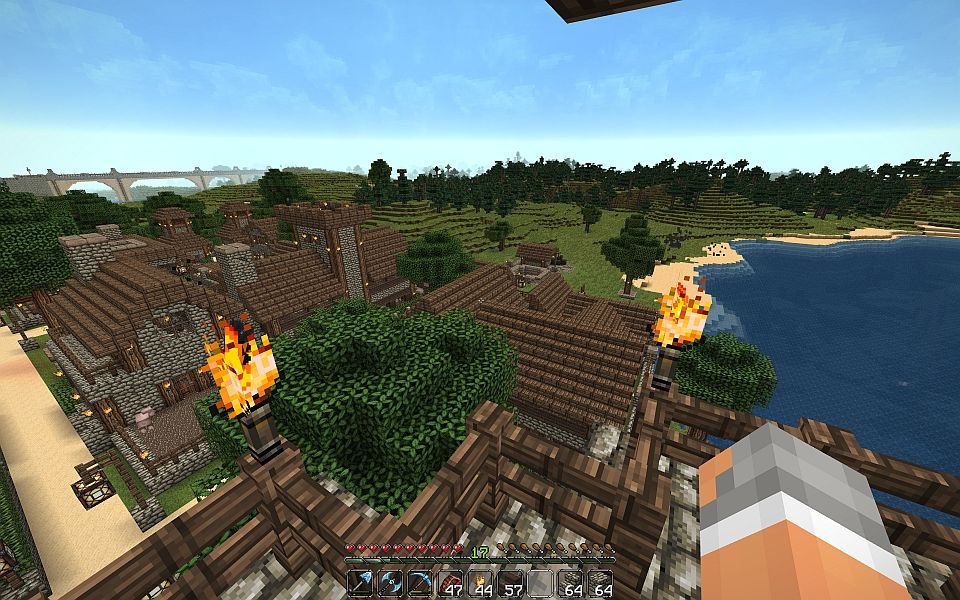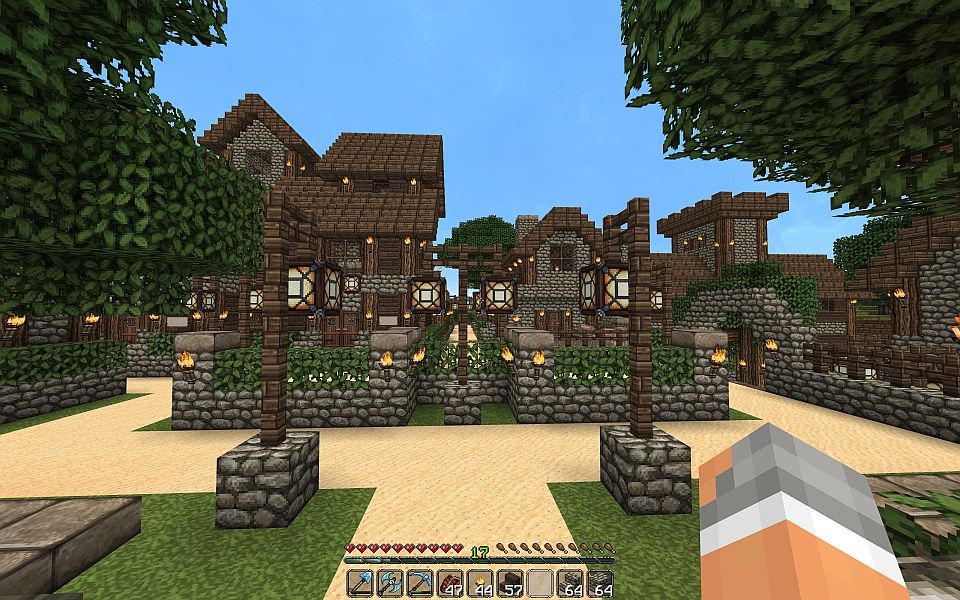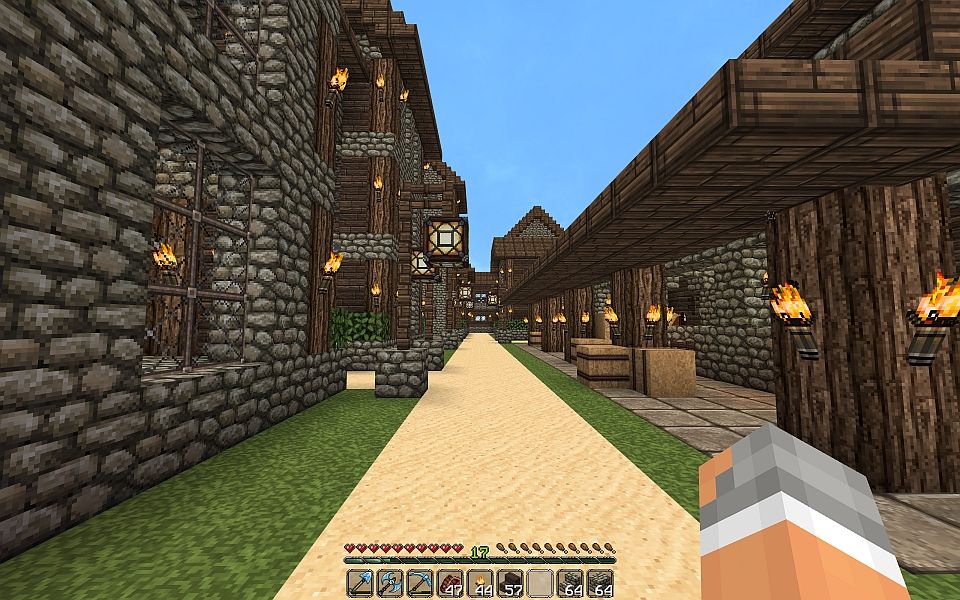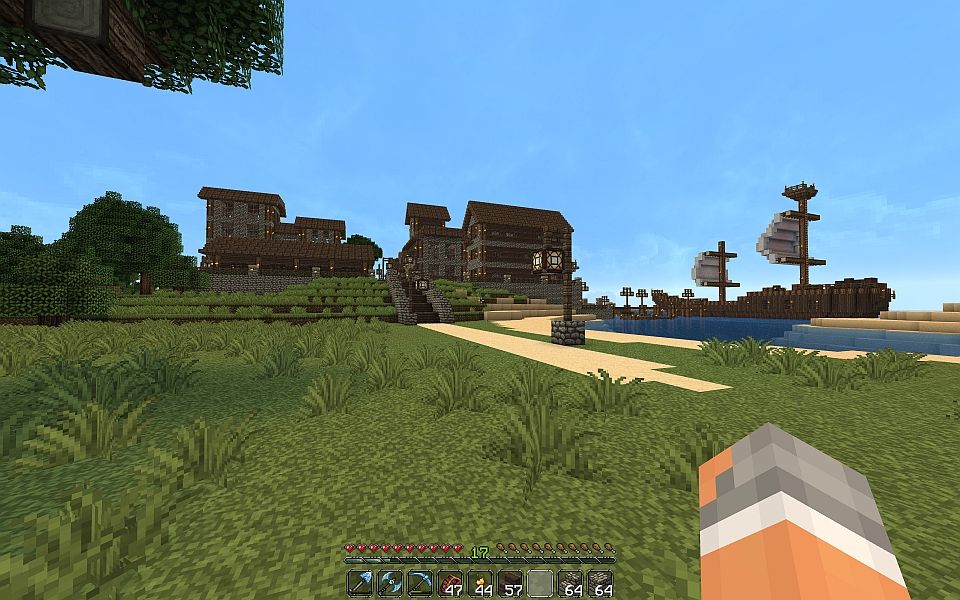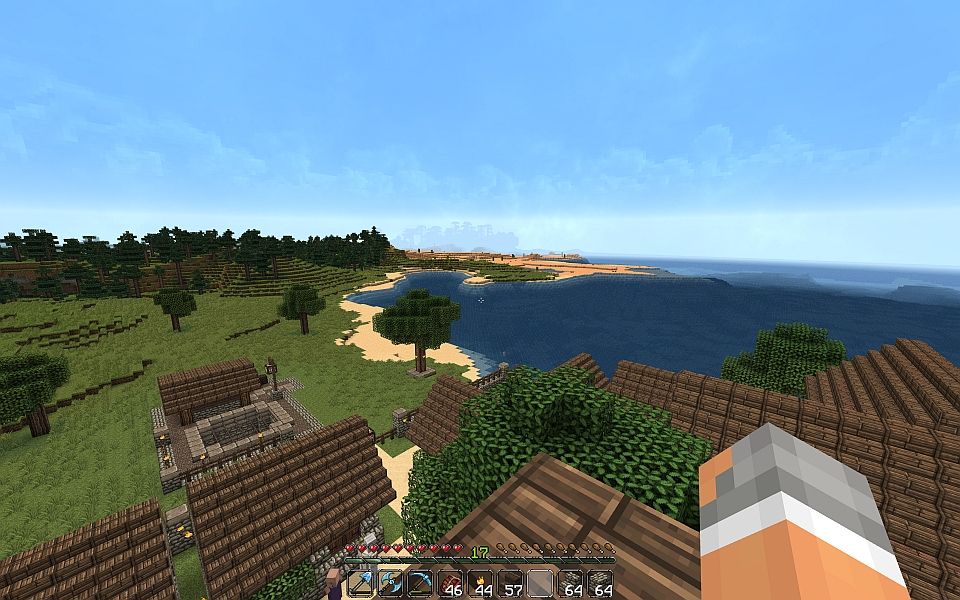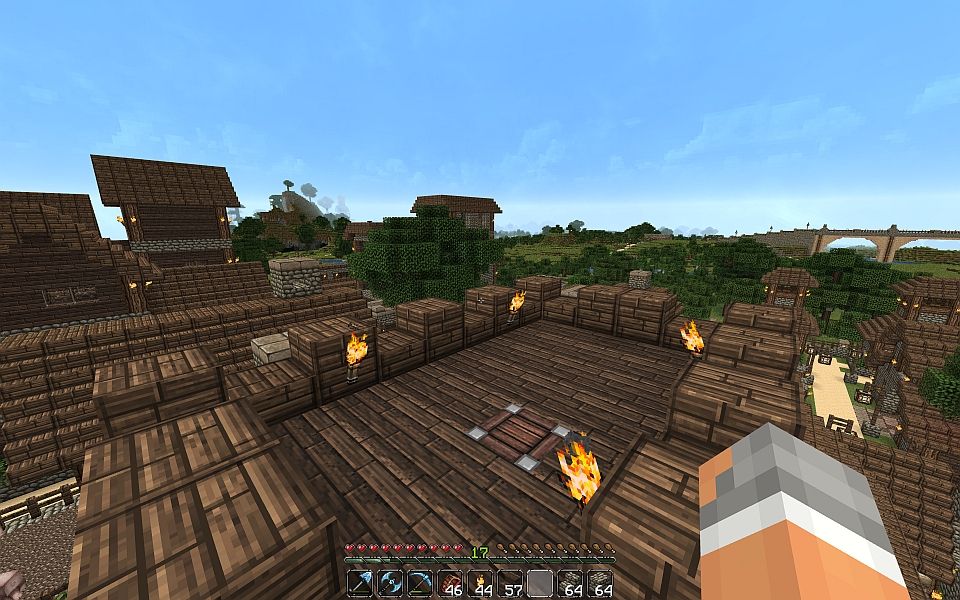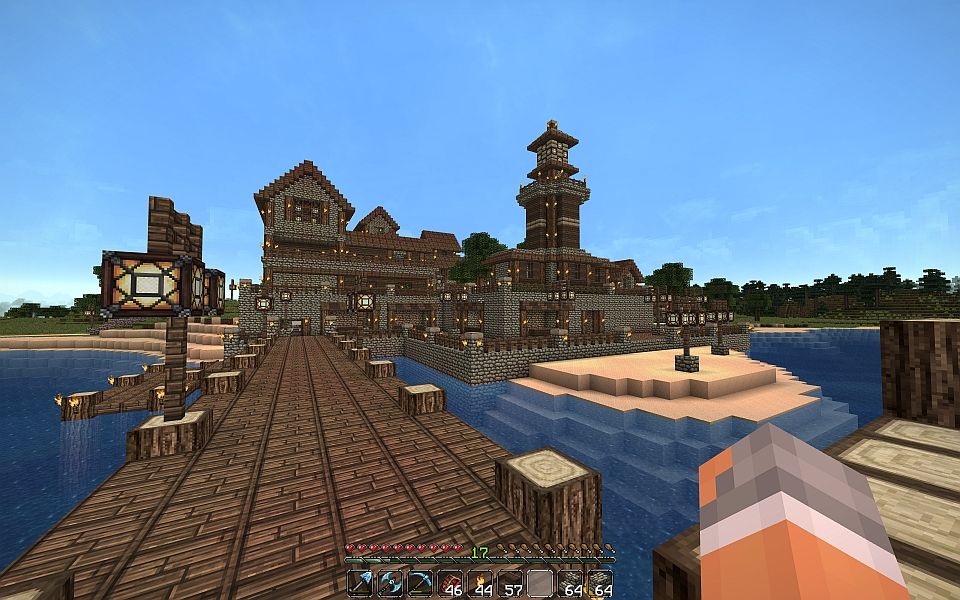 VECEMEIR PLANTATION

Vecemeir has an largely unknown history, and is presently a large plantation locale run by a family and providing employment for a few others. It was come across when the Zi railway was expanding West and North. It was later added to the rail line, and provides a strong crop resource through trades mostly with Windhelm.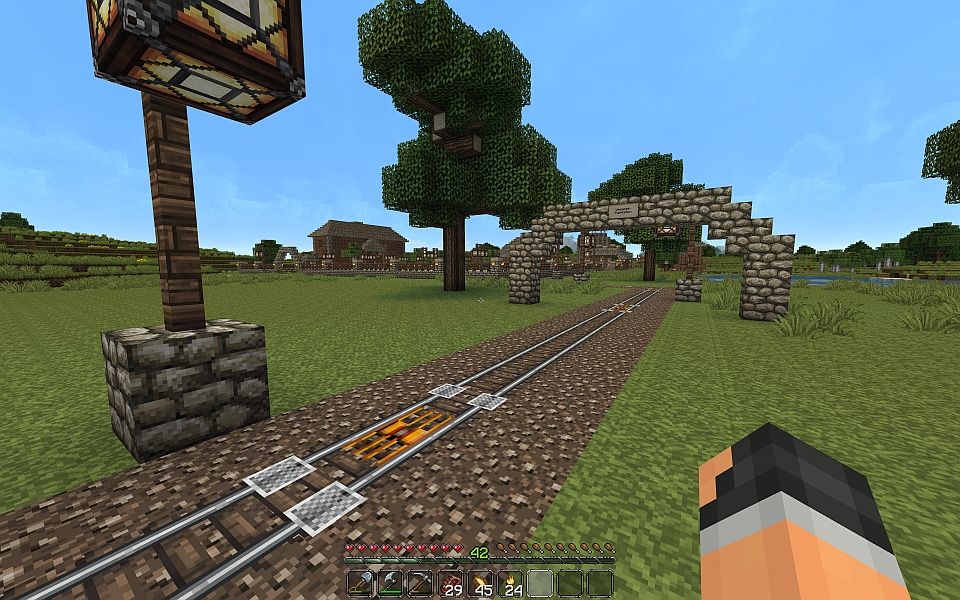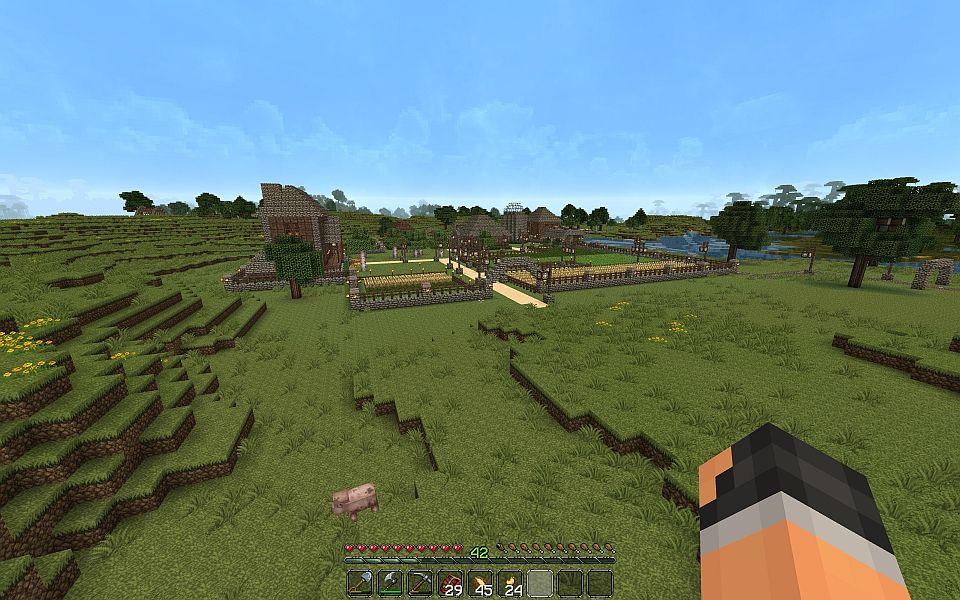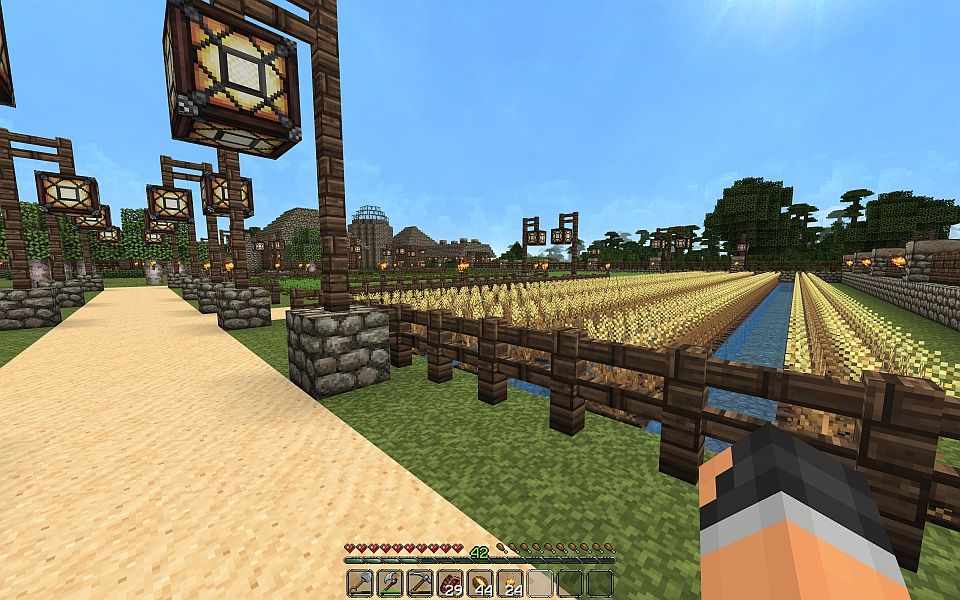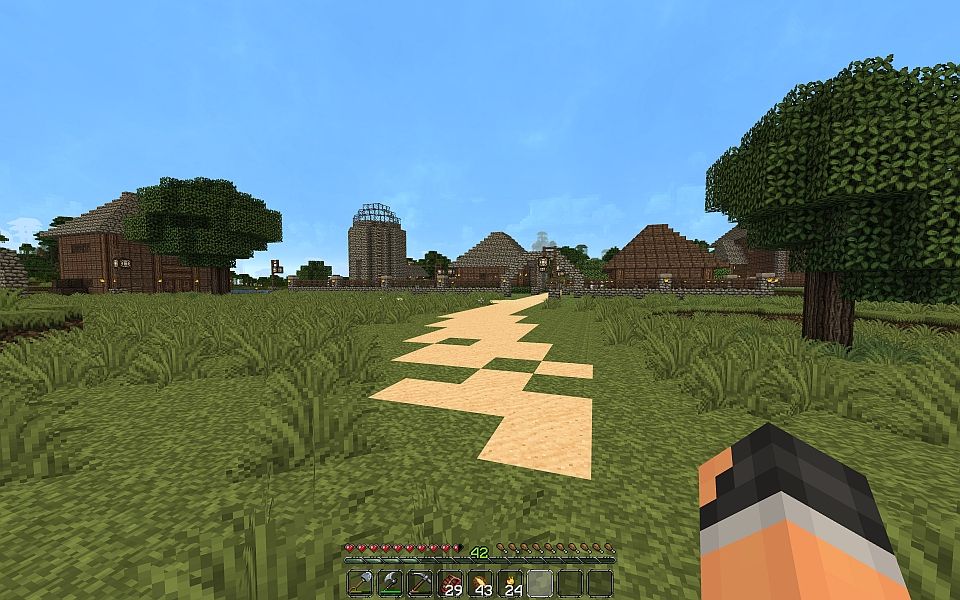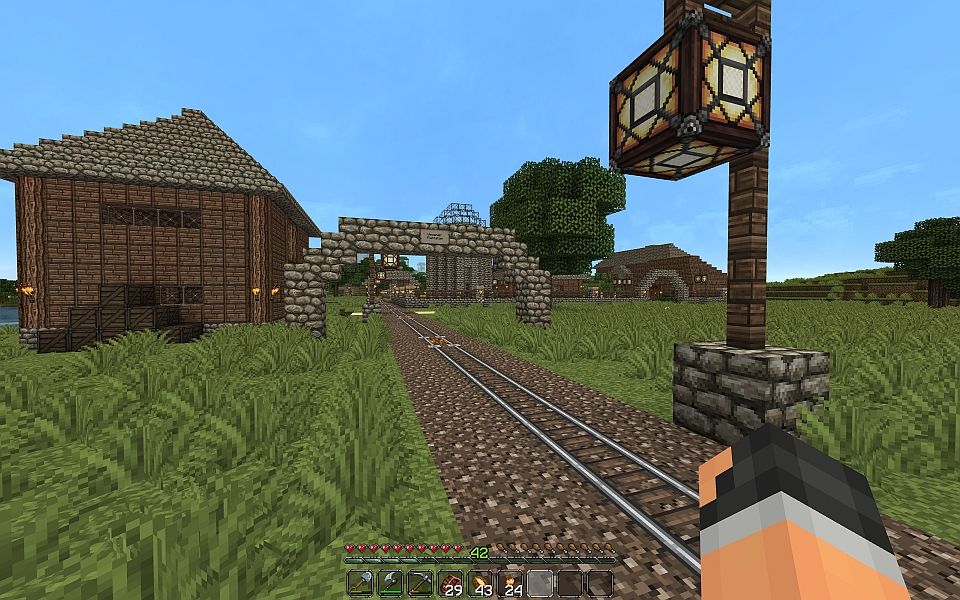 CENTRAL ZI

ARLIA

Arlia (x=1,300 and z=-300) is a small city rich in history, and presently the capital city of the central region. It is one of the oldest cities in Zi, and the lone one from times before the country was established. Civil unrest tore it apart, literally. It was rebuilt in the wake under a leader, a new King. His daughter, Princess Arlia, was named after the new city.

During the time of Zi's establishment, Arlia was hesitant to join and relinquish monarchistic control, and remained separate for some time. After the passing of the king, before the Princess really became a Queen, it was decided upon by her that the city join the country. The city still retains an independent vibe, however, and Arlia still fills in the role of a leader to the community.

Though a calm city, it's central locale, especially among the railway system, makes it an active hub of sorts, solidifying it with a decent populace and level of activity.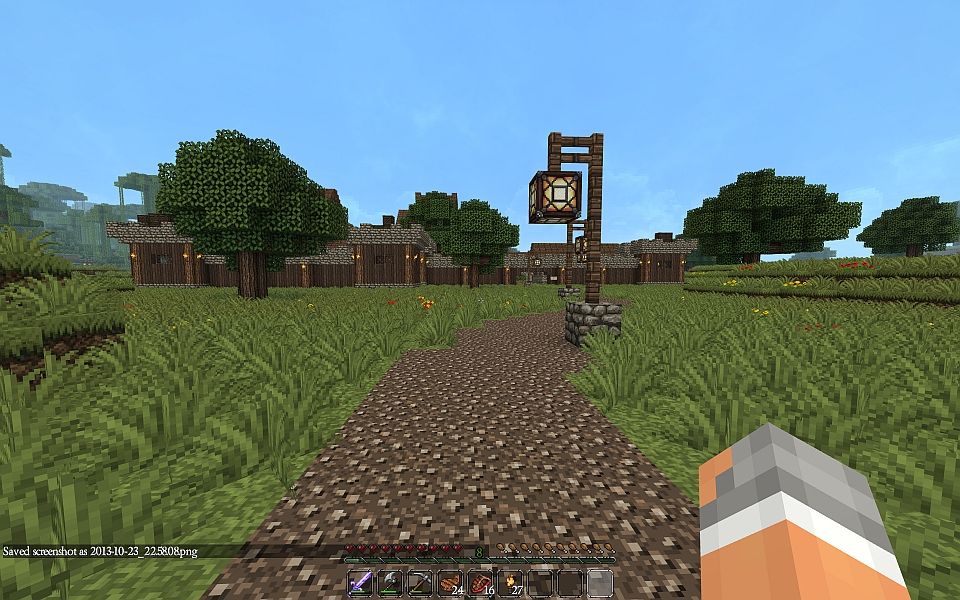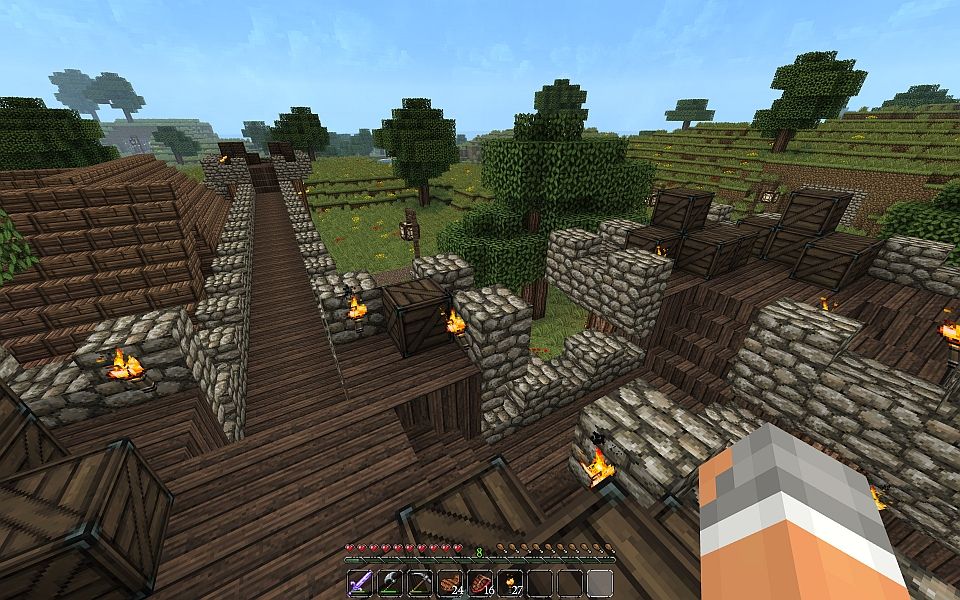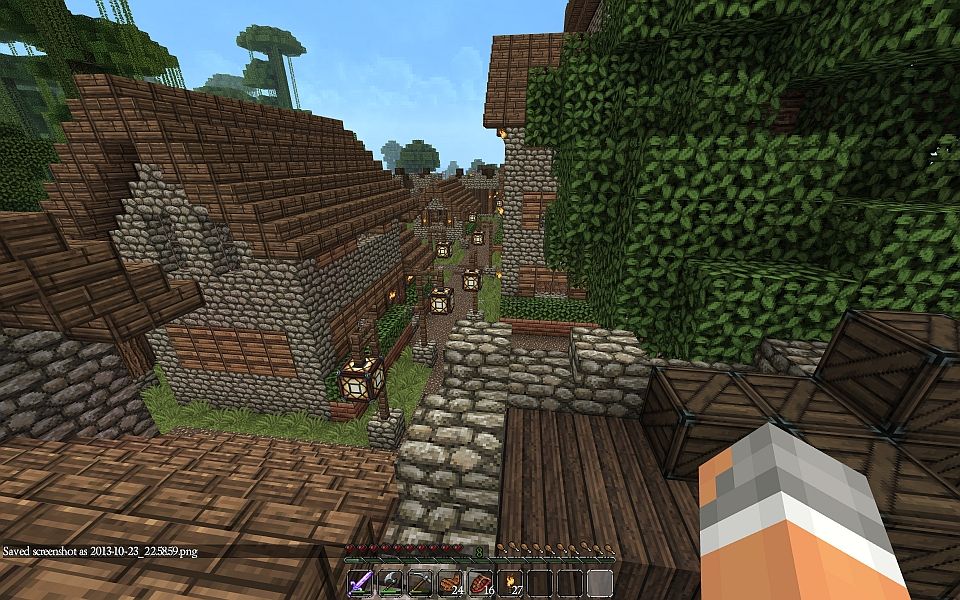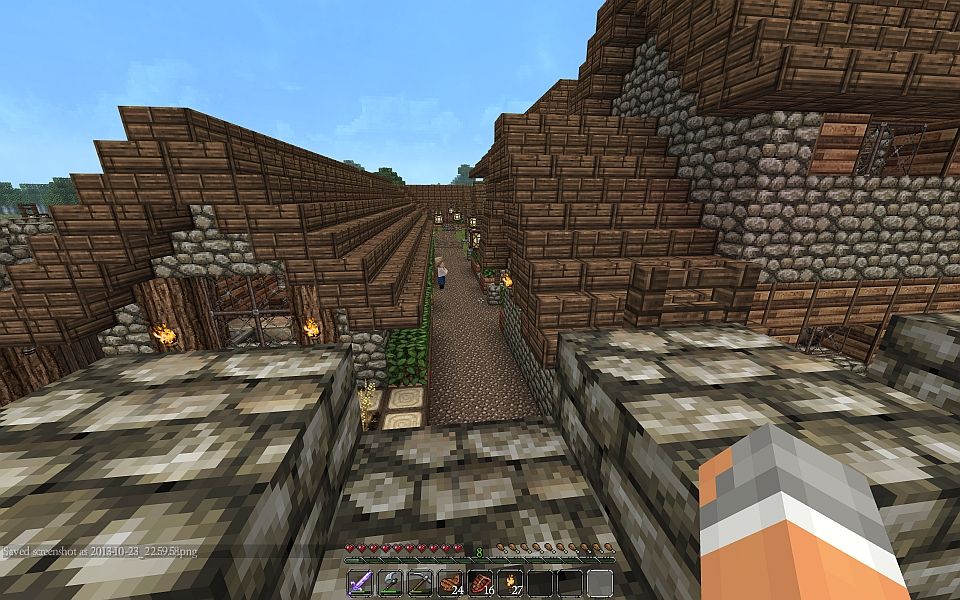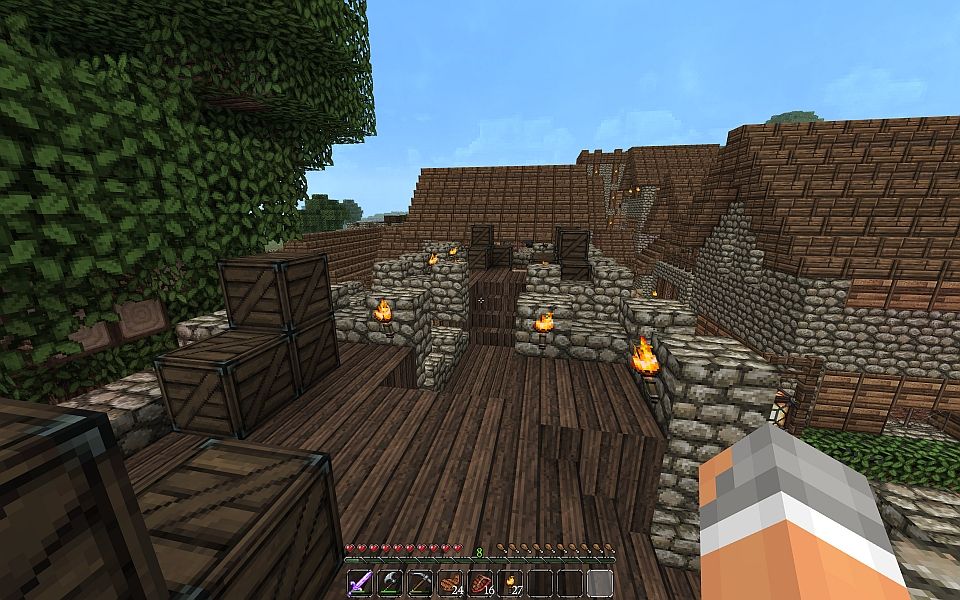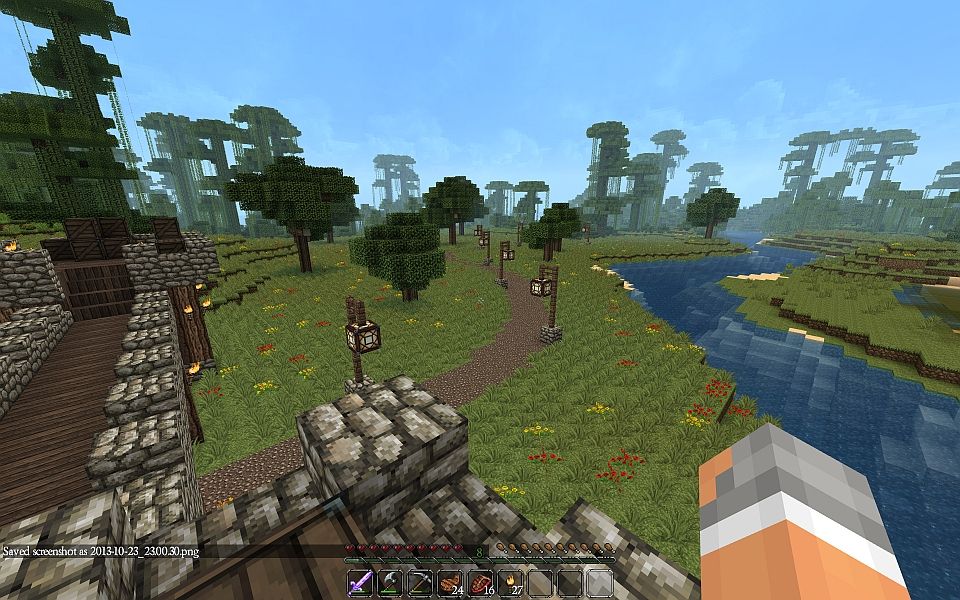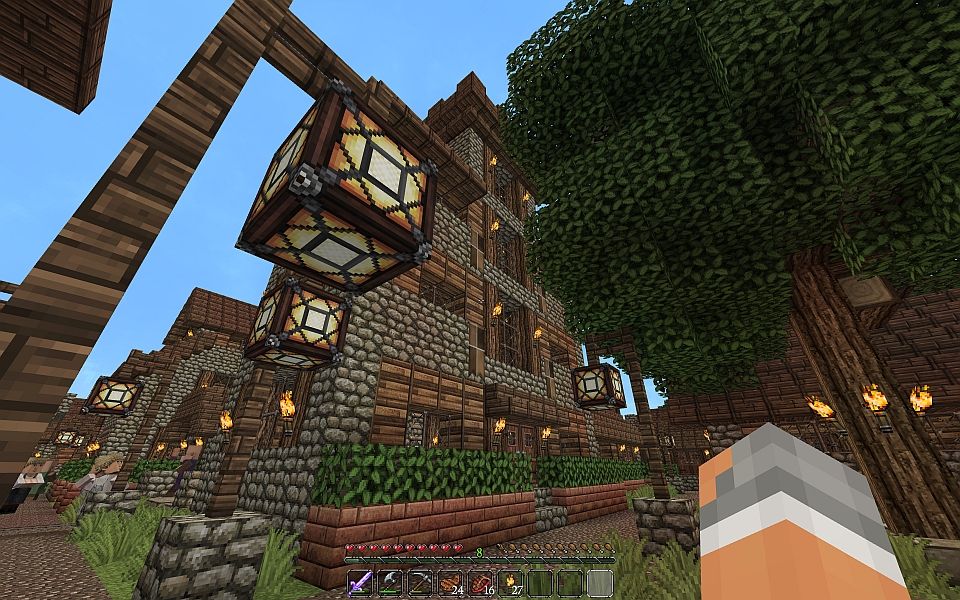 EASTERN ZI

ZILAND (PAST)

Named "after" the country is Ziland (x=2,700 and z=0), though the formal establishment of both happened simultaneously. Ziland serves as the capital of both the Eastern region and the country as a whole.

Not too long after I started my world, I left my initial settlement and walked a couple thousands blocks in one direction and reached a desert with an extreme hills biome behind it. This area became my new settlement, with my dwelling within the mountain, and the city in the desert in front of it.

To this day, this is still my settlement, and is the largest village in my world. It sort of serves as a capital for at least the general region. As this was not a village I modified, I had to get villagers from another village quite some distance away along a rail line (said village was what Arlia originally was).

Of note is that these are pictures of it from mid 2012.


ZILAND

Continuing to grow and prosper, Ziland (x=2,700 and z=0) has more become a region rather than just a city. The original city proper is still much the core, and has received revisions and some outright changes, though it much remains the same as well. New regions of the city have been appended, rather than the city walls proper extended and the gaps filled. Some say this has left the city without a clear style, while others argue it's a sign of immense growth and diversity.

The old region remains as the residence, with a few rail stations. Though the differing "regions" have no clear distinction or name, some unofficially label this part within the original walls proper as "Old Ziland". Yet, It is only these walls that still have the signs declaring the city name.

A somewhat central region containing commercial venues, such as a superstore, a bistro, an inn, a contracting agency, and a landmark tower that is now a national monument was first added.

To a lower level beyond here resides another residential area.

To the front of the commercial center is yet a larger region, housing mostly governing buildings for the city and/or entire country, such as the capital building and those regarding transportation, beautification, and a medical and research facility. Immediately fronting this are the horse yards, with two large stables/barns full of stalls of horses, donkeys, and mules. These are bred and traded or sold. Another, smaller, horse barn has been added to the original city proper for travelers and visitors to dock their own horses while they arrive.

To the rear, behind the mountain the city fronts (of which contains endless tunnels and rooms, also known as my house, haha) is a small farm, which was one of the larger ones upon completion at the time.

Being a city that provides a lot of construction services for other locales, the "construction yard" itself (yes, inspired by the Command & Conquer series of games) sits to the side, with it's corporate offices within the city itself.

Beyond these many unofficial "regions", there's even another "half" of the city, which, while still officially part of Ziland itself, but has the name of "Southern Ziland" and is a short distance away from the core of Ziland, behind the mountain range, but within one itself. An upper level of residences has been started here. Eventually, this will house the shipyards to the ocean behind it, and a central, commercial district will be added here as well, with a forge/blacksmith, a chapel/assembly hall, and a research and development center.

Needless to say, it's become more of a region, a collection, than just what's within the walls proper.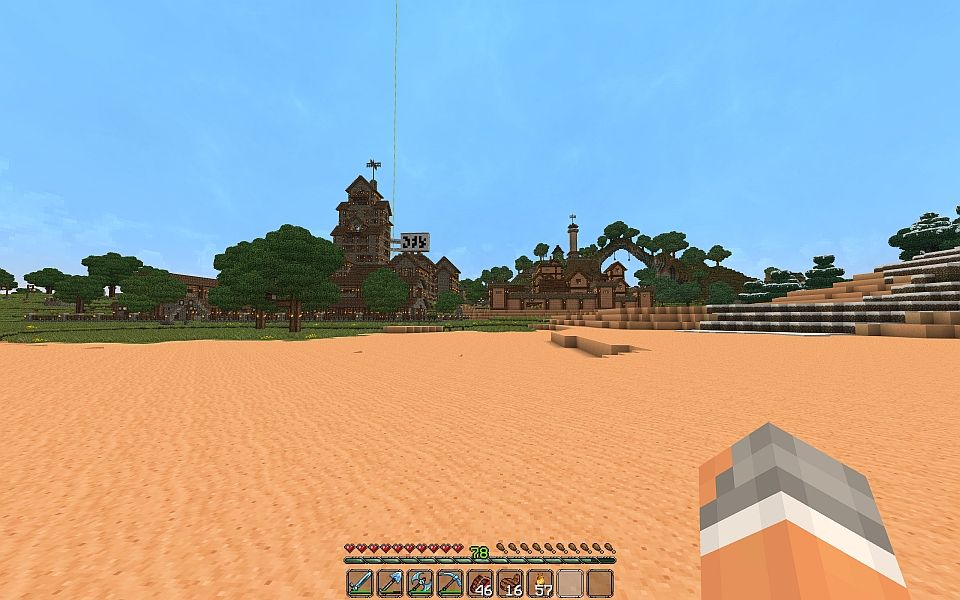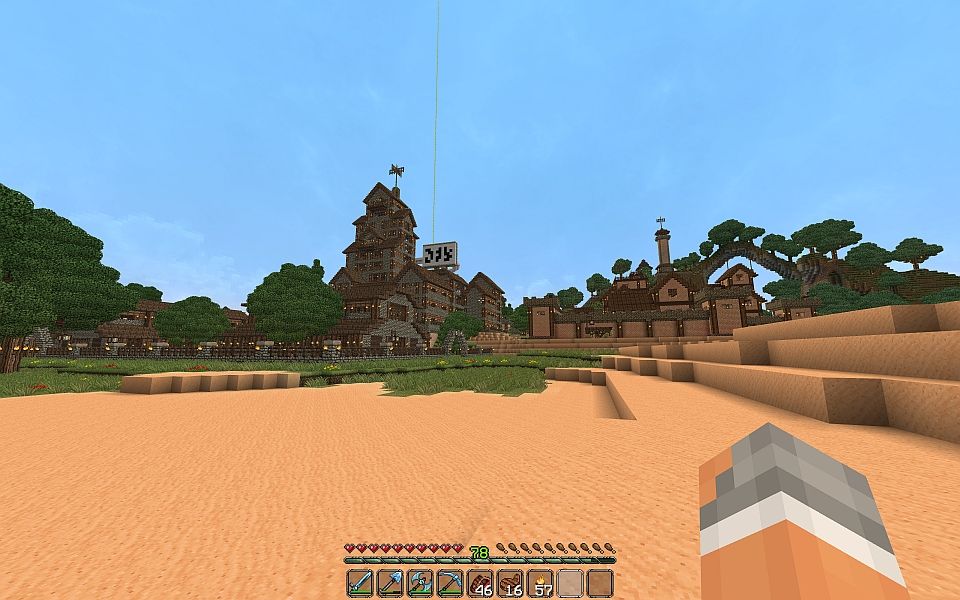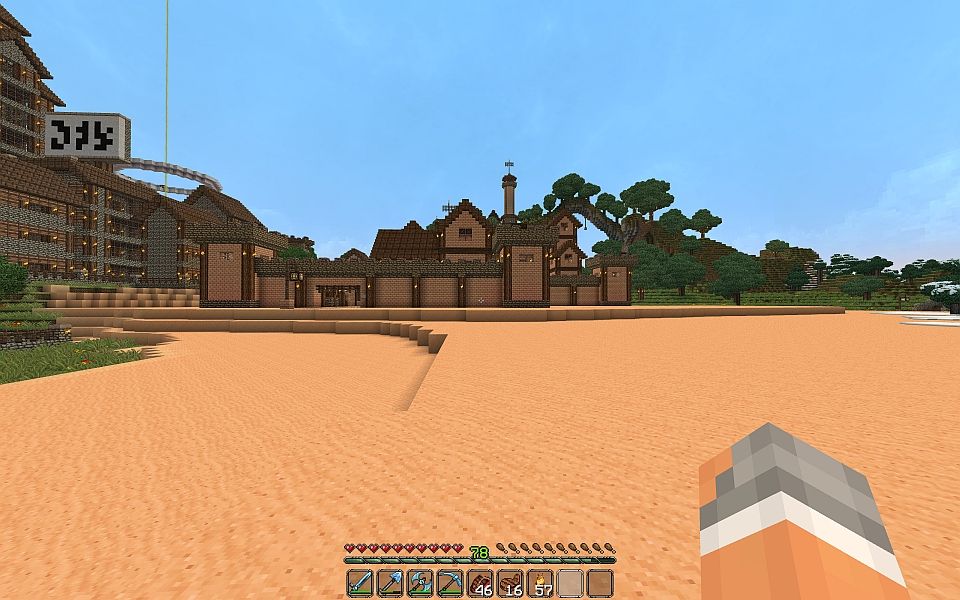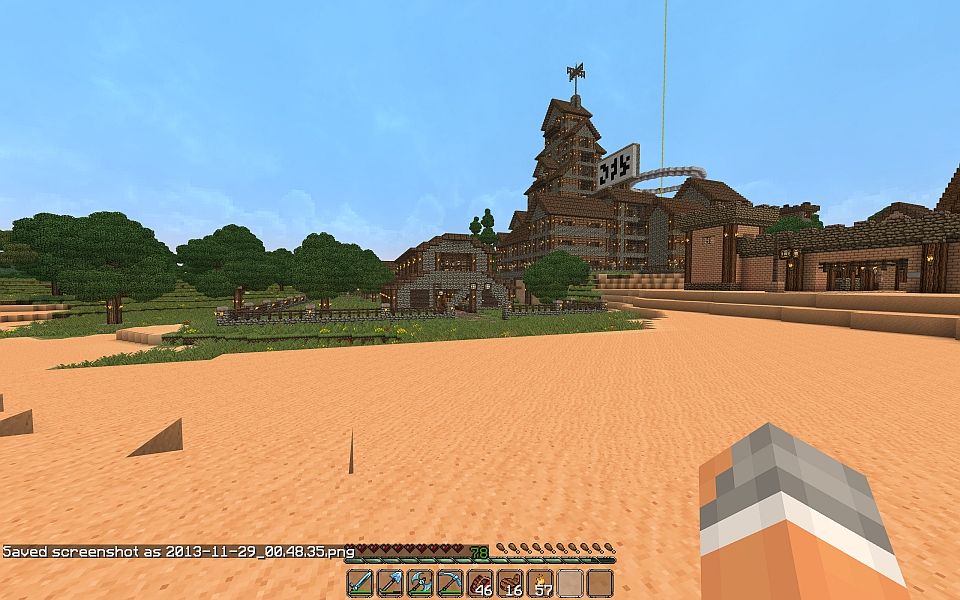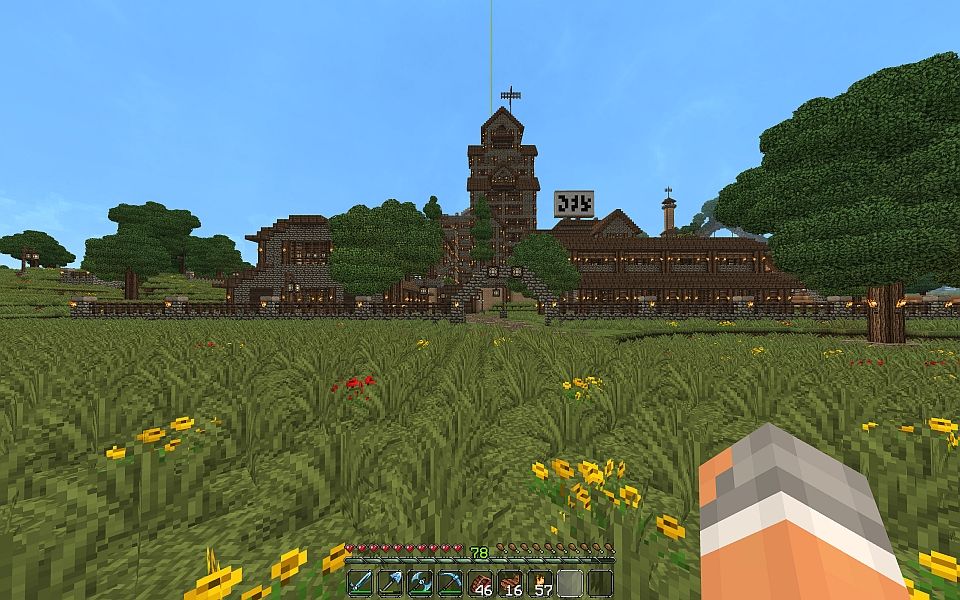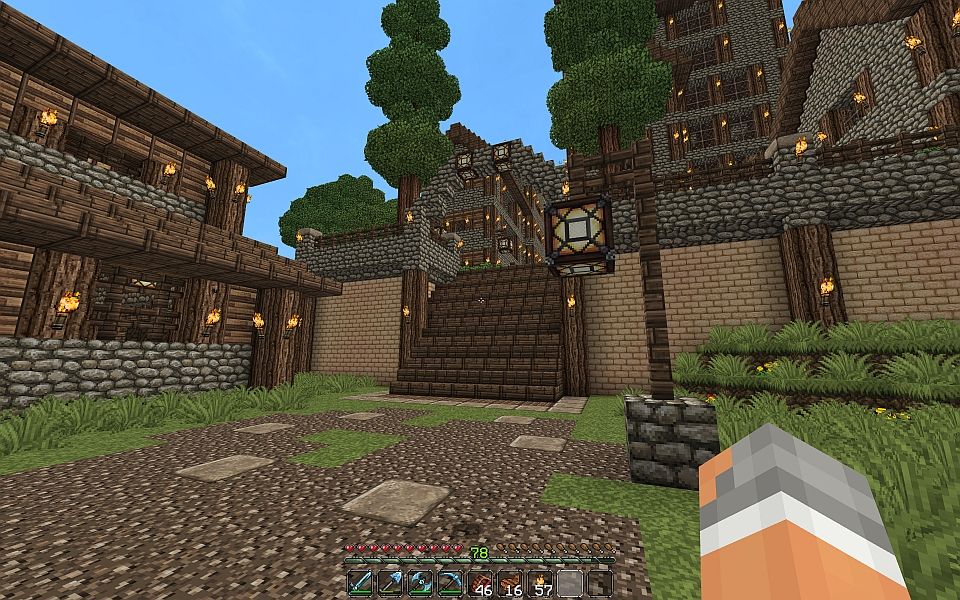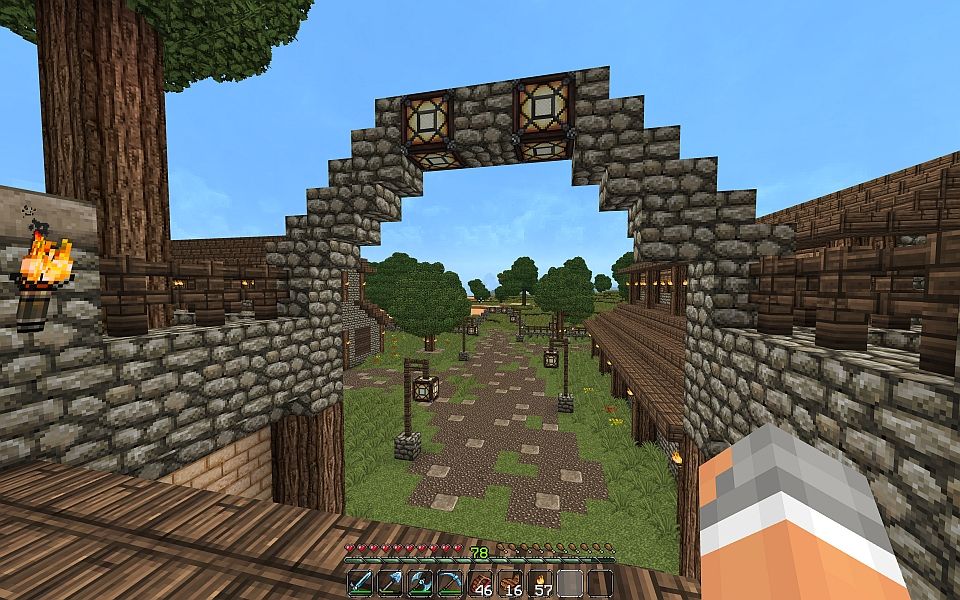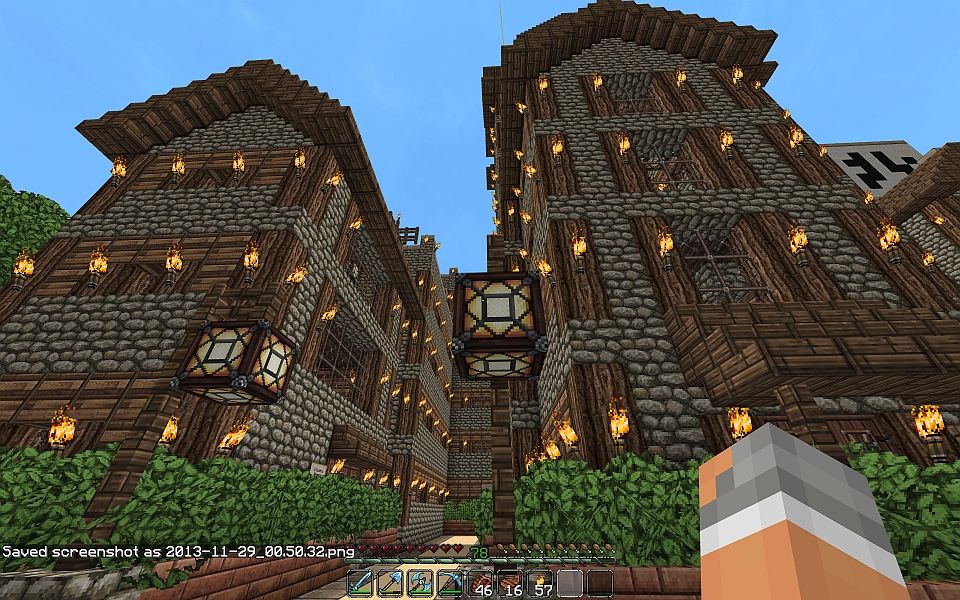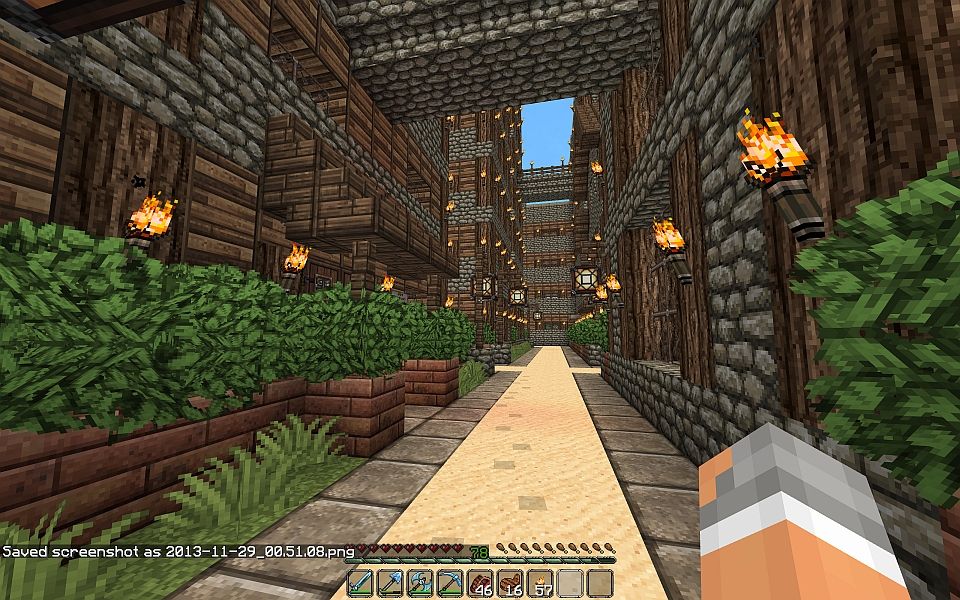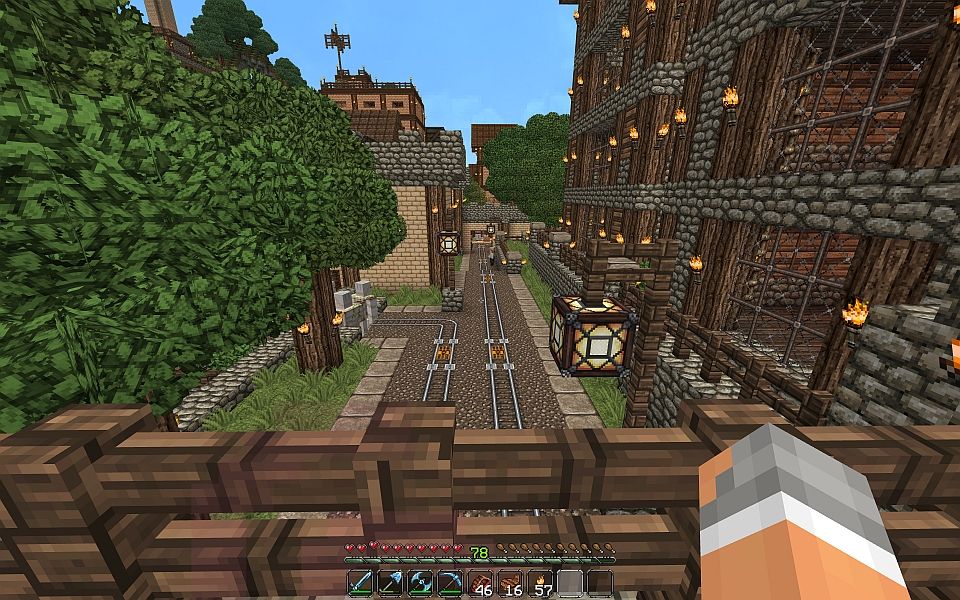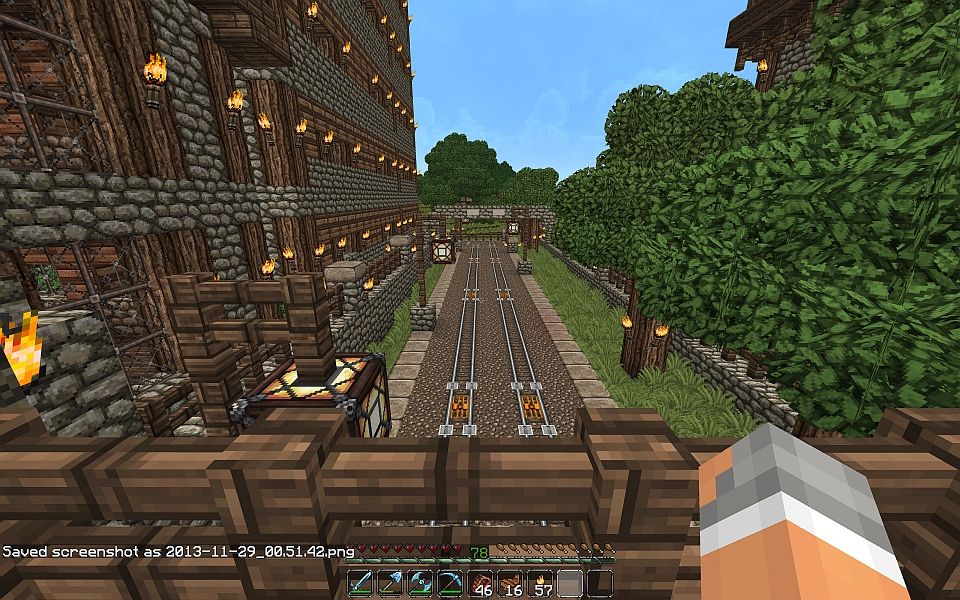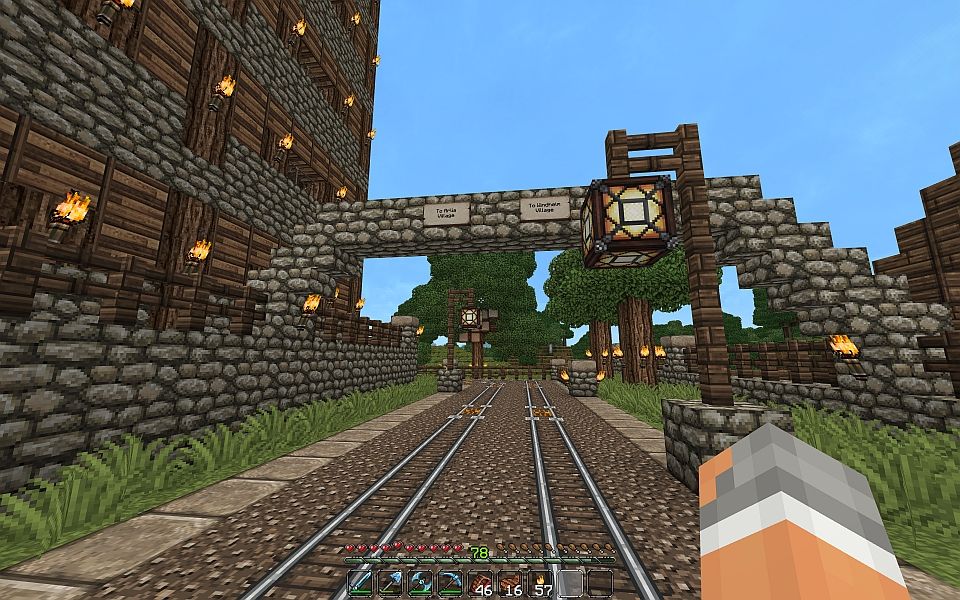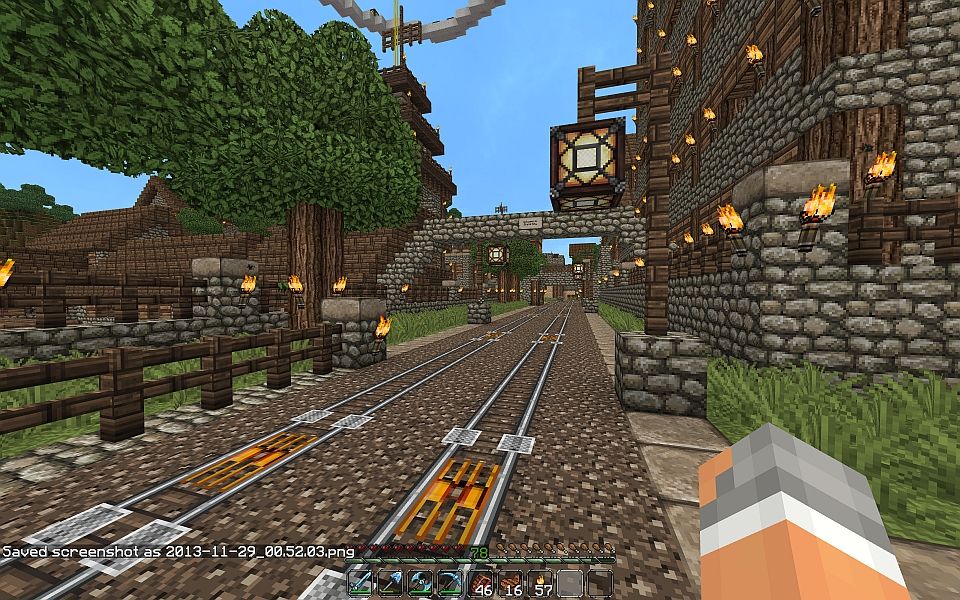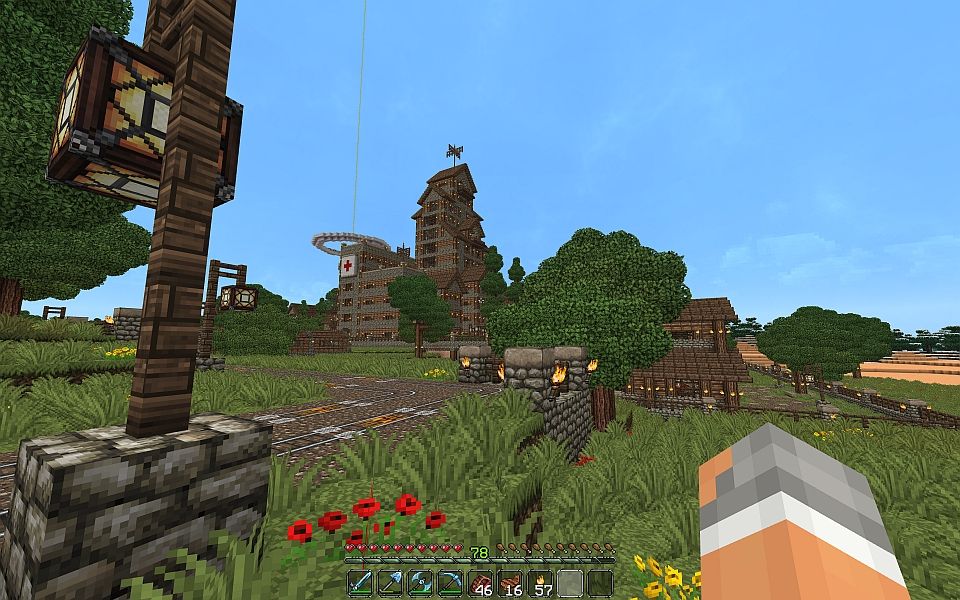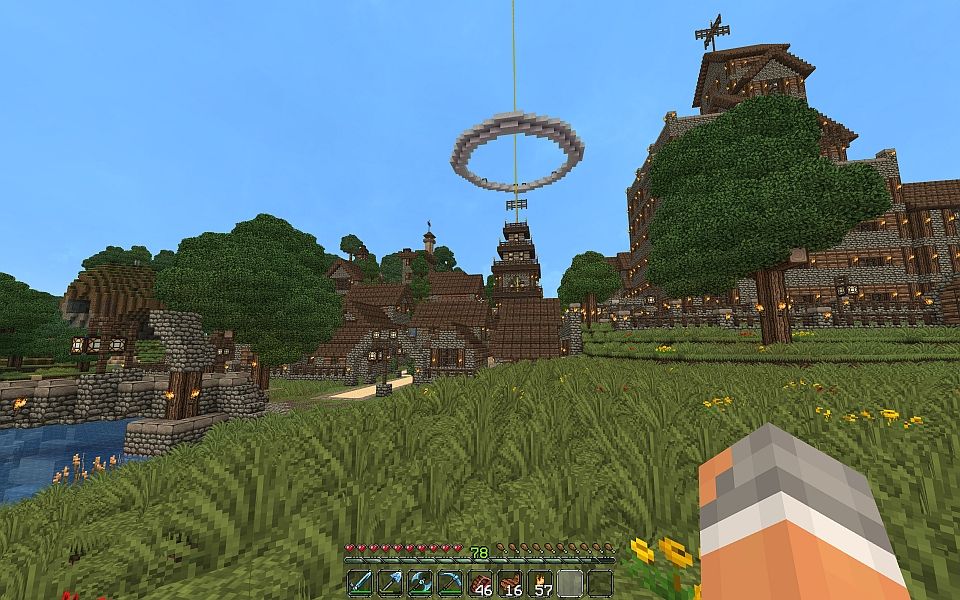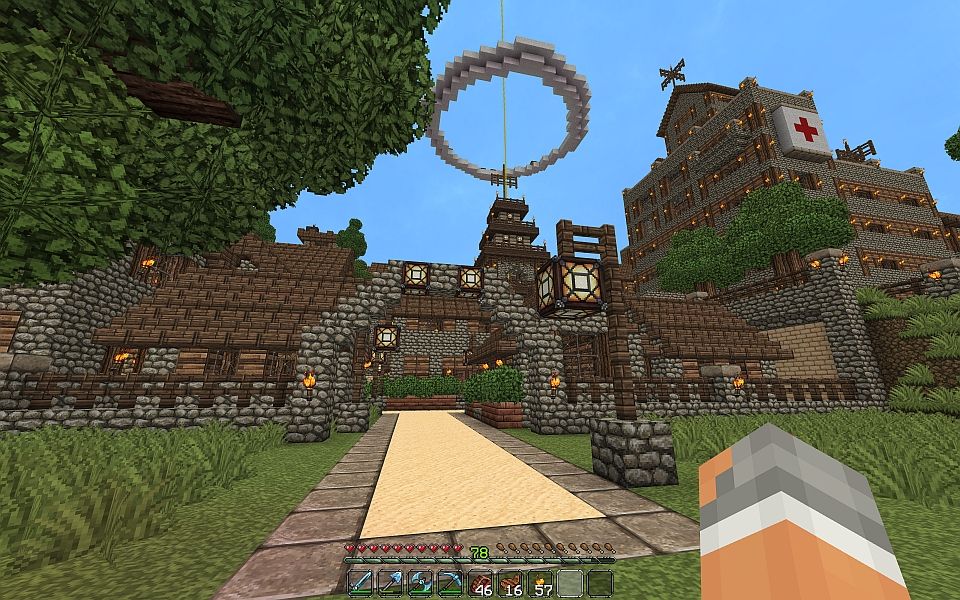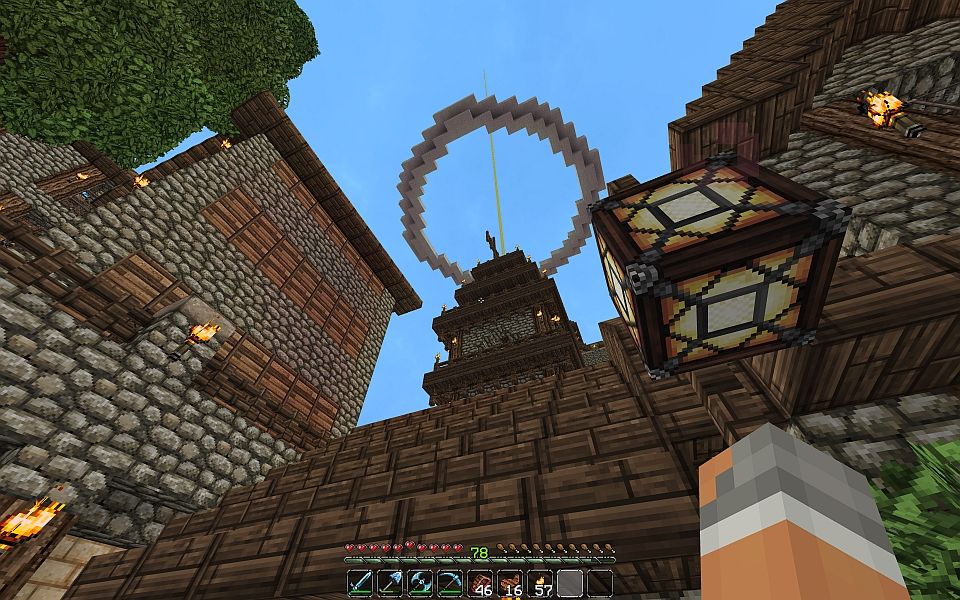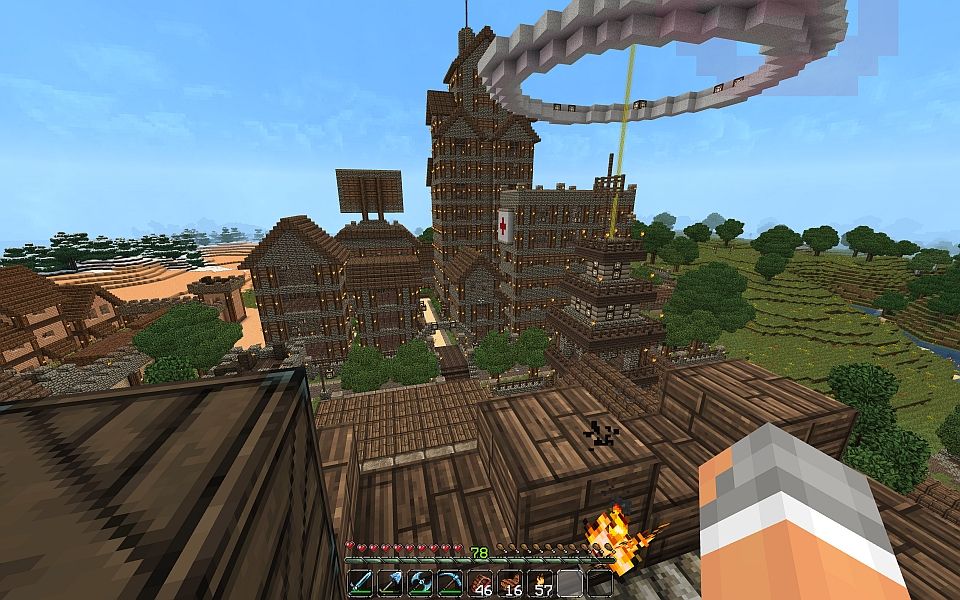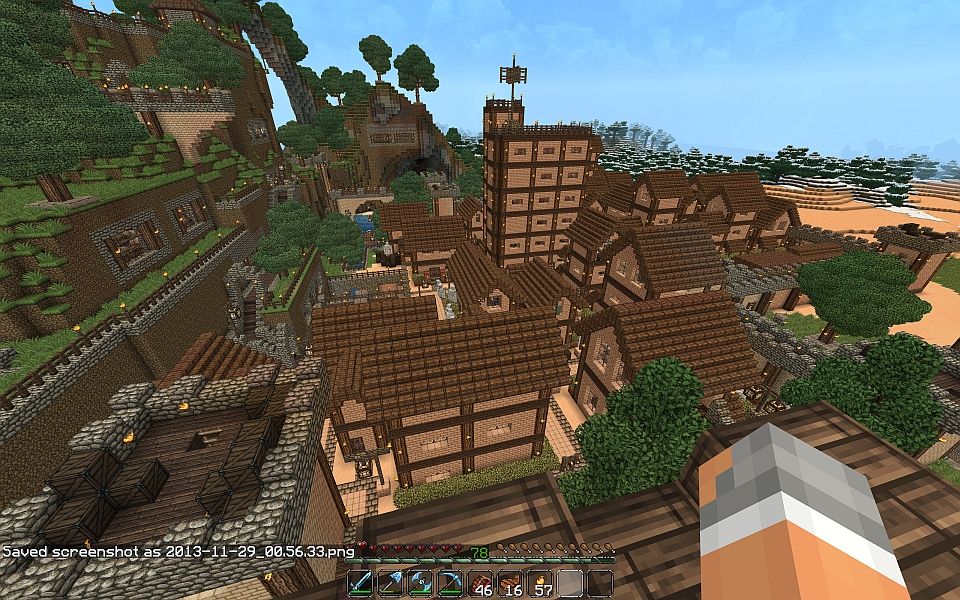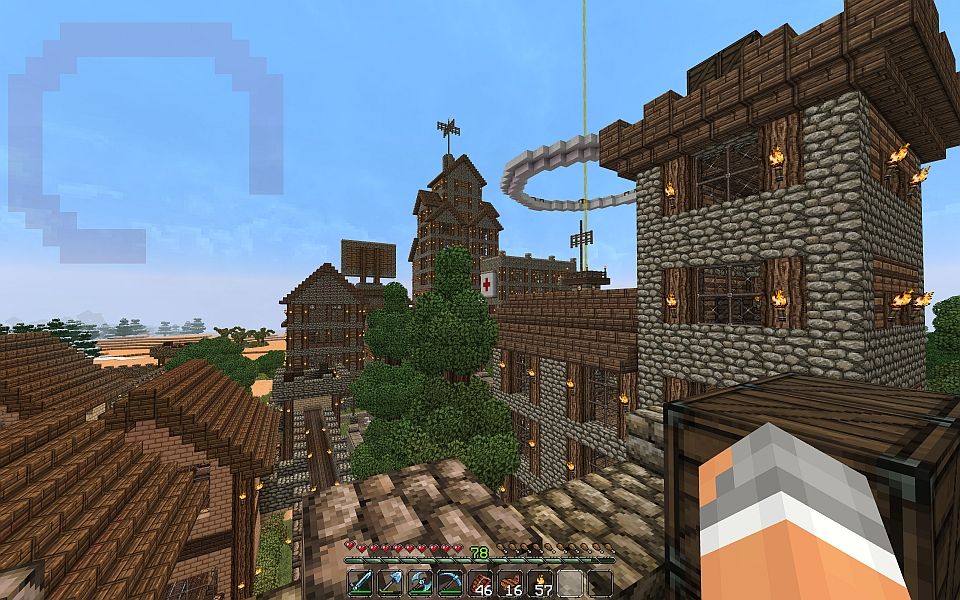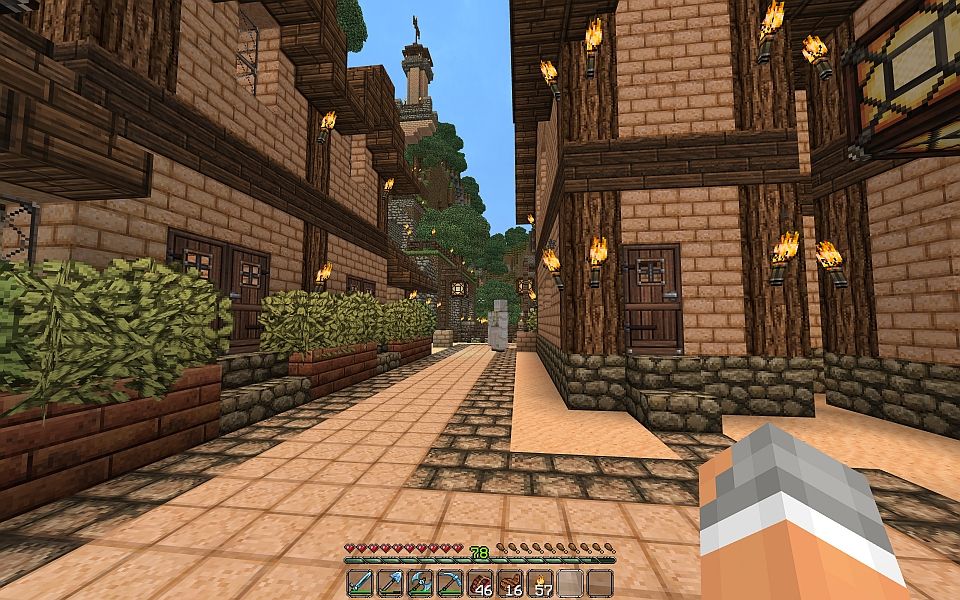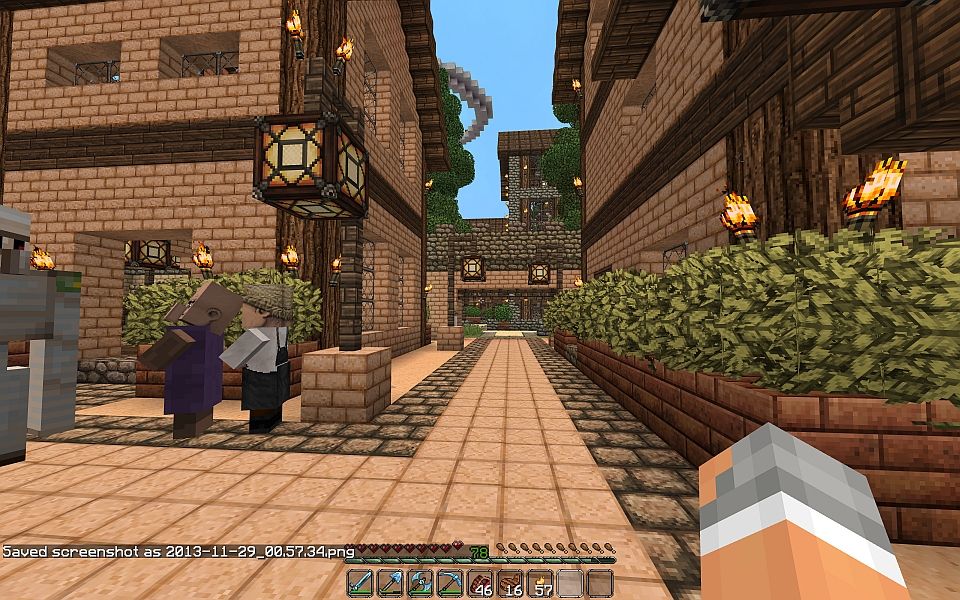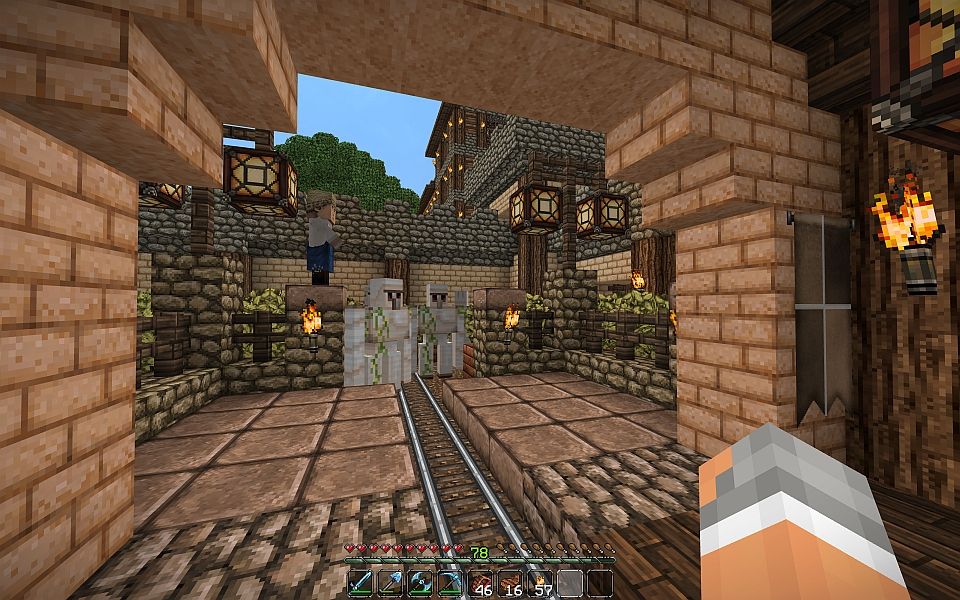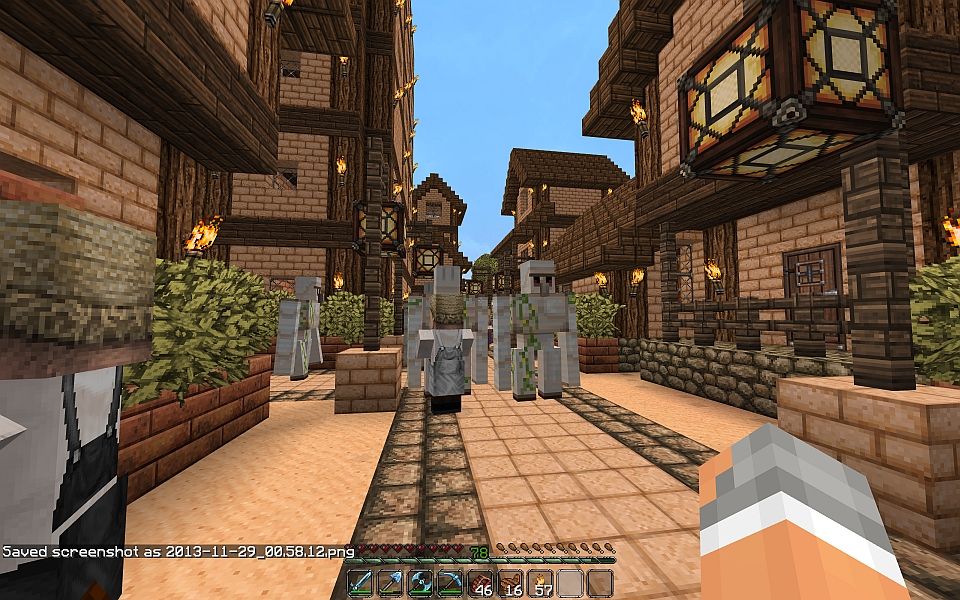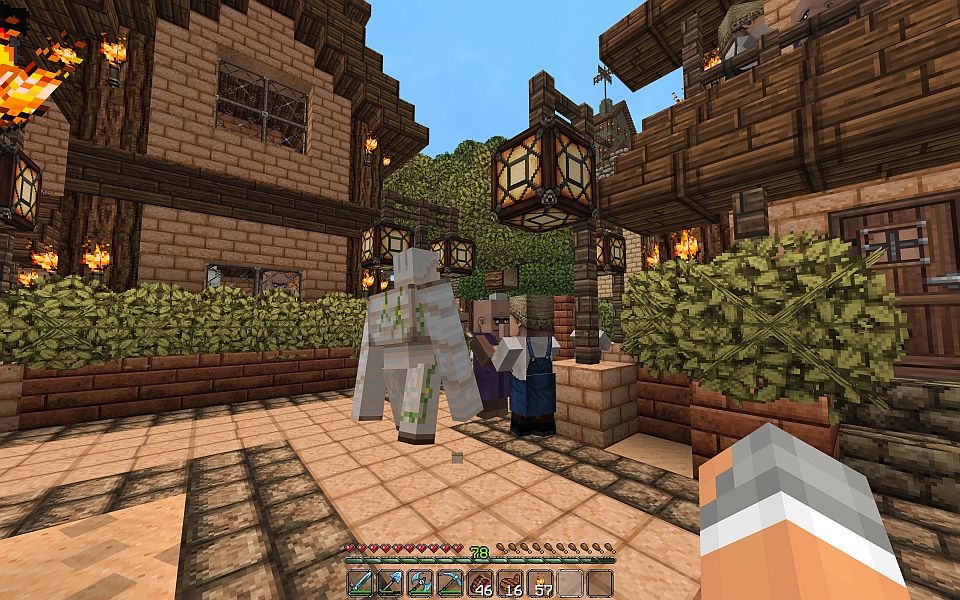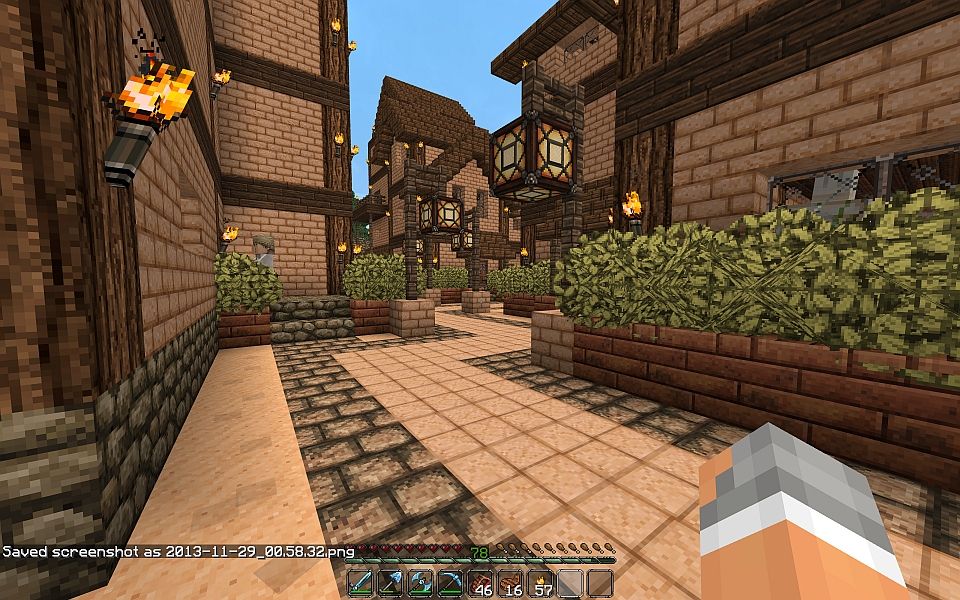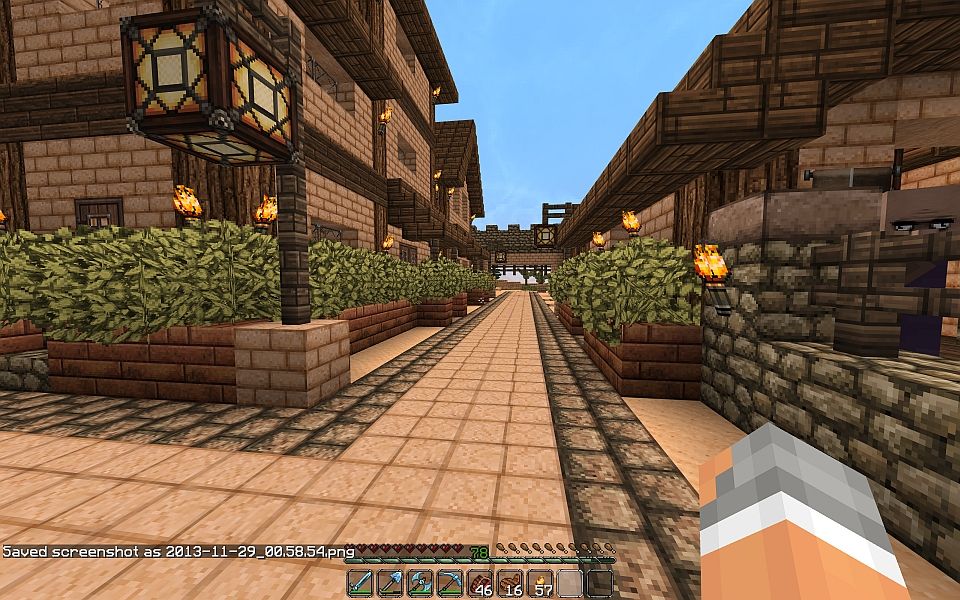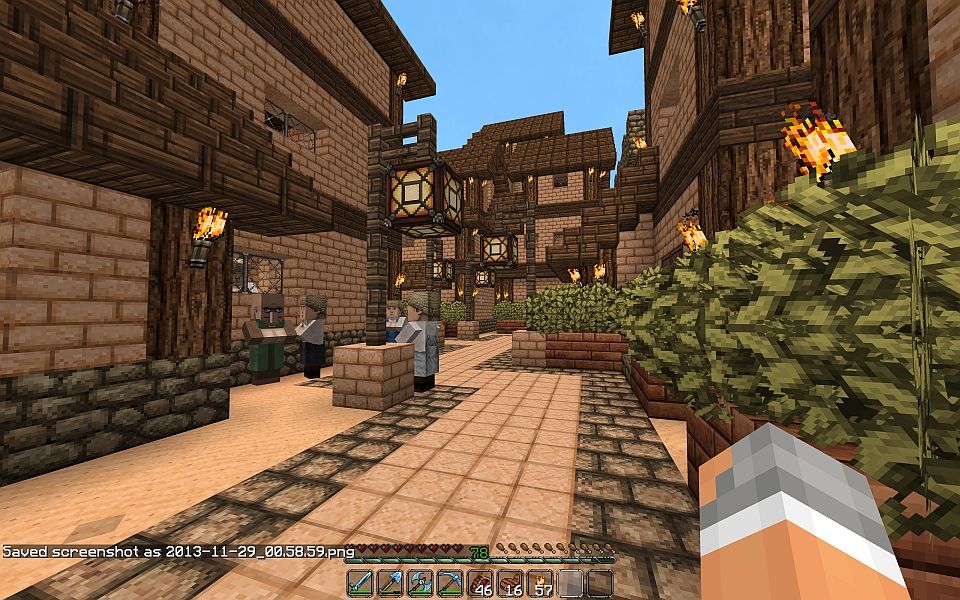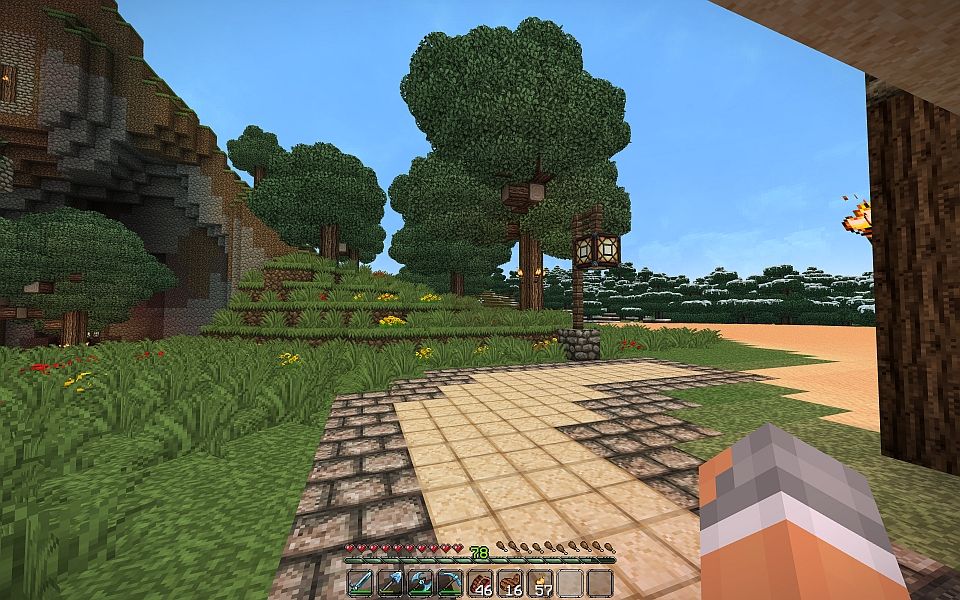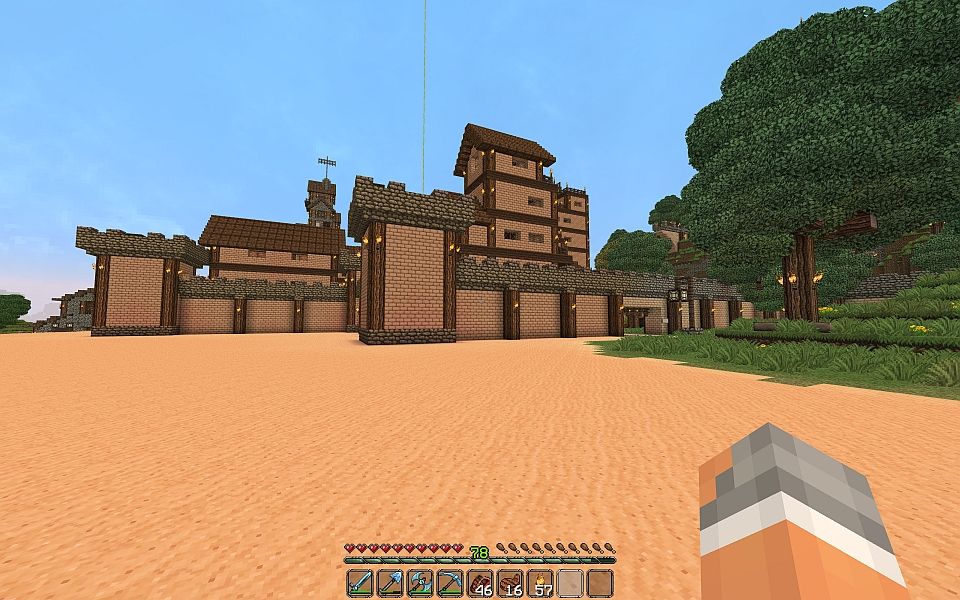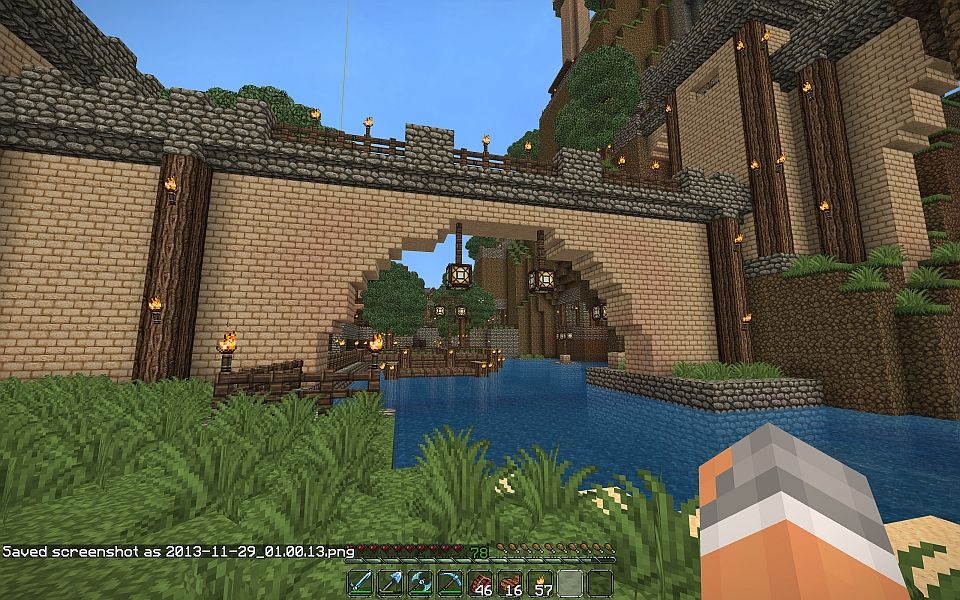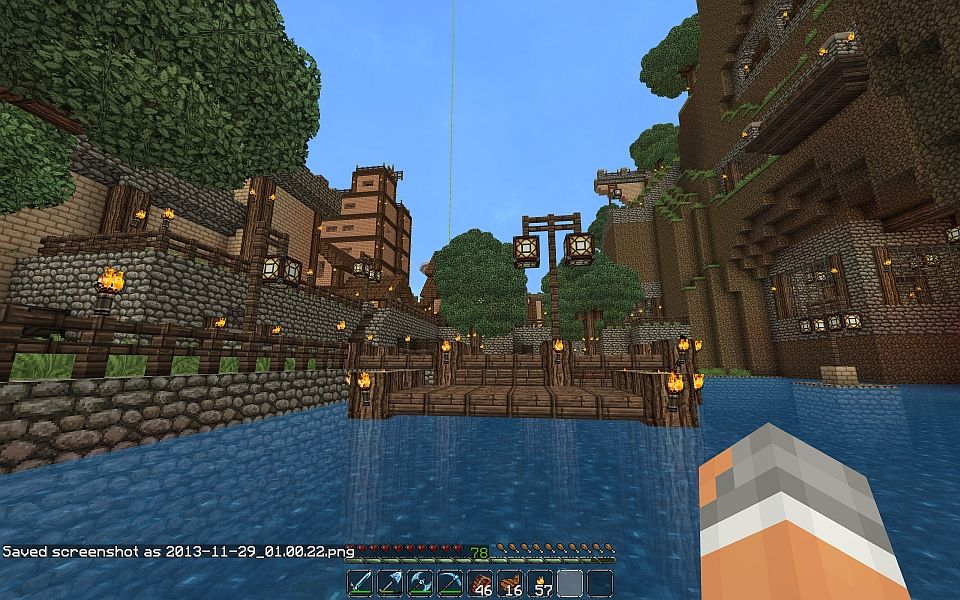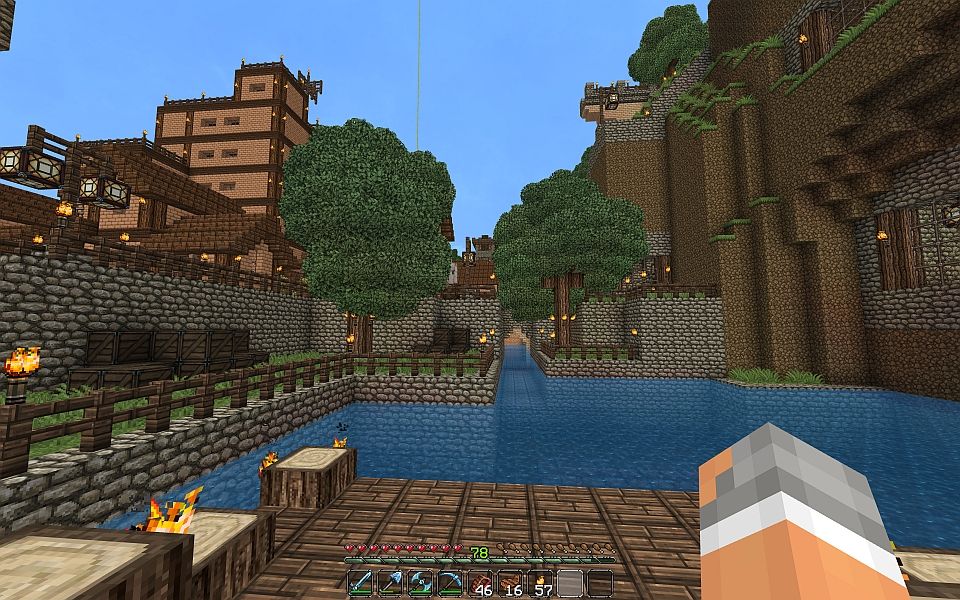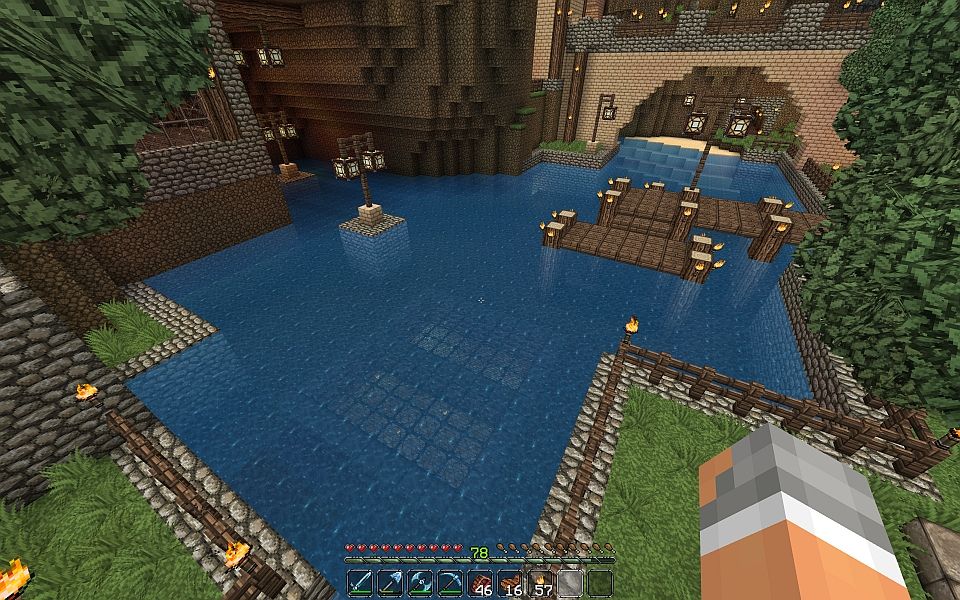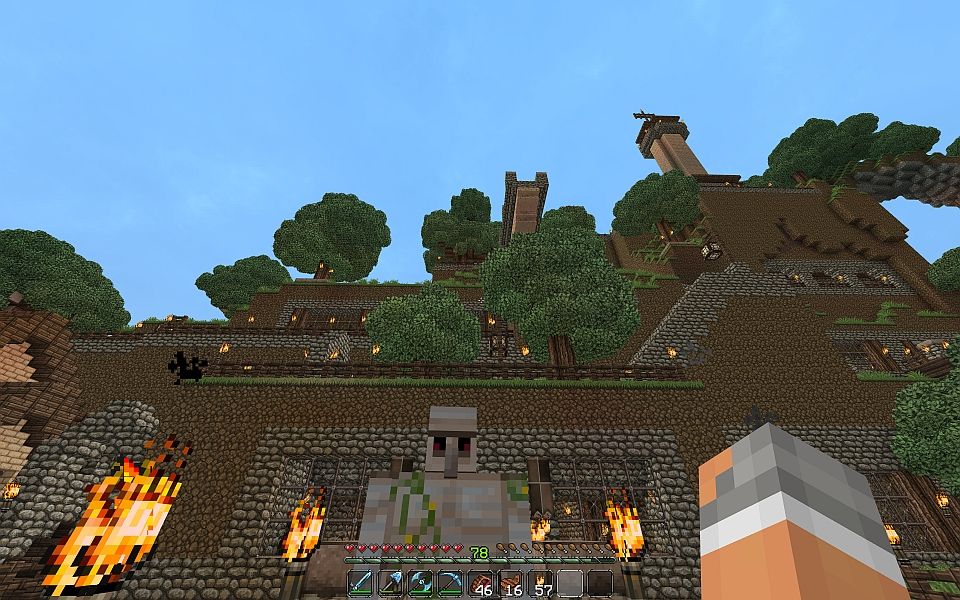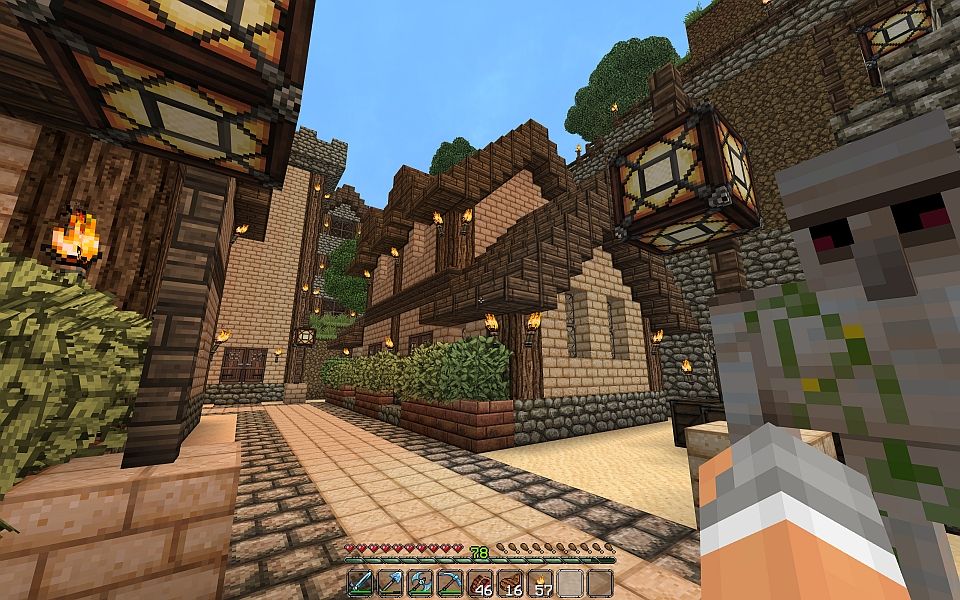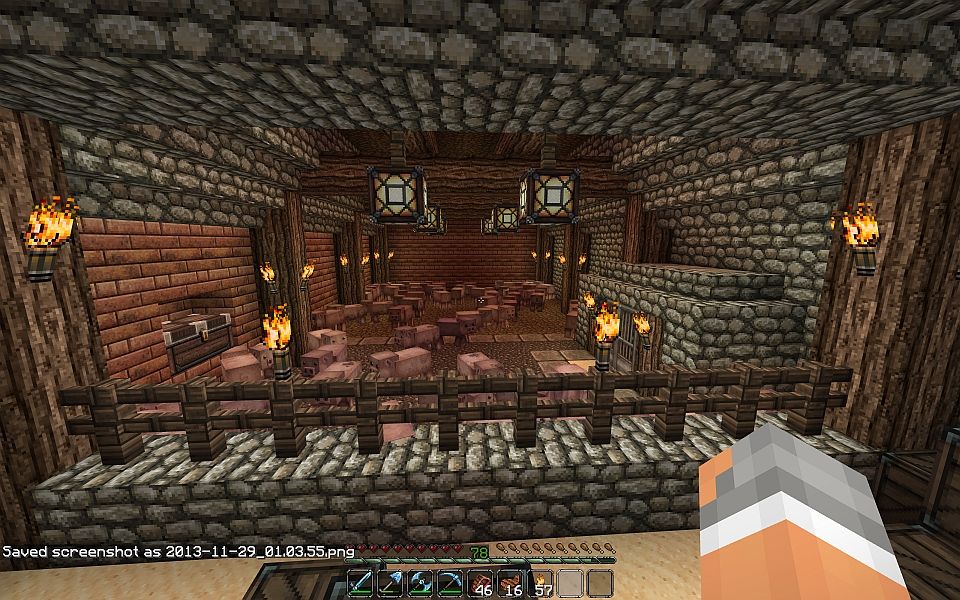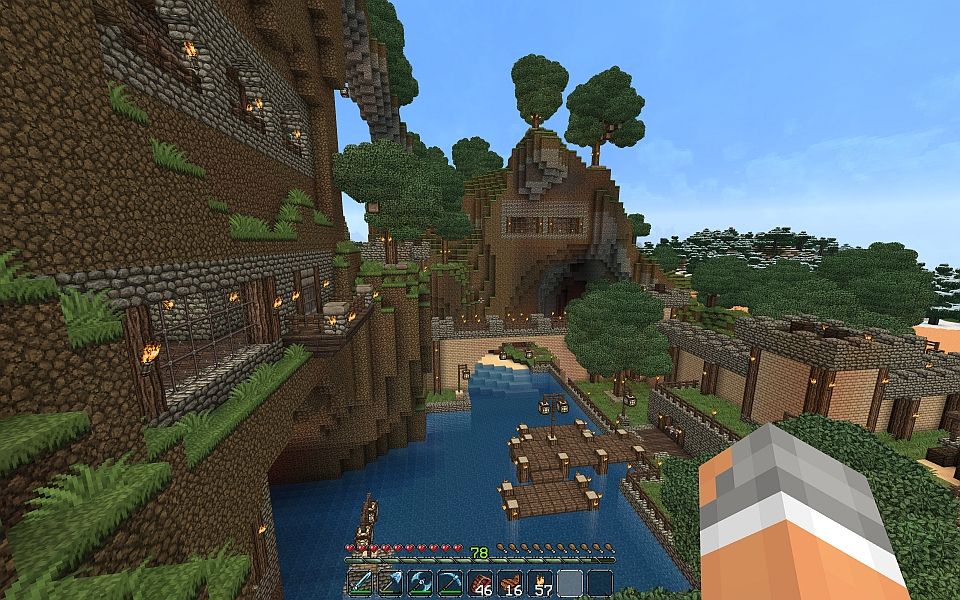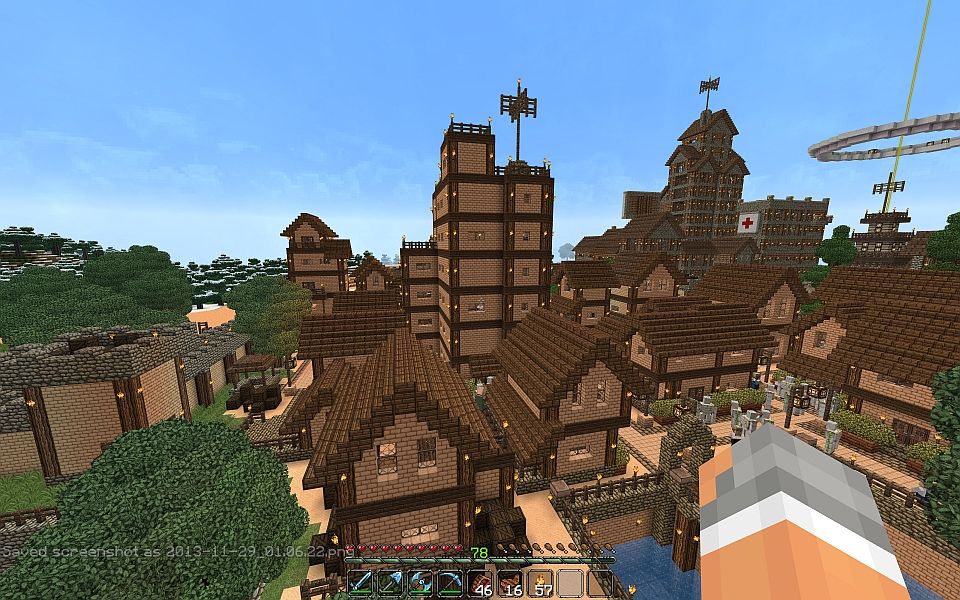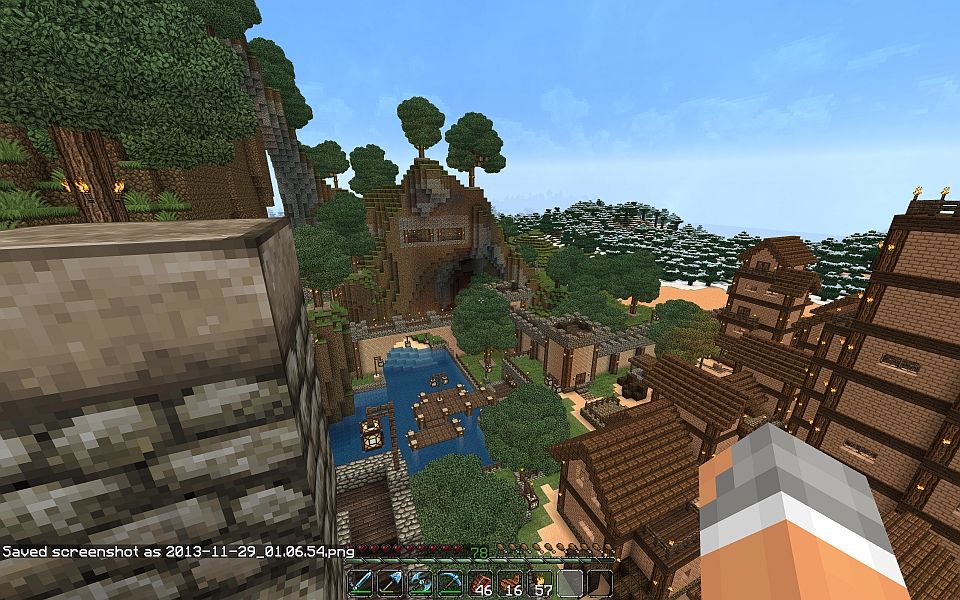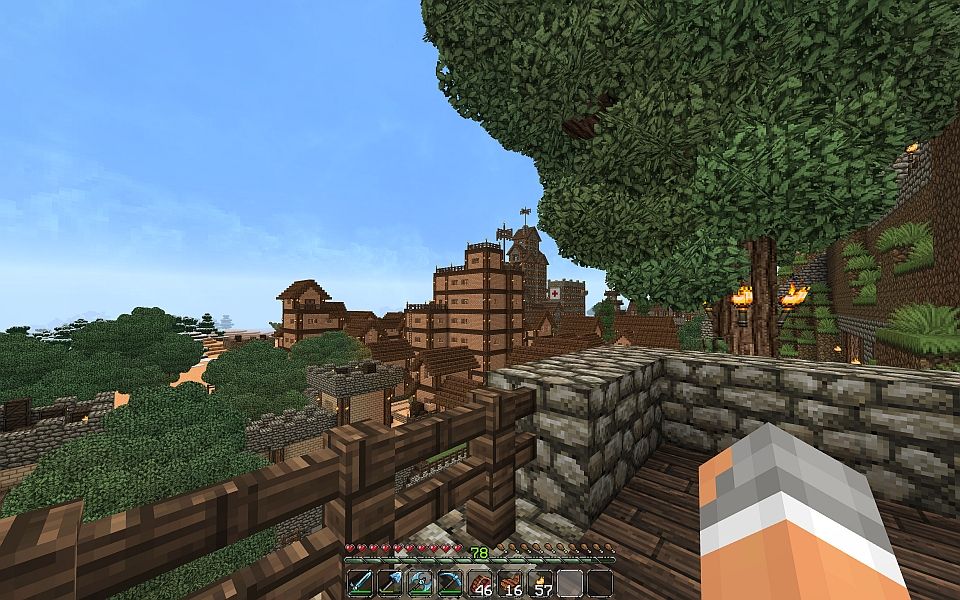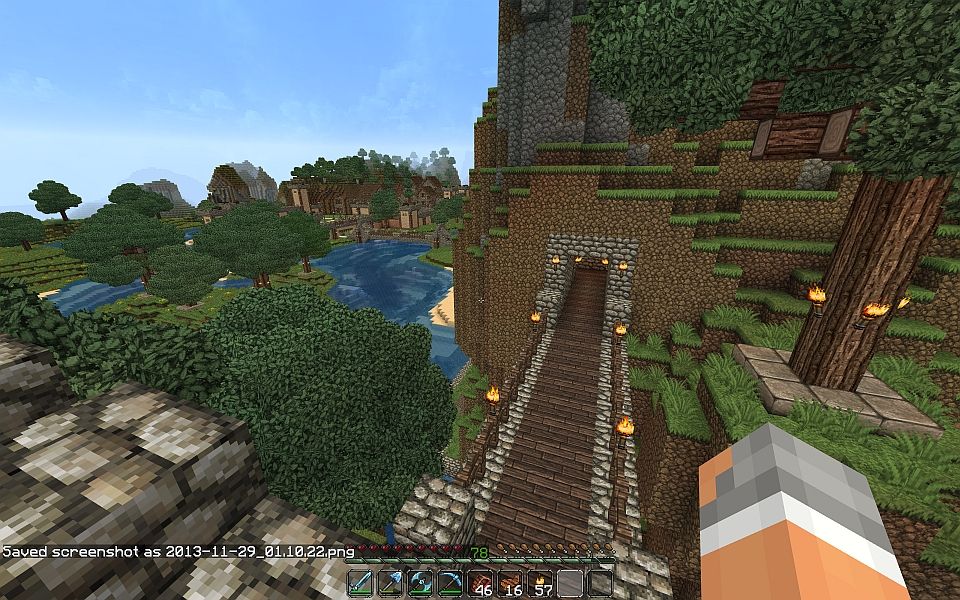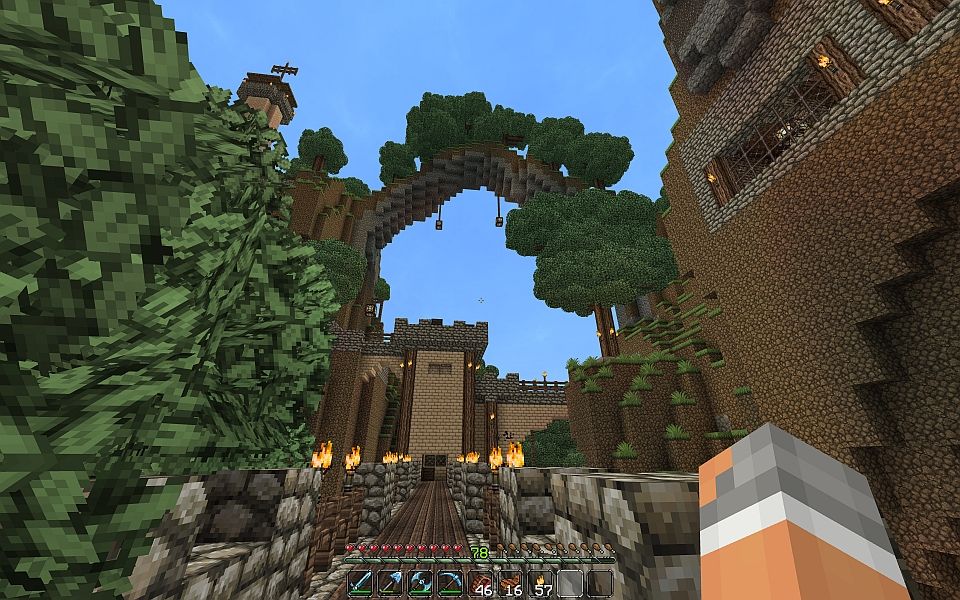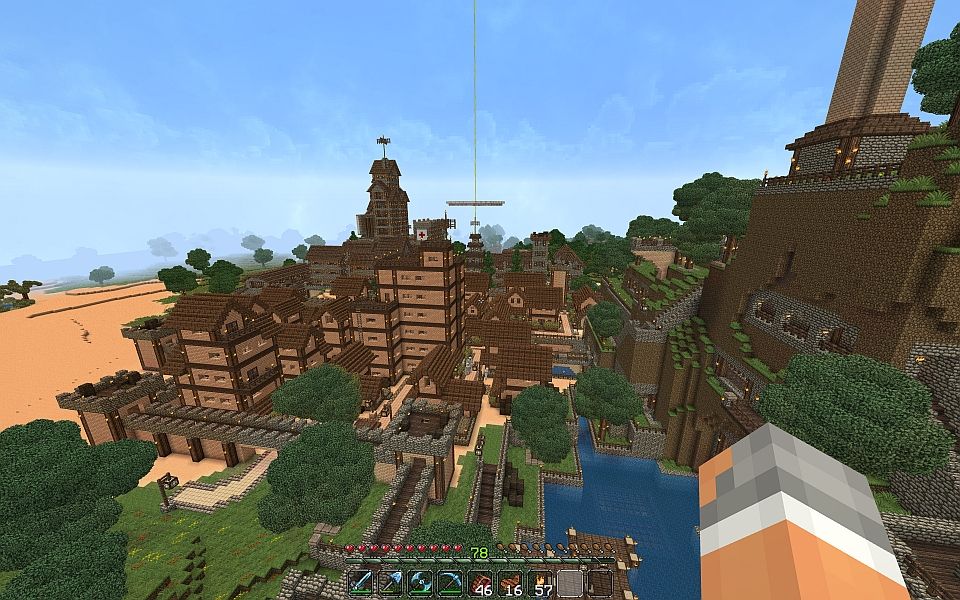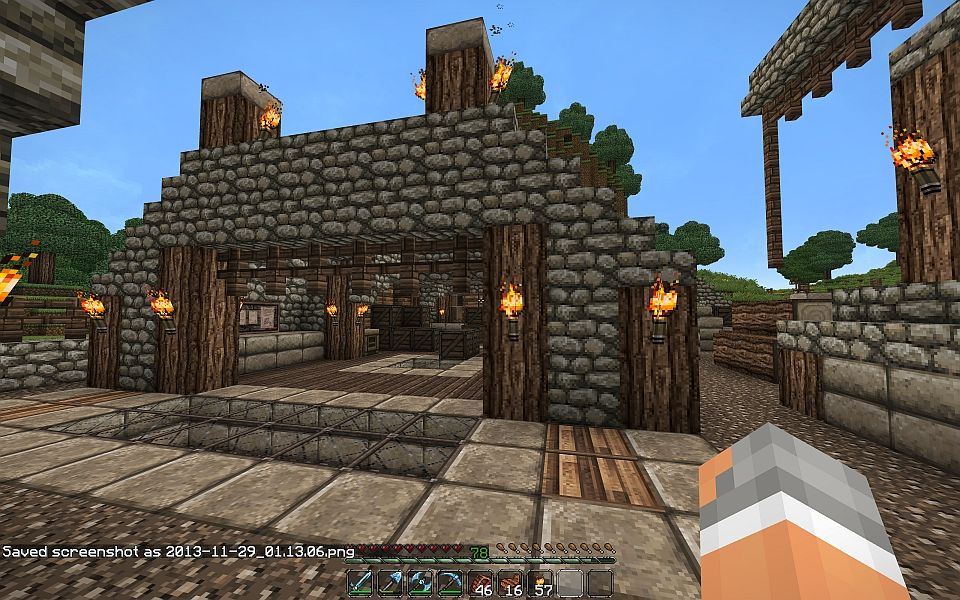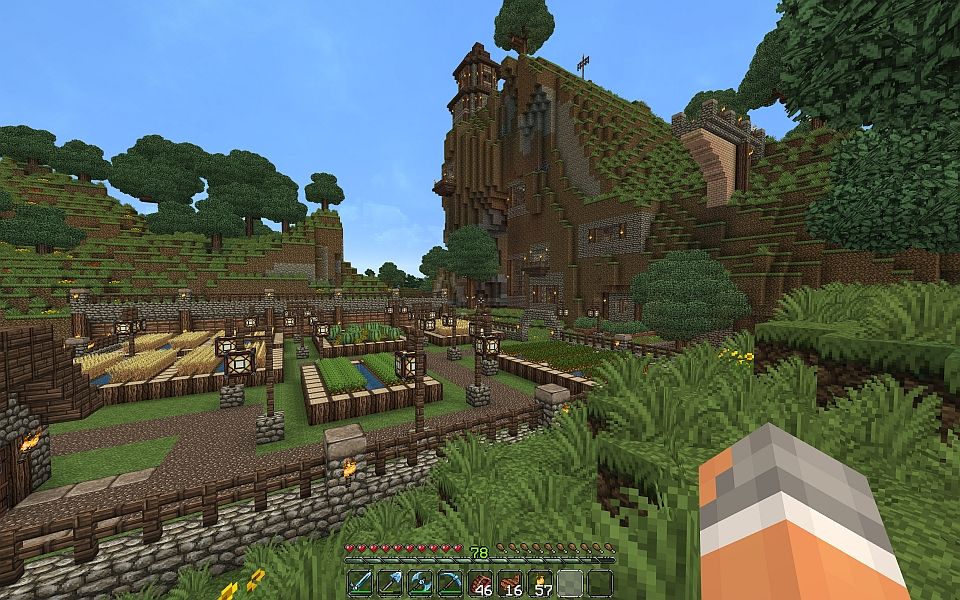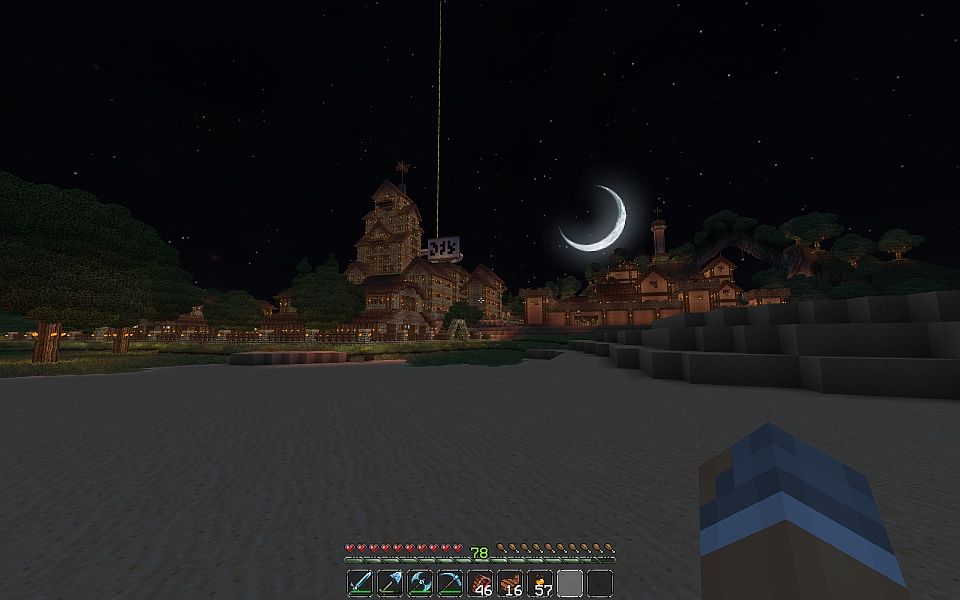 PINEDALE

The small village of Pinedale (x=2,570 and z=250) is just a walk through the cold woods South and a bit West of Ziland. It is one of the smallest and earliest villages, with a very small but close community.

It is connected to Ziland via rail, part of which is underground.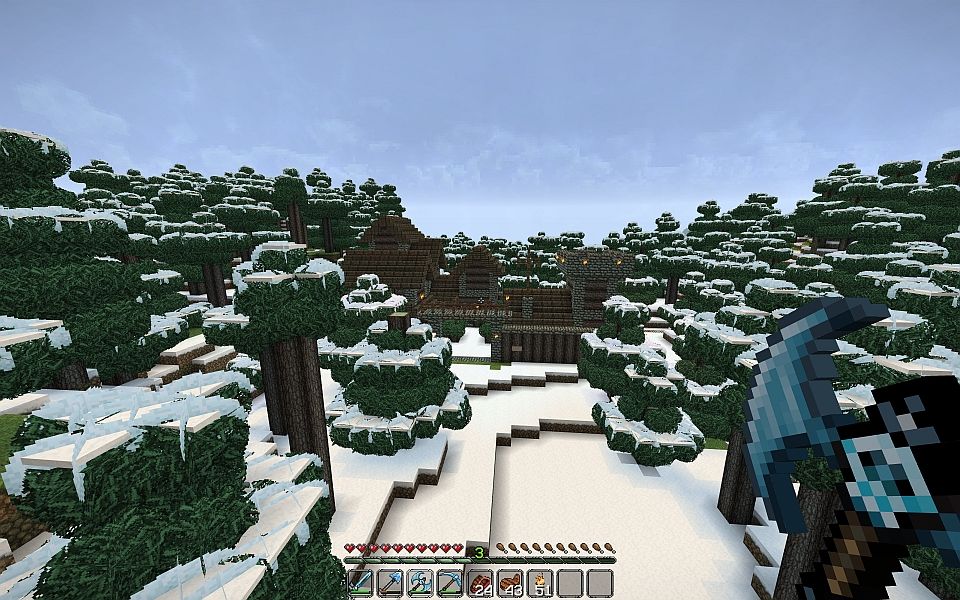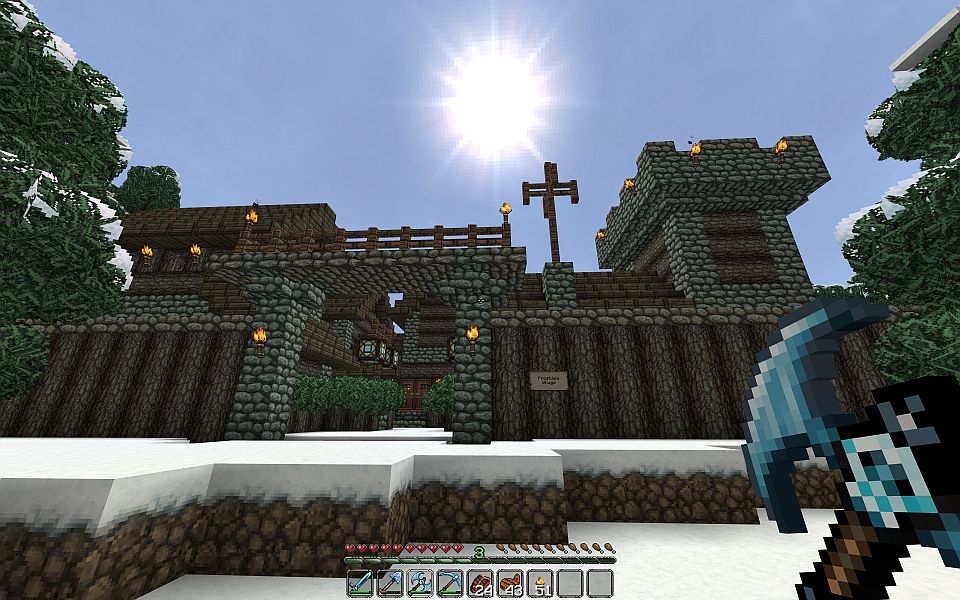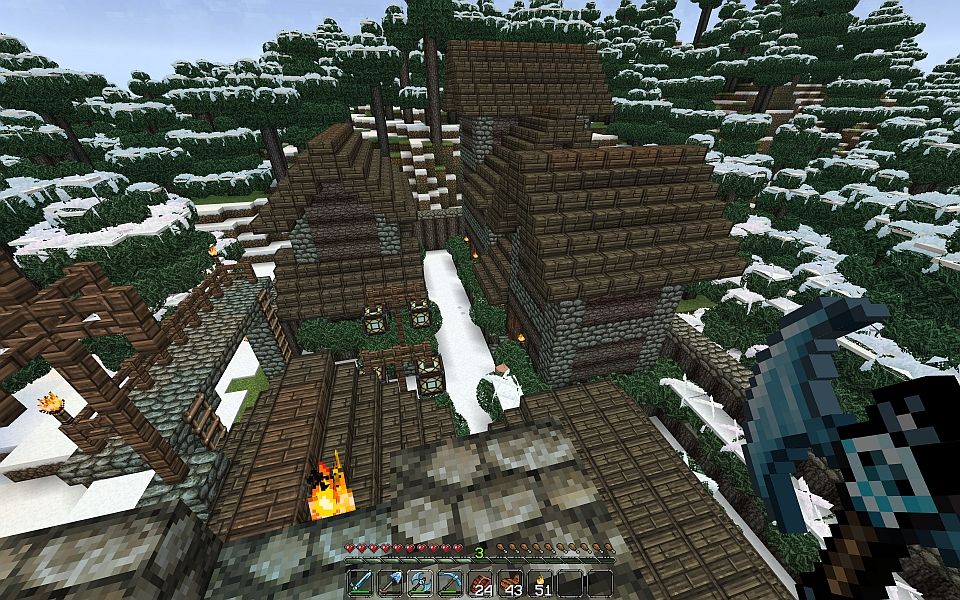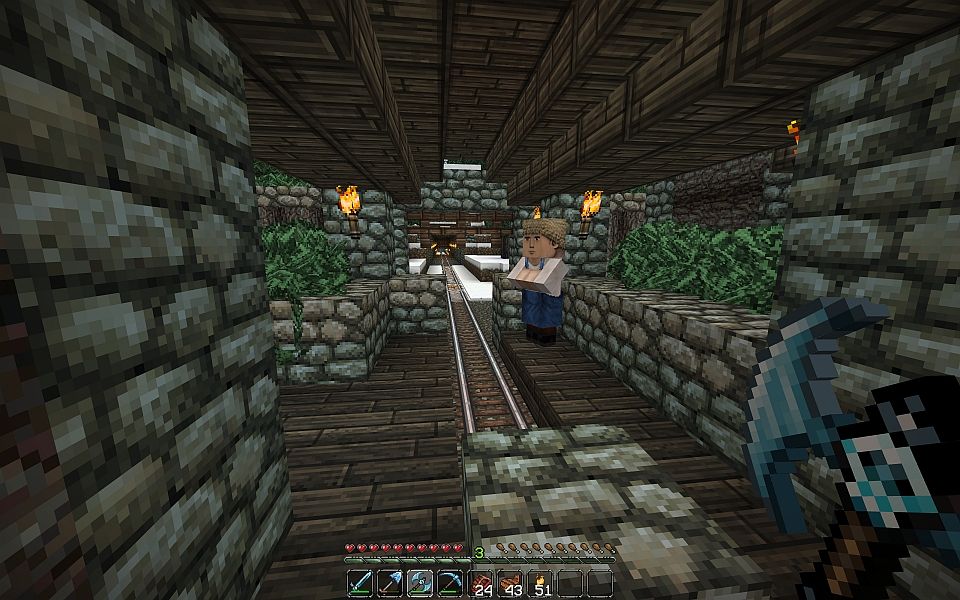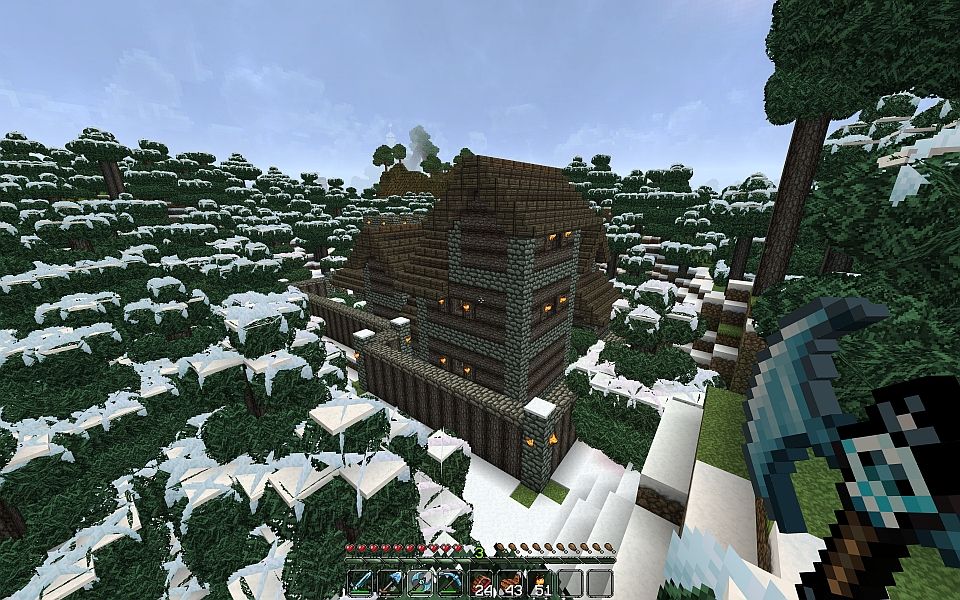 WINDHELM

Shortly North of Ziland, established rather early in the country's development, is Windhelm (x=2,650 and z=-430). Windhelm was the first of many new villages that were put into plan during the initial growth of the country, around the time Arlia joined.

It is one of the larger towns, but with a small town feel. Almost no buildings (especially houses) exist beyond one story, instead electing to move more outward rather than up and out. It is diverse and offers a little of almost everything, from the first medical center in the region, a tavern, forge, chapel, research and development center, a small farm region of crops and animals, windmill, park, fountain, and more. It is almost like Ziland originally was (pre-expansion) on a small scale, arguably offering a little more, and some see it as a retreat they would prefer.

The park houses a tomb of Roland, a historical figure linked to the nearby discovery of Alabastra (note that the treetop establishment seen in some pictures is this, and not part of Windhelm itself).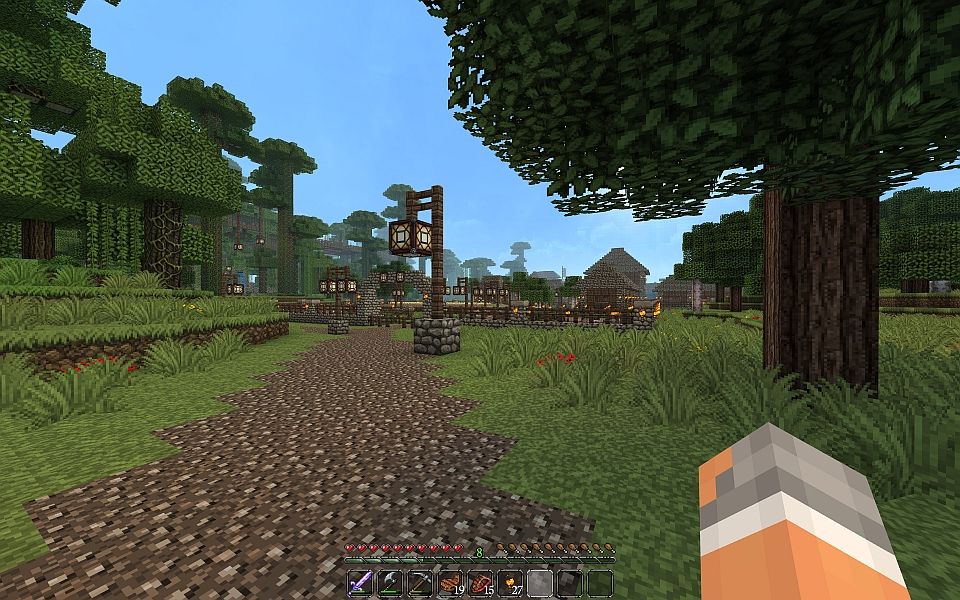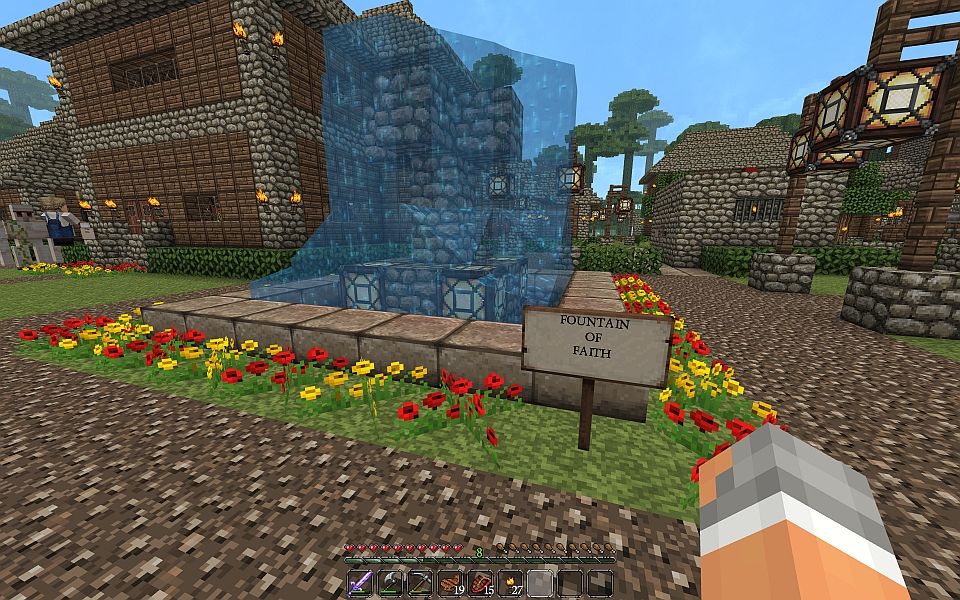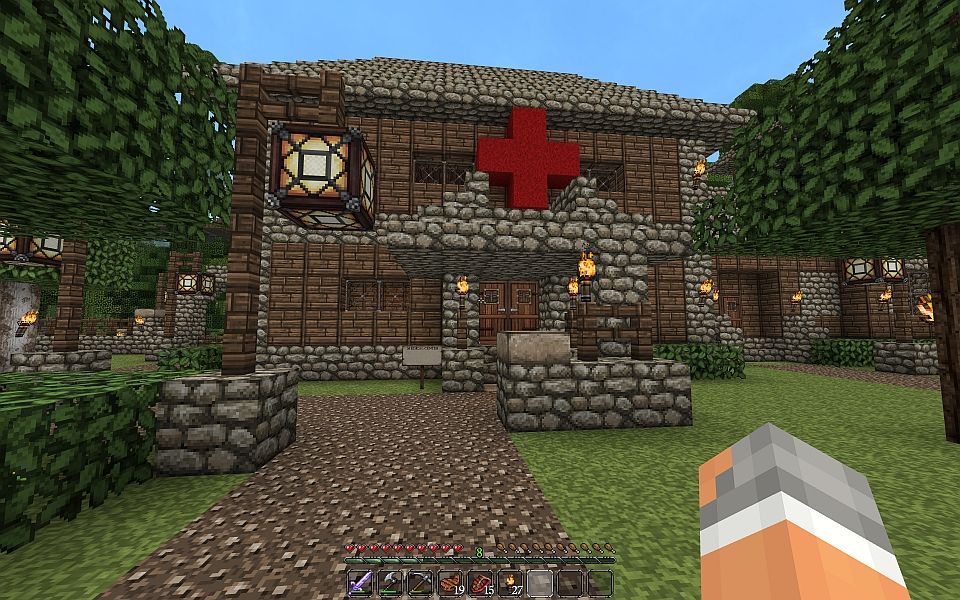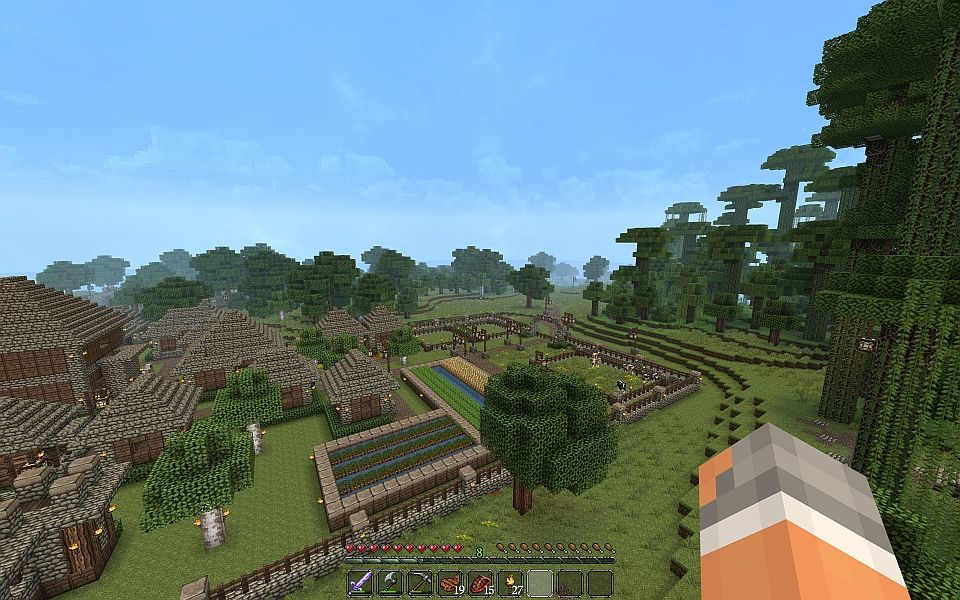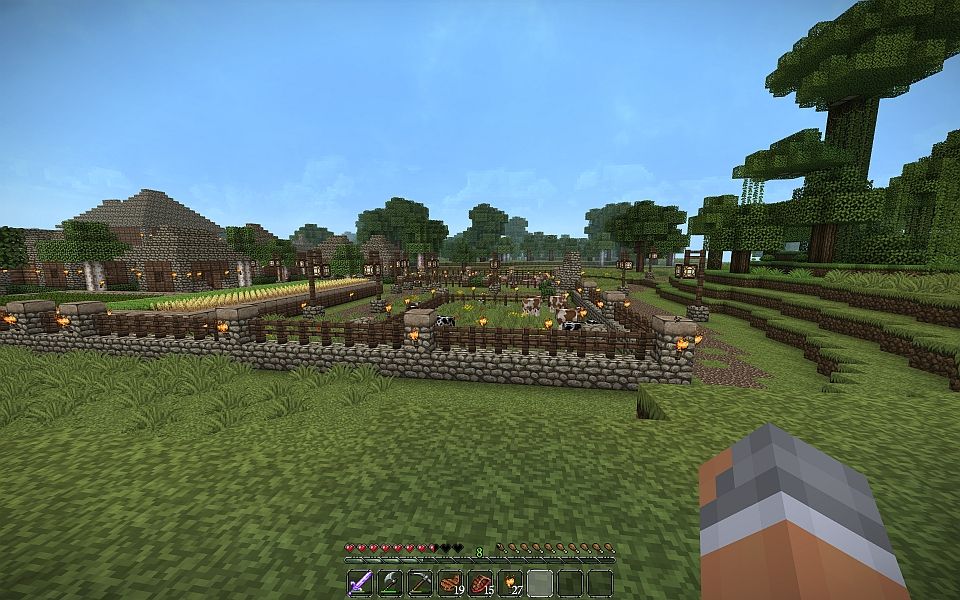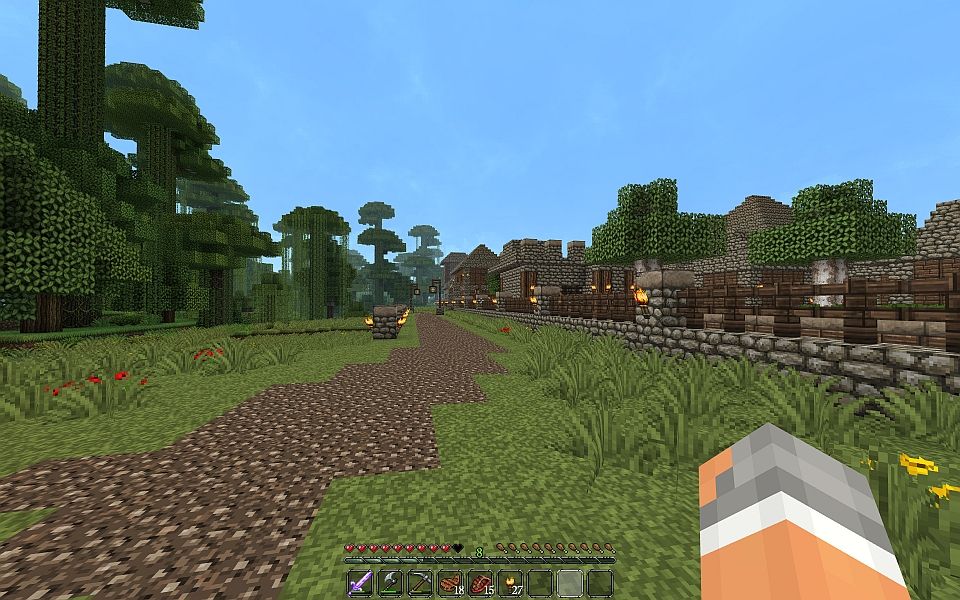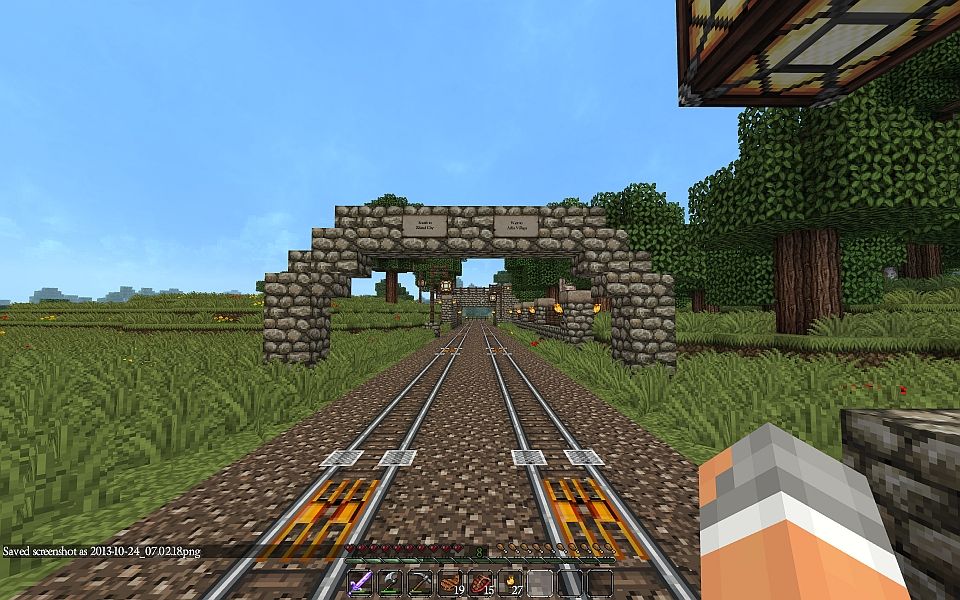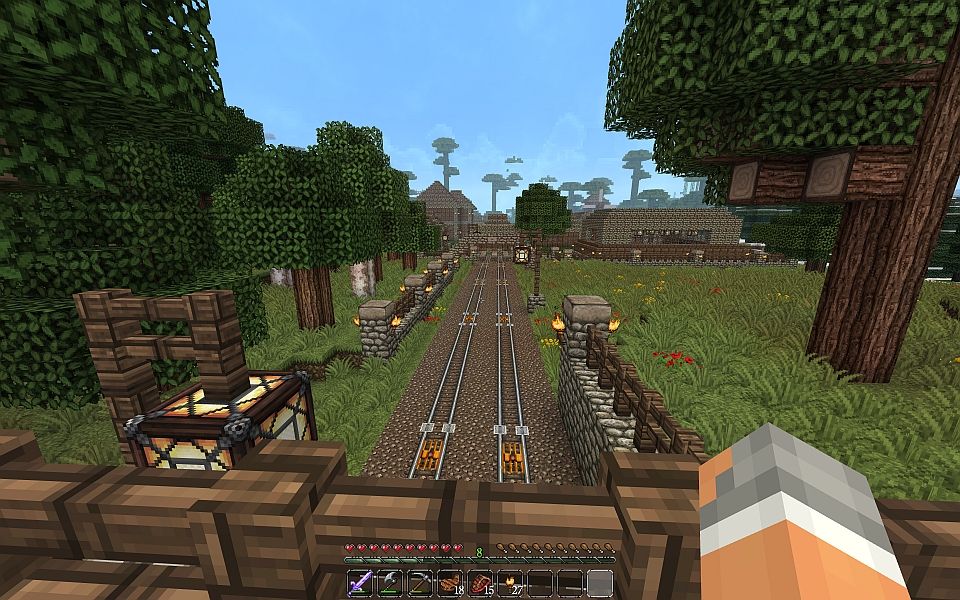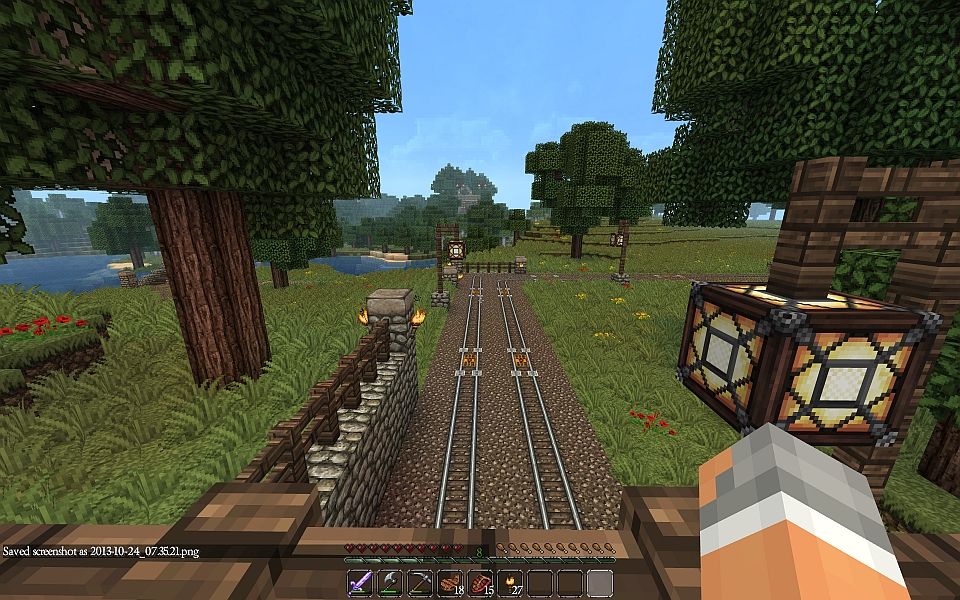 ALABASTRA

Immediately North of Windhelm, almost touching, is the ancient remains of an Elven civilization treetop village of Alabastra. It was discovered by Windhelm pioneers and largely revitalized. The ancient warrior Roland, now buried in Windhelm, was from here.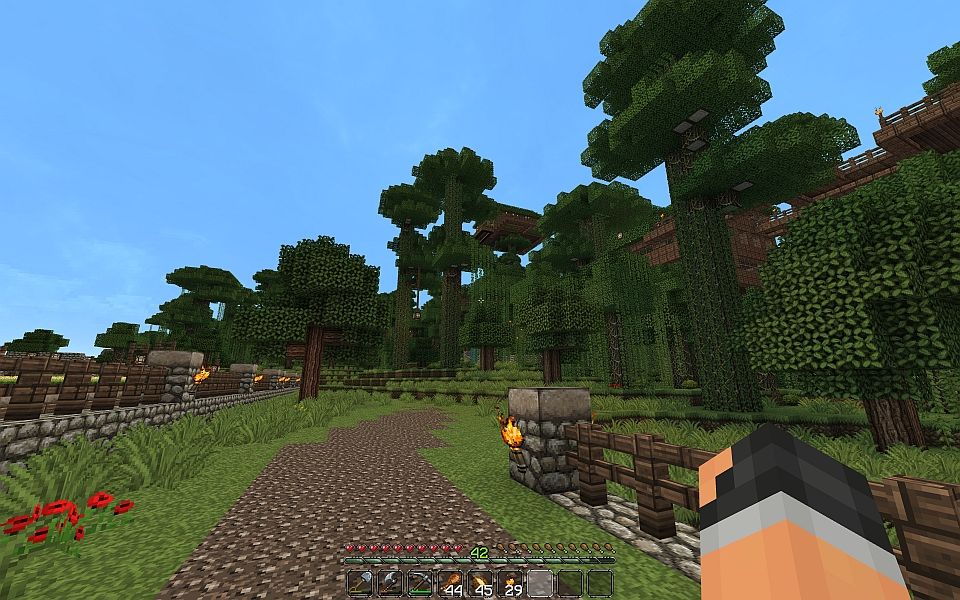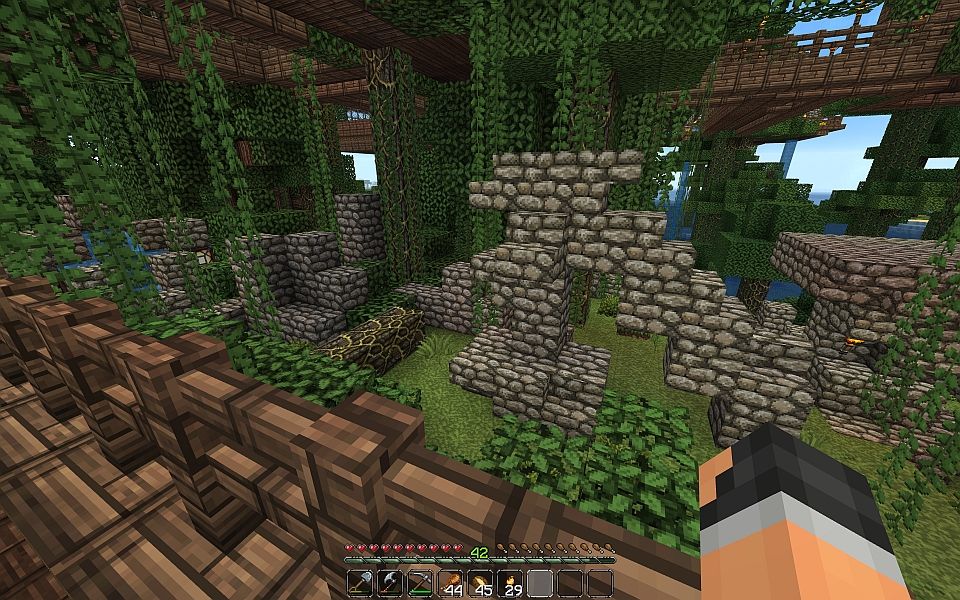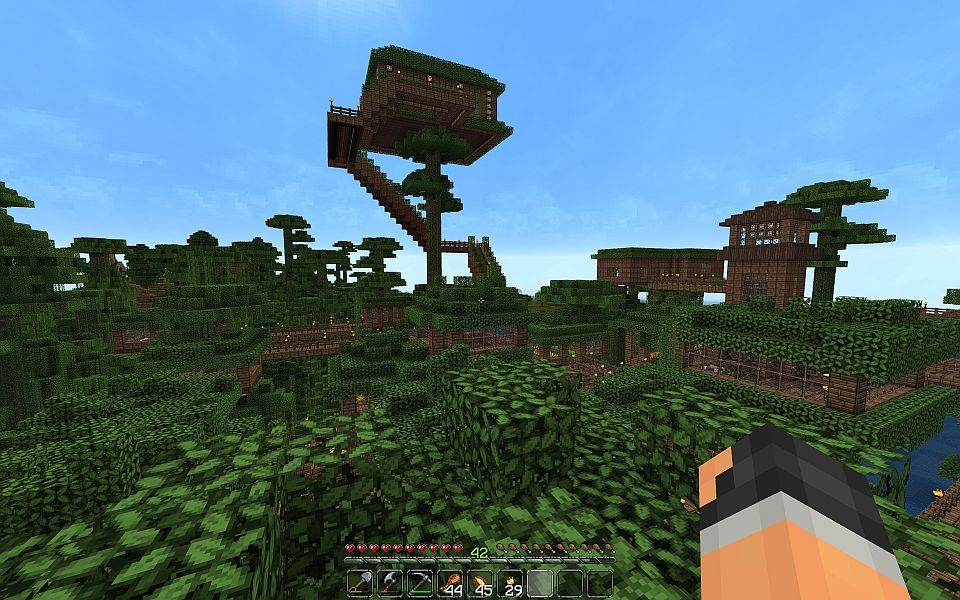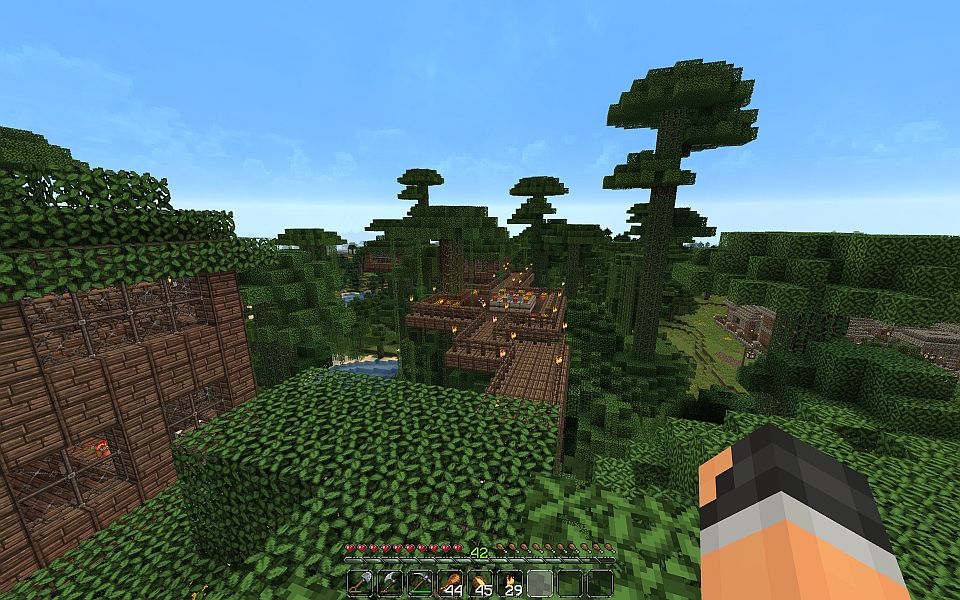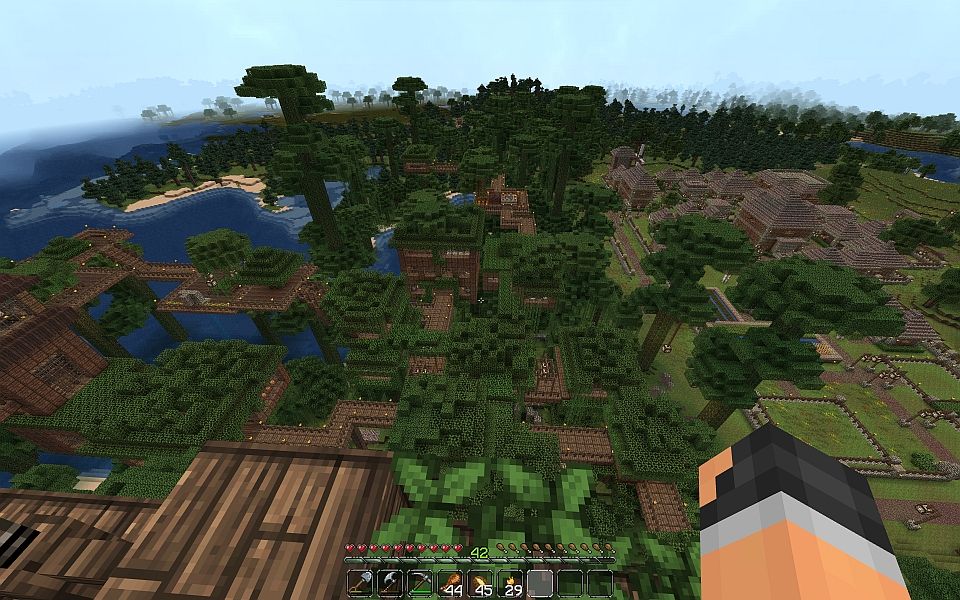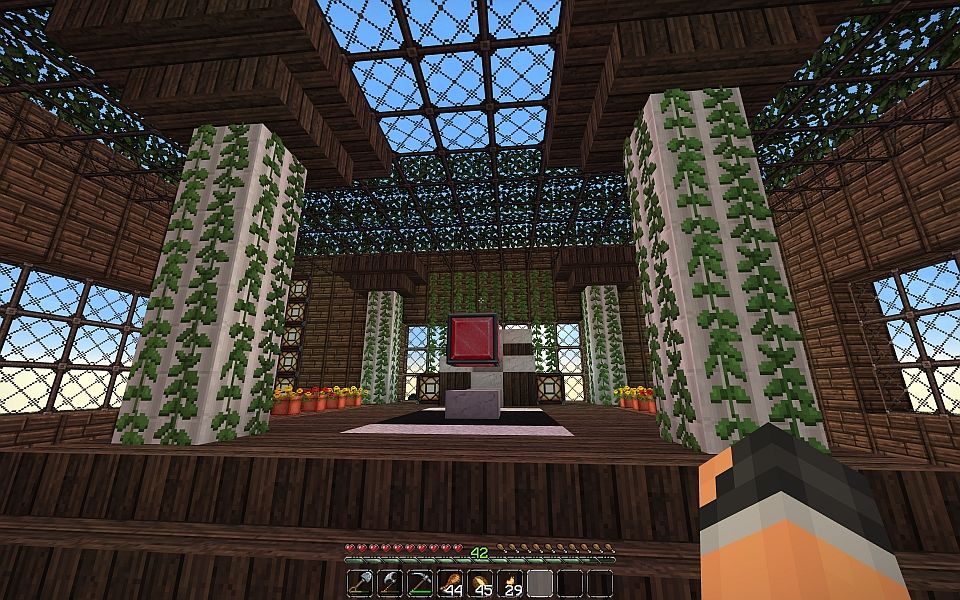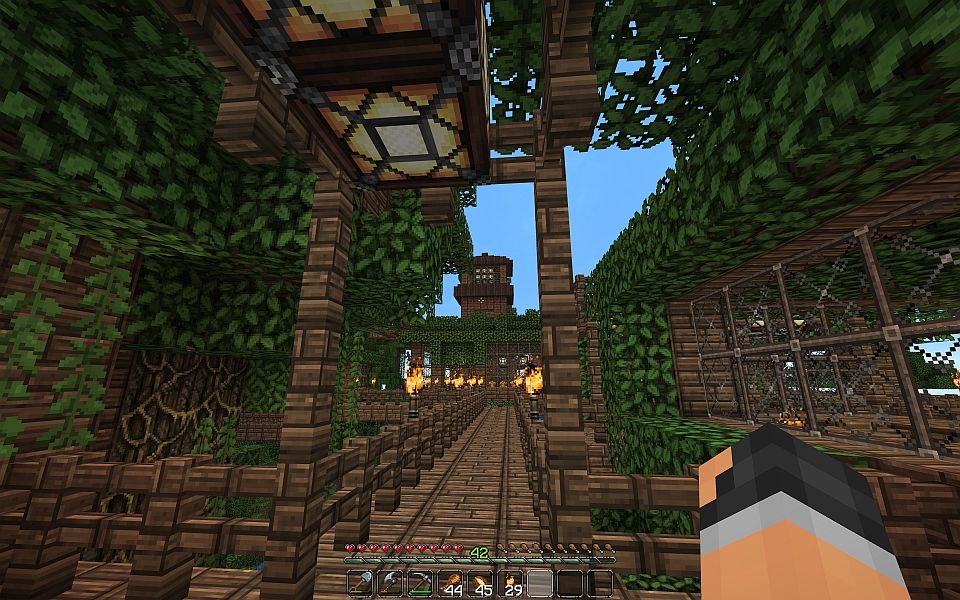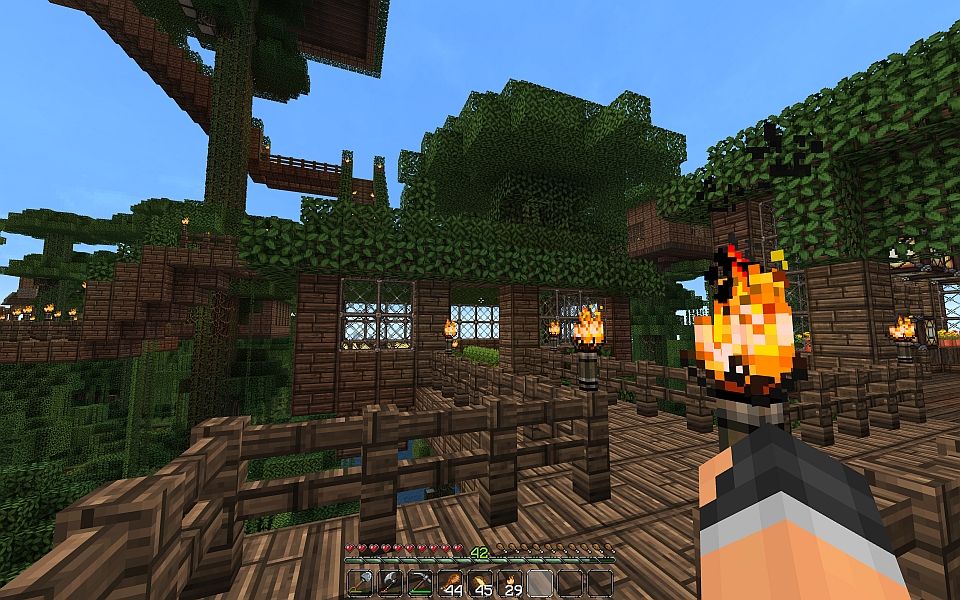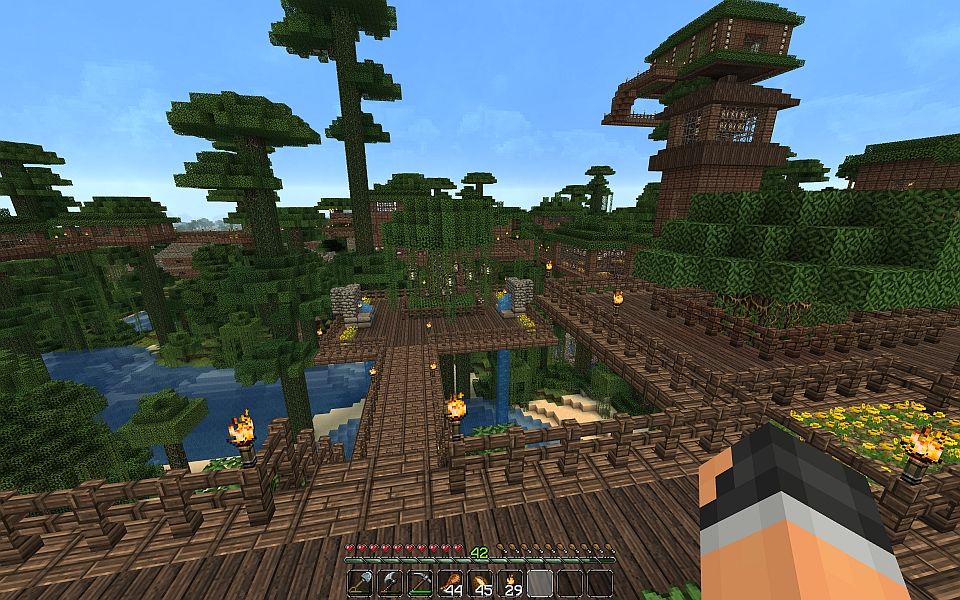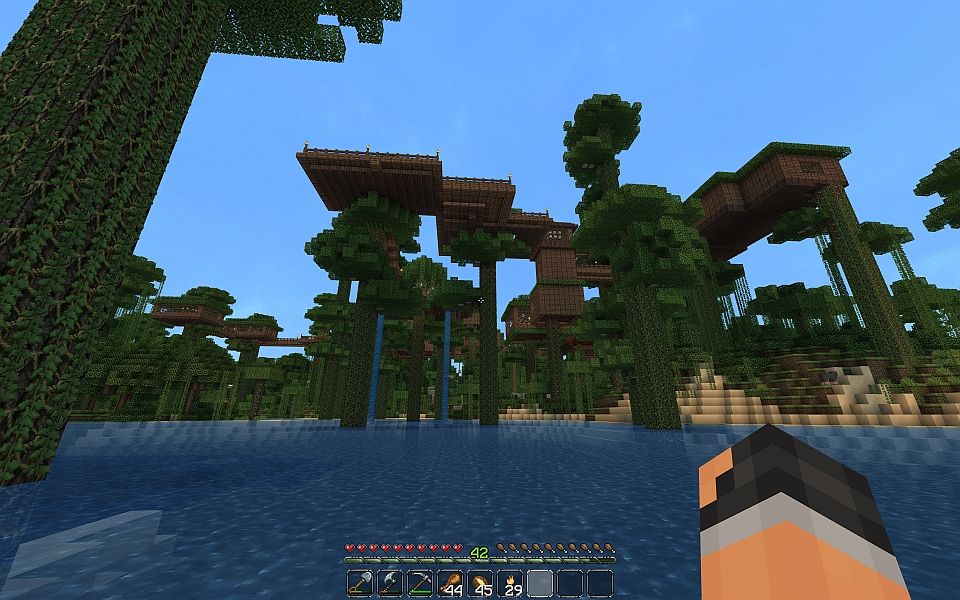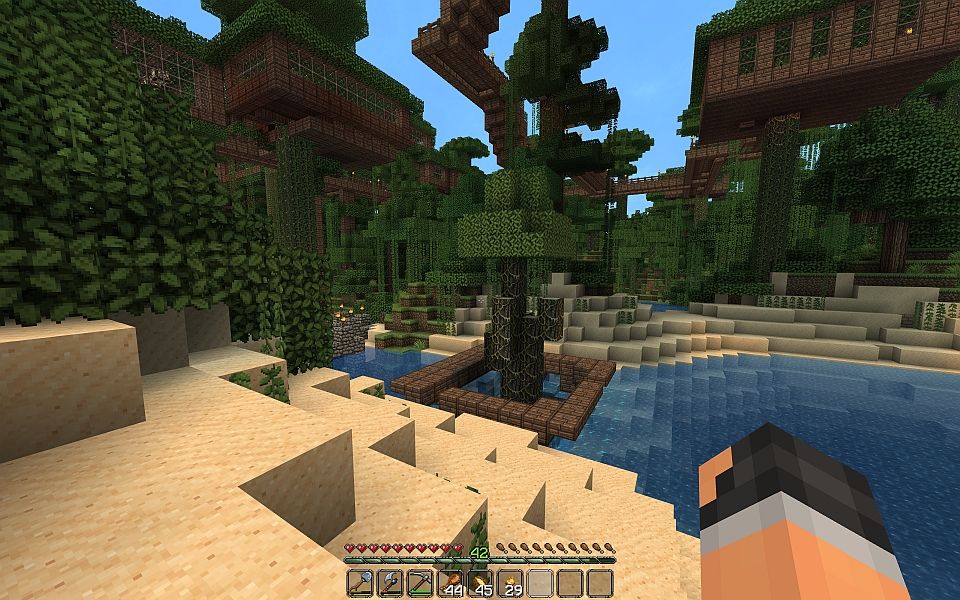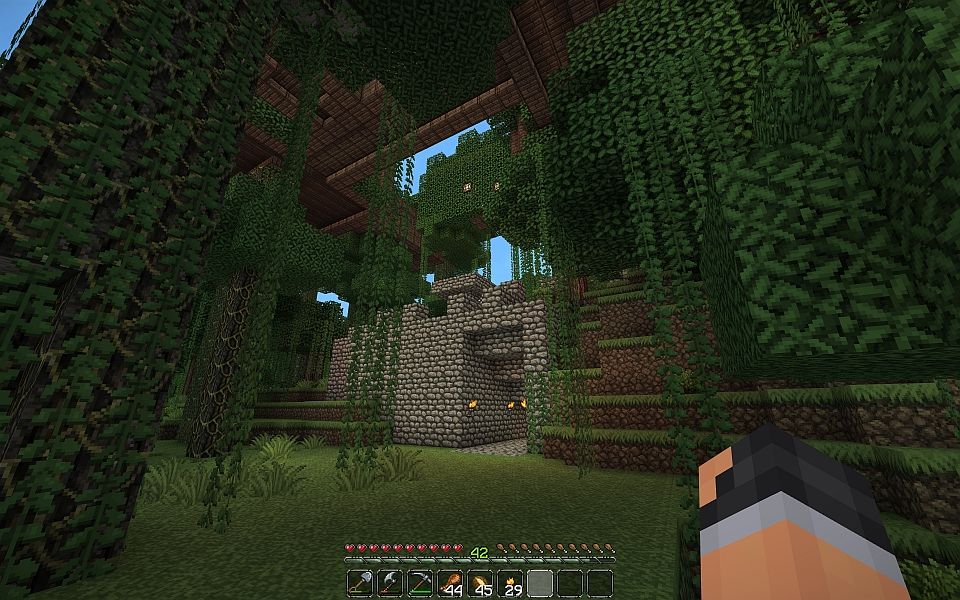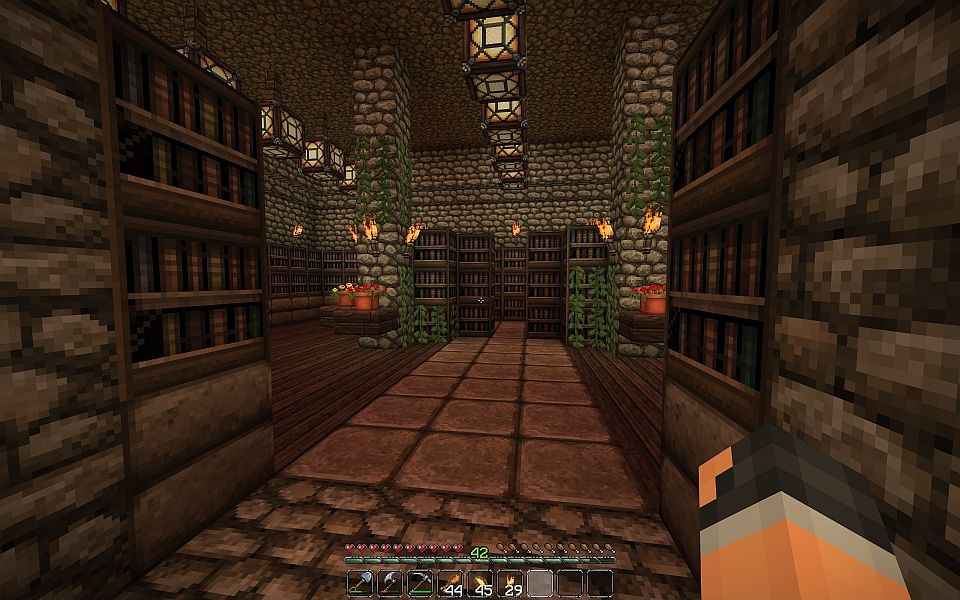 GIRDEAUX

To a close West of Windhelm, between it and Kyerune Shores, lies one of the more recent villages, Girdeaux (x=2,410 and z=-375). It marks another sign of the continued growth and civilization of the Eastern region of Zi, further balancing the populace of the country in this one region. It's also not far from the rail line. It enjoys short and easy access, whether by land or portal, from many other frequented locales, something most of the other developments didn't enjoy in their early stages.

It's a small lake-side water town heavily invested in fishing. It is a village rooted with more of it's own style to set it apart, more so than many other developing villages have (which took constructions styles and cues from the construction group of Ziland at the time). A mountain range between Windhelm and Kyerune Shores backs it, with an overlook atop it. Eventually, this will path towards Kyerune Shores as well, expanding the effort to interconnect the locales even more.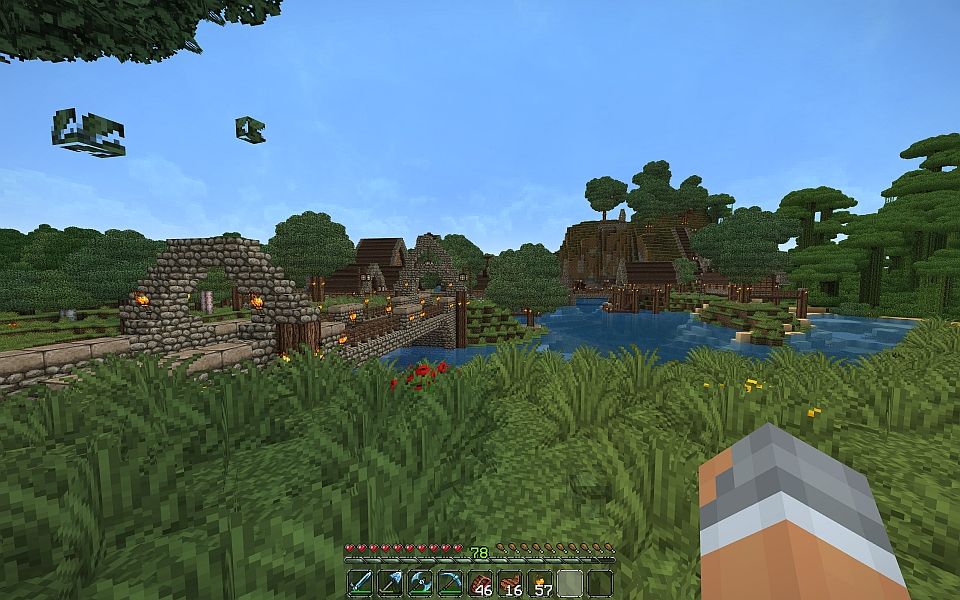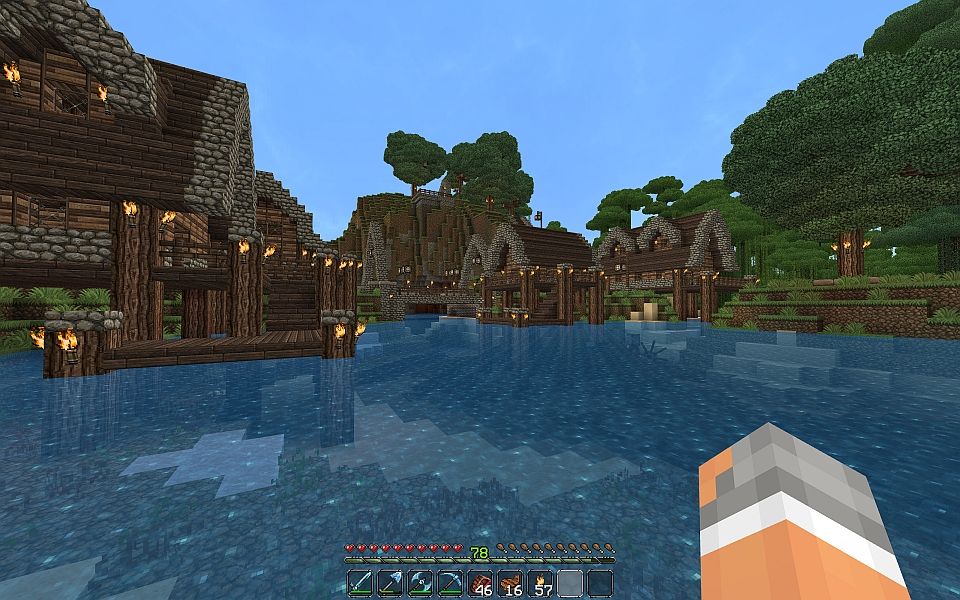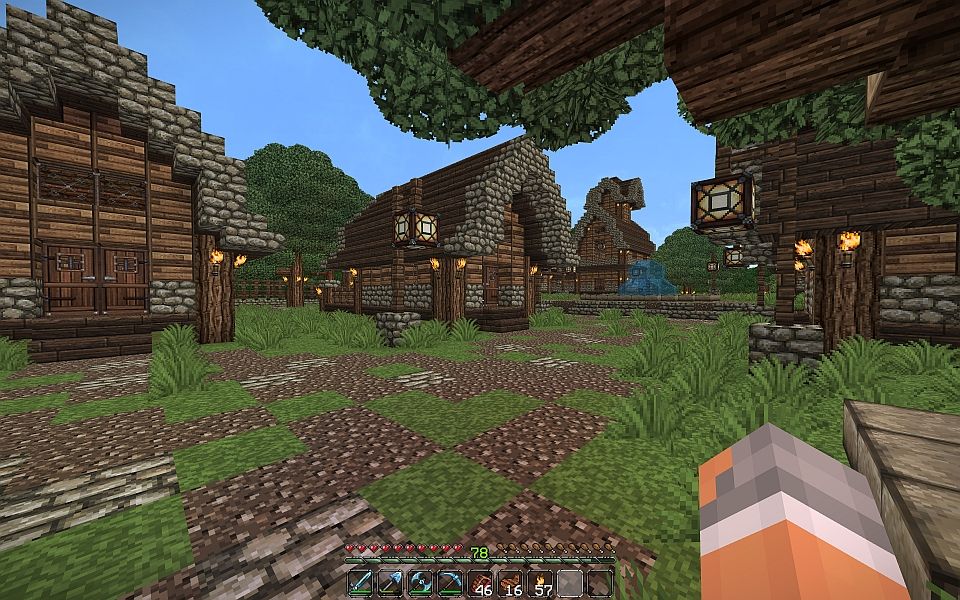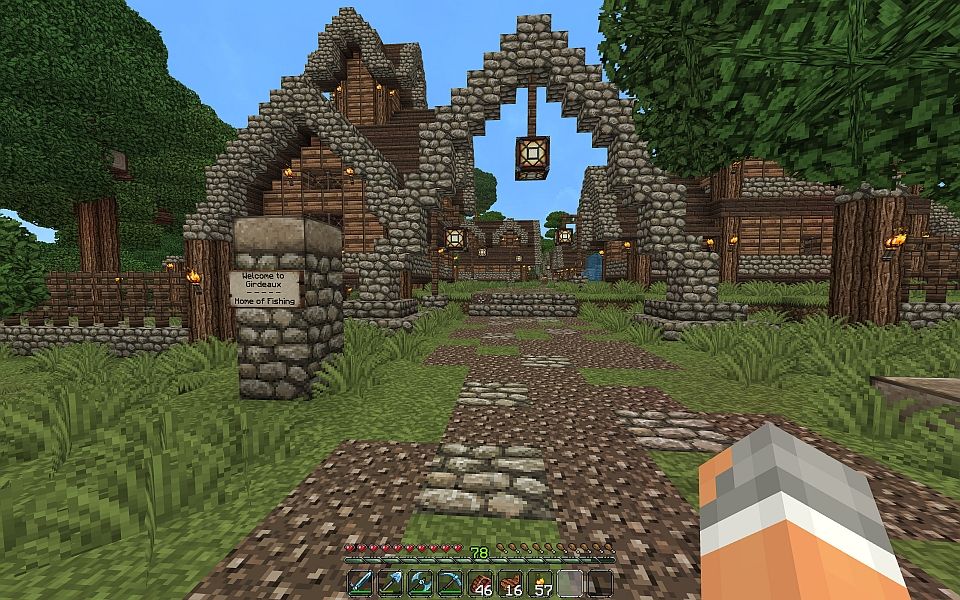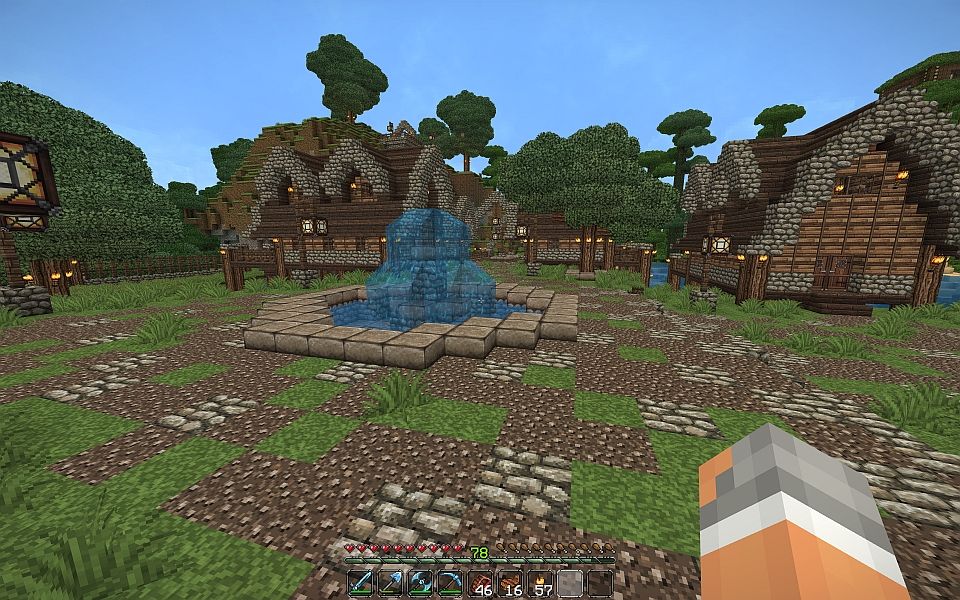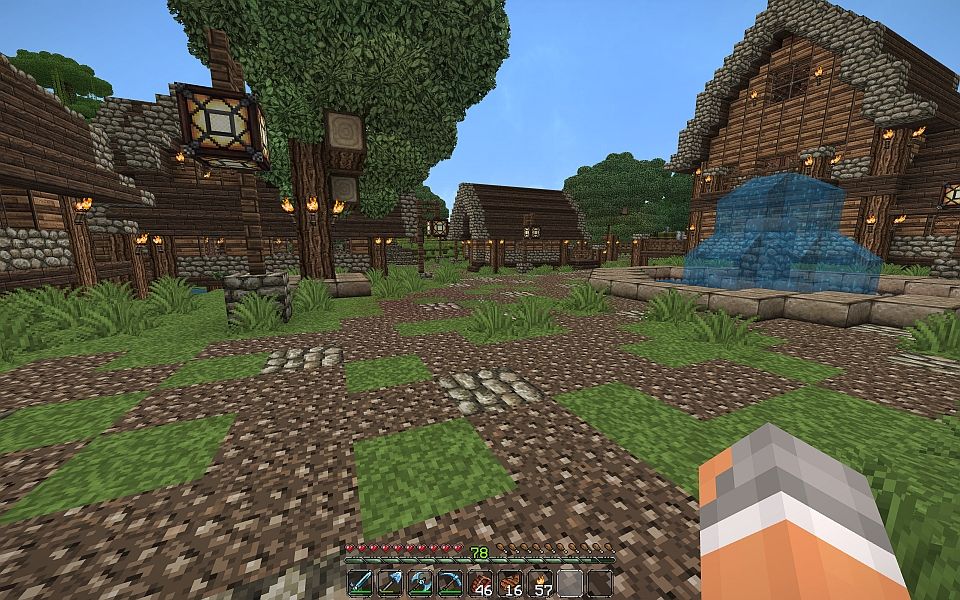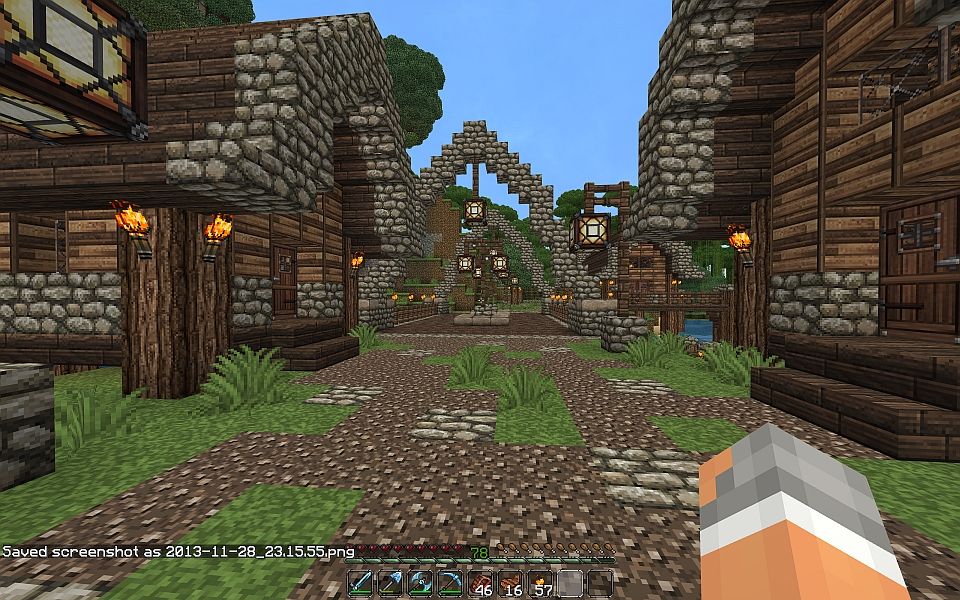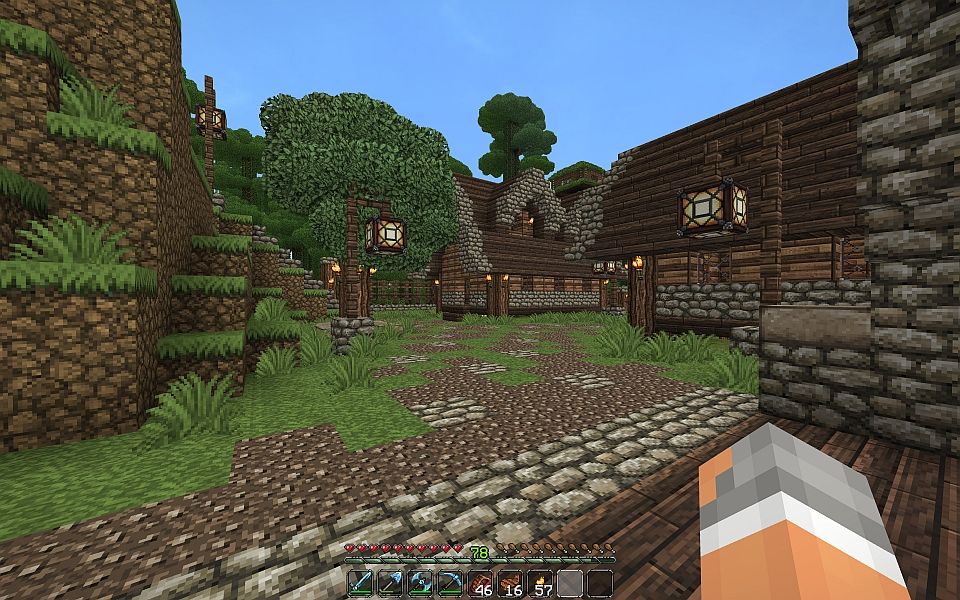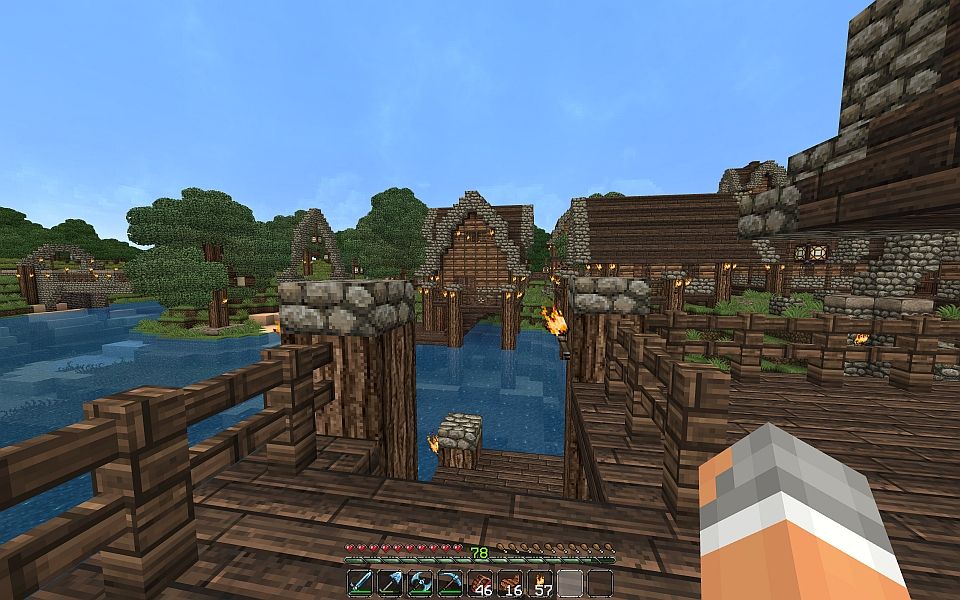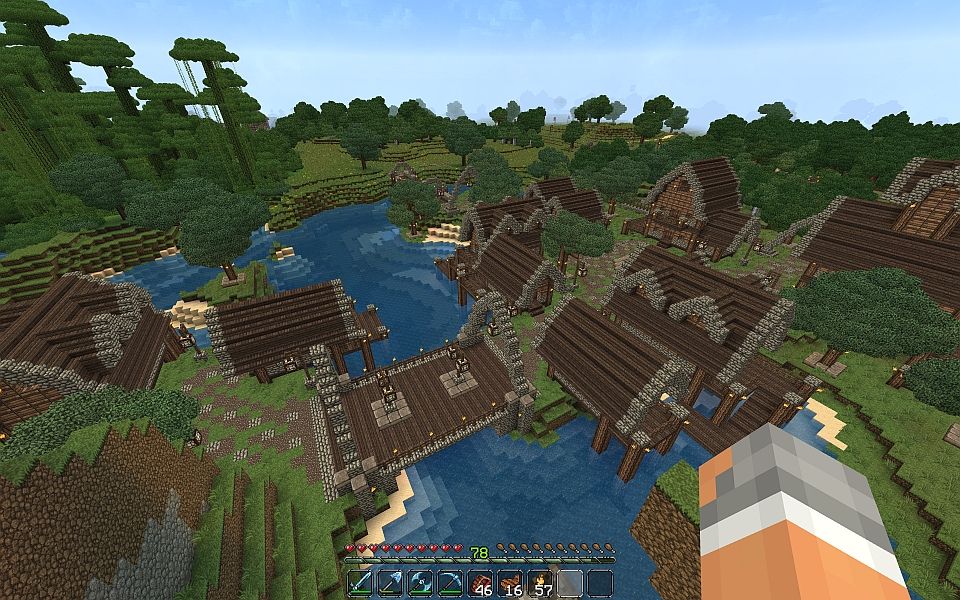 ALEXANDRIA

ALEXANDRIA STRONGHOLD

The first of three strongholds, it is also the largest and most impressively built.

Stories tell that long ago, three tribes controlled three strongholds, each with a mysterious power, seemingly to another world or dimension. Fear of control of all three being brought under a single controller lead to tense times, and many battles were fought between the three.

The now extinct kingdom of Alexandria controlled this one, although the stronghold still stands under the control of Ziland.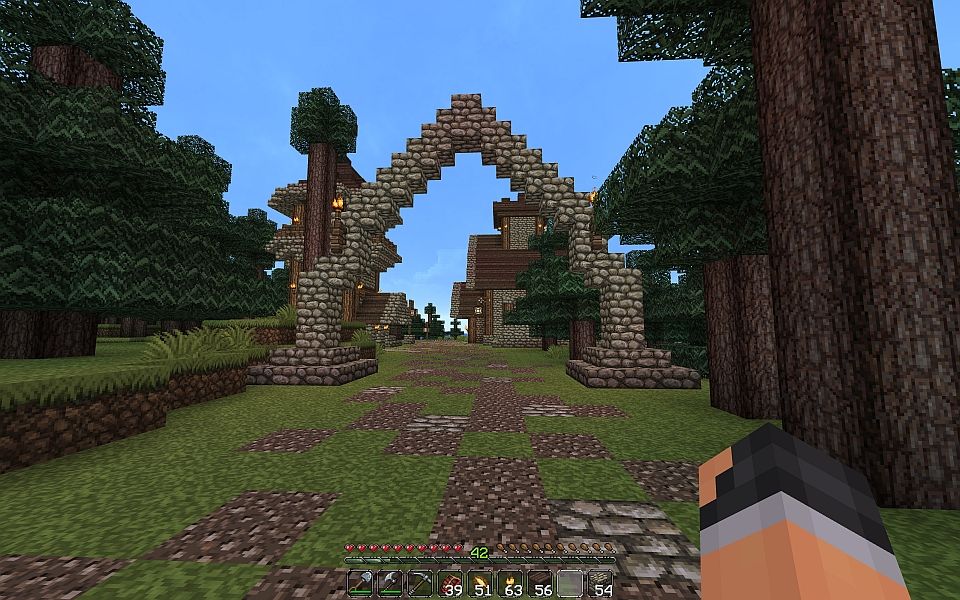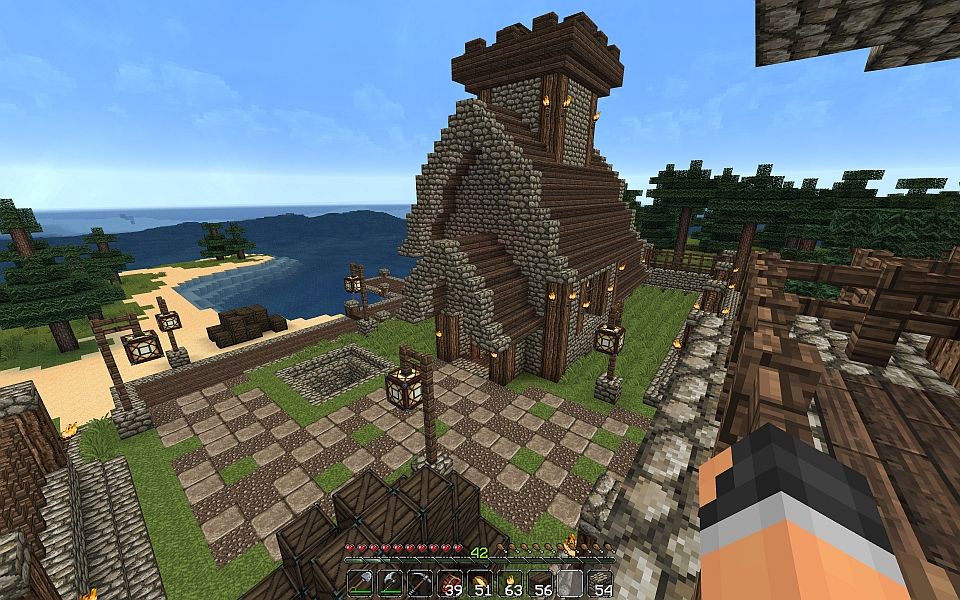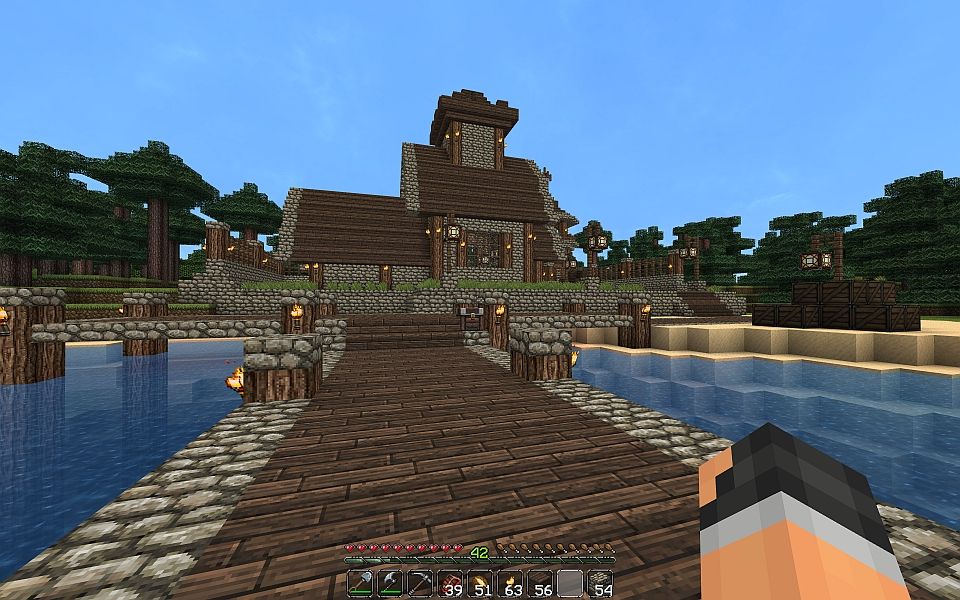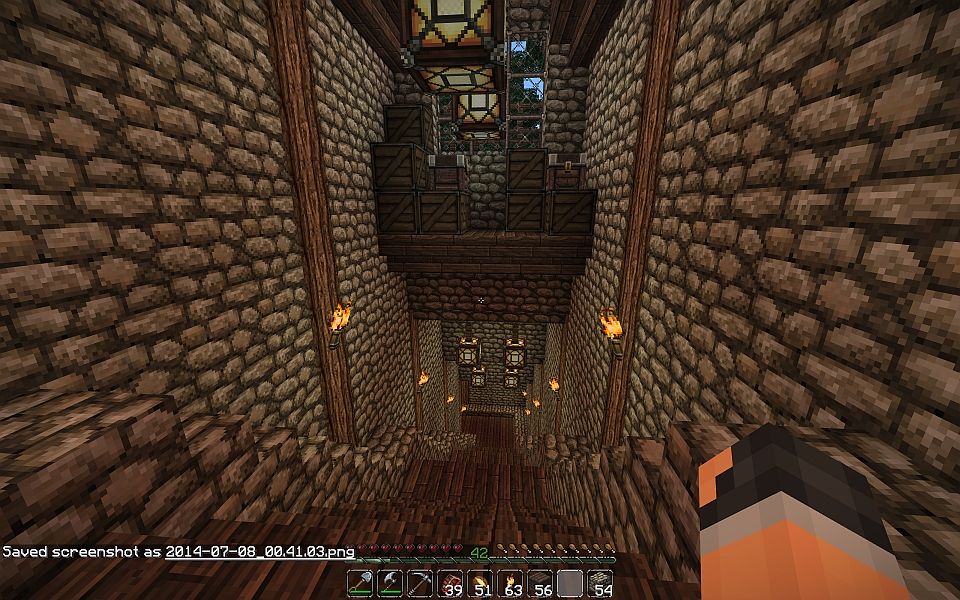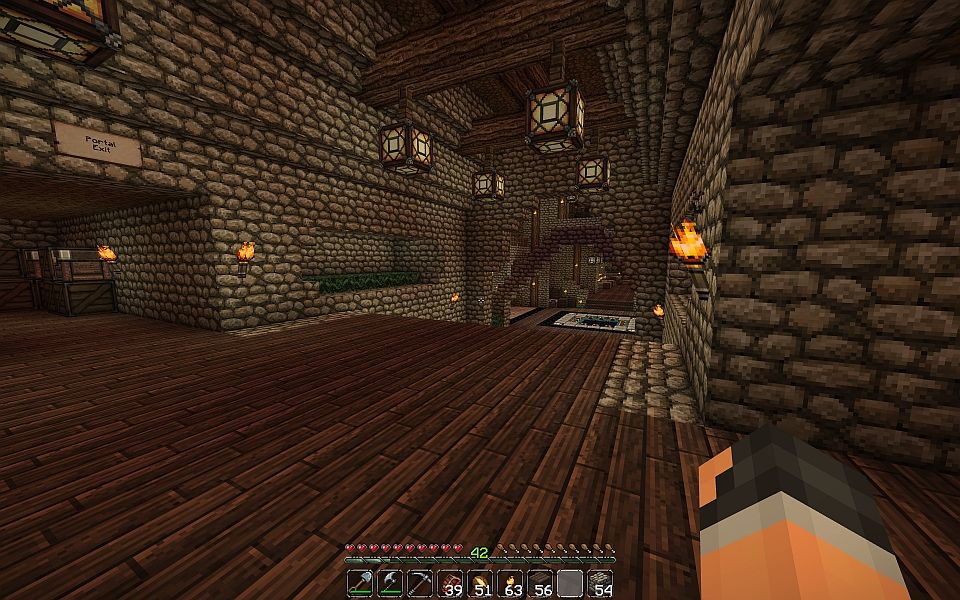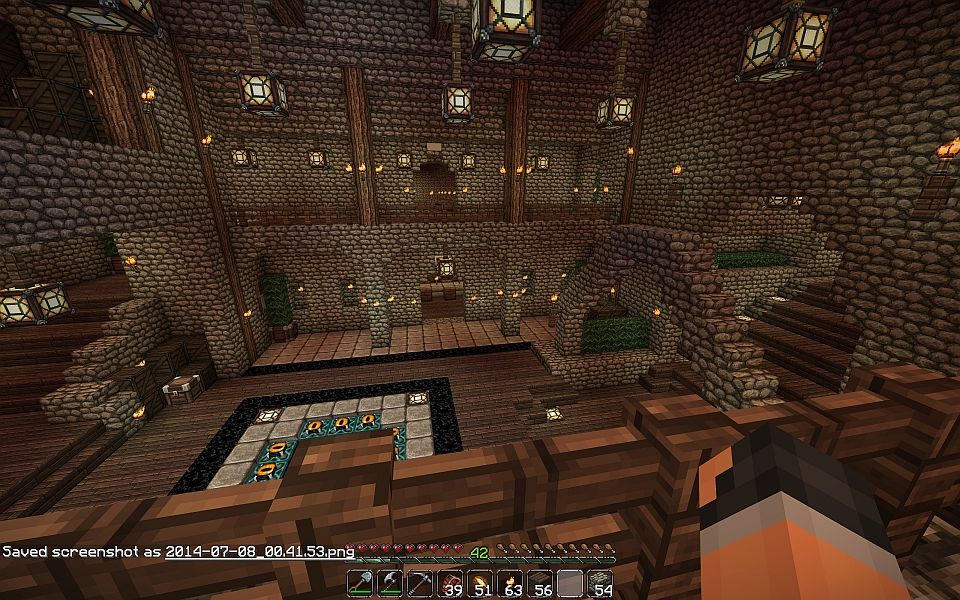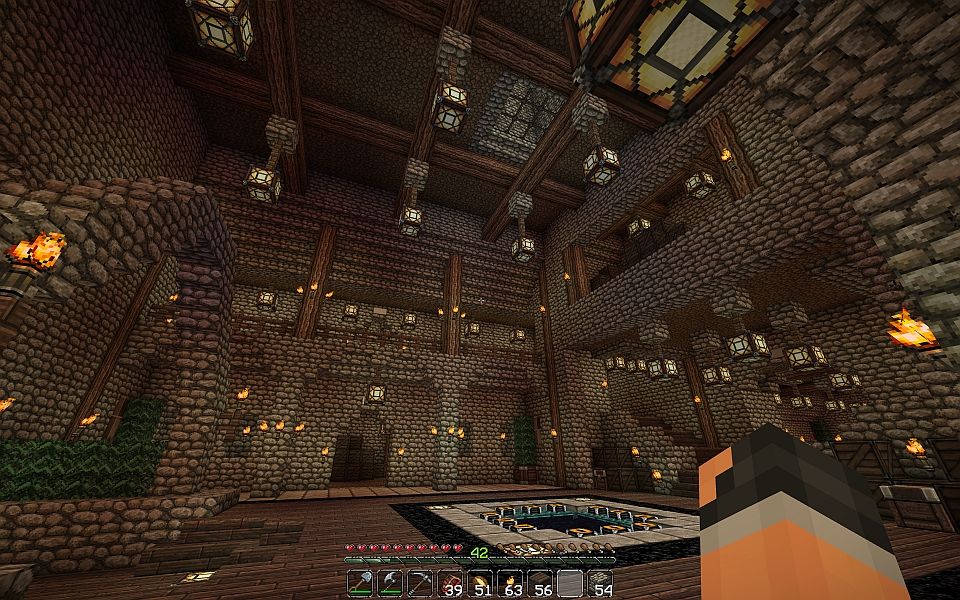 LINDBLUM CITY

Under Construction!


OTHER REGIONS

MOUNT FALOR

Just East of Alexandria, and North of the Alexandria stronghold, is the once isolated Mount Falor. Due to growth and spread of Ziland, it's not as isolated as it once was long ago. The major locale of Lindblum is situated just to the West of it. A top researcher and adventurer has developed new technologies, such as airships, which are slowly being adopted by the outside, starting heavily with Lindblum.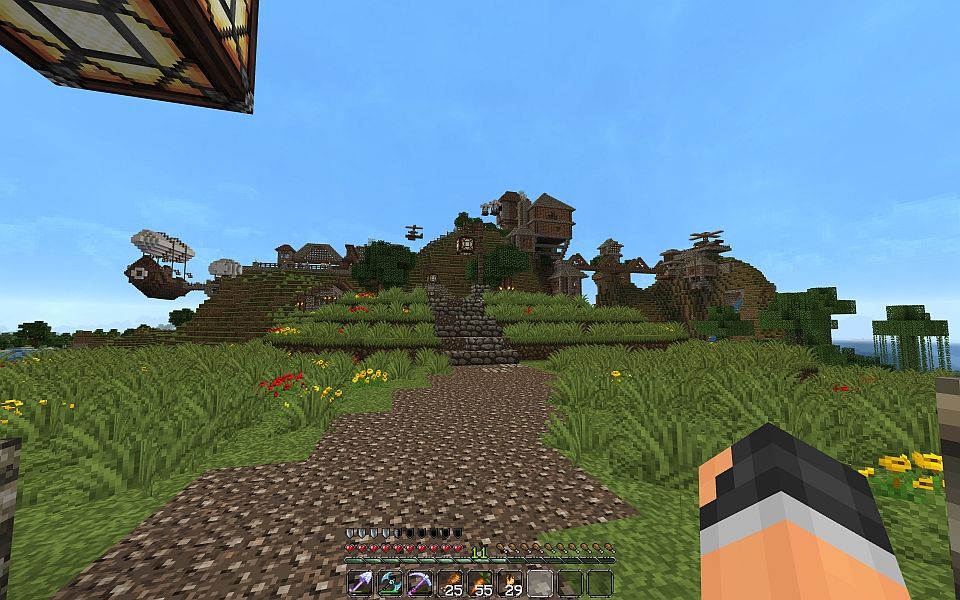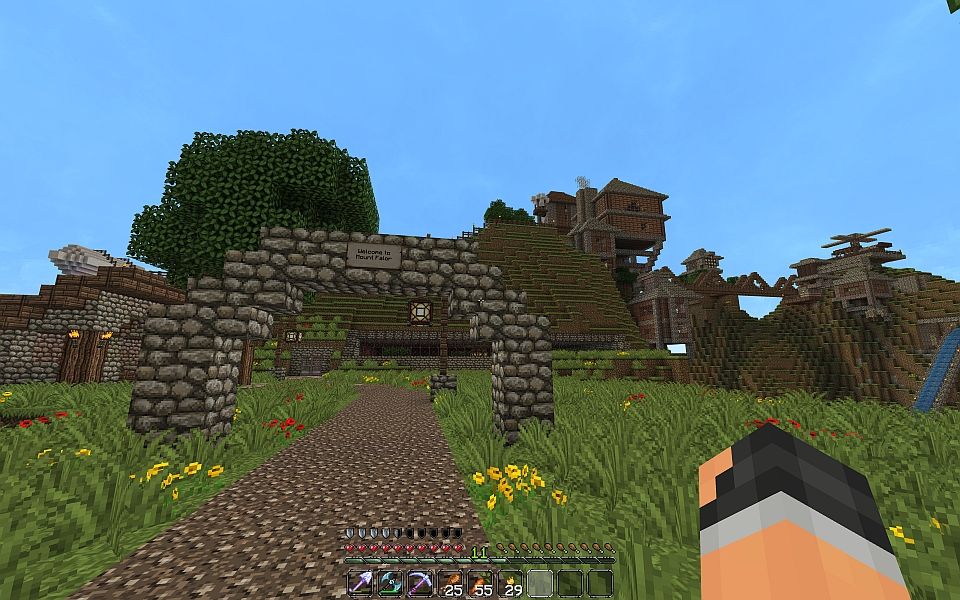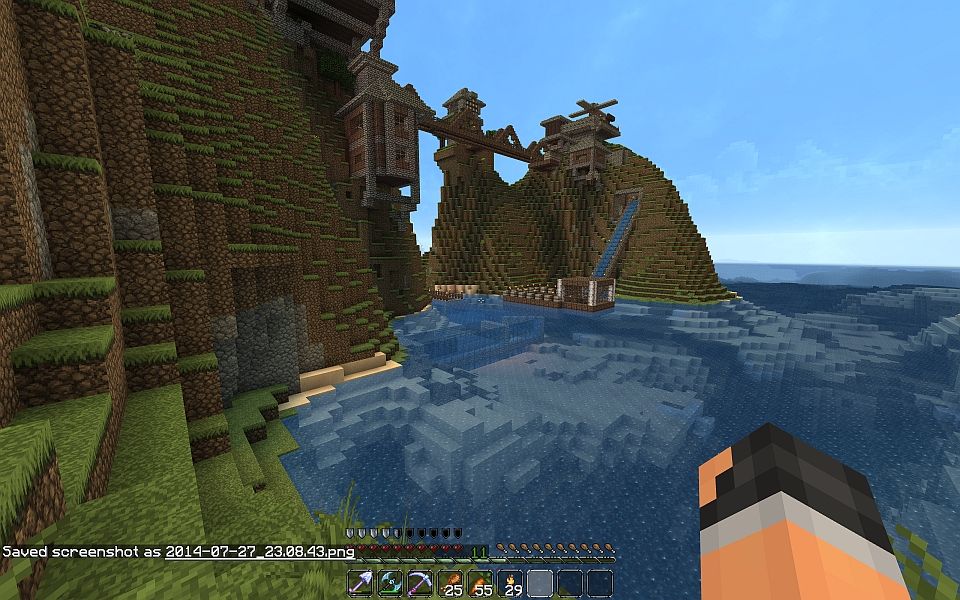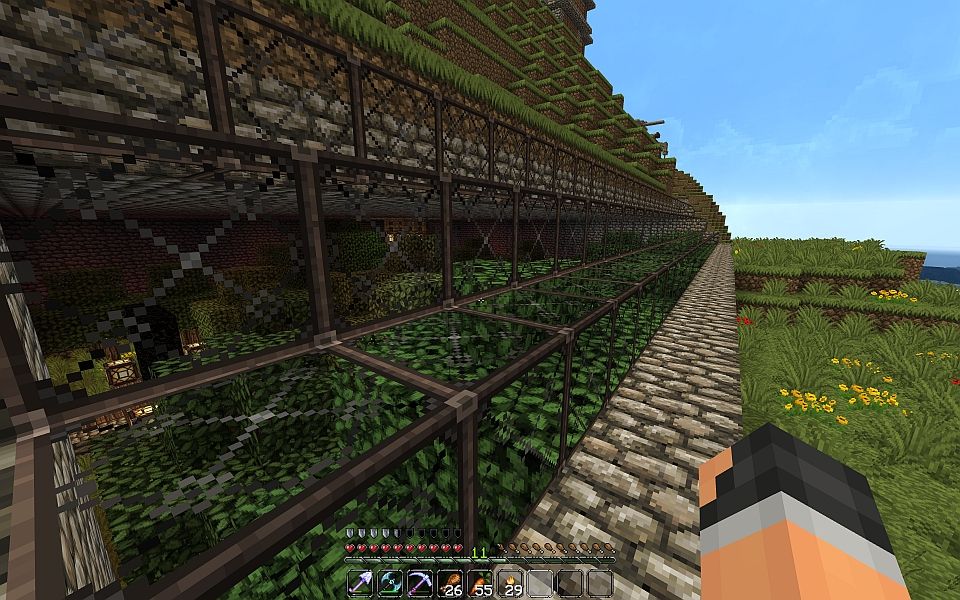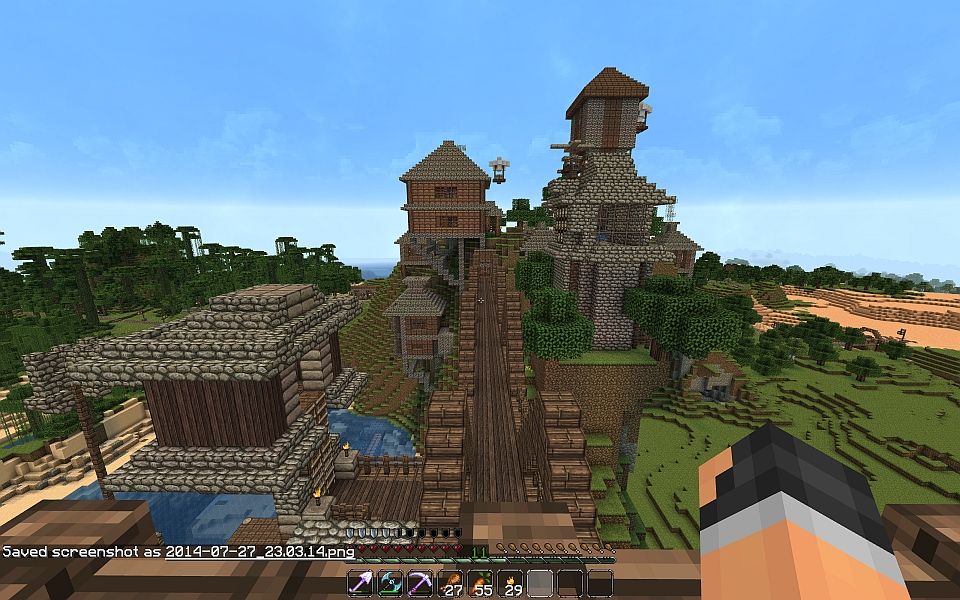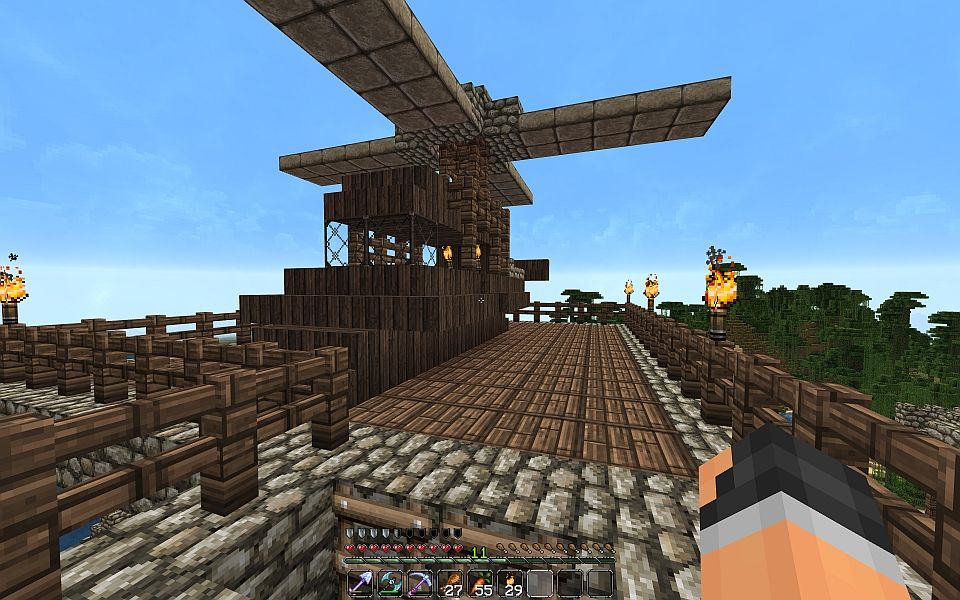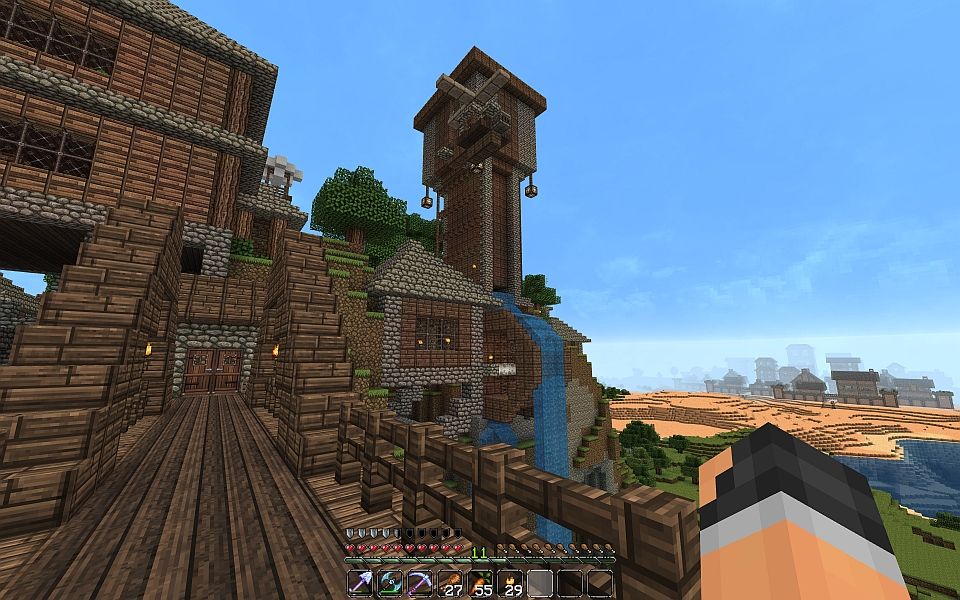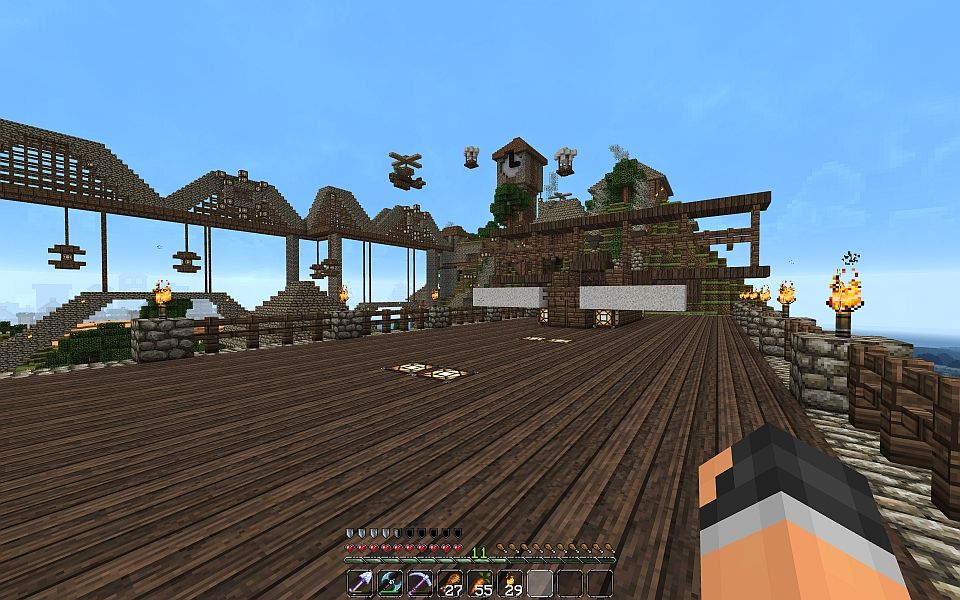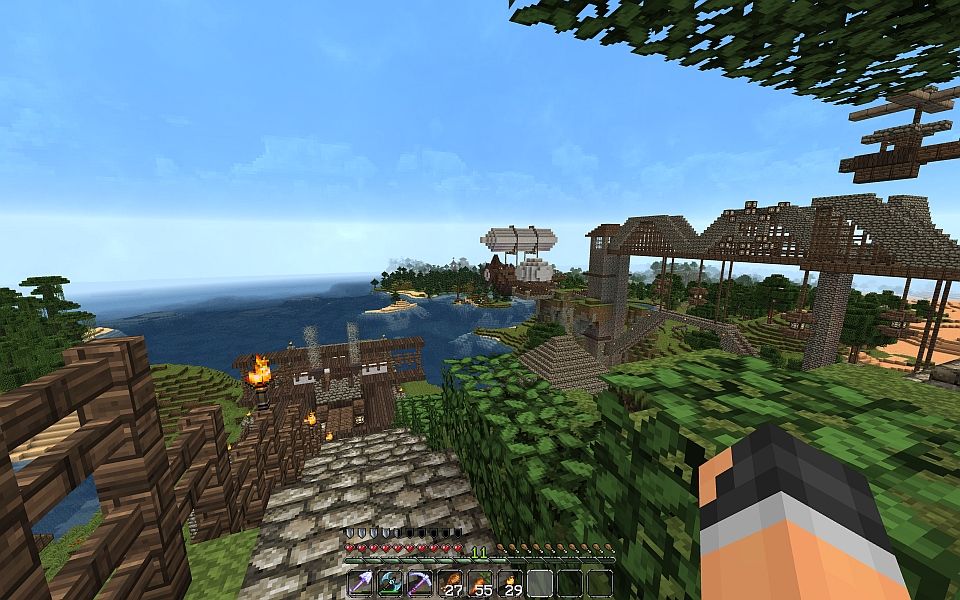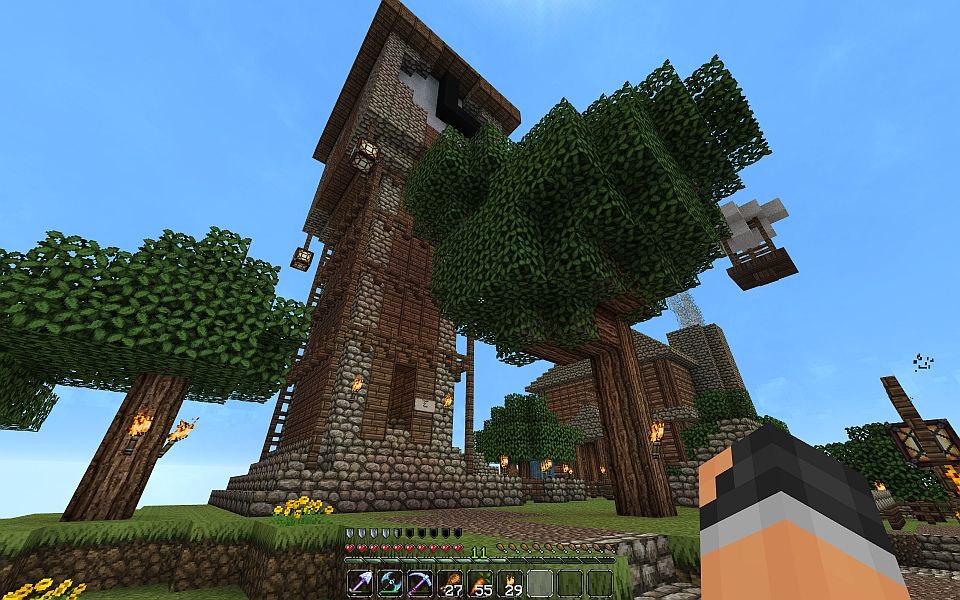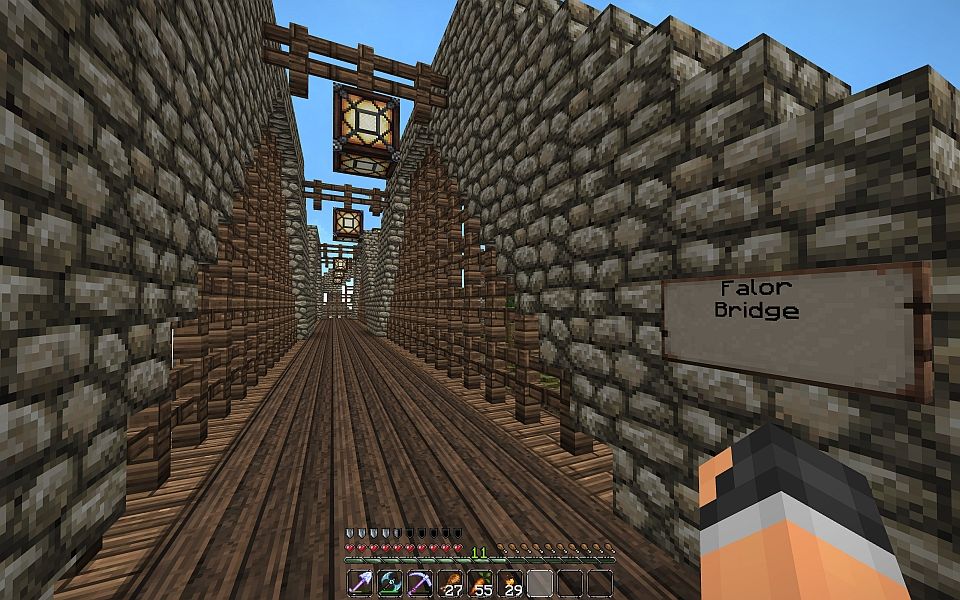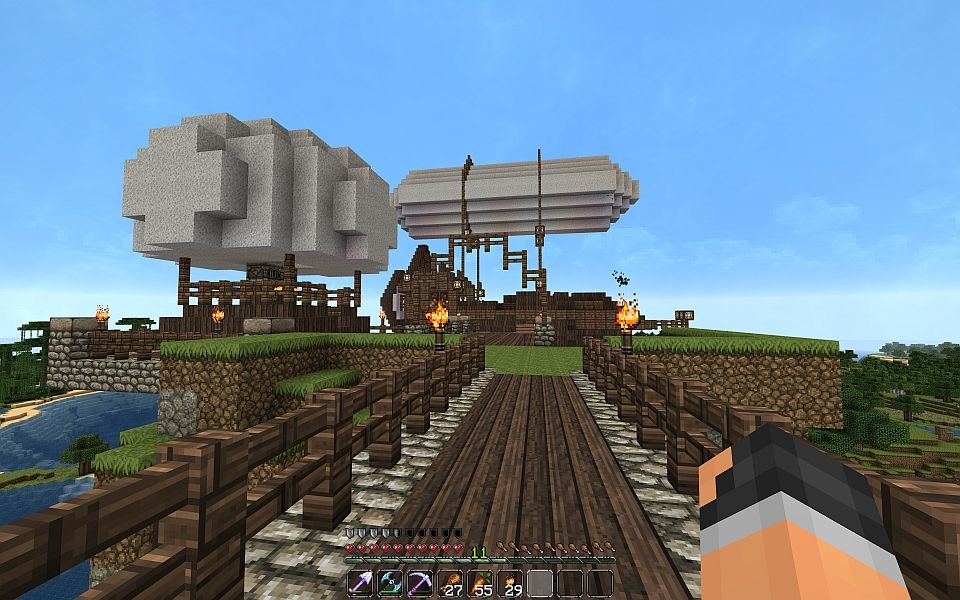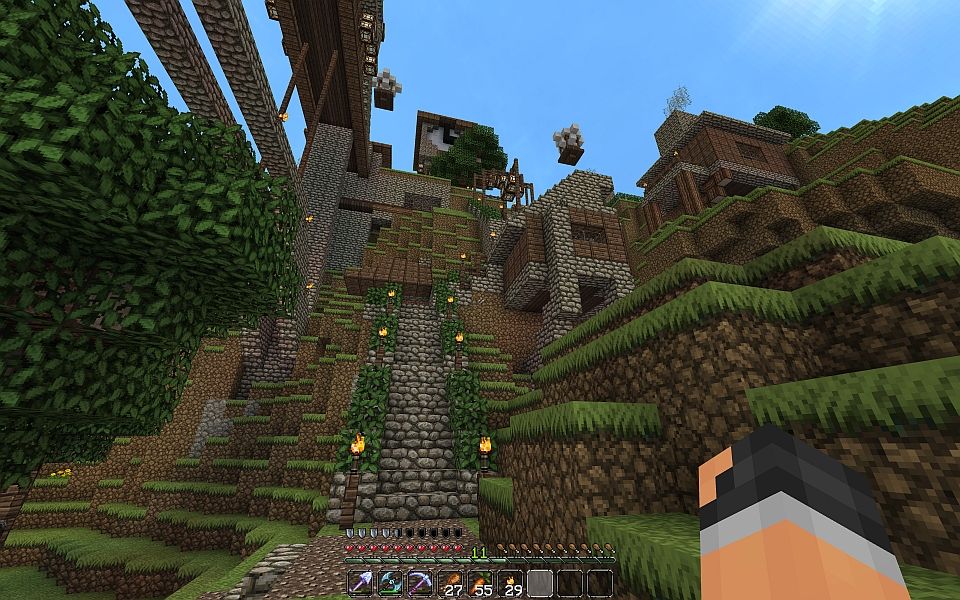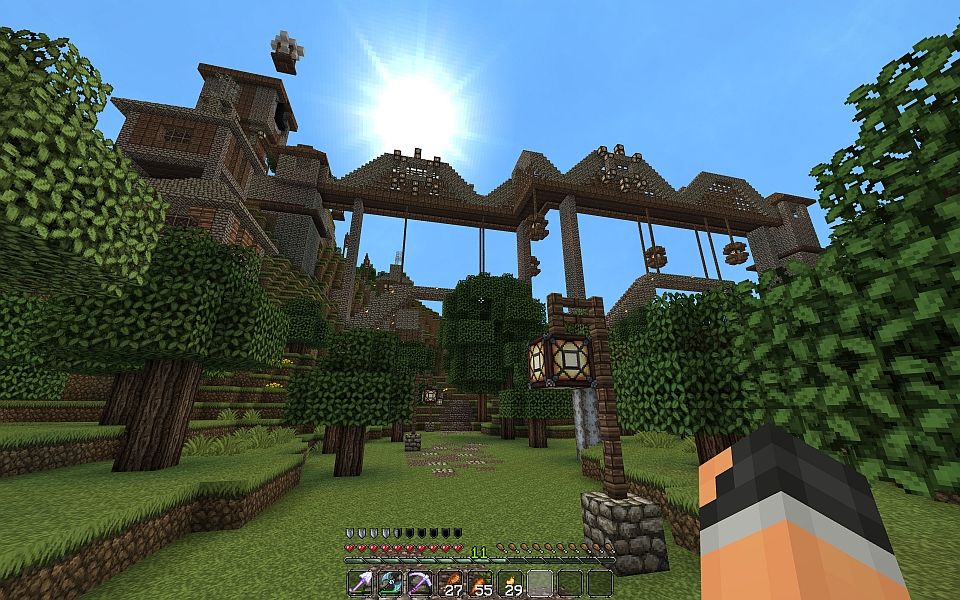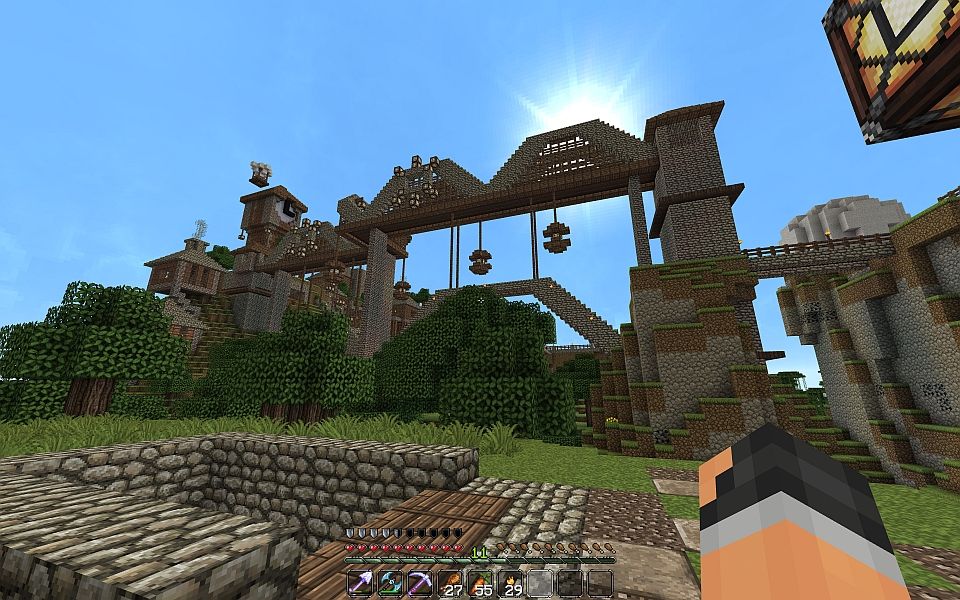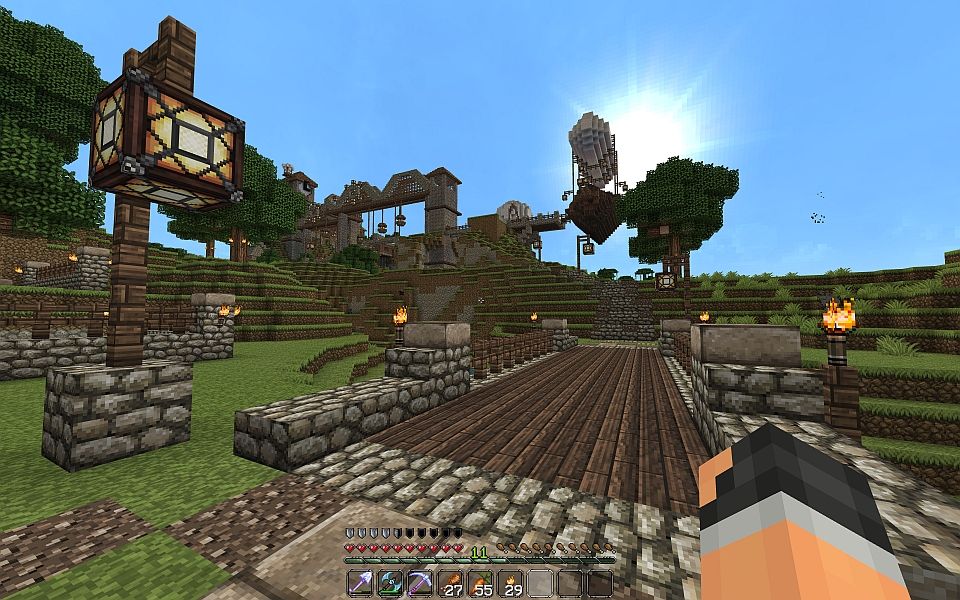 ESTA GAZA

Located not too far away from the Gurugu Stronghold is one of the smallest regionally known villages of Esta Gaza. Housing just one family, and being nearby a larger village, it is thought to have originated by extension of the other village. Though the other village has yet to have been well documented, Princess Garnet of Ziland helped fortify and beautify the village and surrounding area when passing through.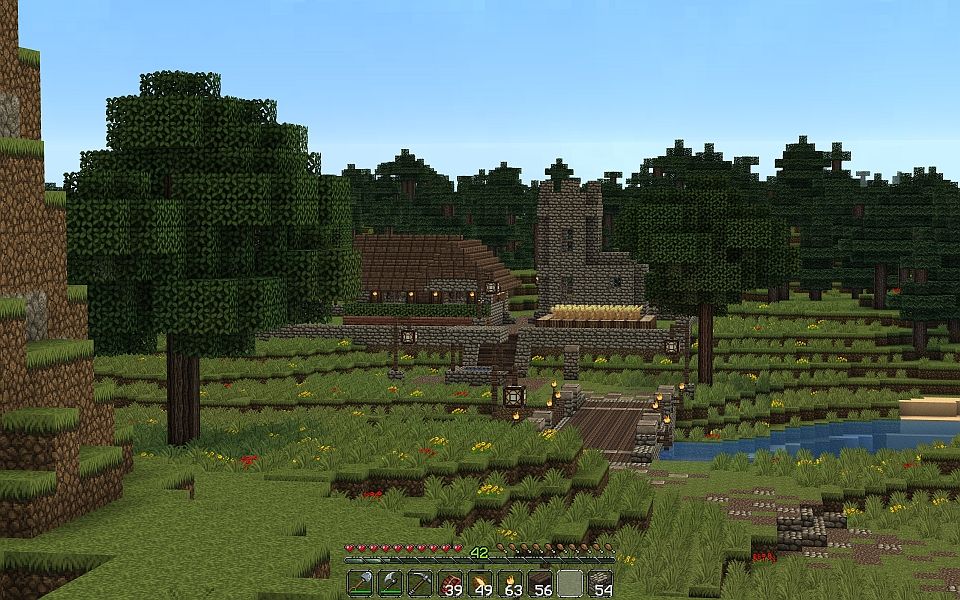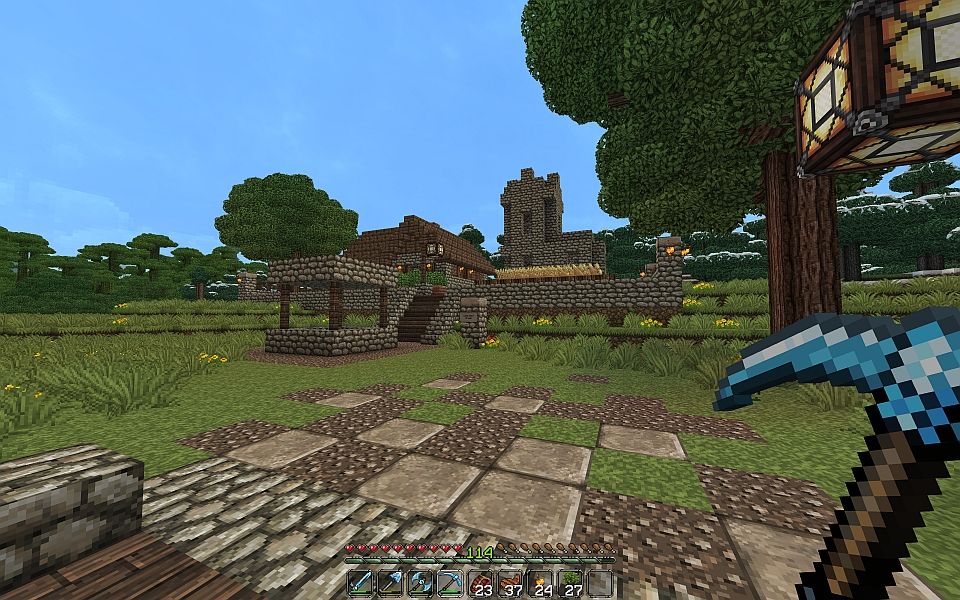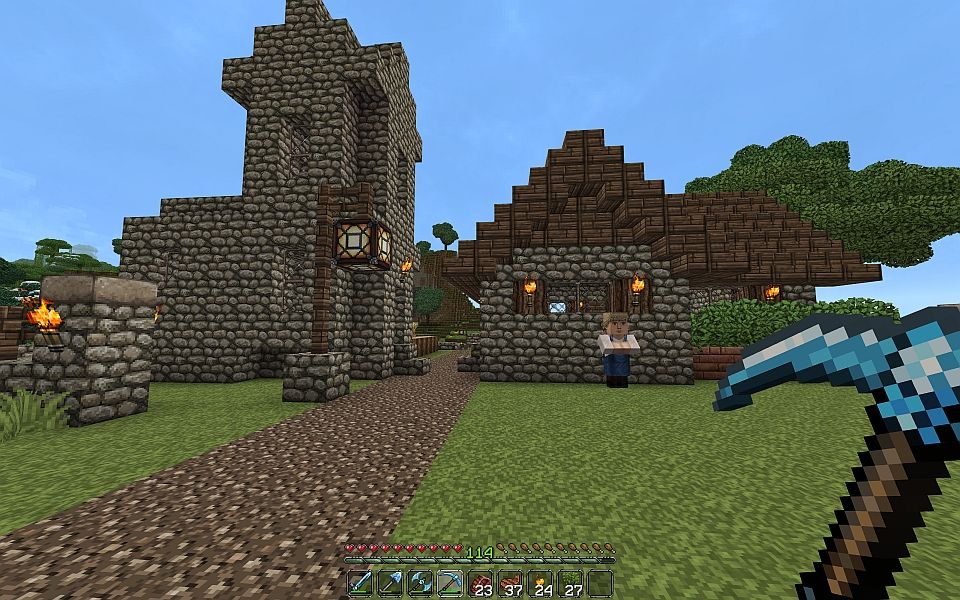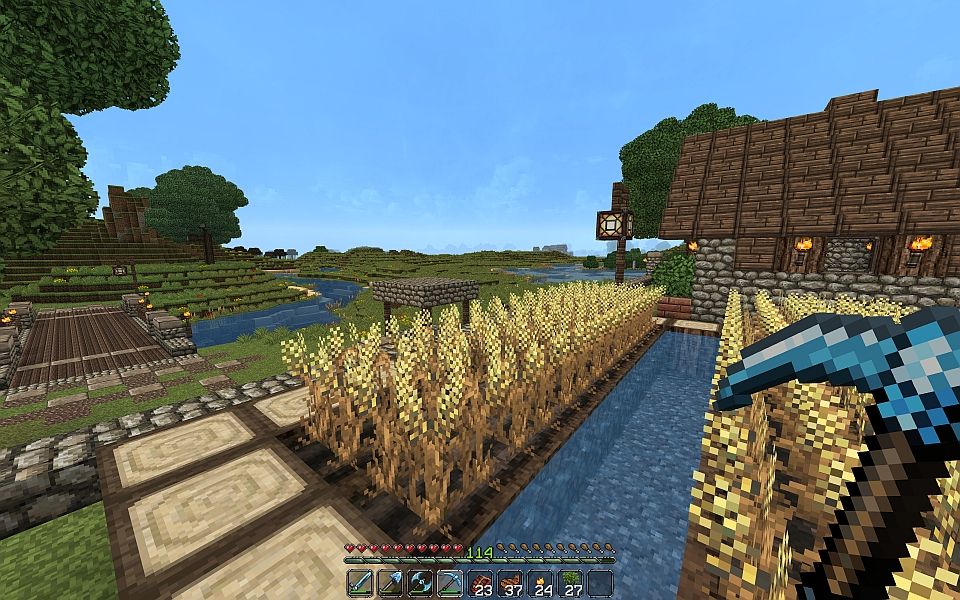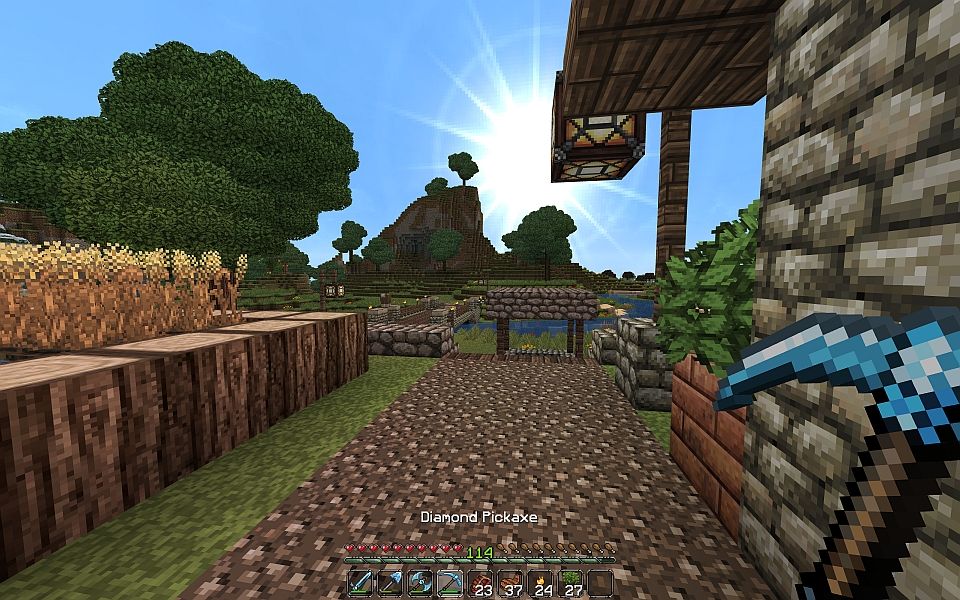 GURUGU STRONGHOLD

The second of three strongholds, it is a more conservatively built and smaller sized stronghold. The more conservative and peaceful monks of nearby villages, like Esta Gaza, watch over it, although the stronghold is largely neutral. It is rumored that the ancient Gurugu tribe was descendants of those who now reside in the villages nearby.

Note that this was the first/original stronghold I discovered in this world.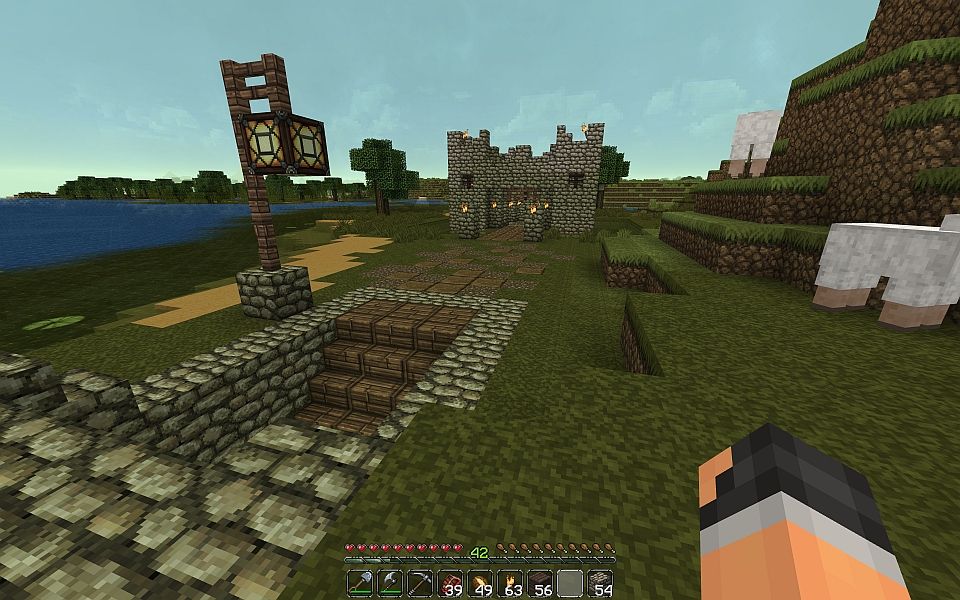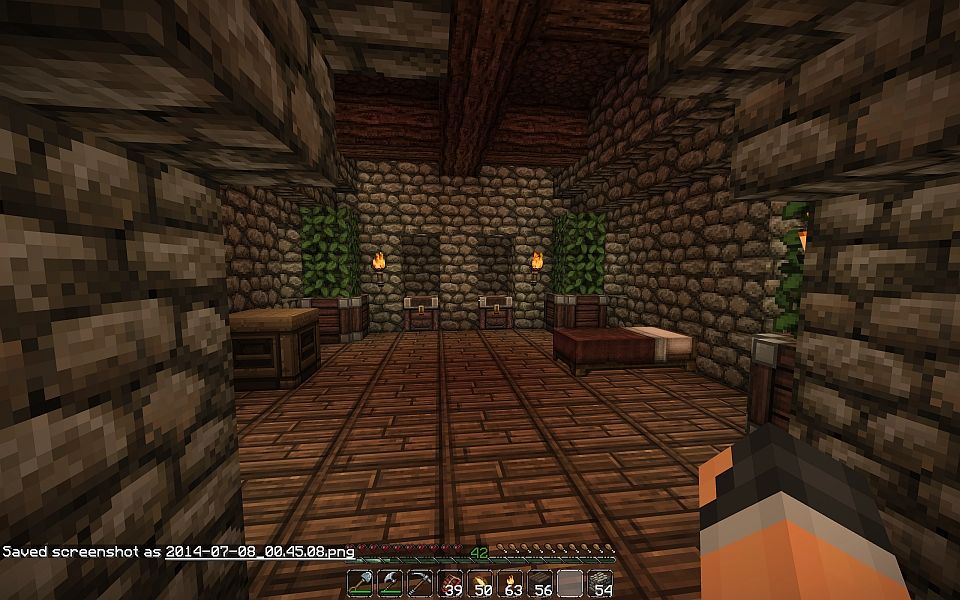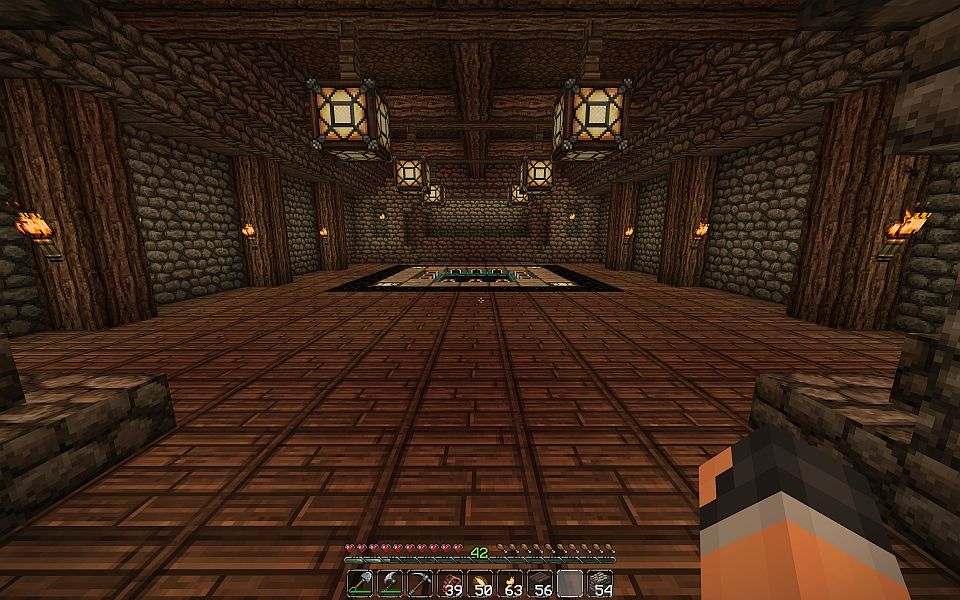 GULGAN VAAL

With colonization spreading heavily to the North and West beyond the country of Zi, the country of Alexandria was reborn, with Lindblum taking the place of the ancient Alexandria city. As Alexandria grew, it was defined into East and West halves, with Gulgan Vaal becoming the capital of the Eastern half.

Unlike many other capital locations, it is modest. Many homes are simple and small, and besides the capital building itself, most buildings are only two stories tall at most. There is a railway station giving it access to the network that connects much of the Zi country together. Having it's own farms, it is mostly self-reliant.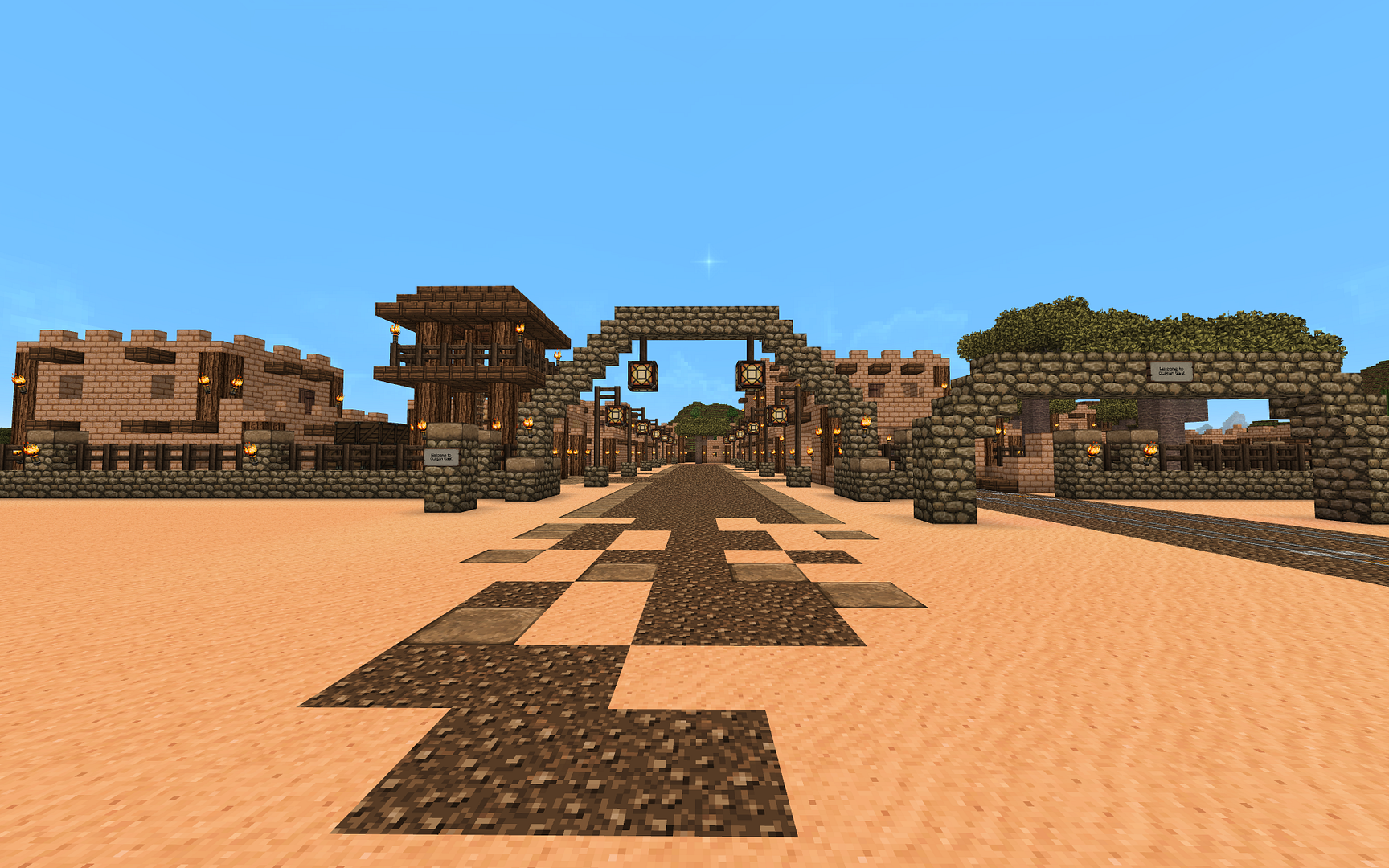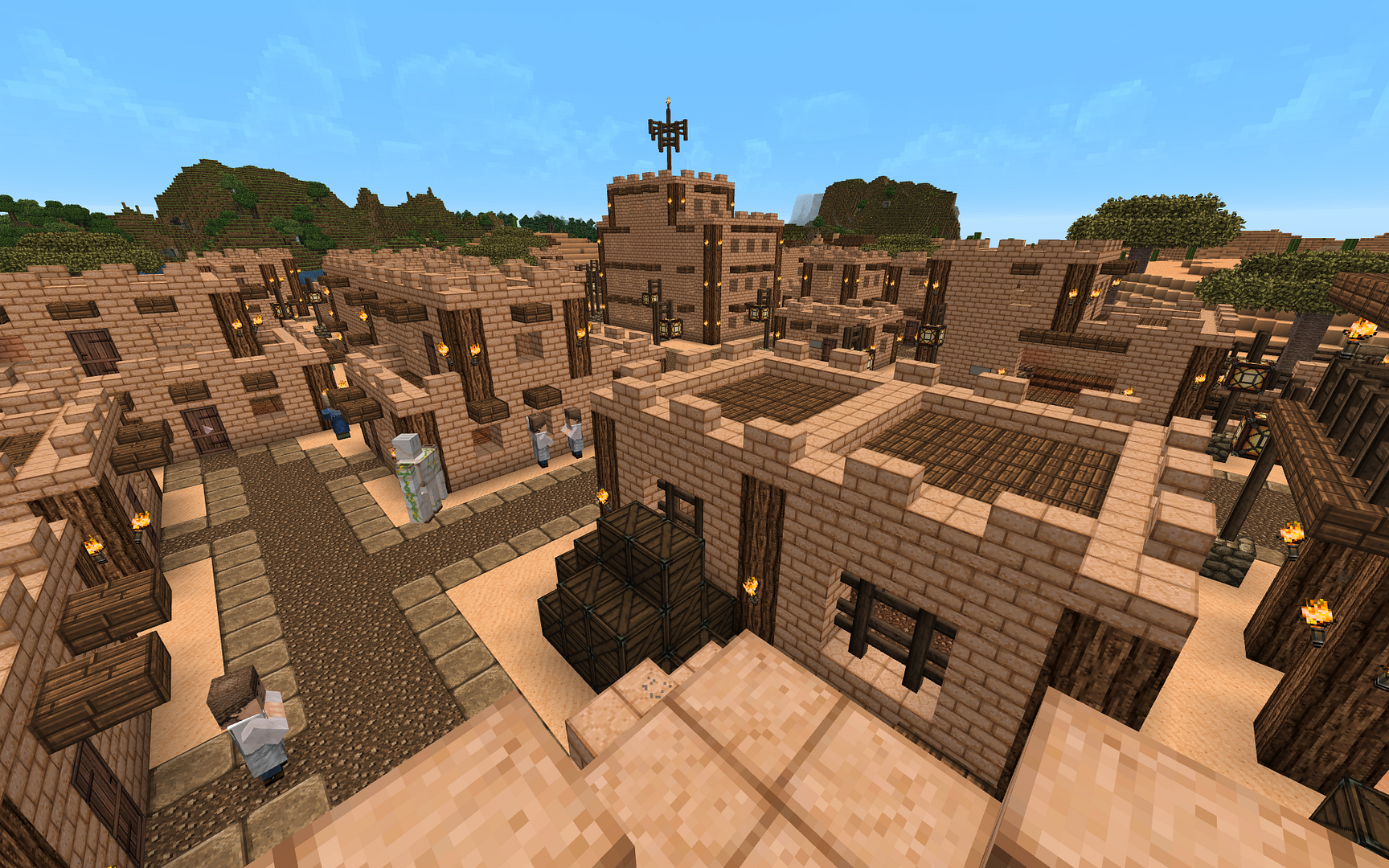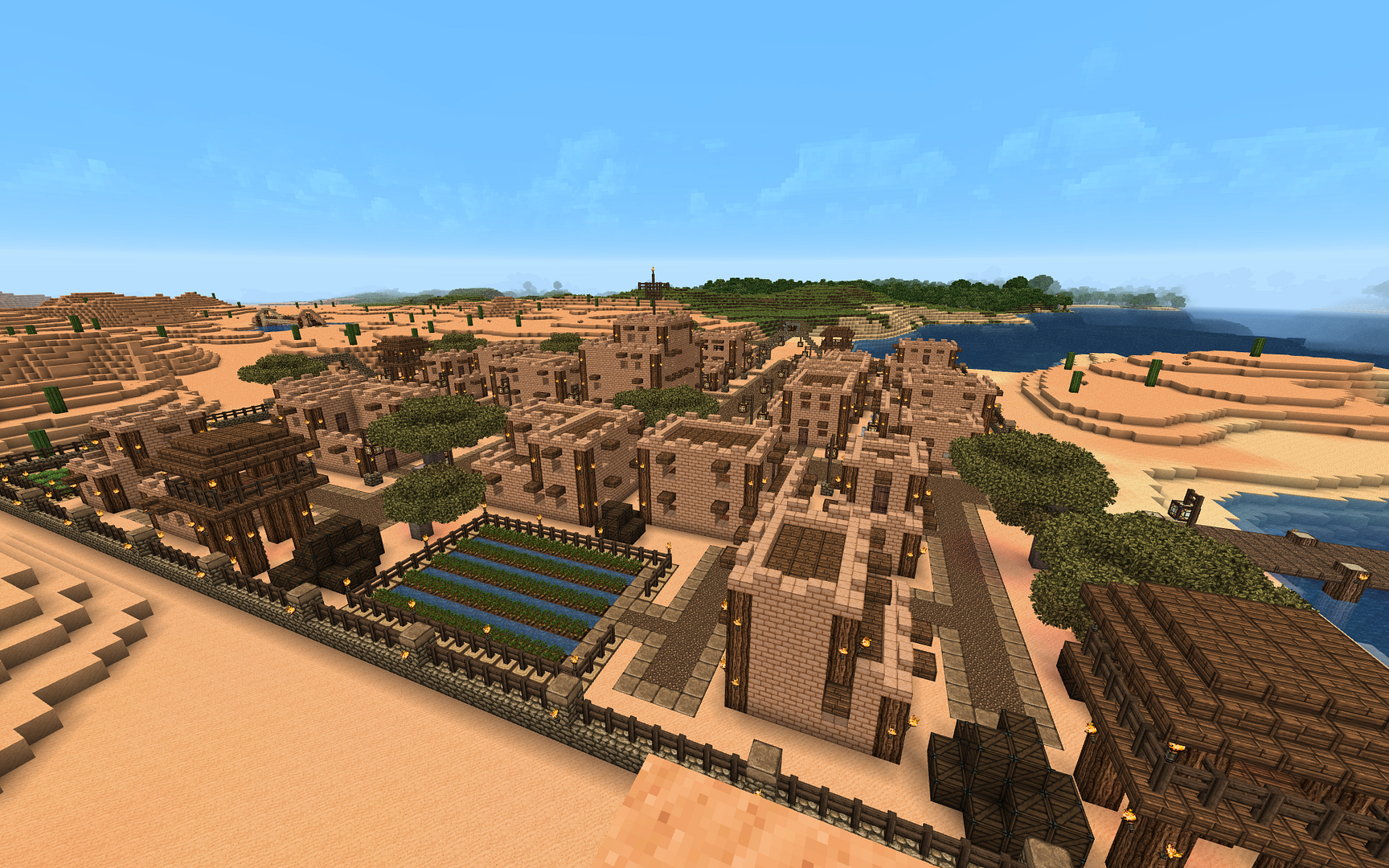 IPSEN VILLAGE

Like Esta Gaza, Ipsen Village was a village Princess Garnet passed on travels and helped better. Gulgan Vaal was established a very short distance away, and with the growth of it came heavy trades. Some speculate that this means Ipsen Village may join a new rumored country with the nearby Gulgan Vaal and other locales North of Zi.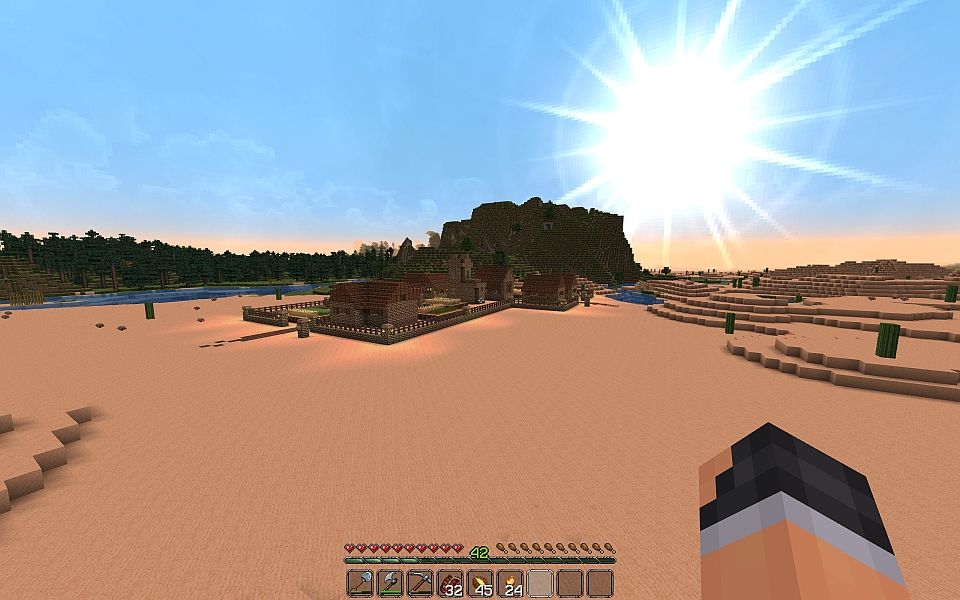 REGIONAL RAILWAY

The railway system is the primary transit method maintained by the bureau of transportation of the country, located in Ziland. Presently, it interconnects, directly or sometimes indirectly, most of the primary villages and cities of the country (that is, the primary village or city of everyone who plays in our world).

It was originally constructed linking Arlia to Ziland after Arlia's union to the country, spanning mostly East and West. It later added a second track, linking Arlia to Windhelm, a small ways North of Ziland, upon which Ziland and Windhelm were linked.

Another locale, Kyerune Shores, in Northern Zi was unofficially linked to the transit system. Though no rail directly runs to Kyerune Shores, a railway station was added a short ways South, and between that and the split for Ziland and Windhelm, a current development also resides just North of the railway. Though it doesn't directly reach every locale, it serves as an important backbone above the small foot paths, not all of which are yet developed either.

West of Arlia, a single track continues Westward and then Northward to a plantation farm, and then Northward a little ways more to it's indefinite end at the border of the country. Rumors are abound that it may extend Northward in a joint union to the country to the North to link it to a developing city, and the planned capital city of the smaller, unnamed, country.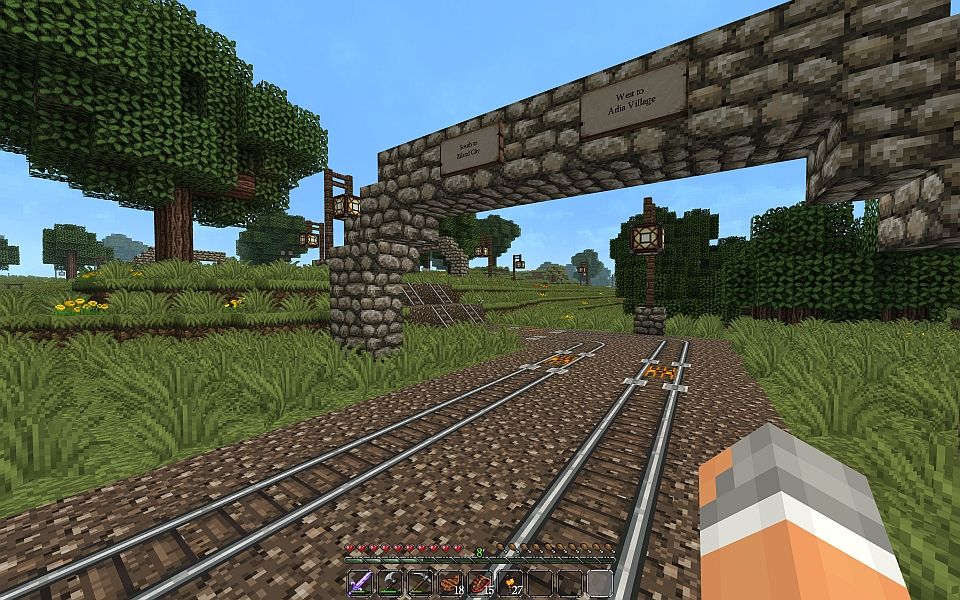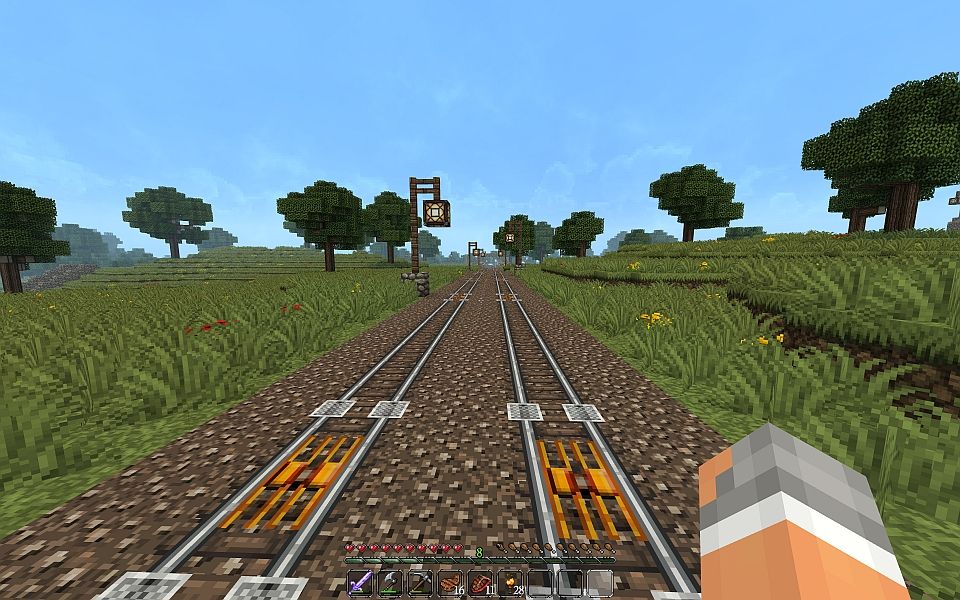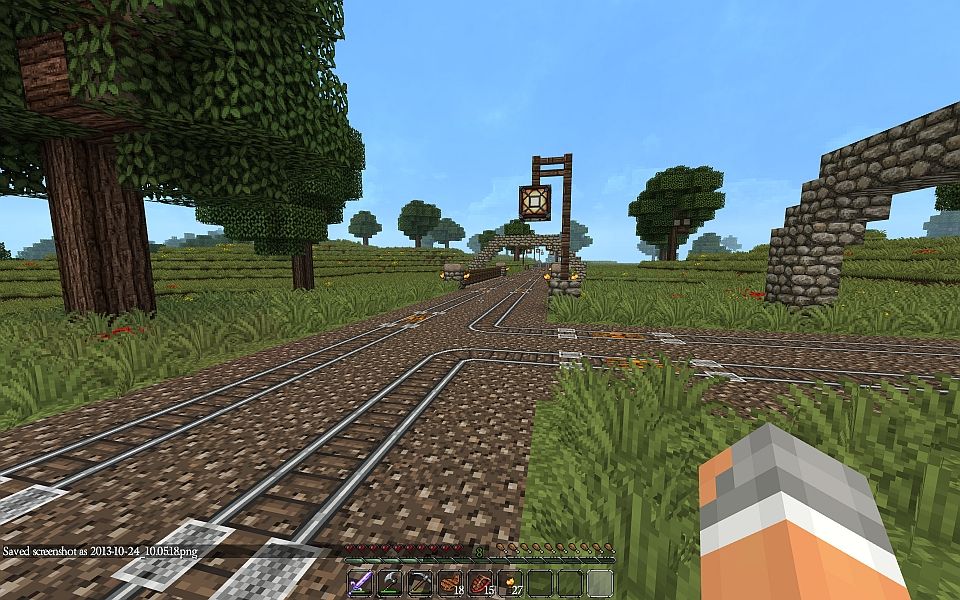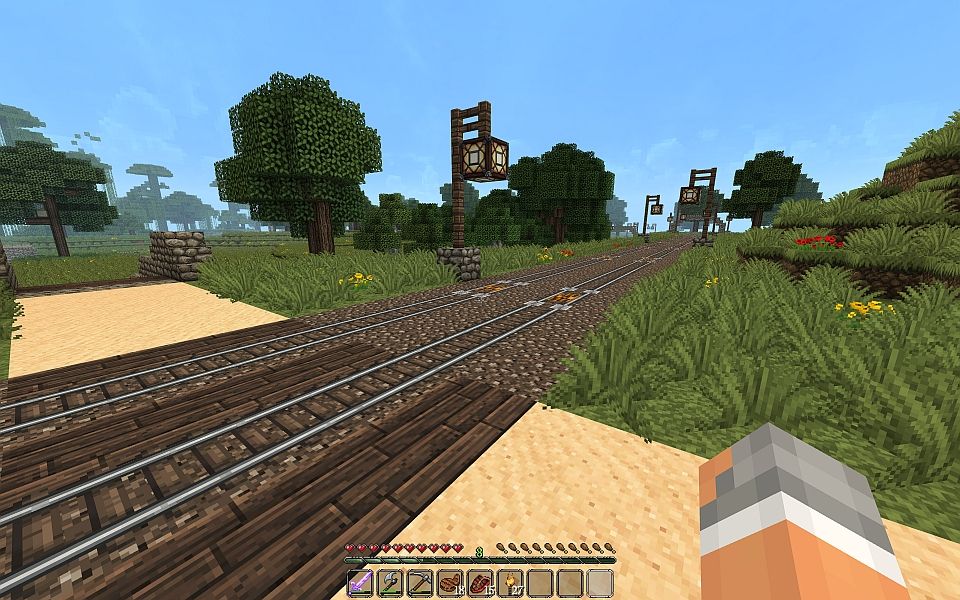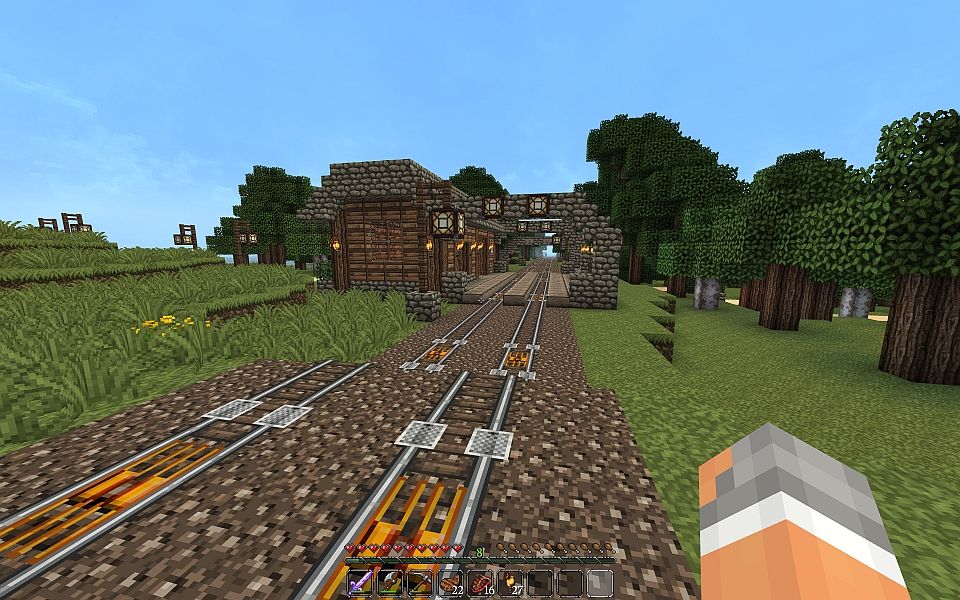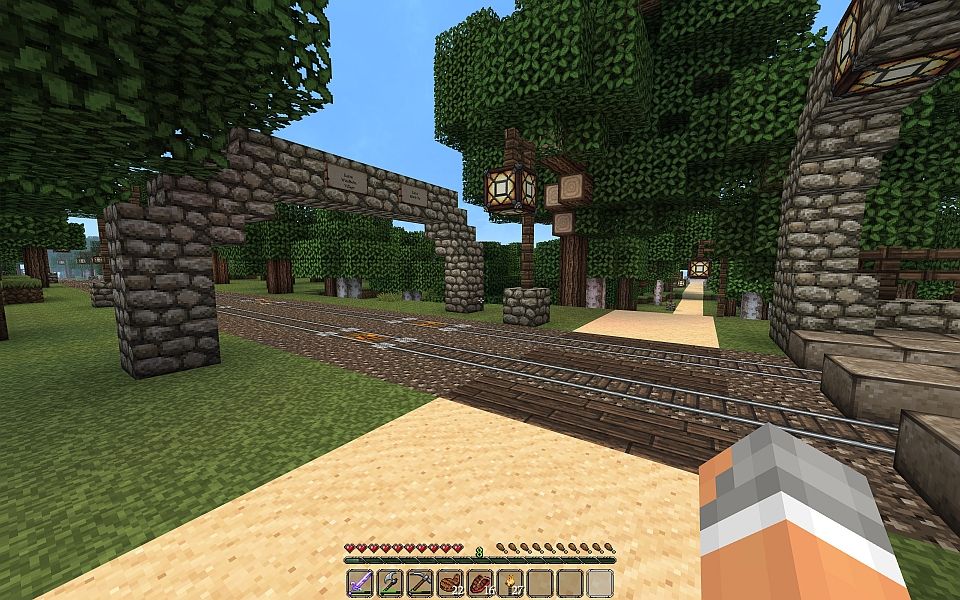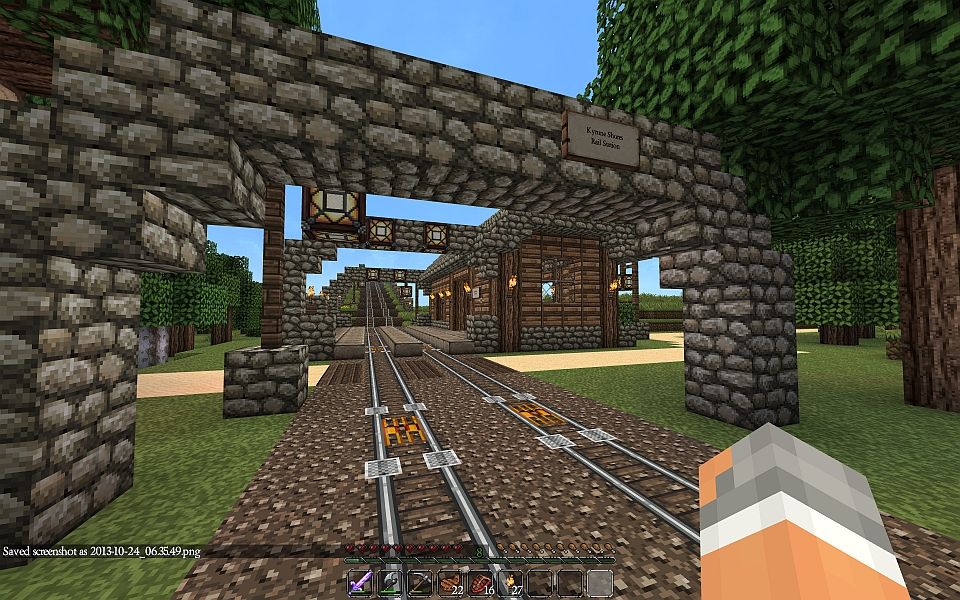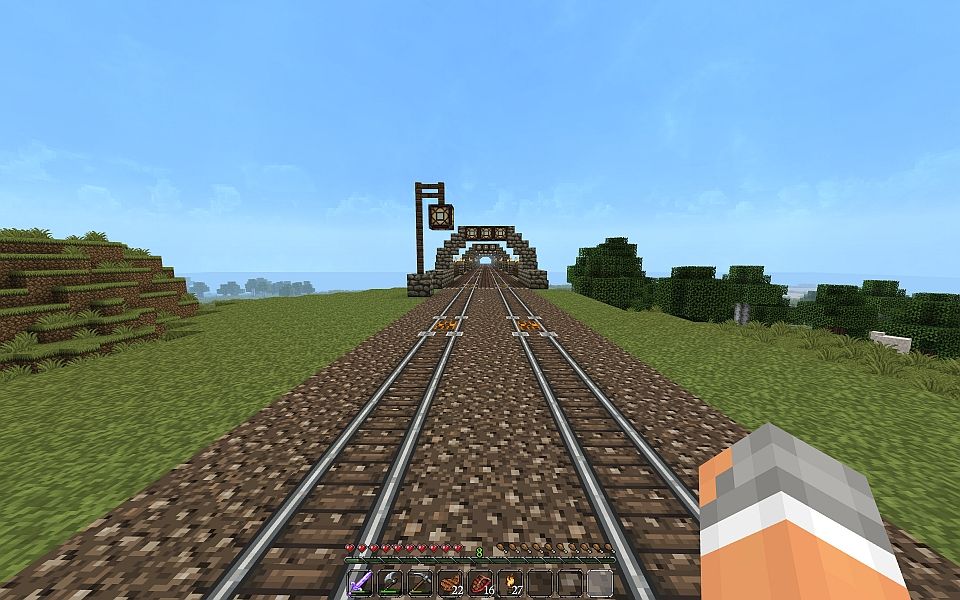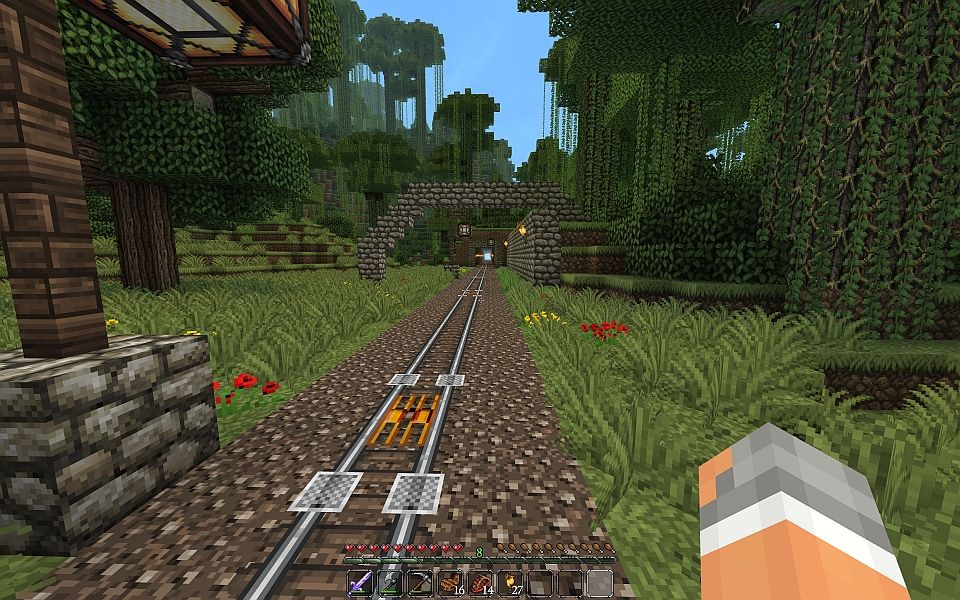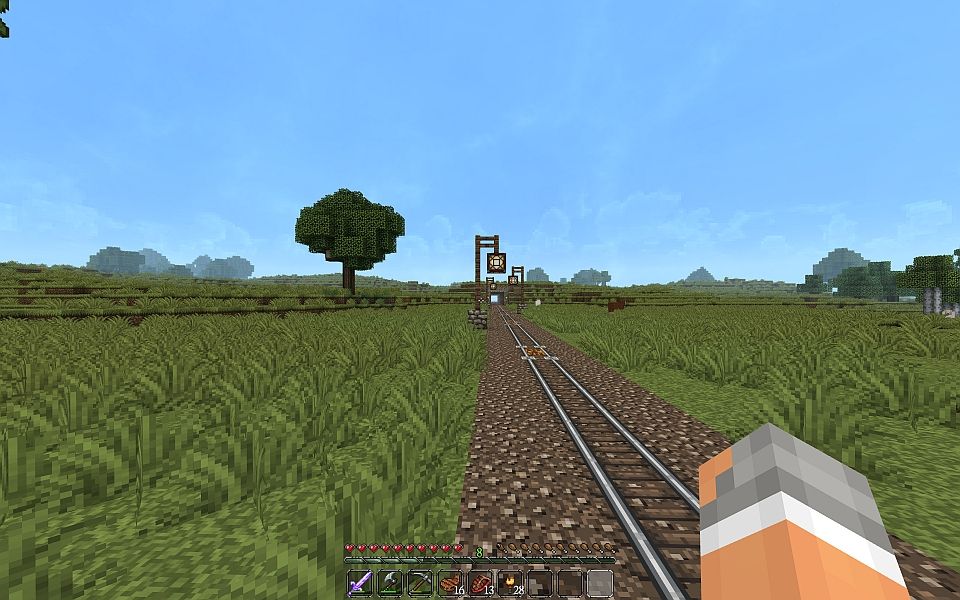 IT'S AN ENDLESS WORLD

Below are various miscellaneous locales, some merely landscapes/scenery, located throughout both the country of Zi and beyond. There's overlooks, bridges, mountain ranges, mine shafts (I have a habit of making them like that, haha), an Oasis, fields I've prettied up (usually right outside heavily trafficked cities/villages), an abandoned tower (a project that I actually very recently decided I may come back to, not in way of merely continuing what I started, but oh is that mountain range lovely for so much more...), and other miscellaneous stuff.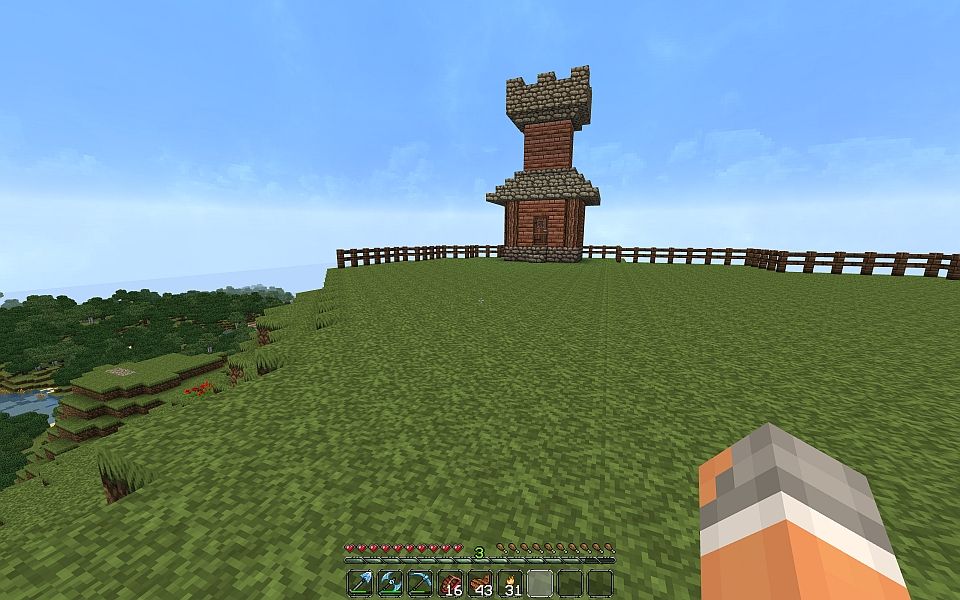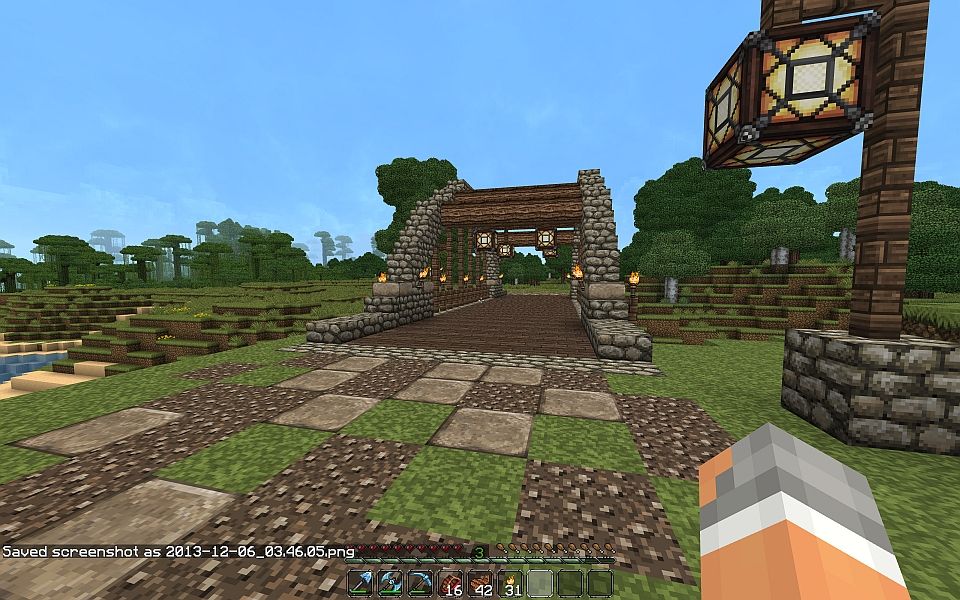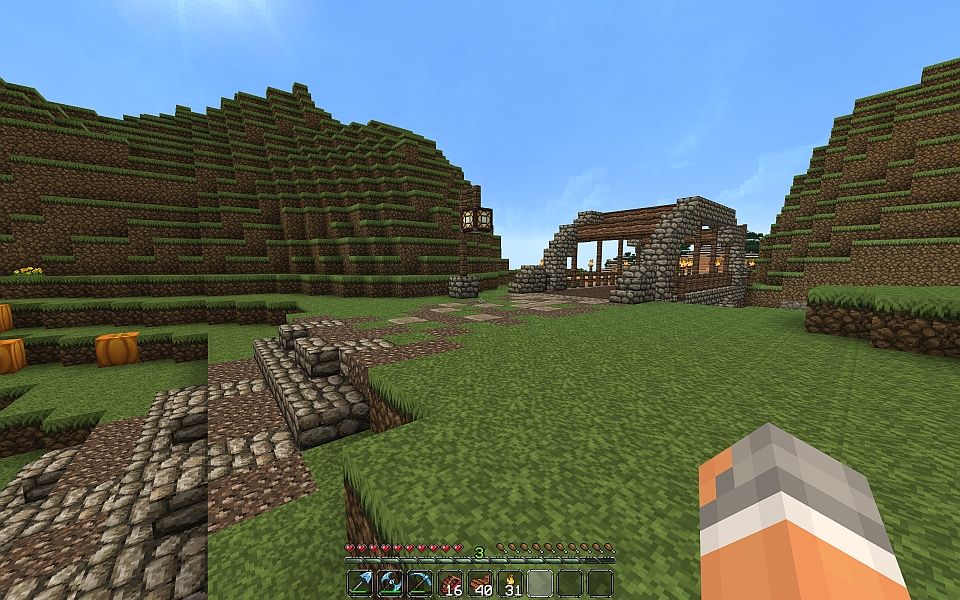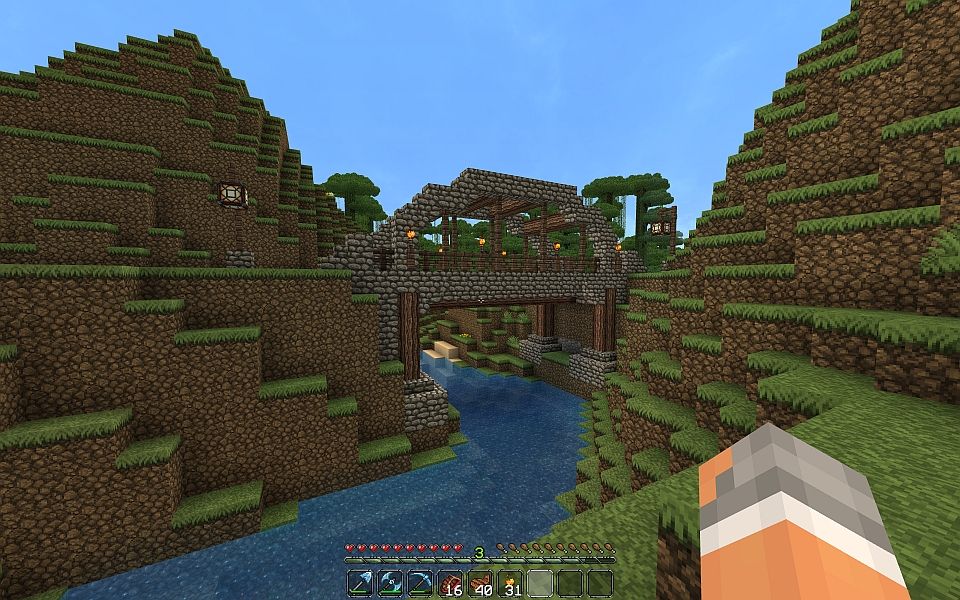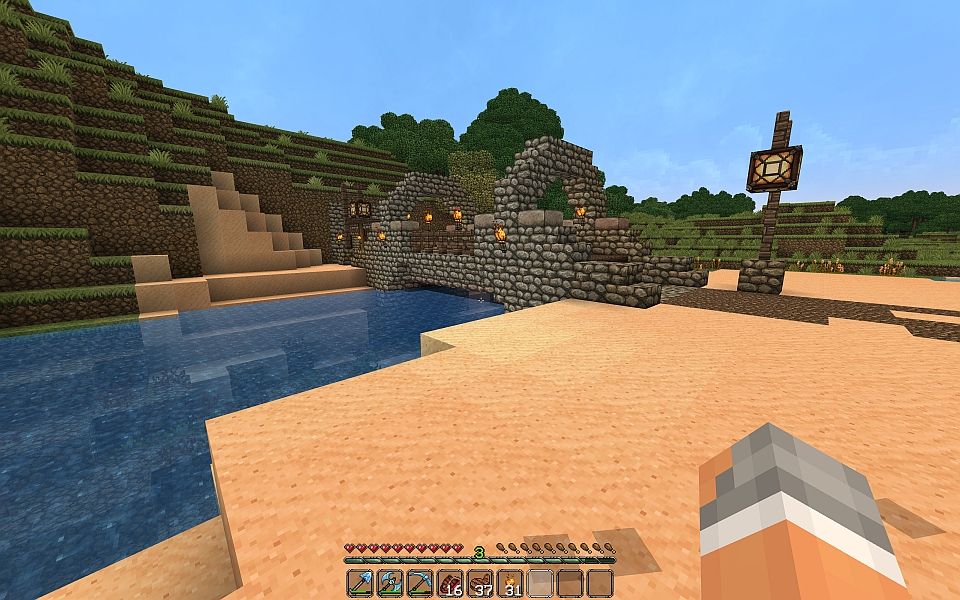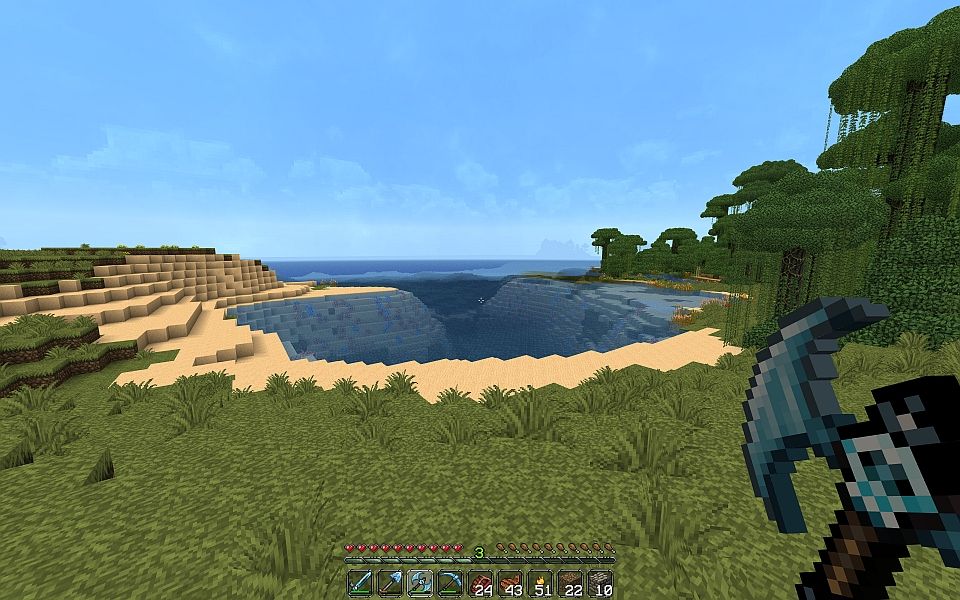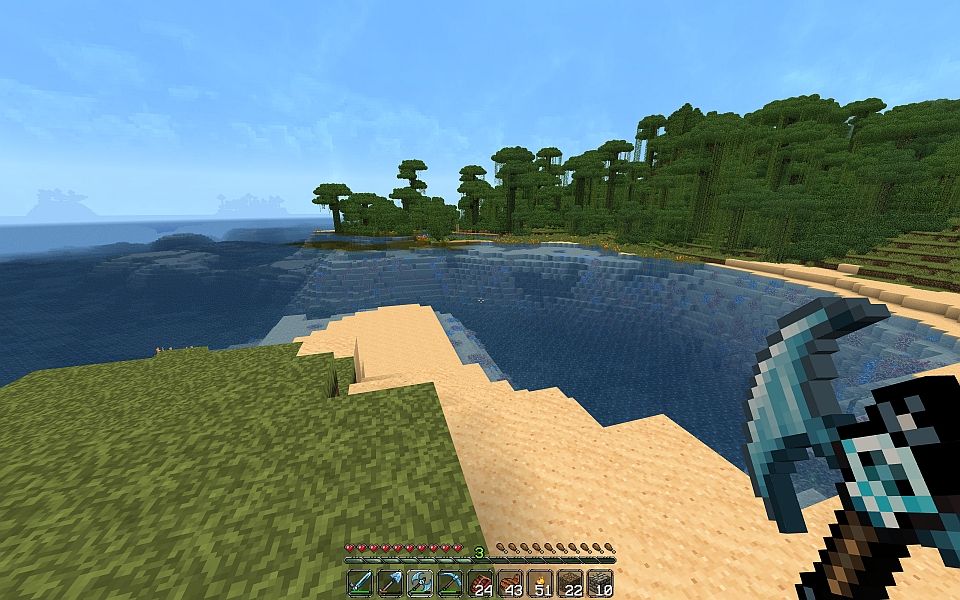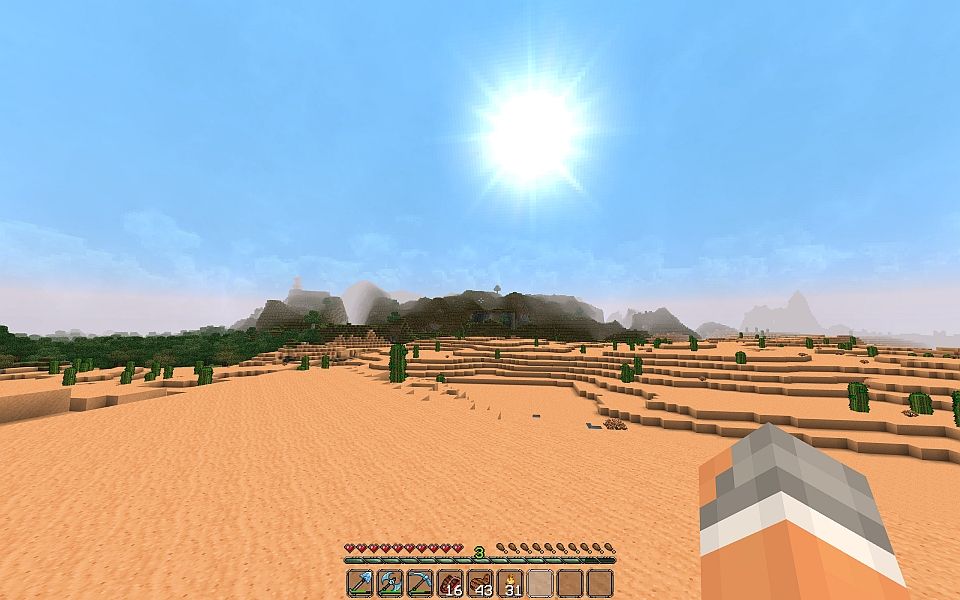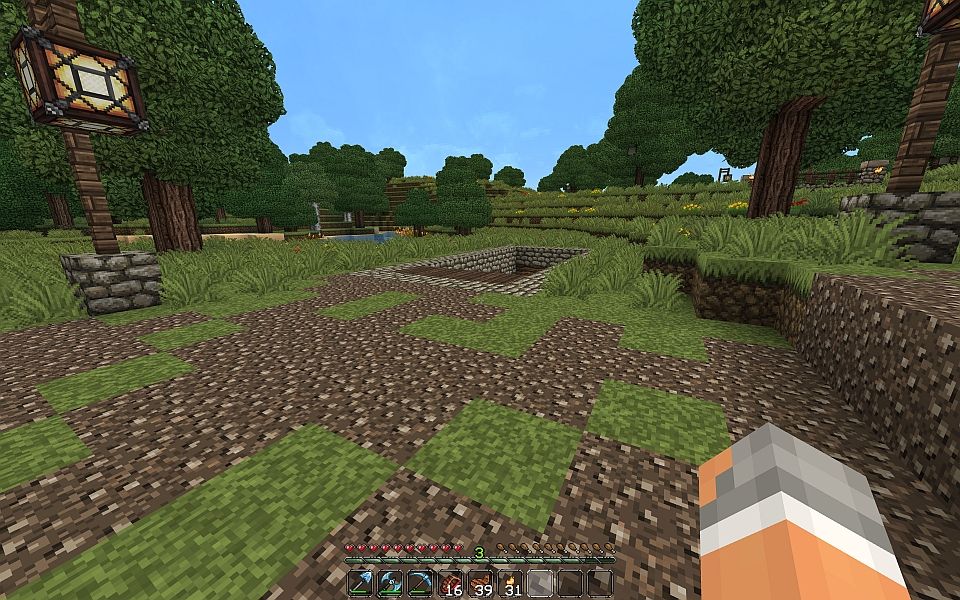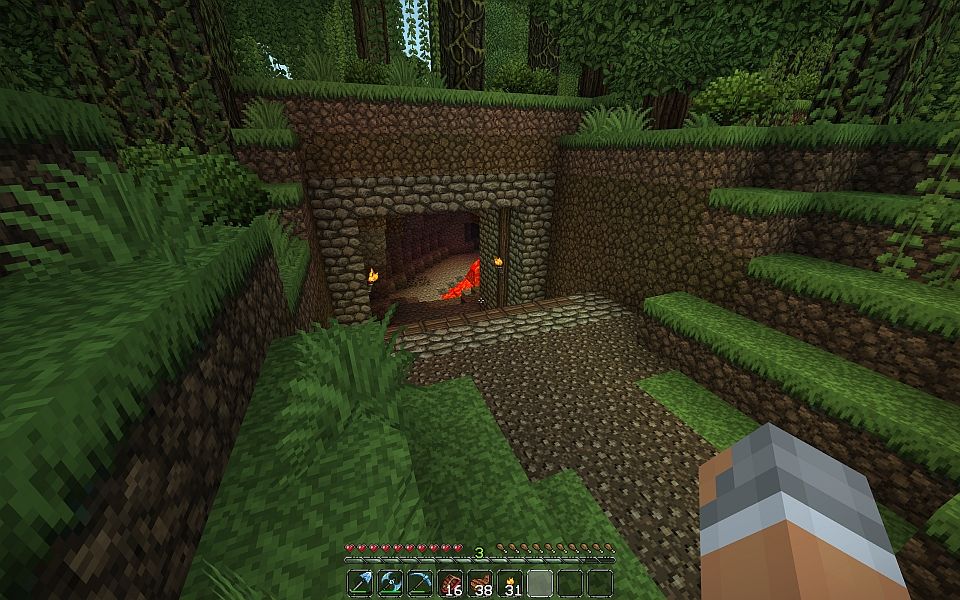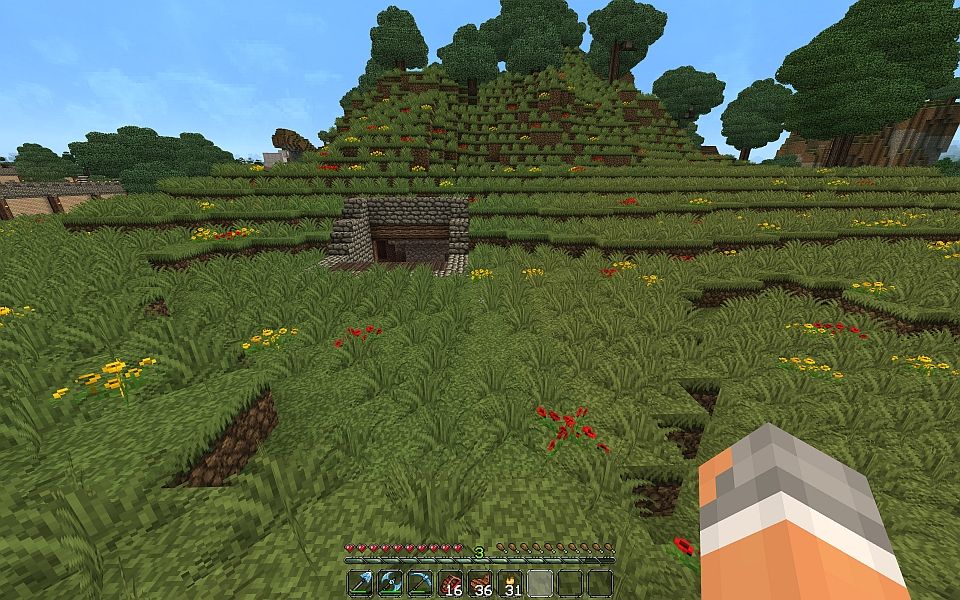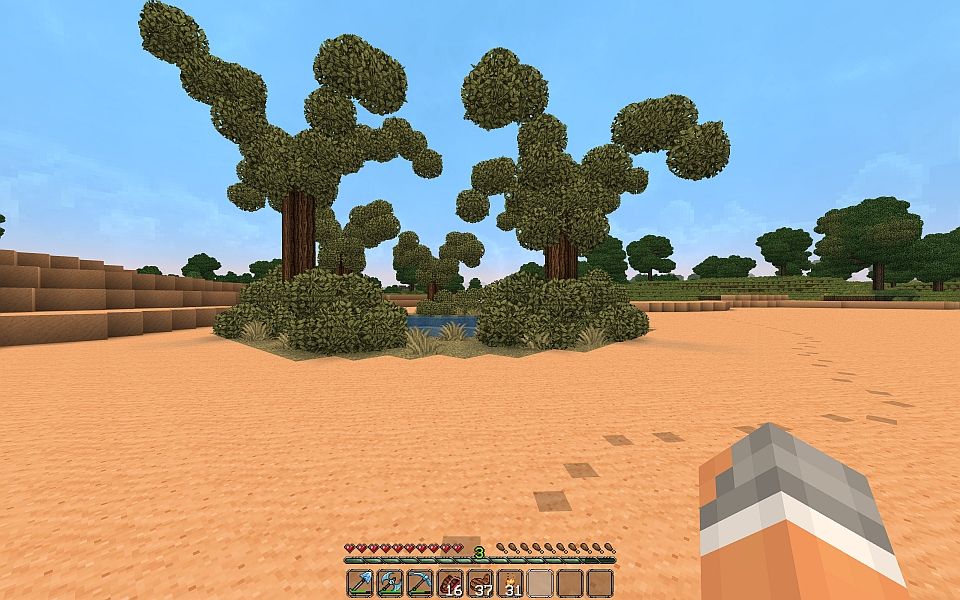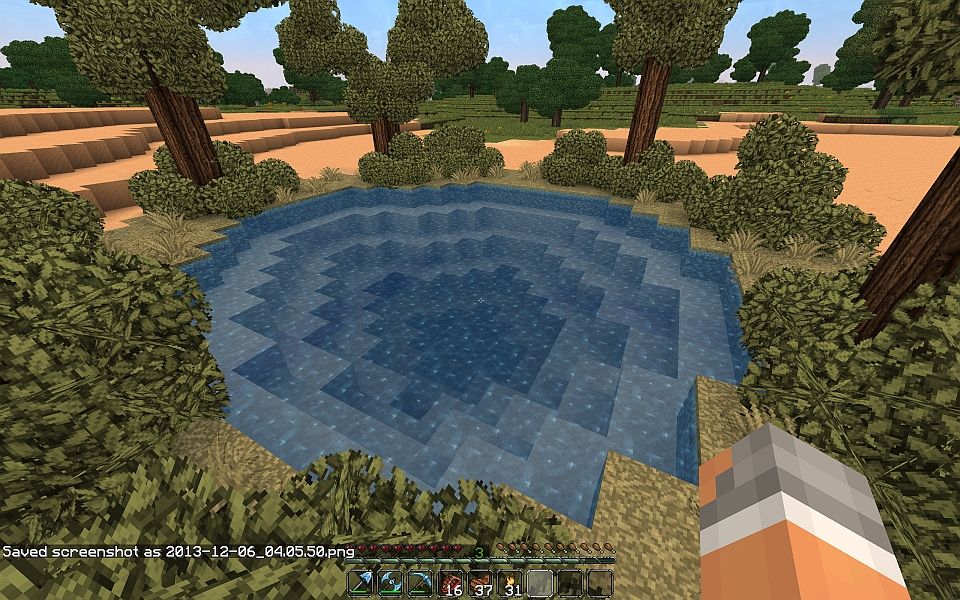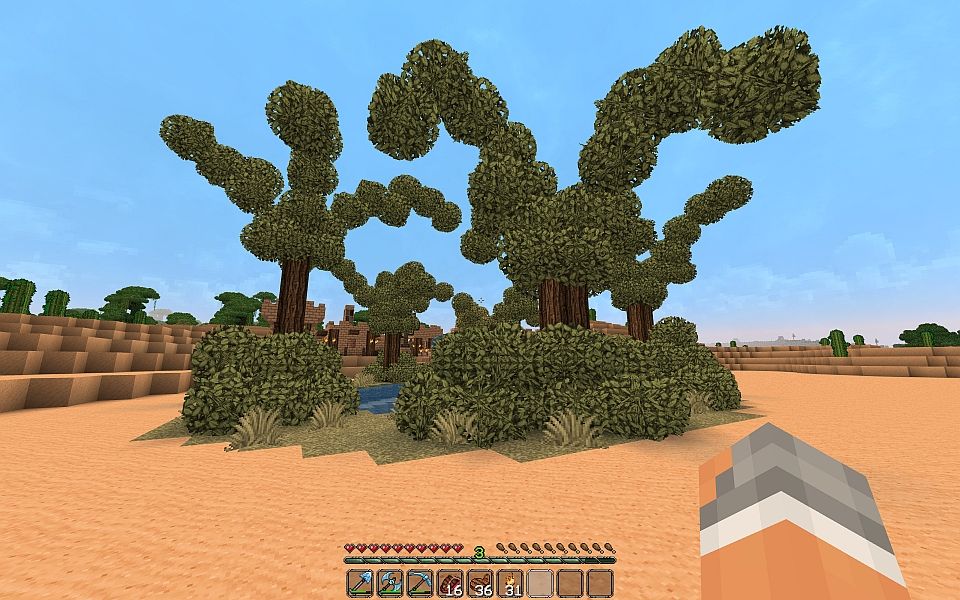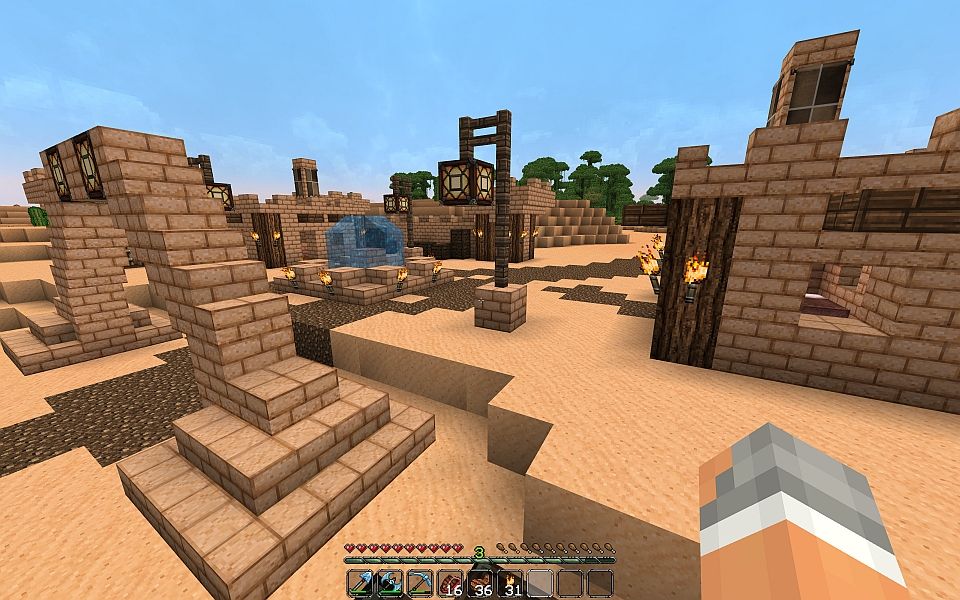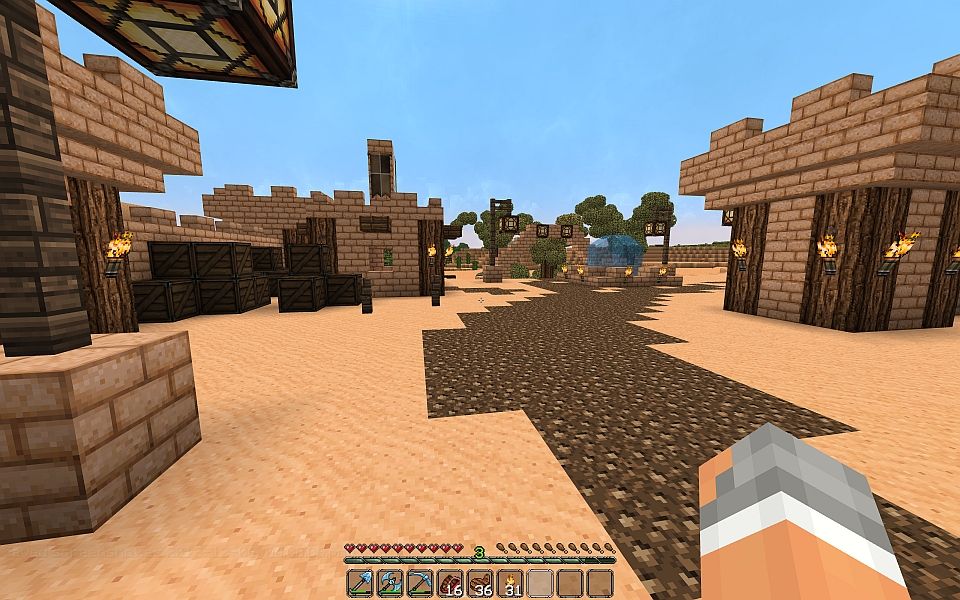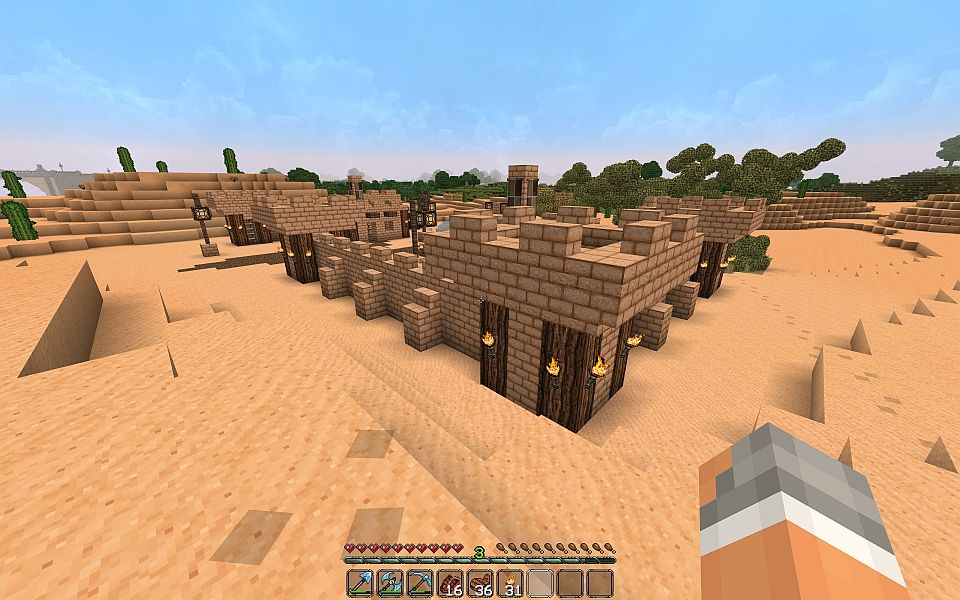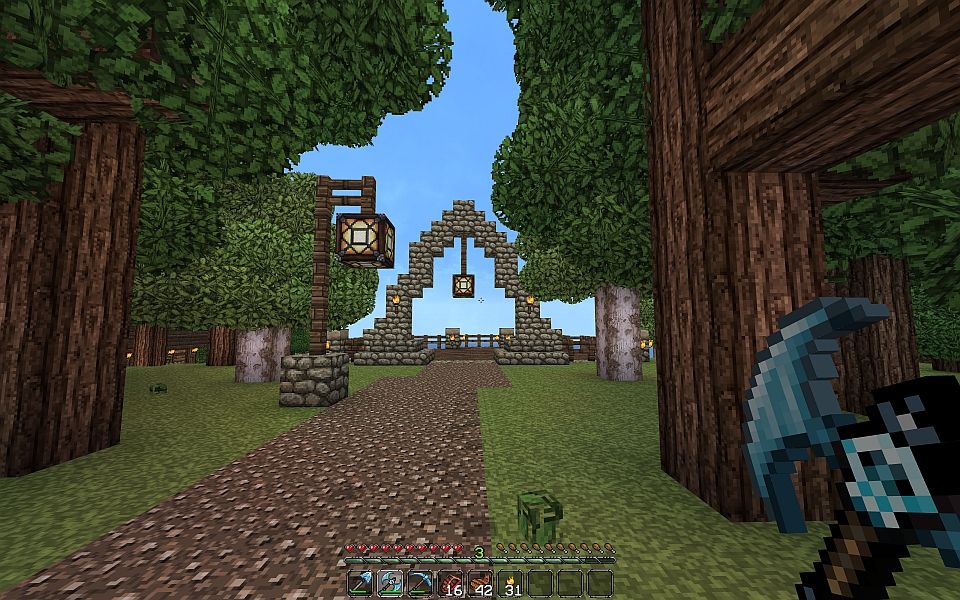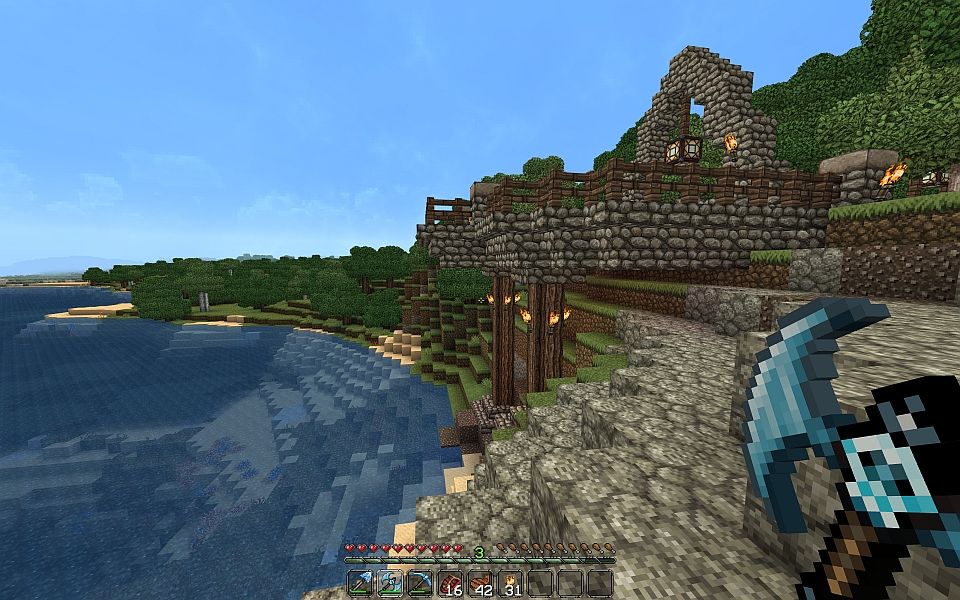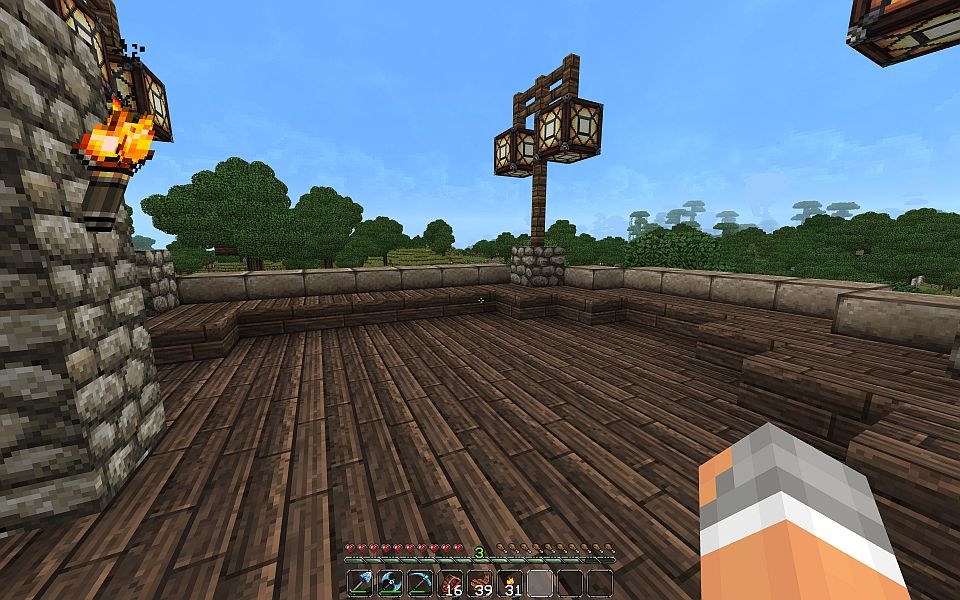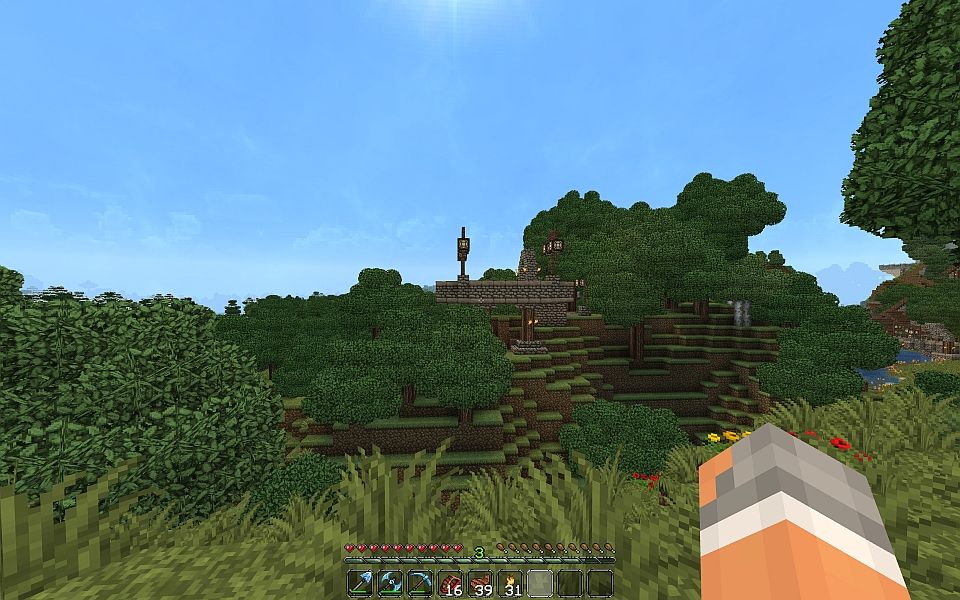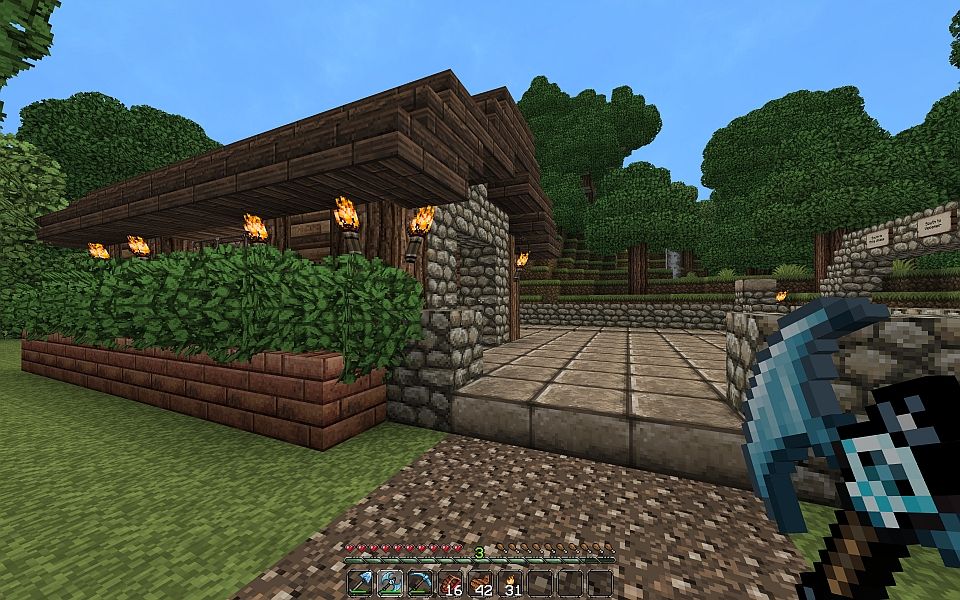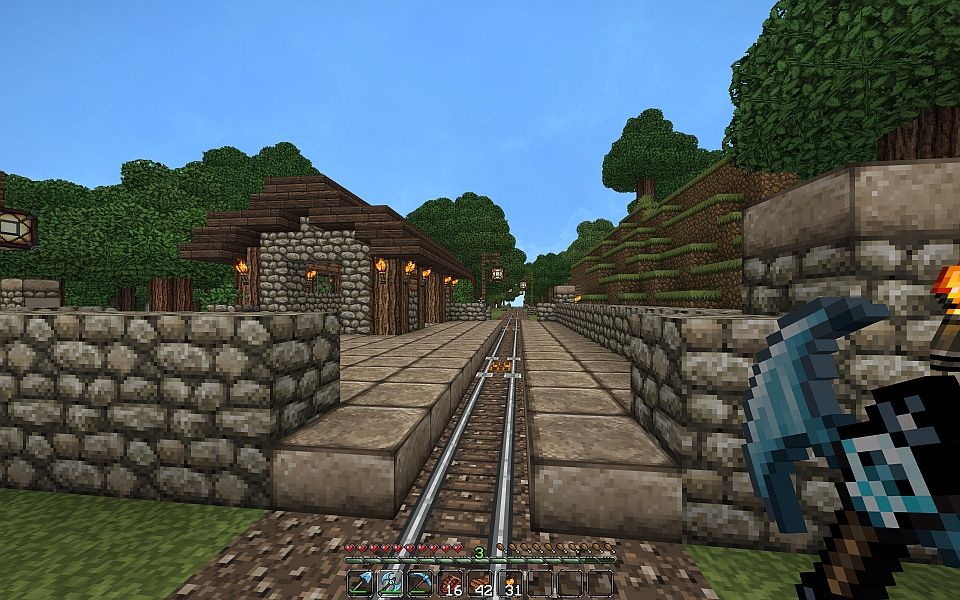 DOWNLOAD

There's much more to come! That includes whatever you wish to do! I've finally (and oh so late was it!) made this available for download. The world is presently like 11 GB (!) in size, and that just won't do, so I cropped the core of the main region out and ended up with a download, after zipping it, about 266MB in size, which is much more manageable.

Important: Please note that I, as of this time, play version 1.10.2. What this means is playing this world on a version OLDER than 1.10.2 is not recommended, although if you're playing on a NEWER version, such as 1.11 or any newer future versions, that is fine.

Click here to download Crafterra!

If you're looking for the older version (which is fine back to version 1.7.10), you can find that here.

This includes a map, texture pack I use (with permission and credits given), and, of course, the world itself. Have fun with it, and feel free to show your own doings!