MercMan
Curse Premium
Forum/Wiki Sponsor
Location:

Tennessee

Join Date:

6/11/2010

Posts:

597

Minecraft:

MercMan

Member Details
*MercMan's Design Thread*
(I've heard the word "aesthetics" enough for 10 lifetimes. Lord.)
One of the most common questions in Minecraft: How do I make my buildings look nicer? The answer, however, isn't one simple way. There's many different ways to improve the look of a building. In this thread, I'll cover some basic (and advanced, too!) ways to improve your buildings.
-- -- -- -- --
Before we really get to any "bulk" of the topic, there's a few things to know:
* Everyone has their own opinions of things in Minecraft. Beauty is in the eye of the Beholder.
* Nearly everyone is using a different texture pack. This could make your building "ugly" to someone else. (More about this later!)
* Even following this guide isn't guranteed to make your building perfect. It takes alot of time, practice, and patience. Rome wasn't built in a day.
* There will ALWAYS be someone who doesn't like what you make. (Or, so they say.)
* There will ALWAYS be someone who LOVES what you make. Don't let anyone stop you.
* There are millions of Minecraft players, and that means millions of different styles, of the relatively same things.
* In Minecraft, there is no WRONG or RIGHT way to make something. Only YOUR way.
-- -- -- --
First off (and probably most importantly!):
Texture Packs
.
Texture packs can really make a difference. In most of my screenshots here, I'll be using Visibility. It's a simple design, and retains the basic style of the default textures. I find that it's a good "all-around" texture pack, and isn't specifically made for a certain building type.
Textures can make or break your building. Like I already said, everyone is probably using something different! When you present your building, ALWAYS present in the texture pack you designed it around, and STATE THAT you designed it around a certain texture pack, and, if possible, provide the link to said pack. Many popular packs exist, such as Painterly, Doku's, JohnSmith, SMP's, etc. etc.
(Some of my work is featured in Painterly, by the way! :tongue.gif:)
There's sure to be the perfect pack out there for you! If you design something in one pack, and switch to another, more often than not, it won't look as good as it did before. There's not much you can do about that, honestly. It's just a fact of Minecraft, now that textures can be changed.
-- -- -- -- --
There's some basic aspects to every (almost every..!) structure:
*Exterior features (Wall design/pattern)
This is usually just the walls. When making your walls, it's normally best to find a trim material, and another for in between the trim. Of course, this is just one option.
(Pics to come.)
*Landscaping around it (Pathways, lighting, flora and fauna)
Often, a little bit of simple landscaping can really add to a building! Things like well-placed bushes and flowers can really do wonders:
*Interior features (Rooms and such)
Alot can be done with interior design! I'll go into more depth later on about this, but here's just a few things to fill the inside of your house with: Tables, chairs, chandeliers, faux-TV's, bedrooms, a kitchen, a gallery, bathrooms, treasure rooms, and much more!
*Roof.
Now, you've got to have something over your head, right? Roofs can be done in many fashions, and each work well with their own style of building. The roof can definitly change the feel of a house, for sure. Don't underestimate it!
-- -- -- -- --
I'm going to just make a list of things that can improve structures. I'll try to get examples of every one of these, eventually:
Patterns: Patterns are usually for walls, as mentioned above.
Trim: Trim can be many different things. Here, the blue is wall trim, and the red is window trim.
Balcony/Patio: Here's a simple balcony. These can be built in, as such, or more complex. Usually, they're about like this. The lower covered section can be considered as a patio, since it's at ground-level.
Tray-Ceilings: These usually refer to ceilings that gradually go up in levels, as shown.
Pools
Gardens: Gardens can be as simple or as complex as you want them to be!

Recessed Lighting: This is one of my favorites. Glowstone in floors and ceilings works well for lighting in more "modern" style houses. It can also be placed on the ceiling, and surrounded by trap-doors, which looks pretty nice as well.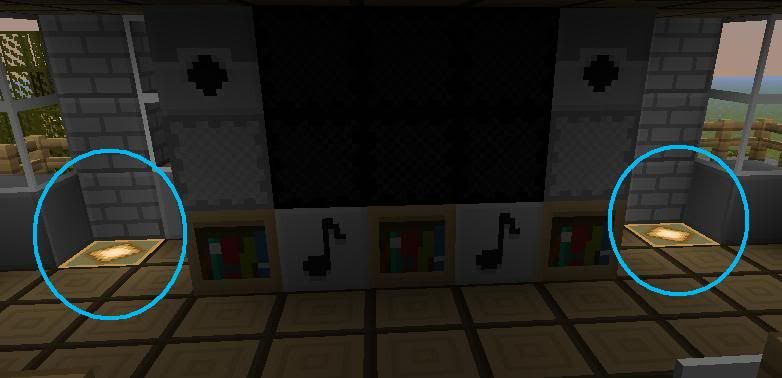 *Any suggestions can be added, I just got tired of listing everything that came to mind.)
-- -- -- -- --
Alright. I guess it's time we start on something, shall we? I'll go more into theory around buildings placement and design after we cover this.
To start off, let's take this very plain, very basic house:
As you can see it's all one material, and rather drab. It could be your first night in Minecraft, which is perfectly understandable. However, if you've got a chest full of diamonds in your basement, I think it's time you make some changes. First, I'm going to change the house so that it has a cobblestone trim:
Now, it's getting there, slowly. Next, we can work on that roof! Often, roofs don't work that well with whole blocks on smaller structures. They make it feel very "boxy" and cramped. For smaller homes and buildings, slabs often work well: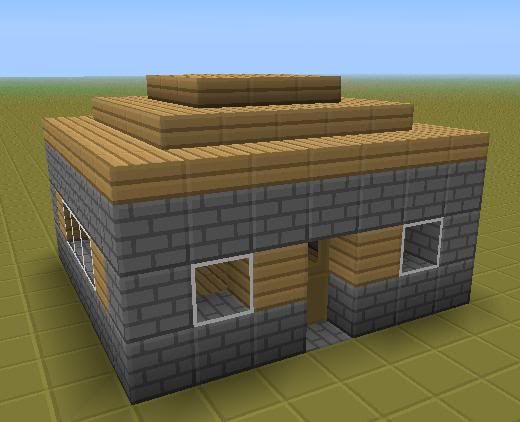 That's pretty good! The house is still lacking alot of personality, though! Let's work on some exterior details! I'll add some plants and other details around the house, and a fence as well:
Now that's looking alot better! This is just a
small example
of what can be done with a few small adjustments.
-- -- -- --
So, time for a bit of "building theory" and whatnot. Here's a few basic things to ask yourself before you build.
* What am I building?
* Where am I building?
* How big is my building going to be?
* How many resources will I need to finish my building?
If you can clearly answer these questions, you're in good shape to prepare for buildings!
-- --
Now, some cliches that definitly come into play:
"Location, location, location."
- Yes. Location is EVERYTHING. I can't tell you how many cool buildings I've seen ruined by just a bad location for them.
(Pics coming)
"Bigger is better."
-Yes, and no. Sometimes, yes, bigger is better. It all just depends on the structure in mind.
-- --
Planning Structures and "Prebuilding":
If you don't have a plan, things can still turn out alright, but there's more room for error. Personally, to plan, I use MS Paint and Minecraft Structure Planner, and PAINT.Net, occasionally. Being able to plan what you build before you actually do can really make a difference. It allows you to see things in perspective really well. I recommend you use these programs as well. Here's some examples of what planning can do for you:
A simple MS-Paint plan that would be extremely difficult to visualize without a representation of it.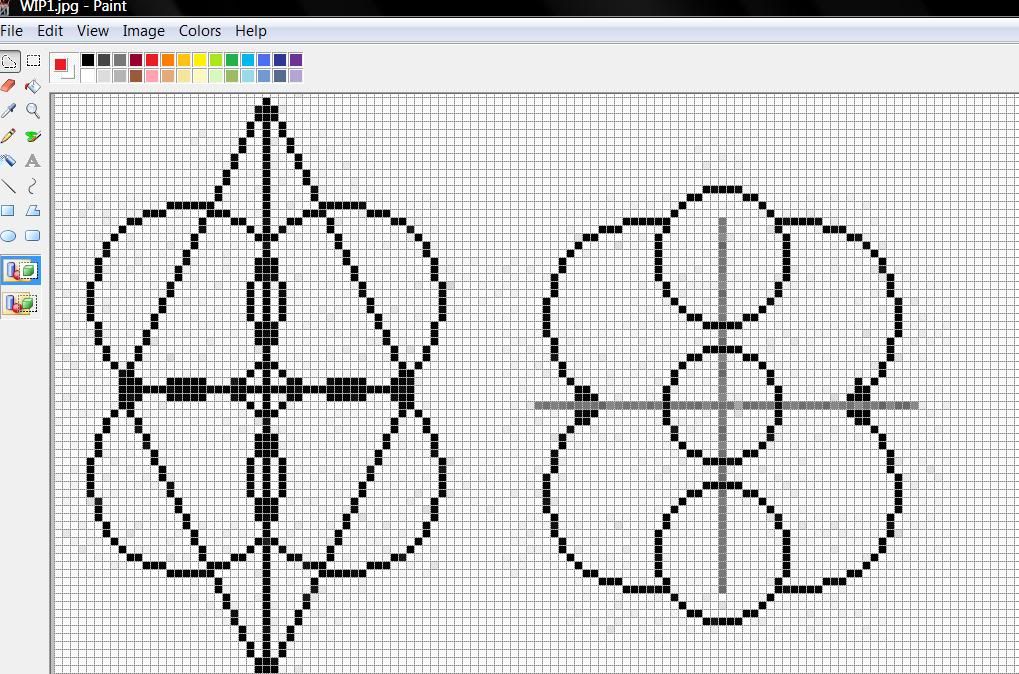 And, Minecraft Structure Planner, which allows you to design your buildings from the ground up, and render them in 3D!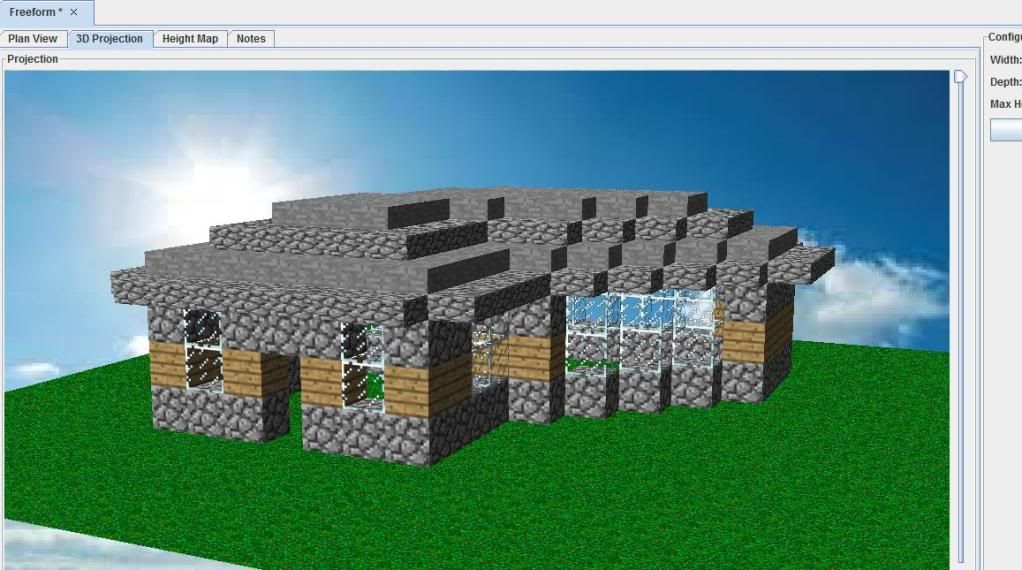 -- -- --
*This "guide" is still largely a WIP. Please be patient with me while I assemble the post! Thanks! :biggrin.gif:*
Hopefully this guide has helped you (and will continue to do so) with your building and planning in Minecraft! Stay tuned for more, and if you've benefited from them, don't forget about the +REP button in the bottom corner of each post! Thanks!
Last edited by
MercMan
: Jul 27, 2011