AdminsUNION
Tree Puncher
Join Date:

2/4/2013

Posts:

13

Member Details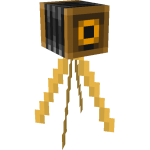 A
dmins
U
nion is a *new* community based structure of admins and server professionals who server jump to assist those in need. Server owners everywhere need help time to time, and help isn't always there. This forum post is about Videos, and the process it takes to get one for free. (There is no process, really. It's quite simple.)
Servers are becoming extremely popular in Minecraft, and for server owners, getting players can be a daunting task. Usually, it takes time, money, and patience to make a high-quality server trailer to attract players, but not using Admins Union.
If you do post a forum request, include a detailed paragraph about your server, tell about the story and how it works, and give the ip, the director will join your server and check it out. If its a worthy server (Some more than others are worth making a trailer for. If it's small and is nothing but regular Minecraft, it requires no trailer.) the director will start filming right away and even get it done within hours of production.
Types of trailers:
Cinematic - landscape shots with music / 1-3 mins / 2-3 hours of production
Story - Landscape and structures with music / 2-4 mins / 3 hours - 1 day of production
Short - Landscape w/ structures w/ short music / 0:30 - 0:50 seconds / 1 hour of production
Other - You decide what you want.
Free:
The only thing we ask of you is your time and your patience.
Where to get a free trailer at?
Make a post here!
/OR/
Skype:
Kapucraft
/OR/
Email:
[email protected]
How good are you?
Here's some of my work!