AJDevelopments
Out of the Water
Join Date:

3/18/2022

Posts:

2

Member Details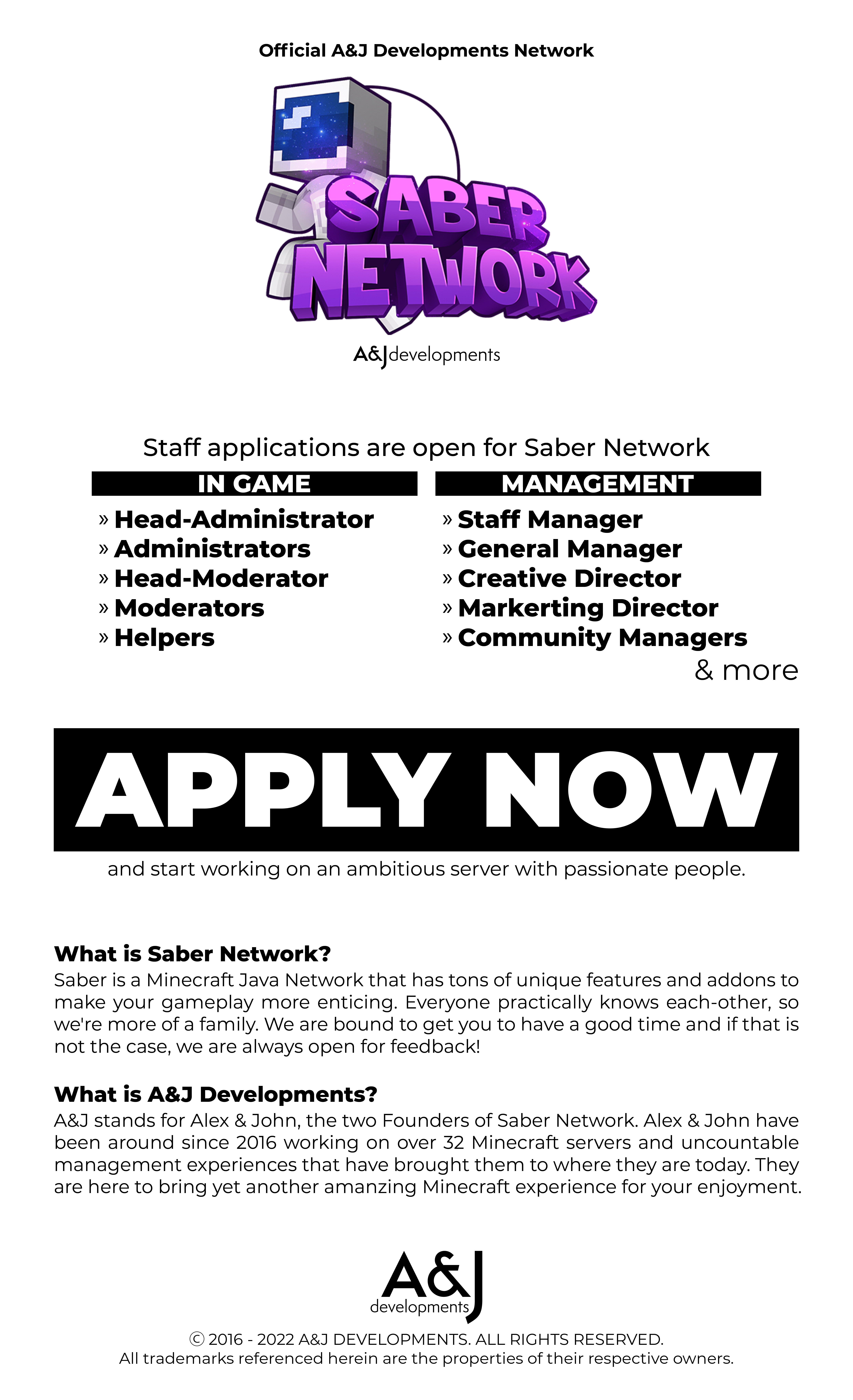 Apply Today!
Saber Network is looking for volunteers to join the staff team with various positions to fill. All the way from the in-game positions to more management-appointed positions.
Join the Discord Community: 🔗 https://discord.gg/T34Vv5Baz6
From A&J:
A&J is in the process of going back to their old ways of getting new experiences in front of new people. A&J have had a following for a couple of years, but the following has been decreasing ever since COVID-19, with all the thought that went into making some of A&J's old servers they are coming back to execute something great.
"We are glad we can continue to change lives and alleviate people's boredom at home."
About Saber Network:
One of A&J's current projects is Saber Network. Saber Network is a forthcoming Minecraft Server Network starring Survival, yup, just survival. JUST KIDDING, not just survival, Saber Network is in the process of redesigning the Minecraft survival experience. A&J comments; "Regular survival has been around for way too long, we need to spice it up." says John. With this in mind we can guarantee that A&J's efforts will be brought forward contemplating this the whole way through.
Progress:
Since this server is being brought up entirely from scratch a lot of initiation and preparation had to be done, such as;
Designed a brand entity for Saber Network
Staff Application & Recruitment Process
Purchased Hosting, Domain, and Website
Installed an archive database
These are just some of the few advancements Saber has made so far and in order to proceed Saber is in need of staff.
Open Positions:
Please join the Discord server for further opportunities or information.
A full list of positions can be found here: 🔗 https://airtable.com/shrAnRRFUBkHAlADt.
How to apply:
Requirements
Able to contribute at least seven hours a week to Saber Network
Interest in bringing joy to people and wearing many hats
Fluent in English
14 years of age and above (position-specific).
By being present in the Discord Community, it is quicker for all of us to communicate. We are using Airtable forms for the application process. Using the link provided, fill in the required details and we will get back to you shortly using Discord.
Join the Saber Network Discord server: 🔗 https://discord.gg/T34Vv5Baz6
Complete this application form: 🔗 https://airtable.com/shrKgd75WhW2Ej4p0
Reply in this thread to let us know you have submitted your application!
Thank you for taking an interest in Saber Network!
All the best, the A&J Developments team.