Drenrin
Stone Miner
Join Date:

6/8/2012

Posts:

72

Minecraft:

drenrin2120

Member Details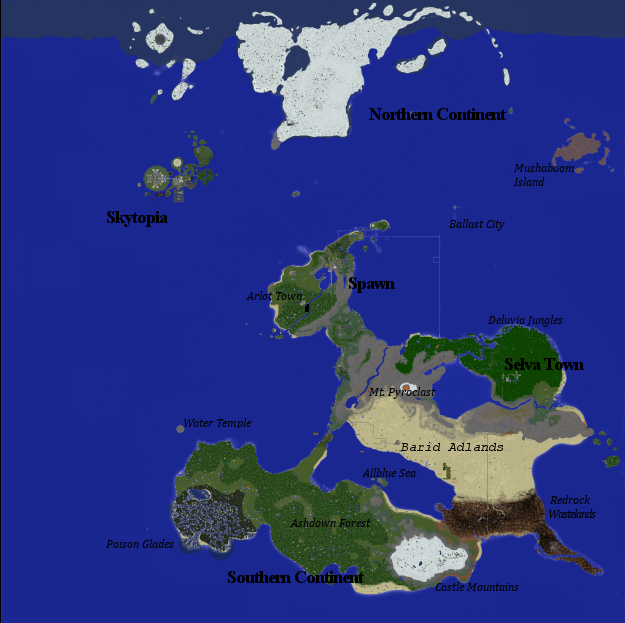 Server IP
198.24.181.242:31963
Expected Up-Time: 24/7
What You'll Need to Join the Server
You must have forge version 10.13.0.1190. No other version of forge will work. You must be running the same version of forge as the server or you will receive weird errors when attempting to connect.
You must install our modpack or install all the mods loaded to server individually. Scroll down to find a download link.
What is playing on the server like?
Super Massive is intended to be the marriage between survival PvP and singleplayer Adventure Maps. It's an MMO style server while simultaneously it is not. Mining, building, and exploring vanilla style terrain, called the Wildlands, is encouraged. Once you've amassed a trove of resources, armor, and weapons, you can take what you've forged and venture into the sprawling 5000x5000 block adventure map! (which is a massive WIP, btw) Or you can plunge head long into the adventure and gather coins to arm yourself. Take on quests, explore dungeons, find loot, peruse shops for the best item and deals, defend yourself against other roaming players; this is what minecraft is all about!
The Eight Commandments of Super Massive


1. Thou shalt not lay siege upon protected regions.
Laying siege is defined simply as any person(s) surrounding a protected, non-pvp zone and waiting for unsuspecting players to leave the zone. This includes private and public protected regions. Punishment for laying siege is no more than 7 days in jail, confiscation of entire inventory, or permanent banishment for repeat offenders.
2. Thou shalt not camp upon the spawnpoint of another player.
Spawn camping is defined as discovering the respawn point of another player and repeatedly killing them every time they respawn in order to steal their goods or otherwise troll the **** out of them. Punishment for spawn camping is no more than 7 days in jail, confiscation of entire inventory, or permanent banishment for repeat offenders.
3. Thou shalt not grief with Protection Stones.
PS Griefing is defined as using the server designated protection stones [Iron Block, Diamond Block, Gold Block] to purposefully grief or disrupt the borders of other player's claims. Placing protection stones on objects which you did not build is also forbidden. Breaking protection stones which are not yours is also forbdden. PS Griefing is punishable by no more than 5 days in jail, loss of the protection stone used to grief, or permanent banishment for repeat offenders.
4. Thou shalt not harass thine fellow players.
Harassment is simple. Any sexist, racist, homophobic, or otherwise bullying type of behavior done or said in order to belittle, annoy, dehumanize, degrade, etc.etc., another player is intolerable and may result in muting, jailing for no more than 1 day, or permanent banishment depending on the severity and recursion of incidents.
5. Thou shalt not swear excessively or otherwise spam the chat with thine nonsense.
Excessive vulgar language and spamming of the chat may result in muting or jailing of no more than 1 day for serious offenders. Length of time muted is dependent on severity and recursion of incidents.
6. Thou shalt not cheat using unauthorized client-side modifications
Use of X-Ray or other mods designed to point your towards ores are prohibited. Use of mods designed to help you pass through walls, fly, or otherwise break or get around server rules and permissions is highly forbidden. If found using any of these mods, you will be immediately banned.
7. Thou shalt please refrain from nerdpoling!
While nerdpoling is not forbidden, we ask that you please remove the nerdpole when you are done. This also applies for floating trees, don't leave them around everywhere, please. If caught leaving nerdpoles unattended, you will be warned. Depending on the amount of infractions, a mod or admin may decide to jail you for a time determined at their discretion.
8. Thou shalt not grief protection borders or other player's structures.
Destroying other people's constructions or griefing around player's protection zones is strictly forbidden, whether the zone is completely protected or not. We strongly urge people protect everything they build, but going around being a **** to other players simply because you can will not be tolerated. Griefing in general is punishable with jailtime or permanent banishment for repeat offenders.
If we know you're lying and you lie to us anyway, your sentence will be extended.
And there in lies the main point. Don't be a **** to other players. Trolls will be dealt with swiftly and mercilessly. Admins and mods may decide to skip jail time and immediately ban you if are uncooperative and belligerently an asshole.
What is the community like?
We are in the early stages of development and are looking for new users who are just excited about this world as our staff is. Currently, there is no white-list needed, but this may change in the future.
You can join the discussion at
supermassive.freeforums.net
Mods loaded on the server.
If you want to support the server, the best way you can do so is by supporting the mod developers that allow us to package their mods and play them for free. They spend countless hours developing and maintaining these amazing mods, show them some love!
AQUACULTURE by Shadowclaimer
BIBLIOCRAFT + ADDONS for NATURA by Nuchaz
CRAFTGUIDE by Uristqwerty
CUSTOM NPCs by Noppes
Biomes O' Plenty by Glitchfiend
TINKER'S CONSTRUCT by mDiyo
METALLURGY 4 by Glassmaker
EXTRA TiC by Glassmaker
TWILIGHT FOREST by Benimatic
UNDERGROUND BIOMES by Grom PE
WILDCAVES 3 by Alexmania
NATURA by mDiyo
ORESPLUS by TheTorbinWren
Disclaimer: If you are ever redirected through an adfly link or asked to pay money, the poster is not a legitimate distributor of the Super Massive Modpack. All current versions of this modpack will always be available to download for free through this forum.
Neither I or the mod developers are responsible for any damages or corruption caused to your minecraft worlds. Modding minecraft always come with its risks. By downloading and installing this modpack you accept you are taking those risks. Remember to always back up your worlds!
current version: 1.7.10-2.0
Last edited by
Drenrin
: Oct 9, 2014
Check out our server and visit the
forums
today!