Wadifok
The Meaning of Life, the Universe, and Everything.
Join Date:

8/25/2013

Posts:

44

Member Details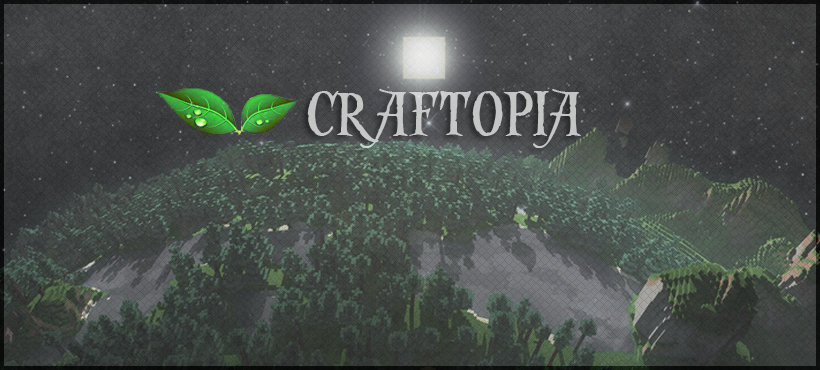 Hello fellow Minecrafters!
Craftopia is a server based on both community and solo building projects, designed to allow each and every member of the community to have free will in their pure vanilla experience. It's a Vanilla whitelisted survival server with no mods, perks or what ever at all. Just clean and pure Minecraft.
Are you a good builder? Build something nice! Do you like trapping mobs or just the raw survival? Go ahead and do it your way! Since the start of our server a few weeks ago we made a lot of progress. At the moment we are busy completing our town hall, a netherhub, an enderman farm and much more. It's good to tell you guys that we've just slaughtered the evil ender dragon.
We want you to hang around with us on teamspeak, and share with us your great adventures. That means that if you have no microphone you can not share these amazing (because they will be) stories with us. Be creative (we can't say it enough)! Have nice ideas, come up with games/buildings/shops or what ever to help and give shape to this barren wasteland. Know that every man was created (or whatever you believe in) equal, so in minecraft that'll remain the same... No ranks, no OP's.
Some more information: We want you to be 18+, creative, resourceful, nice, social and friendly. We also want you to have experience with playing Minecraft (even if it's just singleplayer for a long period of time) and that you're an active player willing to contribute.
There is still much more to be done and we're waiting for you to lend us a hand or come up with great and awesome community projects yourself! Your creativity and resorcefulness will help create a positive and talented community atmophere to make your stay more enjoyable and never ending.
Fill in this application below now if you feel like this could really be your home for the years to come and grow with us to very top! (We only take the best, so put some effort into it)
APPLICATION
Ingame name:
Age:
Skype:
Are you a teamplayer:
Are you active:
How long do you intend on staying here:
Country:
Do you speak English:
Will you use our teamspeak:
Experience with Minecraft:
Reason for joining:
Reason why we want you:
RULES
NO GRIEFING, pranks are allowed to a certain extent
No stealing
Respect towards other players
No advertising
Implement "Stinky Cheese" somewhere in your reason of joining
No cheating, exploits, hacks
Be mature (attitude, language, etc)
Last edited by
Wadifok
: Oct 22, 2013