pork101
Coal Miner
Location:

NY, New York City

Join Date:

10/21/2011

Posts:

107

Minecraft:

inheritedkilla

Xbox:

inheritedkilla

Member Details
LockedUp A Smexy Prison Server!
A PRISON THEMED SERVER WITH A
TWIST!
IP: play.lockedupmc.com
**
SLAMMED IRON DOOR
** You been Locked Up, because of your crappy attorney, to a odd and different but yet interesting prison. One that cares for your needs and haves weekly events. Being Locked Up doesn't seem that bad at first, but then you are judge by your skill of defeating other prisoners (in riots or guards) Which most definitively show what role you take place on the prison. Role 1 : Will you be a Guard and Command your own Squad to protect inciendent prisoners? Role 2: Will you chose the dark side and be part of a Powerful Prisoners? Role 3: Perhaps you will be a friendly prisoner and do what you are told and earn the title Released. We will see! COMING SOON!
WE AREN'T JUST ANY PRISON SERVER, WE ARE SMEXY and or Sexy, Shexy etc...
No advertising other servers
No hacked clients
No spamming
No mods (optfine is allowed)
No X-ray texture packs
No harassment
No prison griefing or major griefing inside the jail (and outside of a radius of 100 blocks)
No exploiting, bugs, glitches, or loopholes.
No disrespecting the upper class ranks (Elite+)

This is the default rank you get when you join the server for the very first time, Welcome!





15K after C-Prisoner encounter new mines and Fishing!




30k from B-Prisoner and be amaze with new mining(Smexy)areas and new ways to rank up and gain EXP to enchant!



60k from A-Prisoner Worth the Time and Encounter a beach and Fully Custom Cell Blocks and more secret areas to witness.





110K From Superior you now can finally leave the jail and be a free!! and enter the the city's ghettos





See Donor information below.
starter guard
Step 1 complete, having some control over the jail as guard you bring order to the jail from PVPers. Beat a Warden Or Elite-Guard 2/3 Or 1/3 to get Novice A.k.a. (step 1 50% complete)
More commands

Step 2 complete, Now With the title of Trusted you now can leave jail (Such as a Free not a Citizen) and have access to all sectors. With more commands you gain more control over the jail (To get Superior-Guard you must get recommended from your peers and Wardens. Ask for the rank and you just ruined you chance of earning the rank
Step 3 Complete, Complete control over The jail Tip: Don't mess with the Wardens

GENERAL RULES:
Do not use any mod, hack or 3rd party program. (X-RAY IS BAN ON SIGHT)
The ONLY exception we allow is Optifine.
Do not spam the chat.
Keep chat fights to a minimum. If asked to stop, STOP. (or get muted)
Do not glitch out of the prison. If this happens accidentally, notify a warden and you will be teleported out. Anyone caught on a roof without a good reason will be jailed or banned.
Do not sneak into other sectors (blocks) of the prison if you are not part of that sector. (1st Time is Temp Ban and Cleared Inventory 2nd Time, is Ban)
No griefing mines - Only acceptable items in mines are workbenches, furnaces, and torches. - Adding water or lava to a mine WILL result into a 3 hour ban.
No Tree Farm griefing - Breaking/stealing saplings, building structures, planting non-birch saplings, etc. Will result a 10 minute jail time while more serious griefing will result to a 3 hour ban.
PVP RULES:
NOTE: Remember, this is a PVP server; PVP is not against server rules. However, if a guard witnesses a fight, they will kill all who attack regardless of who started it. Killing the same guard 3 times in a row can result in temp jail. (5-10 min)
1.) Never be in possession of Restricted items.
If a Guard sees an item, he/she will count down from 5.

If you do not hand it over, the following will happen:
In a PVP-Zone: The guard will attack
In a Non-PVP Zone: The Guard will jail you for 5-10min.
(Running from PVP to Non-PVP can result in jail time)
2.) Do not camp the spawn, work areas, shops, etc.
This includes camping PVP borders and wait for people to leave, as well as attacking from Non-PVP.

3.) Do not run to Non-PVP during a Guard fight
The Guard will count from 5. If you do not exit again to fight, you will be jailed. Hopping across the border multiple times in order to beat the system will result in jail time. Using warp signs to escape a Guard fight will also get you jailed.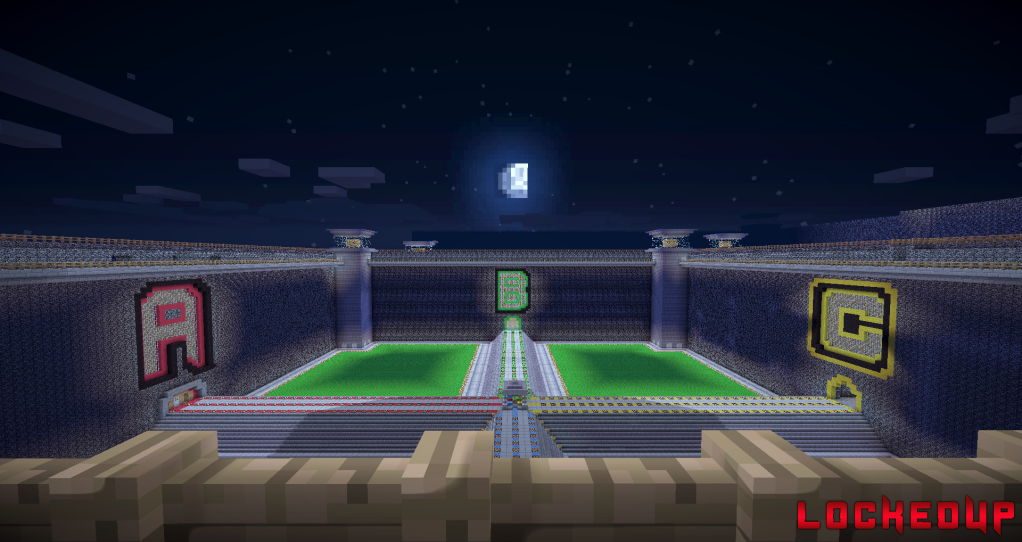 Your app should stand out from the rest. If it looks like it was made without much effort or time,
You should be a strong PVP'er. Though this is not the most important thing, you should at least know the basics.
You must know the Guard rules.
You should be mature and polite in-game and on your application.*Get to know the Wardens and Guards, good recommendations from them will Help you Out in the long run.
If a Warden decides that you are unfit for the position, you may be demoted at any time without warning.
Use common sense while guarding. If a rule is not defined, decide for yourself what is the best action.
When/if you become a Guard, ask to join the guard faction.
1) IGN:

2) Your age:

3) How did you find us?

4) Have you read the Server, Prison, and Guard Rules?

5) Any experience with the prison genre?

6) What is your general location? (USA, Europe, Asia, etc.)

7) Why are you the best choice for guard?

You are allowed to kill anyone that attacks you or another prisoner. If a prisoner is being attacked but does not fight back, do not kill the victim unless he/she fights.
If a RESTRICTED item is seen, tell the prisoner to give it over. If the prisoner does not comply or tries to run, you may kill him. If he is in a non-PVP area, jail him. (Countdown If He/She Has The Item In a NON-PVP Area)
NO GRUDGES. If a prisoner kills you, you may not spawn, find him, and revenge kill him. You must wait for the prisoner to attack you again.
Put "Killa & SmexyDusty " somewhere in your app or you will be denied No joke.
Use /kit wep for your guard equips, /kit food for food, use /Kit Pot for a strength potion, And Use /kit arch bow and arrows. Use these cautiously.
Temp jail players with /jail name time. Time is in minutes. Jail players for killing you three times or more, spawn killing, camping, etc.

We Only accept through paypal.
Include your IGN in the "notes" section of the donation
All Of the Donations goes toward hosting the server
Donations are non-refundable
Your perks are guaranteed unless you are banned derp...
PLZ PLZ PUT YOU IGN IN THE PAYPAL DESCRIPTION

Donation of $5
$7,000 in-game cash.
Donation of $10
Name color of your choice.
$25,000 in-game cash.
Donation of $15
Name color of your choice.
$38,000 in-game cash.
Access to Donor Block.
Donation of
$20
Name color of your choice.
$45,000 in-game cash.
Access to Donator Block.
Prefix of your choice (Example: [Beast] [Warden] killerzombies)
Donation of
$30
Name color of your choice.
$50,000 in-game cash.
Access to Donator Block.
Prefix of your choice (Example: [Beast] [Warden] killerzombies)
More Perks coming...
Last edited by
pork101
: Aug 1, 2012
"I climbed the tree to see the world"