cobrex
Coal Miner
Join Date:

8/16/2017

Posts:

121

Member Details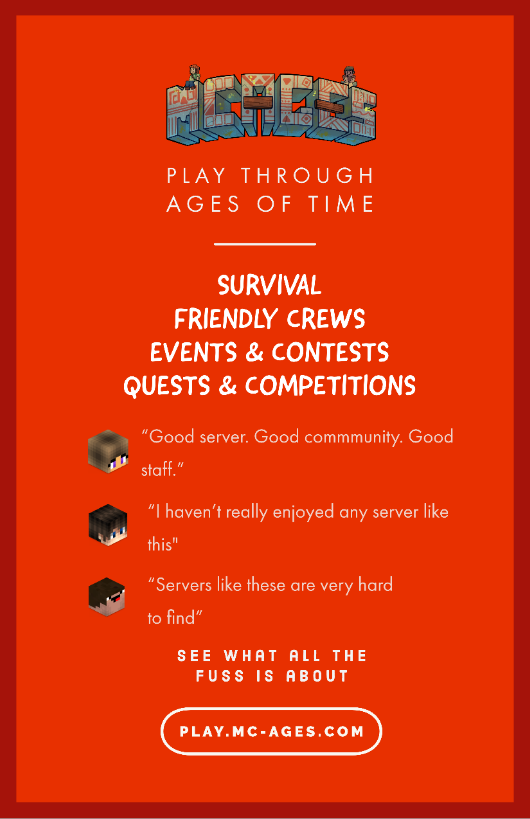 MC-Ages now offers cross-platform compatibility
Java and Bedrock players can play together.
We are are now fully updated to 1.20.x on all our main survival servers
Connect to our severs using 1.8.x - 1.20.x and Bedrock 1.20.x
Come and join the fun!!
We offer the following game servers to play:
Industrial - Traditional Survival with Grief Prevention protected claims and addons
One Age – Our new oneblock server, offering Quests, Enchants, Generators, Minions and much much more
Towny - Survival with dungeons and custom boss maps
Dark - Survival (a harder game version and Industrial) with custom bosses, enchants and dungeons
Sky Block - Islands in the sky
Park Age - Our theme park mini game server with Bedwars, TnT Run, Block Party, roller-coasters and more!
Bedrock players, please visit our web-site (www.mc-ages.com) for how to connect to our Java servers.
You will be grey-listed at the start. Reply to this thread to be white-listed for all basic in-game commands:
1. Minecraft Game Name:
2. You have read the rules:
3. Suggestions on how we could improve/change the server:

<strong>We are looking forward to saying hello.</strong>
Last edited by
cobrex
: Jul 14, 2023