KevinJ
Forum/Wiki Sponsor
Location:

Join Date:

8/4/2010

Posts:

209

Member Details
Use Promotional code 60minecraft to get 60% off your first month on any Minecraft server.
Germany location special E3-1270v3 processor, 4GB of RAM is $30, 6GB is $40, 8GB is $50, 10GB is $55, 12GB is $60 monthly.
Persistant discount, pro-rated refunds still available.
8GB and higher includes a dedicated physical core. Just pm me your email and the package you'd like to order.
If you're coming from another host, get an extra 5 days free to get settled in(Just mention it in the order notes, we trust you). We do free migrations from other hosts as well so you can sit and relax.
Highest Rated Customer Service, check forums, review sites, Google, anywhere, to hear about why you'll be happy with JestServers.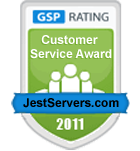 Winner of the best customer service award from
http://gsprating.com/jestservers
We are an established registered company(LLC) since 2006 which means your server will be around until you cancel it.
JestServers.com was the first company to host SMP servers, come join our experienced team!
JestServers is the only hosting company in the world with pro-rated no fee refunds available at any time on all game and voice servers which shows our confidence in our service at no risk for you.
This allows you to cancel at any time, and receive the remaining time back to your bank/Paypal/billing account.
We offer this as we understand things happen that can be outside of your control.
We have the approved host Minecraft 5 day refund policy as well on top of this.
Your server automatically installs within a couple of minutes of paying for it and you will receive an email with all of your information including server join IP, web control panel and FTP.
Everything is ready to play automatically.
CraftBukkit is fully supported and comes installed and updated by default with the Mod Packages. Dev and Beta builds are also available minutes after they are released. Want a specific version of CraftBukkit? We've got that too.
Main Features:[/b]
We don't restrict the number of players on your server, though you can set this value.
Specialized in providing lag free servers even at 80+ players
Top of the line performance, no one has yet beat our performance per Gigabyte.
New Solid State Drives allow for much quicker World Saves, very quick chunk generation, WorldEdits and more.
Dedicated IP address and default port provided for all US servers and most EU servers. You can change this if you desire though.
Updates/builds for Minecraft and CraftBukkit are one click, as well as other tools.
RAM amount purchased is actual Physical RAM Dedicated to your process, not virtual ram or shared.
Upgrade, Downgrade, and Cancel at any time without fees.
Full support for Craftbukkit, Spigot, Technic Packs and plugins. ModLoader, McMyAdmin and more are also available.
Upload your own plugins and files via FTP or File Manager.
Live chat support, award winning support.
Pre-Releases, dev and beta builds are available on both the Vanilla and Mods package.
Having trouble with a plugin and the forums don't have the solution? We're here to help.
Free dedicated Linux MySQL server and full featured Cpanel hosting on a 1000mbps connection with global peering for the Mods package.
Stream log files and more live from your browser(very useful).
Ability to run multiple worlds. Have one for public server days, or a private world for yourself and some friends. Multiworld supported for mods package.
Free server migration to save you time and bandwidth.
Automated Cartograph map generation and daily backup every 24 hours.
Edit configuration files and more from your web control panel.
Use plugins like RemoteToolkit and MCTelnet for full console access and automatic restarts, or use chat/irc and file editing.(TCAdmin 2 will allow direct console access)
Automatic Crash Recovery.
URL's are also available such as smp.jestservers.com instead of an ip address for free.
Multiple Admin Levels for TCAdmin to control the server or edit files.
Pro-Rated refund policy, no other company offers this, if for any reason you no longer want your server, receive a refund for the remaining time left on your account back.
Special Package:
5120MB of Dedicated Physical RAM for Minecraft, all files on SSD.
Local MySQL Server on SSD.
Free 150 Slot Mumble.
DDoS Protection which is standard.
Free Connect URLs (____.jestservers.com for example)
50% off our web hosting packages for as long as you have the Minecraft server active.
$99 Monthly, $279 Quarterly, $549 Semi-Annually.

Contact us on here or at http://jestservers.com/contact
We specialize in large Minecraft servers and will give you the best deal you can find on large orders, contact us today for a quote.
Vanilla servers can easily be upgraded to the Mod Package, and vice versa by request.
We use dedicated servers in 11 different datacenters, though if you need another location let us know.
Server moves are fast, easy and free to other locations if requested, and we can do ping test from all of our servers to find you the lowest latency.

The notes are a guideline for where rent your server, all datacenters are the best found for each area tested daily:
New York City, New York (Extensive global peering, extra DDoS protection)
Dallas, Texas (Extensive peering for the US, Mexico and Canada, extra DDoS protection)
Chicago, Illinois (Extensive peering for the US and Canada, extra DDoS protection)
Los Angeles, California (great for overseas and Australia, DDoS protection)
San Jose, California (great for overseas and Australia, extra DDoS protection)
Atlanta, Georgia (great peering to US and southern islands, DDoS protection)
Falkenstein, Germany (great for global communities, extra DDoS protection)
Paris, France (great for global communities, extra DDoS protection)
Rotterdam, Netherlands (Global peering, extra DDoS protection)
Orlando, Florida (great for overseas, extra DDoS protection)
Coventry, UK
Since we only use premium bandwidth, players from over a thousand miles away will still experience lag free game play. Those with good home connections can connect to our servers on another continent with no noticeable lag.


[b]Hardware and Bandwidth Information:
These are 24/7 servers on dedicated enterprise hardware with premium multi-carrier bandwidth and routing(not a VPS, oversold, shared or home connection).
This is one of the many things that makes our performance top class. We make sure not to get anywhere close to overloading a box by our automated load balancing system as well as manual daily checks.
This is very important as even if someone has amazing hardware, putting too many on one box will slow it to a crawl. We simply don't crowd our hardware.
Minecraft Server Processors are 3.50GHz to 4.1GHz per Core Xeons or greater, loaded with 32-64GB of DDR3 ECC server grade RAM and a 1000MBps dedicated connection.
Solid State Drive arrays to greatly speed up world save time, chunk generation, WorldEdit and more.
This is an optimum setup as Minecraft currently is single threaded, and thus faster cores are better than more cores(though we've got plenty of cores too).
Network availability in the datacenters we use are 100% SLA.
Network is multi-carrier with intelligent routing, meaning less latency and better PvP; more details can be found under the About section on our website.
We currently have tested our setup with Craftbukkit/Bukkit, McMyAdmin, Hmod, MCAdmin, Llamamod, Runecraft, RemoteToolkit, Modloadermp, PhoenixTerrainMod, Canary and more with great results.
We can support other wrappers, mods and options, just ask.
We can custom build a dedicated hardware server for you and colocate it in the location of your choice.
These have a setup fee, but start at $209 a month with 10TB of bandwidth and powerful hardware that is entirely yours to use as you wnt.
Servers over 6GB are eligible for a free Dedicated Core upgrade if desired.
Modified TCAdmin(included for free) powers the server interface, allowing web based access to permissions, whitelist, banlist, server.properties and more.
Multiple admin levels are available to features such as web based txt editing and easy configuration of files(admin has all by default).
Stop and Start your server from TCAdmin and the ability to reinstall the server from scratch or create a new world.
You can checkout our site at
http://jestservers.com
or place an order at
http://www.jestserve...7.
JestServers is a customer satisfaction oriented company that specializes in making sure your gaming performance is the best possible.
For those who prefer a VPS setup,
http://lowlatencyservers.com
has specialized hardware and software built especially for Minecraft.You won't be disappointed, but if you are you can take advantage of the pro-rated refund.
Last edited by
KevinJ
: Dec 2, 2013
I am a representative of JestServers.com