creepercraft97T3
Coal Miner
Location:

Hopefully in Finland soon

Join Date:

12/21/2015

Posts:

134

Location:

USA for 2 more years

Minecraft:

creepercraft97T3

Xbox:

creepercraft973

PSN:

none

Nintendo:

none

Member Details
So I got bored in class today and just like the infinite screenshot (look at my signature), I came up with an idea that I wanted to try. This one would test the limits of what the chromebook can do without crashing. I decided to try to fit the most characters into the smallest space possible and I got 1,048,576 apostorphes into just over 7 pages in google docs. Now this is only in google docs. Other note sites might be able to do that in more or less pages but I will go by google docs today. I used the following tricks to lower the amount of space I used:
1. apostorphes (character that takes up smallest space)
2. font size 6 (smallest font in google docs)
3. font Saira Extra Condensed thin style (most condensed font in google docs)
4. erased all margins from existence (to make less unused space)
5. set line spacing to single (again to make less unused space)
6. put all characters into subscript style (to make it even more compact)
However, if I close and reopen it, it just crashes because of the sheer amount of characters that need to load and even if I zoom out to the farthest I can go (50%), I can only see about 200,000 characters at a time max.
Why don't you try to put over 1 million into 7 pages or less? I would be happy to see what you can come up with and if you have any more tips on how to condense the characters even more it would be greatly appreciated. Thanks in advance.
Here is an infinite screenshot for all your infinity needs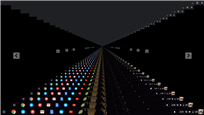 But of course, its not truly infinite...