creepercraft97T3
Coal Miner
Location:

Hopefully in Finland soon

Join Date:

12/21/2015

Posts:

134

Location:

USA for 2 more years

Minecraft:

creepercraft97T3

Xbox:

creepercraft973

PSN:

none

Nintendo:

none

Member Details
I know that many of you may not know what I'm talking about, but I'm gonna ask this here anyways.
Vacuum Decay is an event when a quantum field collapses into a lower ground state. This will cause a "bubble", which will essentially be a new universe, that will expand at the speed of light in all directions basically deleting everything it touches from both universes. This new universe will have different laws of physics from ours and this might be how our universe formed (keep in mind I am oversimplifying things in this paragraph).
However, if our universe did in fact occur from this, then why is our universe's expansion allowed to be faster than the speed of light from OUR physics instead of the previous universe's physics? Does this mean that if vacuum decay occurs for us and the new universe's physics allow the new universe to expand faster than light, it will be able to expand faster than the speed of light in our universe? If the answer is no, could it be that the reason our universe expands faster than light is because of the previous universe's laws of physics?
Thanks in advance for reviewing my question and sorry if you didn't understand it. Also, just because this is a question that requires a lot of knowledge doesn't mean I copied and pasted it from another site. Some other person accused me of that when I asked the question on discord, so I'm just putting it out there in case anyone else is thinking the same thing.
Here is an infinite screenshot for all your infinity needs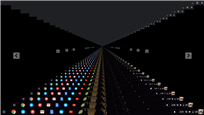 But of course, its not truly infinite...