Xzalander_Server
Carpenter
Join Date:

8/25/2009

Posts:

40

Member Details
I got put onto this game by a few Friends over at PCGamer chat:
Rock Paper Shotgun Tutorial + Dwarf Fortress Mayday's Greentileset
Imagine a very complex version of Minecraft, take away the 3D perspective and throw in a bog load more and you have Dwarf Fortress.
Like Minecraft its still in its early days, Alpha I think, but already its gotten spectacularly huge.
It even has a few simple to use programs that alows you to 3D-ify your Fortress and the surrounding terrain.
Heres a screen of one of my old forts, it doesnt do it much justice so I'll put more of my current one up soon.
To explain a little what youre looking at here:
Deadcentre is four Staircases which lead down to the Fort proper, this is only one part of my fort as it has another entrance south of here. This is the residential sector where all the Dwarfs live. The yellow is Sand, The Arrows are slopes going upwards.
In the bottom left corner of the Screen is the Number 146. This is the current z-Level or the Vertical Level. 146 is always Ground 0 also Mean there are 146 Levels going upwards (Blue means above Ground 0) and 146 to 255 is Subterranean.
To make it interesting youhave various things like Underground pools, rivers, magma pools and rivers, Acquifers and almost every imaginable resource to be found unground from Jet, Diamonds and such to granite and limestone.
Everything has to be build with construction in mind so building a tower needs actual scaffolds unlike MC where you can build ontop of where you stand.
Im rambling a bit but last few things about Dwarf Fortress you can do anything from building VERY complicated traps using water flow and lava (otherwise known as the Obsidian Tomb) to simple "brick falls on head" pressure plates.
Also the constructs you can make range from simple cave to monolithic proportions like this > (Image generated using the 3d viewer,not my creation:Source facepunch DF player)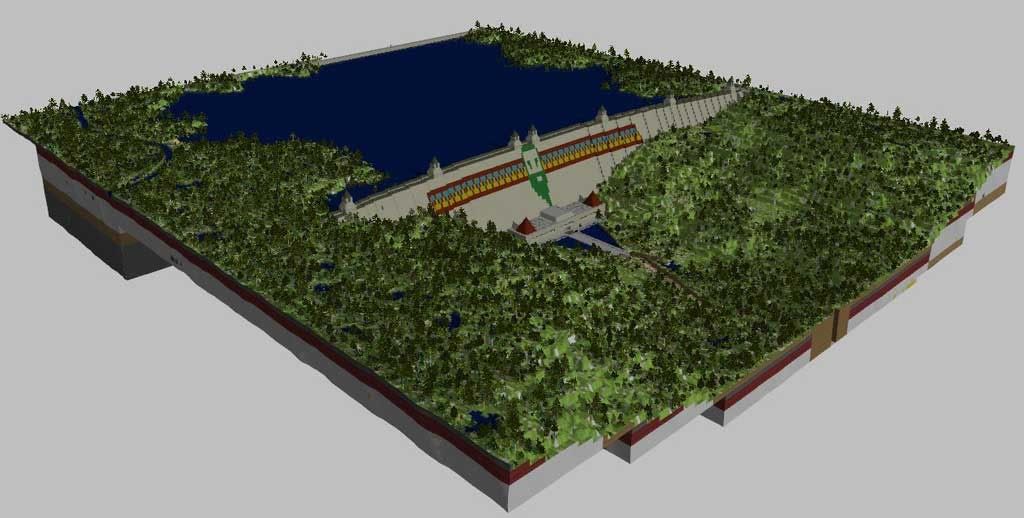 If anyone is interested click the Link up top it gives you everything you need to get started a +5 Part tutorial that covers everything and the Mayday Greentileset (which is easier to view than ASCII.)
If anyone plays feel free to hijack the thread with images :biggrin.gif: