starany

Zombie Killer
Join Date:

12/2/2010

Posts:

220

Minecraft:

starany

Member Details
((S.E.E stands for Survive, Expand, Evolve))
To Players:
Back! I have been embarrassed with myself. The event with the Secrystice is interesting, but not as interesting as planned. What IS going to be interesting is the humans (my apes shall become humans when i get enough points and such) and how they will interact, also if others make intelligent creatures, and bear with me through the long pace of the thread, until it gets very interesting (trade, political issues, exploration, building).
Moderators:
DragonWing17 (kind of, he only moderates post count)
Latest changes to the OP:
New rule added to rules. New feature in "Stages and Changes". DragonWing updated the post tracker. Updated "Current State of the World" to include info on the Secrystice.
DragonWing is my brand-new co
conspirator
story writer to help make some interesting, overarching story ideas since people have had some difficulty having a reason to interact.
Any story posts I make will be marked in red and will
not
count towards my post length, thus
not
counting towards my points.
The Map
Uploaded with
ImageShack.us
The whole island is about 1,000 miles long by 950 miles wide.
Note: The rivers and lakes on the map aren't the only fresh water sources, but due to their size they are the major ones. Little streams, ponds, etc are everywhere so one can roleplay having a fresh water source nearby without being by a major one.
Territory Key
:
Note: Any territories on the map are the transparent colors.
Black -
Tynebris the Dragon
Orange -
Skirgit
Red -
Apes
Yellow -
Mantisects
On a massive island that has never been built on before are a few big, clustered mountains in the center with a couple mountains in the northwest and southeast corners. The mountains in the corners are surrounded by a thick belt of grassland. The center mountains drastically range in size and are fairly bare, with some vegetation and a few trees. Everywhere else on the island is blanketed with subtropical forest, with exceptions of a few small "plains" dotted around. Many hills can be found on the northeastern and west section of the island. Additionally, the massive island is well watered with lakes, rivers, streams, and ponds. The land is filled with life.
Lastly...there is a strange energy that seems to make certain creatures suddenly change in some way...
In this roleplay, you choose or create a basic animal form from which to start off. The creature will go through stages if you so choose. To reach a "stage" you must post a certain number of times (ooc posts don't count and the ic posts must be meaningful). As your race progresses in stages, you can branch off to what it is you desire for your race and will eventually be able to develop technology (
if
you want technology). However, if you don't want to have a whole race along with your character, you can have a lonely creature with no others of its kind (a "unique" animal).
Keep in mind that other creatures (other players and some npcs) may or may not be hostile towards your creature. Watch out that you don't become lunch, mauled, or tick off someone bigger than you.
Current State of the World:
Nature
Season: Summer
Relations
~Alliances/Friendly~
Mantisects, Apes, & Skirenn
~Enemies/Hostilities~
Apes & Dragon
(Tynebris)
~Other~
Assault of the Secrystice
Singular: Secryst & Plural: Secrystice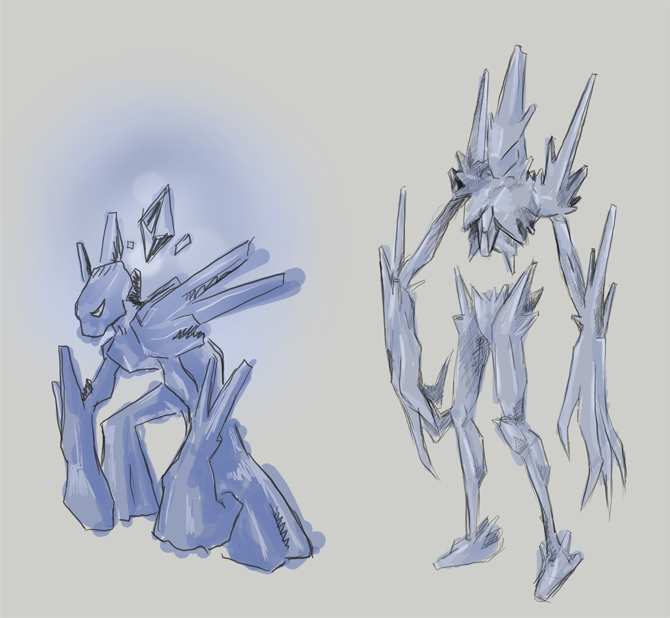 The Secrystice look like the one on the right, except the limbs are thicker and it has a thicker torso (and there is no floating part, it's just crystal). Overall, it isn't super bulky but is pretty bulky in the chest region and no part of it is thin. Secrystice also have a mouth with sharp crystal teeth and their body is slightly spikier and has the coarseness of an uncut, unpolished crystal. The colors vary and so do their size.
Races
~Current Population~
Ape-2,405 males, 2,317 females
Archaeopteryx-600 males, 600 females
Avis Mortis-45 males, 63 females
Dragon (Tynebris)-
Unique
Mantisect-118 males, 202 females
Night Crawler-2,387 males, 2,613 females
Otter-1,000 males, 1,500 females
Pygmy Puff (Cono)-
Unique
Raptor Dragon-1 male, 1 female (
Nearly Extinct
)
Skaven-147 males, 125 females
Skirenn-1,625 males, 1,503 females
Skirgit-314 males, 406 females
Wafflouh (Engel)-
Unique
Wolf (Storm)-
Unique
Xorg-2 males, 1 female (
Nearly Extinct
)
Rules
1. No god-modding, power-modding, instant IC knowledge, and other typical roleplay no-nos.
2. No killing without consent.
3. Remember to follow the "stages" process stuff. (Currently working on how to explain it and it isn't necessary to explain at the moment.)
4. Only
one
race and/or (as in character+race or just a main character)
one
main character per person. "Npcs" have no limit as long as they are reasonable.
5. If your creature (and race if you have a race along with it) die, you may have a new creature/race.
6. Magic and technology must be obtained. No-one can start out with magical abilities or technology.
7. Be reasonable about the time it takes to travel.
8. No double, triple, or other multiple posting,
unless
no-one has posted in
24
hours.
9. The maximum
starting
(as in when you first create your character/race) size for creatures can be no higher than 3ft and no longer than 6ft.
"Stages" and Changes
Note:
Before any changes big or small are made to your creature, you must get permission from the GM or a moderator.
For any post to count towards "change" (15) and "stage" (30) will have to be IC and two full lines or more in length. OOC posts or parts
do not
count.
15: New SMALL features such as spikes, claws, muscle upgrades, better eye visuals (such as night vision added) or small appearance changes.
Only choose one.
Another option, for those with a race to control and not just a character:
Raise population by 10% using your "change" in stead of a physical characteristic. Raising population by 10% will work like this (giving random numbers for the example):
1,000 males and 2,000 females.
The difference is 1000 in gender gap. Remove the extra females or males (not really remove them, just the number for calculation): 2,000 x 0.10 = 200. Therefore, the race increases in number by 200 individuals. Any decimals (e.i. 25.6) are rounded. The number of males/females for the new individuals will be determined by picking which of two numbers generated are female/male. Use this random number generator:
www.random.org/integers/
30: New limbs such as a pair of wings, a pair of legs, an extra head, and things like another eye, or body size increase (when increasing body size, no more than twice the current creature's size). Population increase by 20% (if you have a whole race to control) is another option (look at the above spoiler for population increase rules).
Only choose one.
Swap System:
After
stage 3, everyone has the option to turn any future two
unused
changes into one stage or to turn one unused stage into two changes.
Stage 3 and Up: When stage 3 is reached, players have two new options to pick for their stage upgrade: Unusual Abilities & Technology Capacity.
THE CATCH: If players choose to start developing at least one unusual ability, they can't upgrade technology capacity. If they choose to upgrade technology capacity at least once, they can't start developing unusual abilities.
"Unusual Abilities"
Hot Breath->Fire
Moist Breath->Spew Water
Any other abilities you want than spewing fire or water, give me a heads up.
"Technology Capacity"
Note: (1) I say capacity because when you get any level of technology, it doesn't instantly appear; you have to roleplay your creature/race quickly or slowly developing the technology you are capable of using/coming up with. Realistic time is not at all required in obtaining ideas, although I ask you to be reasonable in how fast your creature/race makes an item or building.
(2) Trade, war, structure uses (medical, home, storage), alliances, and other social things are not limited to tech level or to intelligent creatures alone.

Level 1 Tech=
Weapons and Armor: Wood bow and arrows, spears/javelins (may have a stone tip), swords. Stone daggers, knives, axes. Wood shields.
Tools: Wood or stone bowls. Stone ax, knife. Vines used like rope.
Structures: Made of skin/fur tents, stick/branch huts, or a combination.
Other: Make fire.
Character and Race Applications
NOTE: If your character is part of a race belonging to another player or is a unique creature, then the additional race app is optional.
List of "Basic" Creatures one can choose (remember in your app to describe the appearance):
Ape/Monkey
Bird
Canine
Feline
Fish
Hoofed Mammal
Lizard
Rodent
Snake
Other
Character Application
Name-
Age-
Race-
Gender-
Personality-
Appearance-
Bio-
Other-
Race Application
Name of Race-
Appearance-(Remember your race is starting off basic, but things like size, color, etc is important.)
Starting Population-(Between 2 to 5,000)(How many males and females?)
Other-
Players - Characters and/or Races
NOTE: I will update people's creature apps as changes occur (physical, abilities, etc). Population is updated in "Currrent State of the World" under "Current Population."
Starany - Anna - Monkeys
Character
Name-Anna
Age-18
Race-Ape
Gender-Female
Personality-Loves to explore, daring, sometimes clever, stubborn, doesn't think things through sometimes
Appearance-
I is cute.

She has the regular 2ft height for a female. Her ears are furry human ears, (not squirrel monkey ears), has no tail, has a human mouth (regular lips and the mouth doesn't jut out much), and has a human posture. Additionally, She has blue eyes.
Bio-Being part of a massive colony of her kind her whole life thus far, she knows most other squirrel apes. She is well-known in the colony to go exploring and tends to come back sometime or later, so they don't worry anymore if she is missing for a while.
Other-Nothing really.
Race
Name of Race-Ape
Appearance-Like Anna. Individuals' eye colors vary, females are usually about two feet in height and males three feet. Females tend of a grey-black black patch on their head but males have a solid black patch on theirs. Their ears are furry human ears (not squirrel monkey ears) and have no tails. They have a human posture in stead of a typical ape posture and have a human mouth (regular lips and the mouth doesn't jut out much).
Starting Population-2,352 males and 2,156 females
Other-Very physically weak, so squirrel monkeys rely on climbing skills to get away from danger or use their small size to hide.
DragonWing17 - Tynebris
Character
Name: Tynebris
Age: 25
Race: Dragon
Gender: Male
Personality:
He is most of the time quiet and calm. Over the years he became stealthy and sneaky. (( Not to be mixed with abilities, he remains behind cover or surprise attacks. ))
Appearance:
He has black dragon scales, red eyes, sharp fangs, and dragon claws. Furthermore he is eight meters in length. Has spikes down his spine and a pair of scaly wings that he can fly with. Has three horns and fins on both sides of his head.
Bio: Tynebris hatched and survived alone. The first few years he ate small insects, but as he grew he was able to hunt small animals such as rabbits and chicken. However the change to hunting rabbits and chicken wasn't easy, he became stealthy to be succesful at hunting at day. Nevertheless hunting at day still was a difficult task.
Other: Tynebris is a unique carnivorous lizard. He actually is night active, however he doesn't require much sleep and thus can change his sleep rythm. Has decent vision in the day with excellent night vision. He can breath fire.
Scorpi15 - Scolan - Skirenn
Character
Name- Scolan
Age-15 in a few days
Race- Skirenn
Gender-Male
Personality-Timid, trustworthy, curious, shy, etc.
Appearance- A navy blue lizard, about a meter long. Front arms/legs are longer then back ones, so leans up ever so slightly.
Bio-Part of a 'clan' of Skirenn, about 10 lizards big. Scolan was one of the faster Skirenn in the clan, but was one of the weaker ones. But nearing his 15th year, he is going to split from the Clan with two others his age, a tradition to further the species.
Other- If goes to plan will evolve to something reminiscent of an Elite from Halo

Race
Name of Race-Skirenn
Appearance-Read above. Leaders of clans have a lighter blue stripe on their head.
Starting Population-1,625 Males, 1503 Females
Other Read above
Squidgen1010101010 - Zaxon - Mantisects
Character
Name- Zaxon
Age- 2
Race- Mantisects
Gender- Male
Personality- Genraly happy and social, although he is slow to trust creatures of a different race. After he gets to know them, he trusts them as one of his own kind.
Appearance- He looks like a praying mantis, except much larger, almost a meter in length, and also lacks wings. He is a bright green, which is unsuited for camouflage in the forests he lives in. Although his arms are covered in spikes to hold prey, they are actualy very dull, and are only used for holding prey. It's the mandibles that do most of the dirty work. Has spikes at the end of his arms.
Bio- Zaxon has lived a rather normal life, subsisting on small grubs and rodents. Having spent all of his short life in a small area, he had decided to move on. During his travels, he had a nasty run-in with a giant chameleon, and has been skittish around lizards ever since.

Race
Name- Mantisects
Appearance- Large, light green praying mantises that are anywhere from about a foot in length to a meter. They have spikes at the end of their arms.
Population- 300 (male 100 female 200)
Other- Mantisects are born about 3 inches long, and for 2 to 4 years, they grow extremely rapidly. During this time, they require vast amounts of food, so the parents go and kill off anything edible in the vicinity to bring to their young, giving them a vicious and evil appearance to many other creatures on the island. They realy don't deserve this reputation, because they only ever eat smaller insects and rodents, and only kill other creatures in self-defense. That dos'nt mean they don't eat them though. The mantisects have an additional, small set of arms.
20firebird - Avvari - Night Crawlers
Character
Name- Avvari, though she usually goes by 'Dark'.
Age- 4 years/Young Adult (Night Crawlers age like dogs)
Race- Night Crawler
Gender- Female
Personality- Avvari usually keeps to herself, and is rather independent. She doesn't take kindly to goofing off.
Appearance- She over-all looks like a rather average, solid black Night Crawler. However, the tip of her left ear is missing.
Bio- Nothing interesting, really. She's lived along the west coast of the island for most of her life, and lost the tip of her ear in a clash with a Skirenn.
Other- Nothing much.

Race
Name of Race- Night Crawler
Appearance- Night Crawlers look a lot like jackals, and are about the same size. They are always dark gray or black, but females may have a small, white patch on their chest.
Starting Population- 2,387 males, 2,613 females
Other- Night Crawlers are nocturnal, and can see by the tiniest sliver of light.
doyalikewaff - Engel
Character
Name- Engel
Age- 9 months
Race- Wafflouh (a dog-like carnivore resembling a wolf but slightly larger)
Gender- Asexual (but identifies as male)
Personality- Protective of anyone who he trusts and generally nice
Appearance- A bit larger than a wolf pup all black but smaller than other waffouhs of his age. Has long-than-normal sharp claws that make him capable of climbing. Has leathery wings.
Bio- He was the only one in the litter which was odd for wafflouhs, after 3 months a lightning strike had caused a fire that killed his mother and father and damaged his eyes to the point he can only see shadows, over time his smelling and hearing had increased slightly. However, his sight is now fixed, so he has decent vision.
Other- Wafflouhs are slightly scattered around the island mostly alone but a few groups consist of families.
yoyoaec - Storm
Character
Name-Storm
Age-1 year
Race-Wolf
Gender-Female
Personality-Adventurous,
Appearance-Small, green eyes, and grey. Has thicker than usual fur.
Bio-Was the runt of the litter and was abonded by pack when was 3 months old.
Other-Character not race. Has much stronger than usual legs for a wolf and is multilingual.
ryanninjasheep - Cono
Character
Name- Cono
Age- Just popped into existence
Race- Other -- sorta a ball of fluff?
Gender- None
Personality- Very curious and friendly
Appearance- Gray with brown flecks. About a half a foot in diameter.
Bio- Er... Can't really
Other- n/a
Houndmaster - Skyrrow - Archaeopteryx
Character
Name- Skyrrow
Age- 17
Race- Archaeopteryx
Gender- Male
Personality- Thinks everything through 2-3 times, tries to be logical about things. Does not like being aggressive. At all.
Appearance- About 120 cm long from tip of beak to end of tail, and a perfect specimen of an aerial organism, his legs are relatively weak, but he has powerful eyesight, his two brown eyeballs discerning minute details.
Bio- Skyrrow started his life by falling, as all other Archyx do. Falling from 5,000 feet up, struggling to extend his wings before he was ripped apart by the tree canopy, or dashed against the hard forest floor. Snapping his wings open at the last second he managed to fly back up to his parents, who were practically grinning with euphoria. He was a natural flier, the best in his generation. Most baby Archyx touched the ground with their wingtips before reaching back for the skies. Over the years his prowess grew, and thus his reputation, and he united all Archaeopteryx into one tribe. And by the years I mean about five.
Other- NA

Race
Name of Race- Archaeopteryx
Appearance- With a long, fluid, sinewy and lengthy, heavily slanted wings coupled with extremely light-sensitive eyes on either side of a falcon-like head, the Archaeopteryx (Archyx for short) is a bird of prey. Being color blind and totally lacking a sense of smell helps to negate these advantages. But they are fast. Really. Freaking. Fast.
Starting Population-600 of each
Other- They are omnivorous, eating small animals and fruit, but generally staying away from nuts.
Ramiro26 - Rok - Otters
Character
Name: Rok
Age: 2 years (young adult)
Gender: Male
Personality: Shy, timid young otter. He usually hunts on his own, and keeps a low profile.
Bio: Lost in the current while he was only a small baby otter, he was separated from his mother. He was found by the leader of an enemy group, who took him in as his son, despite the other members rejecting him. He has since been treated poorly by most of the other otters, who still see him as an outsider. Only his mothers power in the group keeps him alive.

Race
Name of race: Otters
Appearance: Long, slim mammals with brown fur. Body, tail and legs ideal for swimming. Small claws and teeth, useful for hunting fishes and other soft prey, but not thick fur or scales. About 80 centimeters long when adult.
Population: 1000 males, 1500 females. 2500 total.
Other: Quick swimmers, and able to walk on land (altough not very quickly). Live and hunt in groups of 10 to 40, which occasionally fight over territory. Cant defend against most land creatures, so it usually escapes to the nearest body of water.
ktrey - Skrit - Skaven
Character
Name- Skrit
Age- 2
Race- Skaven
Gender- male
Personality-
Inquisitive and can be often a little skittish.
Appearance-
Skrit is a brown and green dappled raptor about one foot long. A series of jagged scars run across his back from when he was bitten by a large predator.
Bio-
Skrit was hatched in a small nest hidden in low shrubs. From there he ranged the edge of a pond with the rest of his pack.
Other-
Nothing much more to add.

Race
Name of Race- Skaven
Appearance-(Remember your race is starting off basic, but things like size, color, etc is important.)
Skaven are about 1-1.5 feet long. They usually have brownish or green scales. Skaven are Bipedal with their forearms having small claws to help them grasp prey. Their tails makes up more then half their body length and is a
great aid in balance.
Starting Population-(Between 2 to 5,000)(How many males and females?)
147 males and 125 females. The population is divided into roughly 10 "packs" of around 20 members each.
Other- Each skaven has a "killing claw" on both feet. They use this to pin small prey like rats. Small size makes it not much use against anything else. They are also very agile to be able to hunt insects. Skaven cannot see directly ahead of them and must bob their heads to gain 360 degree vision. Their diet consists of insects and anything roughly the size of a rat. Occasionally a pack will work together to attack animals up to the size of a small dog.
Skirgits
(Created by iamjustarandomperson. By request though he has left, his race will be kept as an npc race.)
Appearance: greenish blue, pond-dwelling, scavenging, omnivorous lizards ranging from about ten inches to about two and a half feet in length. Their primary habitat is on the coastline, or by most sources of water, especially saltwater; and as a result, they swim really well. Upon sight of predators, They scamper into the nearest water source. They can drink saltwater with little consequence.

Starting population: 314 males, 406 females

Other: I want to evolve them to have fog breath(simply extra water vapor that they spray from their mouth into the predators face to obscure their vision) I have even come up with a way to store the needed water. Four words, copious amounts of salt. And to make it the thick vapor that would be needed to obscure vision, its body temperature would be higher than most creatures.
Opelspeedster - Rogue Xorg - Xorgs
Character
Name- Rogue Xorg
Age- 17(roughly considered 'young adult' for their species)
Race- Xorg
Gender- Male
Personality- Curious
Appearance- He is a blue wingless reptile with dark green eyes and feline ears. He is omnivore, but prefers fruit over meat. He still eats meat from fallen creatures, though. He is not much adept for combat, making him easy prey for carnivores and predatory omnivores.
Bio- He is an unique nestless creature that wanders around the continent. His own species was wiped out to near extinction by a race of carnivorous predators, and he is one of the few survivors wandering around the planet.
Other- Only two other Xorgs have survived from the attack. They are scattered around the planet and live as unique animals.

Race
Name of Race- The Xorg
Appearance- Just like the Rogue Xorg.
Starting Population- Only 3 in the planet. 2 Males and 1 Female.
Other- They are Omnivorous animals(Even though in Spore they have the D'Orca mouth that is carnivore).
ziuziu12 - Aleya - Raptor Dragon
Character
Name-Aleya
Age-About a century in age,Which I'd say is about a Young Adult for her kind.
Race-Raptor Dragon,Last known one of her kind
Gender-Female
Personality-Very quiet,But will open up to anyone who doesnt hurt her.She is wise,But will snap QUITE a bit.
Appearance-
Is 6.6ft high, 12ft long. Her claws are 6cm long.
Bio-Was born in a birch tree,And was found by a strange wolf-like thing that raised her until...She became 15,Then,The wolf-thing was killed and she set out on her own,Nothing interesting.
Other-She has random allergy attacks and Her claws are blood-stained
SRIOATIK - Srio - Avis Mortises
Character
Name- Srio (hey thought it would fit for a flying bird)
Age- 20 years
Race- Avis Mortis
Gender- Male
Personality- A sarcastic thing that does not mind to kill in a instant (It just seem all you guys are so loving. And usually I would do that to. But I want to stir a thing or to, don't get me wrong I don't want to be a bother). Very calm in most situations.
Appearance- Like another male Avis Mortis, Slightly larger than average.
Bio- Srio belongs to a race of large birds of prey that have migrated to this island. He and his flock are numbered but have always done well to live off of the land and its creatures. He him self is a larger among the crowd and he is known for it. He is usually the one to take head of hunts when they go in groups, but most of the time he just goes by him self just cause he can. He has kept peace with in his flock and some would argue that he has saved them more than once. Although he does not believe so, he leads, and everyone follows.

Race
Name of Race-Avis Mortis
Appearance-Males are a dull color of green that varies, but all have a red strip that goes across the wing span. All Avis Mortis have black beady eyes that can see for miles (like any other bird of prey) with talons long and sharp to kill. Females are pure black that blend in with the night sky. All birds average around 4 feet in height and 9 feet in wingspan.
Starting Population- 45 males, 63 females
Other-These birds are Birds of prey. Are aggressive. And because they are huge they don't fly about at the greatest of speeds but because of their large wings the can elevate to higher altitudes faster than a smaller birds can. The usually will fly high and dive down to swoop and kill prey. They can run on ground its just more of a scuttle and hop then a run.
Here is DragonWing17's Post Counter:
http://imageshack.us...ker17122012.png
Last edited by
starany
: Jan 2, 2013
Whoever said ignorance is bliss is ignorant.