hinata2000100
Tree Puncher
Join Date:

2/9/2012

Posts:

4,084

Minecraft:

hinata2000100

Member Details
Pokemon. The best game to ever exist. I feel it is my duty to start an RP of this historic game.
Story:
Nothing major. Everyone is setting out to become 'the very best' and defeat the Elite 4. The journey is long and hard, with many steps you must take.
Human App:
Name: Obvious.
Gender: Are you a boy or a girl?
Sprite: Is there a certain sprite in Pokemon you want to modeled after? If not....
Appearance: What do you look like, champ?
Bio: (optional) Why does your character want to be a Pokemon trainer?
Starter: You may start with one of these Pokemon, all level 5. Fire Types: Charmander, Cyndaquil, Torchic, Chimchar, Tepig. Water Type: Squirtle, Totodile, Mudkip, Piplup, Oshawott. Grass Type: Bulbasaur, Chikorita, Treecko, Turtwig, Snivy.
Region: What region do you wish to begin in? Kanto, Johto, Hoenn, Sinnoh, Unova.
NOTE: This RP goes through all the Regions in Pokemon, so everyone can meet up with one another at some time.
Pokemon App:
Name/nickname: What is your actual Pokemon name, or do you have a nickname?
Level: Minimum: 1 Maximum: 10 to start out.
Moveset: What moves do you know?
Appearance: Do you differ in looks from other Pokemon of your species?
Gender: Male or Female?
Trainer: Do you have a trainer?
Example:
Name: Angel Avila
Gender: Girl
Sprite: Lass from Pokemon Fire Red/ Leaf Green
Starter: Tepig
Region: Unova
Trainer Cards/People:
Angel Avila:
Ryusa:
Sol Nisshoku:
Robert:
Purple: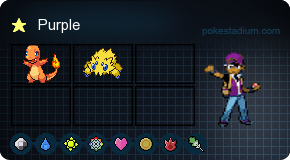 Flint Garse:
Shade:
Lucar:
Here we go, feel free to join.